Click here to directly go to the complete digital marketing resume sample
Writing a digital marketing resume is not easy, especially in a market where every other person is a digital marketer and competing for a similar job.
According to the latest CMO Survey, 73.6% of businesses across all industries are focusing on building a digital interface for businesses.
With this change in direction, the demand for digital marketing professionals is increasing rapidly.
However, with poorly written resumes, it can be difficult to get your talent across, causing you to lose an interview.
But don't worry!
In this comprehensive guide, we will share with you the best way to write a digital marketing resume in 2022:
How to Write a Digital Marketing Resume in 10 Steps?
A digital marketing resume should truly showcase a person's digital campaign management and analysis skills.
How do you do that?
By dividing the resume into separate sections and creating each one with utmost perfection.
In this article, we'll walk you through a 10 step process to create a stellar digital marketing resume:
Also read: What is digital marketing?
Step 1: Select a Suitable Resume Format
There are three types of resume formats currently in use in the industry:
Reverse Chronological format
This is the most popular resume format. And recruiters also prefer this format. So if you are a mid-level to a senior digital marketing professional, use the reverse chronological resume format to create your resume.
Functional Resume Format
If you don't have relevant work experience, this is the best resume format as it focuses on your skills rather than years of experience
Also, go for this format if you are a recent graduate/student/entry-level professional or someone who's seeking a switch from another industry.
Find out more: How do I make a resume with functional resume format
Hybrid/Combination Resume Format
The hybrid format combines the two resume formats - namely, functional resume format and chronological resume format. It is also a good choice for those seeking to change their careers and have gaps in their professional trajectory.
Also Read:What are some resume formats used in the industry?
Step 2: Digital Marketing Resume Design Tips
Once you pick the resume format, it's time to select the design and style of the resume.
Below are the points you need to keep in mind while designing the resume:
Try to use a single-column resume design unless you are using a functional resume format.
Keep the resume within one page, especially if you have less than 8 years of experience. If you have 8+ years of experience, you can stretch the resume to 2 pages, not more than that.
Write a proper heading for all different sections
Use a professional font while writing your digital marketing resume like Ariel, Times New Roman, Calibri
Keep the font size to 10 - 12 points
Step 3: The Correct Order of Digital Marketing Resume Sections
The correct order of all the ** resume sections** in a digital marketing resume will be as follows:
Name
Personal Information
Job Title
Professional Summary
Key Skills (and Technical Skills, if applicable)
Professional Experience
Certifications
Education
If applicable, you can further add these sections:
Awards and Recognition
Languages
Hobbies/Interests
Step 3: Add a Professional Digital Marketing Resume Header
Once you are happy with the resume format, It's time to work on the actual content on your resume.
As hiring managers scan through the resumes within a couple of seconds, the main section that is supposed to grab their attention is the resume header.
Traditionally, you need to include your name, job title, and contact details in the header.
However, some tricks will help you make the resume header more attractive.
Below are the elements you need to include in the resume header section:
Your name and surname. If you have a middle name, you can just write the initials, like Elaine M. Rooney
Your designation: Try to be specific while writing the designation. For example, Write Digital Marketing Associate or Senior Digital Marketer instead of simply writing Digital Marketer.
Email ID: Make sure to add an active and professional-looking email id, such as john.doe@hiration.com.
Contact Number: Add your active and current contact number. Make sure it goes to you, not your parents or anyone else.
LinkedIn URL: Add your optimized LinkedIn profile link in the resume header. Avoid this option if you have an inactive account with outdated information.
Other Links: If you have a blog, work portfolio, YouTube page, or other assets that you've worked on, add it to your resume heading.
Step 4: Digital Marketing Resume Professional Experience Section
The professional experience section is the heart of the digital marketing resume.
Recruiters get in-depth information about your skills by seeing your educational qualifications and your professional achievements, helping you bag top-profile digital marketing jobs.
So, how exactly to craft a compelling work experience section?
Below are some tips to help you with that:
Create a separate "WORK EXPERIENCE" section
List your experiences in reverse chronological format
For each entry, include your designation, company name, date of employment, resignation date
Enter your skills and accomplishments in bullet point format
For recent work experiences, add 5-8 bullet points
For older experiences, write 3-4 bullet points
Use statistics to write the bullet points and start the bullet points with power verbs to maximize the impact
Use an action-result formula to craft the bullet points.
What does it mean? Let us clarify that through an example. Following are the points in a sample digital marketing manager resume:
Achieved the lowest CPC across the industry, valued at USD 0.06 per click
Deployed Buffer to target leading social media channels & drive brand visibility
Successfully executed the email marketing campaign to on-board 1500+ new users within 3 months and reduce the drop-off rate by 23%
Identified and prioritized Reddit & Quora as high-worth platforms to generate traffic from scratch from 10+ countries like the US, Canada, UK, Australia, etc.
Brainstormed with the Marketing Manager to streamline SEM channels, implement PPC campaigns, and boost traffic by 1000%
You can group similar bullet points under one sub-category and bold important achievements and figures if you want to up a notch. This will make the recruiter's job even easier.
Example:
Search Engine Marketing (SEM)
Brainstormed with the Marketing Manager to streamline SEM channels, implement PPC campaigns, and boost traffic by 1000%
Published CPC and CPI display ads on Google, Facebook, Yahoo, Bing, etc.
Achieved the lowest CPC across the industry valued at USD 0.06 per click
Email Marketing & Social Media
Successfully executed the email marketing campaign to onboard 1500+ new users within 3 months and reduced drop-off rate by 23%
Identified and prioritized Reddit & Quora as high-worth platforms to generate traffic from scratch from 10+ countries like the US, Canada, UK, Australia, etc.
Deployed Buffer to target leading social media channels & drive brand visibility
Also Read:How to write a stellar work experience section in 2022?
Digital Marketing KPIs for Resume:
Digital marketing KPIs are what you need to write your digital marketing resume professionally. KPIs for a digital marketing resume are measured by the following:
The volume of digital sales
Number of online advertising campaigns
Quantifiable impact of SEO initiative
Number of new articles and blogs with original content
Quantifiable increase in social media engagement
Number of e-mail campaigns
Growth in organic traffic
Many people aren't able to write this section and are stuck with understanding how to go about it. Here's how to write it professionally:
Led the digital marketing team to manage SEO and organic traffic
Now compare it with this:
Led the Digital Marketing team of 10+ to boost organic traffic by 32% and maintain an up-to-date blog comprising 100+ articles
While the KPIs are evident in both the cases (SEO and organic traffic), you elucidated the same in the second instance with performance figures. That, in our opinion, is a game-changer.
Quantify all the information in your digital marketing resume. Focusing more on KPIs and your performance figures around the same will allow you to clearly articulate your contributions to the recruiter. Such performance figures will allow you to aim for a higher digital marketing salary.
How to Make Digital Marketing Resume for Freshers
Penning down a digital marketing resume is no joke. When you don't have any prior work experience, the question 'How to make a resume for freshers?' pops up.
To make a digital marketing resume for freshers and entry-level professionals, you need to highlight your education, certifications, and other college activities to show that you have the skills to ace your role.
Step 5: List Your Educational Qualification in Your Digital Marketing Resume
Your education is all that you can rely on when you are a fresher with no prior experience. This section should contain the following information:
Name of school/university that you studied in, along with the location
Dates in the format (mm/yy-mm/yy) of enrolling and passing out
Pursued degree
Example of Education Section in Digital Marketing Resume
B.A. in Marketing
NYC University
08/2013 - 05/2017
If you're a fresher looking for an entry-level role, add relevant courses in the education section as well:
Example:
B.A. in Business Administration
Boston University
08/2016 - 05/2020
Course Modules:
Google Analytics | Market Research | Copywriting | Behavior Analysis
Step 6: Add a Certification Section to Digital Marketing Resume
As a digital marketer, the industry is constantly changing, and you need to do some certification courses here and there to stay updated.
You can list them one by one in reverse chronological order.
The elements you must add in the certification section are:
Certification name
Certifying body
Dates of certification
Certification number, if any
Example of Certification Section in Digital Marketing Resume:
Certified General Marketing Professional | Convention Institute | Jan '19
Also Read:What is the best way to showcase multiple certifications?
Step 7: Include Relevant In-Demand Digital Marketing Skills
After you add all the experiences and educational experiences to your resume, it's time to add relevant job-winning skills.
Relevant is the key here. Don't write all of your skills in the key skills section, but only those that will add value to the job.
Given below are 20 key skills for a digital marketing resume:
Digital Marketing
Content Marketing
Email Marketing
Copywriting
Search Engine Optimization (SEO)
Media Communication
HTML/CSS
Facebook Ads
Instagram Ads
Link-Building
Outreach
Public Relations
Influencer Marketing
Instagram Marketing
Quora Marketing
LinkedIn Marketing
UI-UX Designing
Graphic Designing
Writing
Additionally, if you utilize a specific set of technical tools or software as a part of your digital marketing initiatives, you can retain the same in the Technical Skills section.
Also read: What skills do I put on my resume?
Step 8: Additional Information
You can also add some other relevant information to your resume.
Projects: Especially if you are a fresher, add some projects you've done in your college. It will validate your skills to the recruiters
Volunteer Experience: While it is not necessary or relevant to your target profile, including volunteer experience is an unspoken way of getting brownie points. Not only is it a sure-shot way of displaying your soft skills, but it helps you show that you were an active college student.
Step 9: Write a Digital Marketing Resume Summary
After you're done with your entire digital marketing resume, it's time to focus on the resume summary.
According to a study conducted by The Ladder, recruiters review a candidate's resume for only 7.4 seconds.
In these brief moments, you need to ensure that the recruiter knows about your:
Skills
Years of Experience
Proof of work
How can you do that?
Below are some tips you need to keep in mind when writing a resume summary:
Keep the resume summary between 2-4 sentences.
Do not use first-person pronouns when writing the resume summary
Identify skills required from the job description, and add them to the summary
Start with power verbs and make sure you maintain a cause-effect relationship
Hiration Pro-tip: Go for a resume summary if your total experience exceeds two years. If you're an entry-level professional, go for a Resume Objective instead.
Also read: Craft a perfect job-winning digital marketing resume summary
Step 10: Proofreading & Final Checklist for Digital Marketing Resume
Aside from basic grammar checks, follow the steps given below to proofread your digital marketing resume:
A digital marketing resume shouldn't exceed 1 page if you have less than ten years of experience and two pages if you have 10+ years of experience.
Make sure you're covering all the standard sections like resume summary, key skills, professional experience, education, etc. The ATS is programmed to parse standard section headings, so writing something like 'Work Story' instead of 'Professional Experience' can backfire.
Ensure that basic formatting is in place - margins, spacing, font size, etc. Go for sans-serif fonts like Calibri or Open Sans over serif fonts like Times New Roman (unless the job listing specifies otherwise).
Make sure that all points begin with a power verb. Refrain from using paragraphs and reduce the same to one-liner bullet points.
Keep your tenses consistent while writing your digital marketing resume. Use present continuous tense in present profiles and past tense in past work experiences.
Expand acronyms when it's mentioned in the first instance, and then proceed with using acronyms.
It's a good practice to refer your resume to someone in your network, preferably someone who's in the same domain.
Don't write 'Resume' on the top, and don't save the file name as just 'Resume' Write your name in both instances.
Hiration Pro-Tip: Throughout your resume, mention the name of the client(s) you were serving, in case the information isn't confidential. Many people simply avoid that without knowing if they can showcase the same in their resume or not.
Digital Marketing Sample Resume
Here is the complete sample of an ideal digital marketing resume with standard format and industry-friendly resume structure: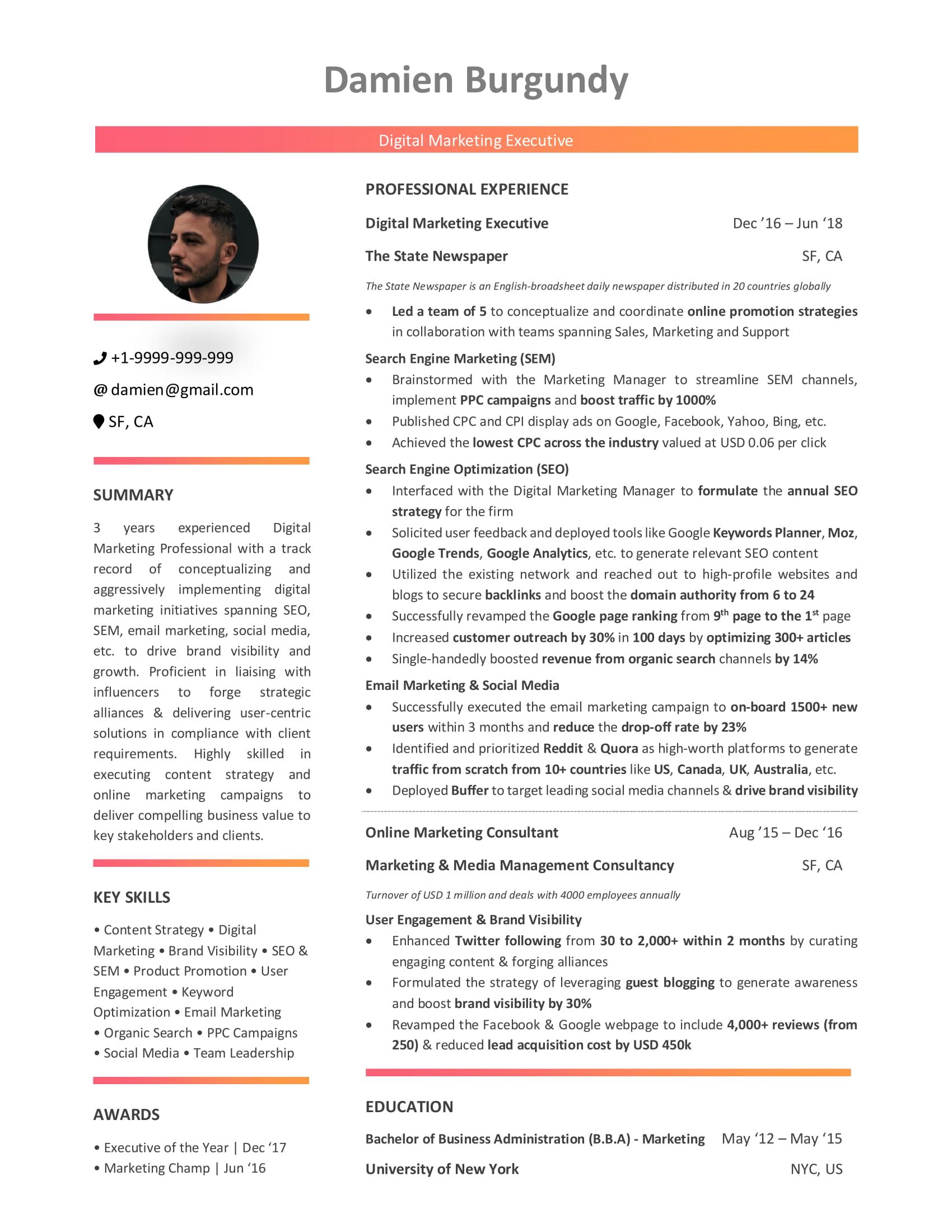 Key Takeaways
Make sure you write your summary in a paragraph form and not bullet points, all within 3-4 lines.
Refer to the keywords in the job description, but make sure not to stuff your resume with it. Include only those keywords which you can substantiate in your work experience.
Bold relevant keywords and achievements along with providing performance figures wherever possible.
If you are an entry-level professional, write a digital marketing professional objective instead of a digital marketing professional summary.
Write a one-line company description containing figures around the number of employees, revenue, geographic presence, etc.
Focus on digital marketing KPIs for resume while providing figures around the same.
Go to Hiration resume builder and create a professional resume for yourself. Additionally, reach out to us at support@hiration.com, and you can get 24/7 professional assistance with all your job & career-related queries.