So maybe your resignation was not along the lines of how you had been fantasising for months, maybe you didn't get a chance to hop on your manager's table and do unspeakable & unhygienic things. But the bottom-line is, you did manage to conclude months of anxiety and self-doubt before finally submitting your papers.
You believe enough is enough dammit! You deserve a job you love and now's the time to make it happen!
Now the only thing left is to create a stellar resume and start applying for the role of your dreams.
You open your laptop and start writing your resume.
But wait! If you're like most people, you have no clue about the resume structure or where and how to begin.
What are the resume types you can use? Which resume style will look better for your profile? Should you use a simple resume format or the latest & the best resume format 2018?
Well, you don't need to worry anymore. This comprehensive guide on different Resume Formats will answer all your questions on what format for resume you should choose.
Choosing the best resume format 2018 before you begin will ensure that you follow resume writing conventions that are well accepted by all recruiters and companies.
In case you have additional queries on resume formatting, feel free to ask us in comments. Our experts will be more than happy to help you.
If you're somebody who likes to delve directly into the action, you can directly choose the best resume format 2018 on our online resume builder. We have ensured that all standard norms are fulfilled in our resume templates. Just start filling in your details to create a brand new resume in no time!
This resume format 2018 guide will cover the following topics in detailin order to help you select the best resume format 2018:
You can also view our resume format 2017 examples along with our popular resume template 2017 catalogue.
---
Why do you need a resume format 2018? How can you choose the best resume format 2018 for your resume?
Using the best resume format 2018 serves as a blueprint for creating a highly targeted resume based on the kind and the years of work experience that you have (of course you'll need a job description).
Moreover, over the years the Applicant Tracking Systems (ATS) and simpler resume parsers used by recruiters and companies have evolved to recognize and read resumes only if they follow certain guidelines.
Picture this:
You have a stellar career profile and you write your resume in a format that is not suitable for your profile. Trust us on this that in spite of putting in the hard work, you might not get shortlisted by the ATS being used by the recruiter. You need to have the resume format 2018 to pass the ATS test!
Even if you're sending your resume through a human recruiter, you should choose an effective resume format 2018 which is well known in the industry. Recruiters look at resumes for a mere 6 seconds and you do not want to end up in the reject pile simply because you did not use the best resume format 2018 available.
Having said that, you should also take into account the latest resume format 2018 trends and choose the best resume format 2018 (popular with both ATS and recruiters) so that your resume does not seem dated.
Thus, using a combination of established resume standards along with the latest trends (by choosing a recognized and resume format 2018), you greatly increase your chances of getting shortlisted by companies.
---
What are the various types of resume formats 2018?
Broadly speaking, there are three different types of resumes that are well accepted in the industry. The resume categories are:
1. Reverse Chronological Resume Format 2018 (Standard resume format 2018)
Imagine a timeline starting from now and dating back to the beginning of your education with all your major achievements and information listed along with important dates. Essentially, that is what a reverse chronological resume format 2018 is.
To make it more clear, let's look at a sample reverse chronological resume format from Hiration's Resume Builder:
Take a look at our resume format 2017 examples along with our popular resume template 2017 catalogue.
Sections on the Reverse Chronological Resume:
Personal & Contact Details
Professional Summary
Key Skills
Professional Experience
Internships
Education
Additional Sections
As you can see in the resume image, all the dated sections have been arranged in a reverse chronological order starting from the most recent experience to the education of the candidate.
PROS
ATS Friendly
The Reverse Chronological resume format 2018 is the industry standard when it comes to resumes and is extremely ATS friendly. This means that by using this format you're kind of guaranteeing that all the information on your resume will be correctly parsed by almost any Applicant Tracking System

Recruiter Friendly
Being the most widely used resume format 2018 in the industry it is regarded to be the best resume format 2018. You can be sure that every recruiter will recognize the reverse chronological resume format 2018.

Coherent and easy to create
When it comes to making your resume in this format, the process is pretty simple. You simply have to create a time line of major events in your career and expand upon them in your resume.

Additional Weight to your most recent work experience
The emphasis in a reverse chronological resume format 2018 is laid upon your most recent experience, followed by the experience before it, and so on. This gives you an opportunity to highlight your achievements at the peak of your career (which is now!). This enables you to prove your current worth to your potential employer.
CONS
Doesn't cover gaps in career
If you have large gaps in your professional career, the reverse chronological format will expose them to the recruiter. Because of the emphasis laid on dates, the ATS may also deem you unfit for the position (if you lack relevant work experience).

Looks bad for frequent job switchers
If you've switched a lot of jobs in a relatively short period of time, a lot of companies will be listed on your reverse chronological resume. This signals to the employers that you might not stick with their company as well.
2. Combination Resume Format 2018 (also called Hybrid Resume Format 2018)
As the name suggests, the Combination or hybrid resume format 2018 is a combination of the reverse chronological resume format 2018 and the functional resume format 2018(described in the section below).
The combination resume format 2018 allows a candidate to present their skills with actual evidence from their professional experience and achievements. So essentially, points on the resume are grouped based on the skills that they highlight.
This adds a lot of value to the resume since now the recruiter not only has a snapshot of the skills the person possesses, but they can actually see how the person employed those skills to create value for the organization.
Tip: While grouping or bucketing points under headers/skills, remember to quantify your achievements as much as possible. This will help the recruiter differentiate you from a candidate who has not represented how much value they contributed
Example:
✖ Executed the brand promotions & publicity for numerous brands
✓ Executed the brand promotions & publicity for national & international markets leading to vol. improvement of 15% in 2 years
Here at Hiration, we employ two types of combination formats for our clients based on the number of years of experience that they possess and their industry.
Combination Resume Format-1 (Grouping inside Professional Experience)
This format is exactly similar to the reverse chronological resume format 2018 apart from the fact that in the Professional Experience section, the points are grouped by the sills that they represent.
Here is an example of this type of combination resume format 2018:
You can clearly see in the image how resume points have been grouped in the professional experience section under relevant skills. This allows the recruiter to quickly find relevant skills (required for the job) and scan the relevant points only.
If you are smart enough to tailor your resume to the job description, you can easily direct the attention of the recruiter to where you want. This is the biggest advantage of using this resume format 2018, making it the best resume vormat 2018 available today
Combination Resume Format-2 (Grouping in Summary of Skills section)
This format extracts all your achievements and high points in your career to create an entirely separate section called "Summary of Skills" or "Summary Skills". These points are then grouped or bucketed under key skills that they exhibit.
This resume format 2018 replaces the traditionally used summary to create a more powerful snapshot of your career which is again highly targeted for the job you are applying to.
Here's an example:
PROS
ATS friendly, Recruiter friendly
Both the combination resume formats have all the advantages there are to the reverse chronological format since they employ the same dated sections. So basically, they are ATS friendly, recruiter friendly and are well recognized by recruiters and organizations.

Hides Gaps in Employment
Additionally, the combination format can be wisely used to draw the recruiters attention to skill based achievements that you've gathered over the years to mellow down the effect of gaps in your employment history.

Tackles the problem of frequent job switches
Even if you are a frequent job switcher, you can aggregate resume points across jobs and group them under skills to exhibit your expertise (in combination format-2).
CONS
More Time Consuming
Well, since the pay off is high, the time taken to develop a combination resume increases since you have to do the additional work of grouping points under common skills.
Tip: Reduce your effort and use pre-filled templates on our resume builder to create your resume in combination resume format 2018.
You can also take inspiration from our resume format 2017 examples and our popular resume template 2017 catalogue.
Not suitable for early stage professionals
In case of early stage professionals, they might not have enough points to group under relevant skills. In such as case, the grouping does not make sense and it is better to go with the reverse chronological resume format.
3. Functional Resume Format (Skill based resume)
The functional resume format is on the other extreme of the reverse chronological format. Only the professional experience headers are listed in this resume format 2018 without any details of the actual work done.
Instead, a separate section is created in which points are grouped under relevant skills. While this is recommended by some resume experts for people who have gaps in their employment history or for people who have changed their jobs a lot, we at Hiration do not recommend using this format.
Recruiters find the most value if they can see your career progress and how you have evolved as a professional. The functional resume format 2018 does not display your skills and points under the relevant work experience and hence, is not usually accepted by both ATS as well as recruiters. You can read more about it in the Pros and Cons section.
Meanwhile here is an example of the functional resume format 2018: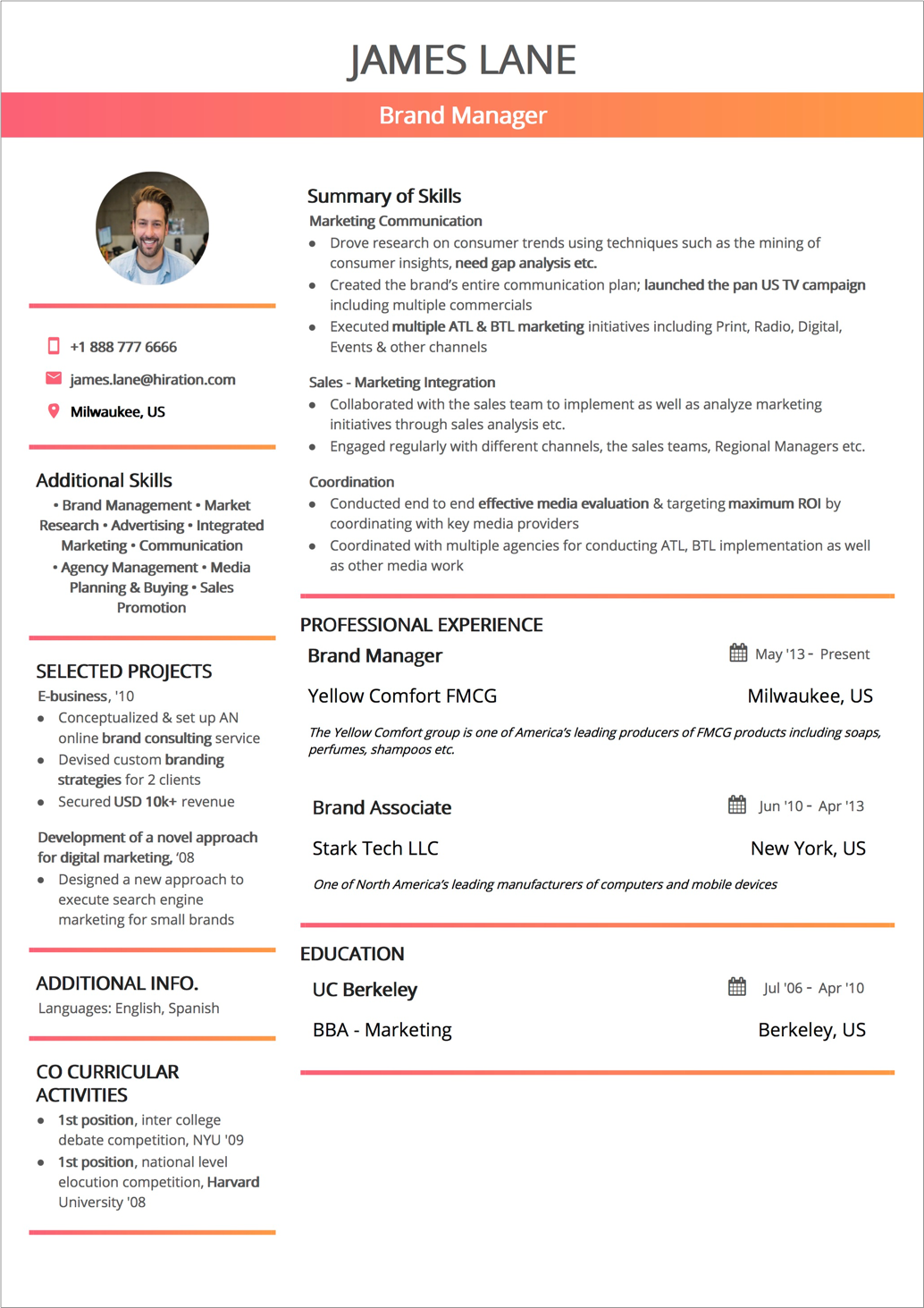 PROS
Hides employment gaps
The functional resume is a skill based resume format 2018 can be used by candidates to focus on skills and totally avoid the work history.

Tackles the problem of frequent job switches
Since the complete focus is on points grouped by skills, it helps to mask the job hopping trait of the candidate.
CONS
Not parsed by Applicant Tracking Systems
The functional resume format 2018 is not parsed by most ATS. Since an ATS looks for points under the relevant work experience, it is unable to correctly read the points in this format.

Seems fishy to recruiters and employers
The functional format raises suspicions in the minds of the recruiters that the candidate is trying to hide something. It is not a well accepted resume format 2018.
So these were the 3 different types of resumes. Which one are you going to use?
Read on to discover your ideal choice as the best resume format 2018.
You can also move on directly to our resume templates on our resume builder.
---
Which is the best resume format 2018 for you?
Finally this is the part which you've been waiting for. So, which is the best resume format 2018 for you?
View our Resume Templates 2017 Catalogue to look at all our resume templates.
Well, luckily, there's a pretty straight forward way to determine which resume format 2018 wouldserve you as the best resume format 2018 for you. Just look at the section below to see under which category you fall and choose the best resume format for your resume accordingly:
Students Resume Format
Well if you're a student, you don't have a lot of professional experience. You're probably thinking what can you write on your resume? Which format should you choose?

The best resume format 2018 for you is the reverse chronological resume format 2018. You'd always have your extra-curricular and co-curricular achievements that you can showcase on your resume.

Moreover, if you've done any kind of voluntary work or internships, they can take the spot of your professional experience. Just ensure that you display your work experience by tailoring it to the job you're looking for. Focus on the skills the recruiter is looking for.

Experienced Resume Format 2018

Entry Level Professionals
If you're making an entry level resume, again, the reverse chronological resume format 2018 should be your choice. Since you would not have a lot of professional experience, it would be difficult to group your resume points into skills. So, creating a combination resume would be difficult for you.

Mid Level Professionals
Choosing a resume for a mid level professional is tricky. It really depends on the work you have done and the kind of skills you have accumulated over your career.
Lets say you have learned a lot of skills and you have the resume content to show for it. In this case, you should go ahead with a combination resume format 2018.
In case you've specialized and focused on a specific area, you should go for the reverse chronological resume. That way, you can really show potential employers how you're progressed over the years.

Senior Professionals
At Hiration, we almost always suggest our senior clients to go with the combination resume format 2018.
You need to showcase your skills and validate with them the work that you have done. You need to modify each resume that you send out based on the job description. Highlight the skills that are most relevant to the job that you're applying to.
A note on Functional Resume Format 2018
While some people suggest that functional resume format 2018 is good for certain professionals, we strongly recommend that you do not use it. A functional resume format 2018 does more harm than good for your job application.
The table below compares the three resume formats with each other. Take a look to determine which format you should use.
Comparison of Reverse Chronological, Combination and Functional resume formats

Chronological vs Functional vs Combination Resume

Reverse Chronological

Combination

Functional

ATS Compatibility

ATS Friendly

ATS Friendly

ATS Incompatible

Focuses On

Work Experience

Work Experience & Skills

Only Skills [Not good]

Resume Layout

Professional & Well Accepted

Highly Effective & Targeted

Clumsy & Not Effective

Major Pros

ATS readable & clean format

ATS readable & highly effective

Hides gaps in employment

Major Cons

Skills are not validated

Only for people with experience

No emphasis on work-ex

Ideal for

Everyone

Experienced Professionals

No one
---
Resume Formatting: How to format a resume?
The key to formatting a resume lies in gaining an understanding of the different sections that go in a resume.
Irrespective of the format that you decide to go for, your resume will invariably contain:
Your personal details (Name, contact information, etc.)
An Objective/Summary statement
A Skills section (You might as well not make a resume than make one without a Skills section)
Professional Experience (excluding entry-level candidates)
Internships (if applicable)
Education
Additional Sections (Optional)
How you arrange these sections and how you go about placing them in your resume is what resume formatting is all about.
Step 1: Personal Information
As much as it pains us to say this, don't write 'CV' or 'Resume' on the top. Just...no.
Start off with your name in a text size larger than all other sections so that your most distinguishing feature on that piece of paper stands out.
Mention your contact details, email id & location.
Go for a professional email id and not something like princess_jean@gmail.com or sam_samurai@gmail.com
Mention your current location. If you are willing to relocate, you can mention the same either at the end of your resume or in your cover letter.
Step 2: Summary/Objective
In case you are an entry-level professional, you can go for an Objective statement instead of a Professional Summary section
For all other sections, you can go for a crisp Professional Summary section detailing the skills that you possess and how you plan to use that for resolving organizational issues and achieve company goals.
Make sure that the summary is crisp and does not exceed 4-5 lines
Try to derive a cause-effect relationship in each point in the summary. Don't just mention your achievements from your previous profiles - rephrase them to convince the recruiter how the skills that went into those achievements are transferrable and can be used for the benefit of the organization
Step 3: Skills
Depending on your profile and industry, Skills will broadly come under
Managerial/Professional Skills: Hard skills relevant to your target job profile
Technical Skills: No sector is immune to technology. You can use this section to list out your proficiency in online tools, software, methodologies, techniques, programming languages, etc.
Soft skills: non-professional abstract skills like communication, problem-solving, etc.
Prioritize your professional skills over soft skills. The JD is your most accurate source to understand the skills which the recruiter is looking for.
Step 4: Professional Experience
Align the company and profile to the left and date/location to the right. It's the industry norm for most single-column resumes and recruiters usually look for them this way.
Start off with your current/last-held profile (reverse-chronological resume)
Mention a one-line description for all the companies where you have worked
Use crisp bullet points starting off with action verbs and bold important phrases/words
Group similar points together and assign sub-headings to them for greater impact
Do that for all the work profiles
Step 5: Education
List your most recent qualification first to include the university, college, major/minor and time period
Mention your GPA only if it's 3.5 or above

If it's been more than 3 years since your graduation or if your GPA is less than 3.5, you can skip your GPA altogether

Provide details of academic projects that you completed
Step 6: Additional Sections
Additional sections can include Training, Certifications, Publications, Extra-curricular Achievements, Hobbies/Interests, etc.
You can include information pertaining to proficiency in languages in this section
While listing out your hobbies, try to align your interests along the lines of what might be relevant for the recruiter
Try to quantify your interests and achievements. Merely mentioning 'travelling' or 'music' as a hobby adds no value to your resume whatsoever
Step 7: Fonts, Margins & Spacing
Go for sans-serif fonts (Arial, Verdana, Trebuchet MS, Century Gothic, Calibri, Lucida Sans, Tahoma, etc.) over serif fonts
Most ATSes are unable to process serif fonts - hence, sans serif fonts are your best bet
Make sure that the font size is not smaller than 10 and not larger than 12 (for the section points and not section headings)
Formatting & legibility of the text can't be compromised in the quest to reduce a resume to 1 page
Make sure that you leave a minimum of 1 inch margin on all sides
Before you send across your resume, print it out to see how it would look on paper
Keep the spacing single-spaced for your resume, with a line break after each section
---
Key Takeaways
There can't be a universal resume format 2018 ideal for everyone. Resume formats depends on two key factors - your career trajectory and the job role you are targeting
Resume format 2018 is not a way for you to hide your career gaps or inadequacies. It's always better to be upfront about the same rather than use the best resume format 2018 to disguise it
Quantify all your achievements and make sure that they are clearly visible across all your profiles
Pay special attention to font, font size, margin and spacing. There's no use slogging over a resume for days only to have it rejected because the spacing rendered it illegible.
Use standard sections highlighted above because ATSes are programmed to scan them. Trying to be quirky by replacing the Professional Experience section with something like 'Career Graph' or 'Work Story' will only jeopardise your chances.
Still have more doubts around the ideal Format for your Resume? Drop in a line below and our resume experts will get back to you within 24 hours!