What are the main sections to add to a resume?
A recruiter spends 7.4 seconds reviewing a resume.
How do you make an appealing case for your candidacy in this short span?
You need to segregate the resume into distinct sections and add information to those sections in the best way possible.
These resume sections will help the recruiter easily scan your resume and get a sense of your skills and experiences.
In this article, we'll tell you everything you need to create resume sections!
Standard Resume Sections
There are five resume sections that you absolutely can't ignore in a resume. These sections are:
Header & Contact Information
Resume Summary or Objective
Professional Experience
Education Section
Key Skills
After these fundamental resume sections, you can add some additional sections, depending on your experience and skill level. For Example:
Volunteer Experience
Projects
Awards & Honors
Leadership Experience
Hobbies & Interests
Certifications and Licenses
Qualifications
Extracurricular Activities
Accomplishments
Associations
Publications
Training
Conferences
Also Read: How to select a perfect resume format?
How to Order Resume Sections?
Figuring out the right order of resume sections for maximizing impact may not be an easy thing to do.
The reality is hiring managers are seeing most of the resumes in a certain order.
But, it doesn't mean you have to add the resume section in the same order.
Based on your work experience, you need to change the order of the resume sections.
For Example: If you are a recent graduate, you need to move the education section on top since you want to put more emphasis on that.
Below are some ways to order your resume sections based on your situation:
Reverse-Chronological Resume Structure
This is the most widely used among job candidates around the world.
This resume format is excellent if you have years of continuous work experience and a lot of skills to highlight.
Here's the order of resume sections for reverse chronological resume structure:
Header & Contact Information
Resume Summary or Objective
Key Skills
Professional Experience
Education Section
Additional Sections
Here's is an example of reverse chronological resume format:
Also Read: How to craft a reverse chronological resume?
Resume Structure for Recent Graduates
A recent graduate doesn't have much work experience to showcase.
For them, their academic achievements and extracurricular activities are the main focus.
So, for recent graduates, the order of resume sections will look like this:
Contact Information
Resume Summary or Objective
Education
Skills
Work Experience (if applicable)
Optional Sections
Here is an example of a recent graduate resume format:
Resume Sections if You're Changing Careers
If you are changing your career, you would want to get the focus of the recruiter on your skills rather than your previous experiences.
Since the work experience you have is not relevant to the job you're applying for:
Below is a resume structure you can use in this case:
Contact Information
Resume Summary/Objective
Skills
Certifications(if any)
Relevant Experiences
Education
Additional Sections
What to Add in Different Resume Sections?
Since we have learned the basics of resume sections, here's a deeper understanding of each section.
Resume Header and Contact Information Section
The resume header is the 1st section a recruiter will see in your resume.
Despite that, you may think that it's not as important as some other sections. Wrong!
Your name and contact information are such critical information that you are not expected to make any mistakes here.
The elements you need to include in the resume header:
First & Last Name
Phone Number
Email Address
Location - city and country code
Job Title/Professional Title
LinkedIn Profile link
Social Media Profile link (Optional)
Note: Triple-check everything you write on the resume header sections. Also, include a professional email id instead of a randomly named email id.
Resume Summary Section
Whether you are a fresh graduate or an experienced professional, your summary will come after your header.
It displays a brief account of your skill, accomplishments, and qualifications.
It is imperative to tailor your summary section to the specific job posting.
Wrap the resume summary within 2-4 sentences and include relevant keywords in your summary from the job description.
Example of a resume summary:
2+ years of experience BD professional with experience in dealing with firms in the UK & Europe. Skilled professional with hands-on experience in forging strategic alliances & increasing profitability. Proficient at closing B2B deals worth millions of dollars. Adept at forging partnerships to create strategic benefits. Looking forward to applying the acquired gamut of skills to a challenging role.
However, if you are a recent graduate, use the resume objective instead of a resume summary.
As opposed to a resume summary, a resume objective introduces your skills and career goals and why you're the perfect fit for the company to the recruiter.
Also Read: How to craft a professional resume summary in 2022?
Key Skills Sections
The skills section is one of the most important sections of a resume.
It's usually placed after the summary section of a resume.
The key skills section helps the recruiter scan your skills quickly.
It also acts as a keyword placeholder for your resume to help it get past the ATS systems.
So, make sure to scan the job description and add the relevant key skills mentioned in the job description.
If you're applying for a technical profile, divide the key skills section into two parts.
Key Skills
Technical Skills
Key Skills: In the Key Skills section, add all the core skills you're gained throughout your career.
Technical Skills: In the technical skills section, add all your technical proficiencies.
Here is an ideal example of resume key skills section:
Also Read: How to craft the key skills section of the resume?
Professional Experience Resume Section
The professional experience section is one of the essential sections since recruiters use this section to evaluate a candidate.
The professional experience section should come after the key skills section in a resume for an experienced person.
If the resume is for a fresher candidate, the professional experience section should come after the Education section.
Given below are some of the elements you need to add in the professional experience section on your resume:
Job Title
Company Name
Location
Employment Date
Ending Date
Achievements in bullet points
While writing the content of the work experience, you need to keep in mind some basic rules:
Write the professional achievements and responsibilities in bullet points
Start the bullet points with power verbs
Always try to quantify the bullet points for maximum impact
Hiration Pro Tip: Only add relevant experiences to the resume. If you are applying for a software developer job, your job as a customer service associate in your university days is not relevant. So, don't add it to the resume.
Also Read: How to craft the professional work experience section on the resume?
Education Section on a Resume
If you are a fresher, the education section will be the essential section of the resume.
Even for an experienced candidate since most high-level jobs require you to have a minimum degree.
The education section should include all your academic experiences in reverse chronological order. Elements you should include are:
Degree Name
University Name
Start Date
End Date
GPA (if above 3.5)
Honors
Academic Achievements
Minor Courses
Note: If you have a graduation degree, you don't need to add your high school diploma in the education section.
Additional Sections
Apart from the sections mentioned above, there are some additional sections you can add to your resume if it's relevant.
These sections alone can not help you get the job. However, these sections surely can help the candidate stand out from other candidates.
So, let's learn about some essential additional sections you can add to your resume.
Volunteer Experience
Working as a volunteer in your free time is always impressive.
And, if you add it to your resume, it tells the recruiter that you're a responsible citizen and that you believe in giving back.
Additionally, if the volunteer experience is relevant, it can count as a professional experience and work in your favor.
Below are the elements you need to add to the volunteer experience section:
Name of the organization
Location
Time period
Relevant tasks
Also Read: How to add volunteer work on resume?
Certification
Certifications are proof of work.
It testifies to your experience in certain topics.
It also shows that you thrive on upskilling.
Add the certification section under the education section.
For the certification section, you need to add the following details:
Name of Certification
Affiliation Body
Date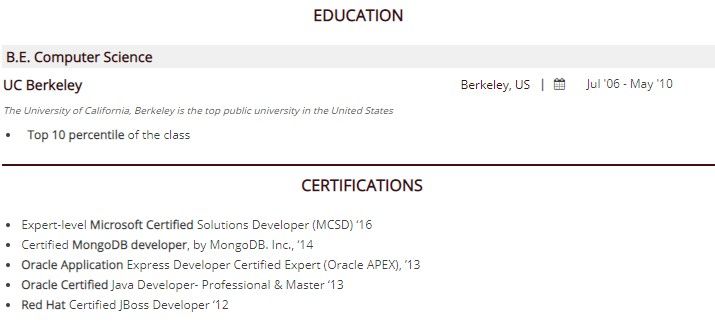 Projects
The project section is important, especially if you are a fresher.
Did you work on any relevant projects in your university or in your free time?
If yes, you should definitely add it to your resume.
Your relevant projects add extra weight to your resume.
Apart from being a hobby or an academic project, recruiters sometimes also count it as a proper work experience.
Add the following information in the project section of the resume:
Project name
Project type
Related organization
Time period
Relevant responsibilities
Also Read: How to list project sections on resume?
Key Takeaways
A standard resume sums up your skills and experiences to a hiring manager. When hiring managers or even the ATS scan multiple resumes to find suitable candidates, your resume sections can emphasize your values from the rest.
The standard resume sections include a few basic resume sections categories in a subsequent resume section order.
Your Contact Information to facilitate getting in touch with you.
A Professional Summary to recapitulate your skills and necessary contributions.
Add relevant keywords in the Resume Key Skills section to increase the chances of getting past the ATS system.
Your employment history to showcase your accomplishments and experiences throughout your career.
Your education history to display your certifications and degrees earned and the institutions you have made them from.
Any additional skills and achievements to high point technical or special skills you may contribute to the employer.
Go to Hiration career platform, which has 24/7 chat support to help you draft the perfect resume.
You can also write to us at support@hiration.com for professional assistance with all your job & career-related queries.