Sure, a nice resume template spices up your resume. But are you really losing your head over it?
[Click here to directly go to the complete resume sample. ]
Did you spend hours struggling with formatting and margins on MS Word and are now desperately looking for either a solution or a shotgun?
We can understand the pain of sweating on MS Word. Of knowing that there are resources out there that will solve all your problems but just not quite getting there.
But you are here because you want a free resume template that you can use right away.
There are all kinds of products and services available. Free and paid.
Even for a resume, you can find zillions of downloadable resume templates online.
But every good thing comes at a cost. Here the cost is in terms of time required to actually do the research and find the ideal resume template for your profile.
But don't worry. For a free resume template, we have paid the cost. The research bit is taken care of. You just have to pick it up and reap the benefits.
If you are feeling the burden of building a good resume, don't fret. Just check out our resume builder to build your perfect resume that gets you shortlisted for best of resumes.
Farewell to Resume Template Troubles - Use These Best Free Resume Templates
Infographic Resume Template by Fernando Baez
This resume template has made extensive use of icons and has kept the color to the bare minimum black and white.
Careful use of symmetrical architecture and pointers makes it easy for the recruiter to scan through.
You can download a copy of this free resume template here.
Photo Resume Template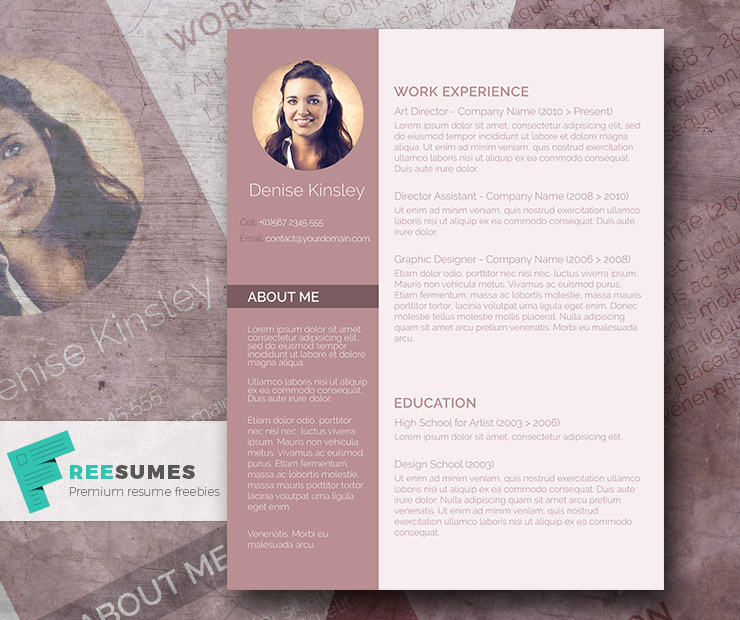 This free resume template lends oodles of professionalism to your resume. Its' double column format ensures easy readability and clarity.
It multiplies the chances of getting shortlisted, whereas the subtle shades of pink gives it an elegant appeal.
You can download a copy of this free resume template here.
Simple Black by Hiration
This resume template is a traditional piece of genius capable of incorporating a lot of information.
A simple and minimalist approach is expended in designing the same for professionals in non-arts industries like Finance, Banking, Consulting, etc.
You can download a copy of this free resume template here.
Hiration Pro-Tip: Once you click this link, you will see "Create Resume Now". click on this and you will be redirected to the log-in page. Log-in with any Gmail ID and then select the free content template and free design template available.
Shaded Hues Free Resume Template
This resume template is an artform in itself with flawless use of symbols, timeline and shaded hues.
Executing a truly audacious concept, this resume template displays your name in verticle format.
It comes across as a unique design which would send your dream recruiter into thinking mode.
You can download a copy of this free resume template here.
Rotating Blues Best Free Resume Templates
The rotating blue header and its sense of movement in this resume gives a creative look to an otherwise plain resume..
Black & White Free Resume Template
This unorthodox resume template by Wassim Awadallah goes bold by using the black background and gives an acute sense of layering.
It definitely comes across as a unique design concept and makes your resume stand out from the pile.
You can download a copy of this free resume template here.
Split Style Free Resume Template
We find this resume template informative and useful while informal and lively at the same time.
The designer has tried creating a balance of checkered boxes using pale pinks and whites to render a sophisticated feel.
This resume template surely is going to make a mark for you as soon as it arrives at the recruiter's inbox.
You can download a copy of this free resume template here.
Royal Blue Free Resume Template by Hiration
Fusion of blue color with white background renders a creative yet sober look to this resume template.
Structure: This resume template comes in a single column format with all sections available for you to edit. The sections include the Professional Summary, Key Skills, Professional Experience, Education, Internships and other Miscellaneous sections.
Design: The theme for this document is a 3 color scheme with a professional shade of blue for the document header background and body headings, and a shade of gray for the descriptive text of the document. White has been used as a font color in the Resume header.
Typography: Only a single font i.e. Open Sans has been used in the Resume with just the right amount of white spaces which makes even content heavy resumes easy to read.
You can download a copy of this free resume template here.
Blue Heights Free Resume Template
This resume template by Ikono Me embarks on the journey of personal branding by apt use of personal pictures and stellar display of contact details.
Different shades of blue are used in the text and background to render a corporate feel.
The text is readable and easy to comprehend.
You can download a copy of this free resume template here.
Clean & Crisp Free Resume Template
Guess what? This traditional resume is still very useful with its blend of modern icons and well-organized sections.
Resume showcases ample white space to give a spacious and light feel to the eyes and your only effort goes into the correct resume content writing.
You can download a copy of this free resume template here.
Bulleting Free Resume Template
In this resume template, you are able to see the candidate's picture jutting out, reminding you of the personal branding element.
Conversation literally bobs and weaves around icons, timelines and bullets in this resume template.
It comes across as a hard-hitting resume which is creatively beautiful as well.
You can download a copy of this free resume template here.
Pastels & Pop Free Resume Template
With a jaunty theme displayed, this resume has a pleasant visual appeal for its usage of color hues and accents.
A great deal of effort has gone into designing this bit using soft pastels and wise usage of different shades of pink in the text and background.
You can download a copy of this free resume template here.
Conclusion
Depending upon your industry, you can choose your free resume template. If you are in creative industry, take up a more jazzy resume template; else go for a sober one.
Save the file in globally accpeted PDF format unless you are specifically asked for a Word file.
Print the final resume in textured paper which would add a royal feel to your resume and highlight the craftsmanship of design.
Running out of time? Do not worry, you will get some simple yet useful 19 best free resume templates here at Behance.
Once you have built the resume choosing the right resume template, it is time to apply and grab that dream job.
Visit our Guide on Best Job Sites to apply now!
Go to Hiration career platform which has 24/7 chat support and get professional assistance with all your job & career-related queries. You can also write to us at support@hiration.com and we will make sure to reach out to you as soon as possible.