Looking for resume samples with no experience?
[Click here to directly go to the complete no experience resume sample]
Dies non.
No-work-no-pay is not only a true phrase but also a circle we see in life. But let's break it down.
Is a resume with no experience is as good as no resume at all? No way!
A resume does not only document the work experiences you have. In fact, for a fresher, your first resume for first job is bound to have no experiences at all.
So, how to write a resume with no job experience? How do you represent that you have not done any work, yet exhibit your characteristic performance?
Let us lend you a helping hand.
A resume with no experience could essentially have information around:
Education Section
Trainings
Certifications
Extra/Co-Curricular Activities
Initiatives
Projects
Publications
But how do you substantiate the data, order it, and prioritize it accordingly?
Along with first time resume with no experience samples, our guide, followed by a comprehensive list of FAQs, shall not only help you build your resume in the steps, but also answer the most essential question.
Before writing a resume with no work experience
Making a first time resume is always exciting.
Before writing your resume with no experience, here's a checklist of factors that you might want to consider:
Introspection
Your target profile determines your resume.
Lot of people with no work experience do not review their options - maybe because they do not know if they have any.
And it also makes sense: why not pounce at the first opportunity which presents itself?
But think about it: if you spent hours and days working on your first resume, wouldn't you want to be absolutely sure that you are seizing the opportunity?
Hence, it is important to have absolute clarity on what could be your strong and weak points.
Before proceeding with your first job resume, make a Master CV, within which you list complete experiences pertaining to:
your hobbies and interests
industry you think might be your perfect fit
work culture that suits you
Ask yourself questions like whether you want to be in a corporate setting or startup venture? It is important to have entire clarity regarding the same as your target profile determines how you write your resume.
Location
Factor in the costs - monetary and otherwise.
Location is a major factor in your first job resume. The following questions can help you decide:
Are you looking for specific profile or industry, irrespective of the location?
Are you limited by physical location?
Are you comfortable with travelling or working close by?
Will relocating for benefit you in the long run?
Is your company offering accommodations?
Research
After achieving clarity of your own scope, start researching about the company and the profile.
Is the company looking for workers in the first place?
Get to know about their recruitment process and their interview methodologies. Do they ask to include specific details in their resumes?
Always read the company's reviews to understand if your perception of the profile/company/industry differ from the ground reality.
Check out the parameters to realize whether it is something you might be interested in.
Most companies turn to their existing database before engaging in a fresh outreach. If your target company is not offering any jobs then you may call an internal representative to drop in your resume.
One of the best forms of online research for finding a job is typically through LinkedIn. But before researching or applying through LinkedIn ensure that your profile is well maintained.
Keep your LinkedIn profile up to date.
Secure recommendations from your professors, batchmates and friends
Add all relevant skills and get them endorsed
Include volunteer work and extra/co-curricular achievements
Many large organizations (as opposed to start-ups and small businesses) resort to LinkedIn for their job requirements. A stellar LinkedIn profile could be your best bet.
Network
Once your research has taken off, use your network for further support. This typically includes:
Career Center at School/College: Not only are most vacancies first posted there but career centres also lend a hand in creating or proofreading your college resume.
Professors/Faculty: Most Professors that we know want nothing more than to genuinely help anyone and everyone who approaches them for help. If you earnestly ask the Faculty members for help, you'll undoubtedly get some valuable insights.
Senior/Alumni Students: Your immediate seniors will always be one step ahead of you, so our advise is to leverage that. Additionally, their internships are fresh and their insights will be more relevant to you than anyone else's.
Hiration Resume Experts: If none of that works out, our Resume Experts will be at your service 24x7! Just shout out in the comments below or visit our website in case you have any doubts pertaining to your college resume.
Perseverance
Nothing beats more than perseverance.
If you've zeroed in on a company or two for which you'd be willing to give your heart and soul, start cold calling them.
What if they are not looking for people? Doesn't matter. Drop in your resume anyway.
Be an avid follower of the company and its initiatives. Keeping yourself up-to-date will benefit you sooner or later.
Maybe there's an event or a job fair happening nearby in which the said organization is participating.
Well, then what are you waiting for?
How To Begin A Resume With No Work Experience
Before you get down to writing the resume, let us clear a few things:
Don't compare your NO work ex resume with a professional who has had years of experience.
The objective is to showcase your experience in the best possible way and not to get drowned out by others.
You can check out our guide to Resume Layouts to get an idea on how to proceed. Our advice: stick to a combination format.
Contact Information in a resume with no work experience
We wouldn't have included a section on Contact Information for your No Work Experience Resume if we didn't think it was important.
People make the silliest of mistakes even while adding their contact details in their resume.
Name
That is the most basic stuff.
First, enter your name - the largest text (>16 pts.) on the document.
Contact Number and Email
Then, make sure to provide authentic information without typos or incomplete information.
| Wrong | Right |
| --- | --- |
| rockstar.leo@hotmail | leo.andrea@gmail.com |
| 8888 6666 | +111 8888 6666 |
| Maggie Orth, 1439 E Ward St, Seattle, WA 98112, USA | Seattle,US |
Address:
Don't include your entire residential address. Just the area and postal code will do.
This suffices for candidates who are willing to relocate as well.
Misc. (Skype, LinkedIn, Blog/Portfolio, etc.)
Include Skype id handle only if necessary/specified in the Job Description
Include LinkedIn if is well maintained and updated according to your resume
Showcase your portfolio or blogs (with links) as long as it is relevant
You can add section of "Hobbies and Interests" in the end as long as it is relevant and you have enough space.
For example, "Playing Chess" could be relevant to a job pertaining to analysis.
How To Write A Resume With No Work Experience
How to make a resume for first job? Let's analyze a resume which has no work experience.
College Resume Summary/Objective in a resume with no work experience
This section will go at the top and will be a game-changer. We've seen a lot of students spending countless hours working on just this one section.
Let's start off with the difference between Resume Summary & Resume Objective. How do you tell which one to use?
Well it is simple.
Ask not what the company can do for you but what you can do for the company.
Do not start working on the Resume Objective section without finding out it is even necessary. Place yourself in the shoes of the recruiter. What will you look at in an application with a list of all the things that s/he is looking for?
Something like this:
Dynamic and detail-oriented English major looking to leverage the stellar communication skills as an Intern to create engaging and SEO-driven content for large-scale conglomerates. Demonstrated ability to efficiently work in teams as a zonal-level lacrosse player at University of Berkeley.
Try to convince the recruiter how you will play an instrumental role in helping them achieve their goals rather than sending a bucket list of items that you are looking for.
That's the major difference between a No Work Ex Resume Summary and a No Work Ex Resume Objective section. You should ideally be targeting the former. The skills that you possess will remain content in both the cases, but the emphasis should be on the needs of the recruiter, not your own.
Take a look at the summary from the following first resume examples:
Development Research Analyst & Consultant
Meticulous & detail-oriented Development Research Analyst armed with an extraordinary acumen for research encompassing both primary and secondary methodologies. Possesses a track record of consistently securing a top rank throughout the academic career. Adept at leading teams & coordinating with relevant stakeholders to analyze key parameters for consolidating information into actionable reports & presentations. Proficient in investigating significant social issues with a keen insight & a unique perspective, and conducting socio-economic impact assessment (SIA) for development and research projects.
Process Design Professional
Passionately motivated Chemical & Process Engineering Graduate with impressive analytical skills & hands on experience in the field of Process Design. Possesses extensive industrial training experience as well as technical laboratory experience in the field of Chemical Engineering, Bio Technology & Bio Chemical Engineering. Highly skilled at conducting research in Process Engineering by employing effective Project Management, Process Engineering & Process Optimization principles to deliver results which exceed expectations. Has developed excellent analytical & critical thinking skills along with the ability to critically review work while making rational assumptions & estimation. Smoothly delivers even in the uncertain research environment by prioritizing design work using practical engineering assumptions. Drives effective collaboration & coordination to ensure that the team performs to the best of its ability & delivers outstanding results.
Now let's take a look at the remaining college graduate resume for first job.
The above image gives us a broader idea about how to write the resume objective for first job with respect to the rest of your resume.
You can check out our in-depth guide on the Resume Objective section : The Complete 2022 Guide with 10+ Resume Objective Examples for more insights on how to optimize this section as per your requirements.
Education in a resume with no work experience
One major area in which a standard professional resume differs from a No Work Experience resume is the Education section.
Or more specifically, the order in which this section appears in your student resume. The education should essentially come first.
Let's prioritize the most important degrees. In the following, the candidate does not only write the degree but also relates his achievements.
M. Sc. (Advanced Chemical & Process Engineering) | University of Strathclyde, Glasgow, UK | '15-'16
Passed with Merit | IELTS Overall Band Score: 7.0 & CEFR level: C1
B. Tech. (Bio Technology & Biochemical Engineering) | University of California, US | First Class | '10 - '14
Since your resume is not filled with multiple job experiences, you can lead the resume with your Education section. But even then, there isn't a single way to go about it.
Let us clarify that through an example:
University of Berkeley
BA Economics (Hons.)
Expected to graduate in '19
This is a perfectly average example.
But "Education" section is the most critical section of your no work ex resume.
And you need to stand out!
List out anything and everything that you have done till date and categorize them into Education, Co-curricular Activites and Extra-curricular Activities.
An example will clear that right out.
EDUCATION
Bachelor of Economics (Honours) | University of Berkeley | May '11 – Jun '14
Selected out of 10,000+ applicants to receive an additional 30% scholarship owing to a stellar academic & work profile
1 of 5 to be shortlisted out of 120+ applicants for a 1-year internship with the Microsoft Strategy team post-graduation
1 of 3 mentees to be selected out of 80 applicants by US' top investor Jack Welch, former Chairman & CEO of General Electric
Secured 1st Rank in a batch of 80 for Micro-Economics (96%) and Mathematics (86%)
EXTRA-CURRICULAR ACTIVITIES
Event Head | University of Berkeley
Led a team of 25 across 10+ colleges to develop a unique brand positioning & boost y-o-y participation by 15%
Championed the debating event as Director Coordinator to execute marketing, tie-up with colleges, reach out to the volunteers, etc.
Head | Organising Committee | National Seminar | University of Berkeley
Led 30+ members to host a delegation of 100+ eminent academicians like Noam Chomsky & leaders from Morgan Stanley
Core Committee Member | Economics Debating Club
Collaborated with Harvard Economics Club
The above snapshot shall help you acquire an upper hand.
You may in fact also change the order of your sections to help you stand out. Let's look at the example below:
In the above example, the "Academic Achievements" section stands out, which is why the candidate reordered it on top.
Since it's only your Education experience, recruiters aren't expecting anything flashy either.
But to help them decide whether or not to invest in you, show them the levels of initiative you can manage, modules and coursework across your degree, extra trainings you took, etc.
For instance, there might be some academic projects which you completed but which are only relevant for a few specific profiles.
However, if your domain of education does not synchronize with your target profile as is the example in one of the next first resume examples, then you may re-prioritize and re-order it.
His was resume with no work experience yet a few experiences which he prioritized in order to make it relevant to the target job.
Your resume for first job should be relevant.
Professional Experience in a resume with no work experience
If you have experience in an unrelated field that's okay.
Most resumes you see online are standard professional resumes which are nowhere related to what you are looking for.
We suggest you check out our given sample resume with no work experience. Further, you may use Hiration's online resume builder to find the most relevant first job resume template for you.
You shall hardly find examples of resumes without experience.
First, your first resume does not strictly need to be following all the guidelines to get a job with no experience.
You can include odd jobs which may or may not be related to your target job profile.
The idea here is not to look like you were born for this job. The idea is just to showcase a certain level of initiative from your end.
You can additionally add your experiences in:
voluntary work
non profit leadership
social initiatives
projects
The first job resume should not and will not exceed 1 page.
You can highlight the points you frame using action verbs. Our guide on Power Verbs should help you jazz up your resume with no experience.
However, you must align your previous roles in an achievements based format instead of a responsibility based one.
Key Section in a Resume with No Work Experience
Key Skills in a Resume with No Work Experience
The "Key Skills" section always plays a crucial role in getting shortlists.
Most people either miss the section altogether or they relentlessly stuff a resume with keywords. Both of these options are a huge NO.
The most underrated source of relevant keywords is your job description.
Never submit your resume without consulting the Job Description. While comparing the JD, you shall find the necessary skills required for your target job.
Prioritize:
leadership/professional skills (project management, team management, stakeholder management, etc.)
over soft skills (coordination, communication, etc.).
First, establish a cause-effect relationship in your professional section and highlight how you utilize the skills to achieve organizational goals.
Analyze the Job Description against which you made you resume
A Key Skills section increases your chances of getting scored higher by the Applicant Tracking System.
You may find relevant skills in our database of resume examples.
Development Research Analyst & Consultant
| | | |
| --- | --- | --- |
| Leadership & Team Management | Reporting & Documentation | Impact Assessment |
| Research & Analysis | Public-speaking & Communication | System Dynamics Modelling |
| Behavioural Analysis | CBA Analysis | Primary & Secondary Research |
The Key Skills and Technical Skills should always be prioritized above the Academic Achievements/Qualifications as can be seen in the sample resume with no work experience above.
For a greater understanding of the role which the Key Skills section plays in your resume, check out our comprehensive guide on Resume Key Skills.
Training
A trainings section is extremely important in case of resume with no work experience
Additional Sections in your Resume for College
A high school student resume with no work experience often struggles to the end of page.
But do not incorporate fluff or unnecessary points to stretch your resume.This only reflects a false sense of accomplishment which often backfires during the interview.
To avoid that:
target your information to the requirements of the recruiter
ensure enough blank space in-between text for making it 1 page
Hiration's online resume builder has a 1 click fit button to increase or decrease spaces as required.
Also, enough research is important to customize a resume with no work experience.
For example, if the organization you are targeting has an unofficial lacrosse team which plays with teams from other corporates, and you happen to play the same sport, you are gold!
Otherwise, always quantify your achievements and provide detailed information around all information.

Add sections around your Hobbies and Interest. However, include details.
Look at the following example:
HOBBIES: Photography, music, travelling, reading books
In a resume with no work experience, especially a first resume without work experience, candidates are often eager to flood the "Additional Information" section along these lines.
These do not value unless you quantify your contributions.
Let's take a look at this example from a resume for first job:
HOBBIES
Photography: Owner and administrator of ZYX Photography Page on Facebook with 7k+ likes
Travelling: Visited 6 countries in the last 1 year and documented my travels on my travel blog (insert link) with an average traffic of 50k users/month
Add a link to your Behance account, or a professional Instagram or Facebook accounts, if necessary, for such interests.
You are going a step beyond what's expected and detailing how you excel in those hobbies.
A recruiter reading this will instantly conclude that you'd also be able to transfer these skills in the workplace to help him achieve organizational goals.
In addition to the Hobbies section for your college student resume, you can add more sections related to:
Projects
Publications
Extra-curricular Activities
Stay relevant and keep the resume targeted according to the requirements while making a college freshman resume.
My First Resume
A resume with no experience does not mean a resume without information.
Let's look at the differing samples of the same high school student resume with no work experience: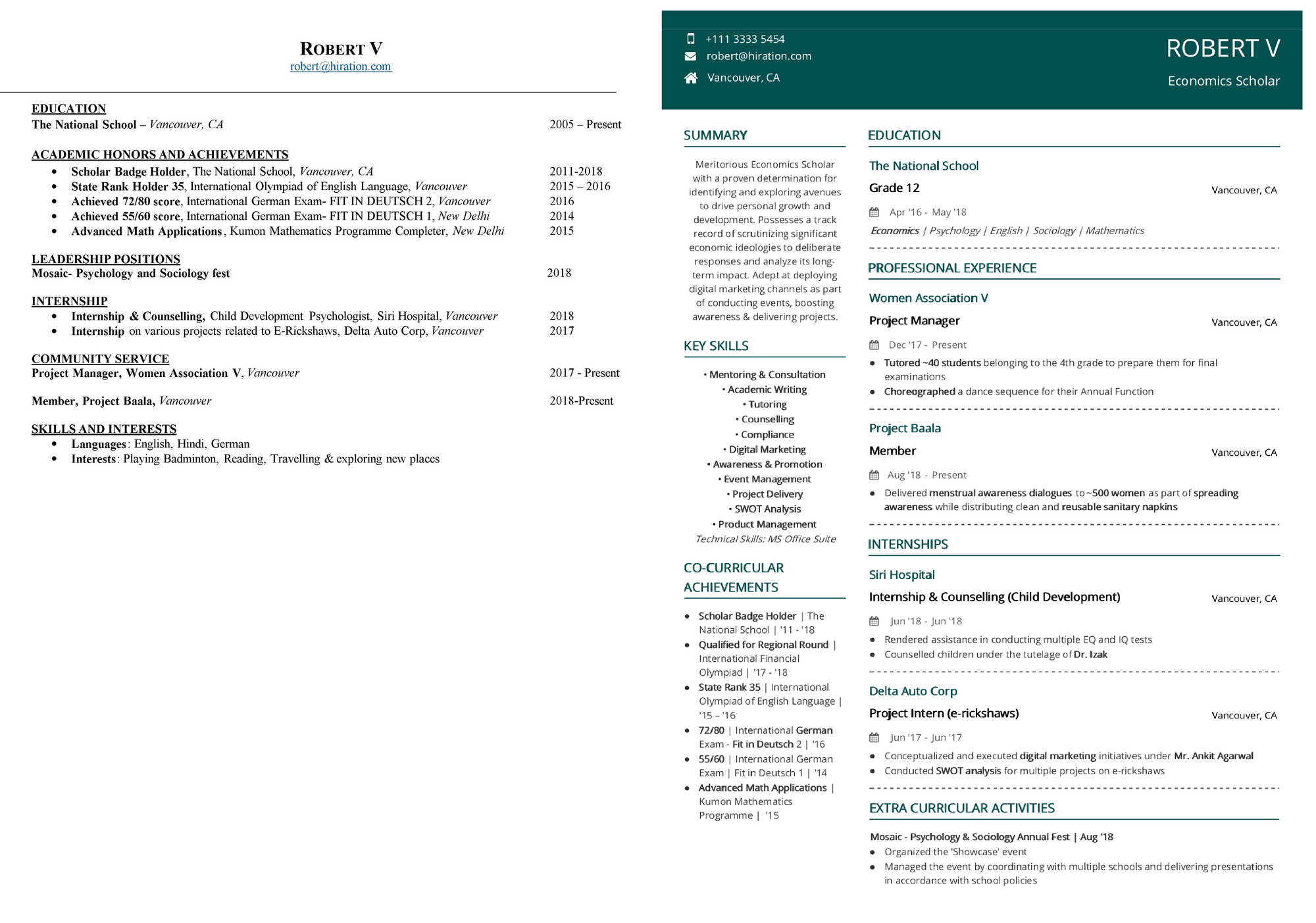 Now put yourself in the shoes of the recruiter. Among the two resumes which one is more credible?
Right!
Data always validates claims.
This applies for both experience or no work experience resumes.
Clearly, only stating your educational qualification, your awards and your positions do not quantify or qualify your first job resume enough. Adding data around your contributions exemplifies:
your acquired skills
extent of your responsibility
quantifiable achievements
and a lot more.
Quite simply only stating "Mosaic - The Pscyhology Fest" under Leadership Positions, versus stating your contributions:
Organized the 'Showcase' event
Managed the event by coordinating with multiple schools and delivering presentations in accordance with school policies
under the same header gives a clearer picture of the responsibility you were able to fulfil and the initiatives you took.
Data transitions your resume from vague to clear.
Further, "CO-CURRICULAR ACHIEVEMENTS" play an important role in any resume
Scholar Badge Holder | The National School | '11 - '18
Qualified for Regional Round | International Financial Olympiad | '17 - '18
State Rank 35 | International Olympiad of English Language | '15 – '16
72/80 | International German Exam - Fit in Deutsch 2 | '16
55/60 | International German Exam | Fit in Deutsch 1 | '14
Advanced Math Applications | Kumon Mathematics Programme | '15
So, let's dwell more into how to write a resume for the first time with the following questions.
First Resume FAQ
How to make a resume for first job?
Before your first job you have a resume with no working experience.
But do not worry. Recruiters would not expect work information in a resume for first job. Rather they prioritize your:
Education Section
Trainings
Certifications
Research
Extra/Co-Curricular Activities
Initiatives
Projects
Publications
What to put on a resume when you have no experience?
A resume with no work experience does not strictly need to have all professional sections. Instead you may include more data around your Education Qualification, Trainings, Certifications, Extra/Co-Curricular Activities, Initiatives, Projects, Publications
How to make a resume when you have no experience?
Without work it is difficult to substantiate an usual resume. But you may easily do so if you have the right data at the right place.
What should I include in a college freshman resume?
A college freshman resume should strictly function to get into a university or institute. In such a resume with no work experience, you must remove all irrelevant data around volunteering and the like, and include more data around:
Education
Research
Publications
Certifications
Trainings
Relevant Projects
Key Takeaway
A resume with no work experience sounds like a losing battle, at first, but with this strategy, you'll have a resume they won't be able to resist.
Focus on education: Highlight your academic achievements
You do have experience: Your little or direct experiences count - a stint with an NGO, or freelance gigs
And if you don't have, get some free or inexpensive courses online to add relevant experience.
Other sections: Without an extensive experiences section, you can add sections pertaining to "Extracurricular Achievements", "Co-curricular Activities", "Additional Information" or "Languages".
In a resume with no work experience, prioritize your sections accordingly:
Education Section
Trainings
Certifications
Research
Extra/Co-Curricular Activities
Initiatives
Projects
Publications