How to write Splunk on resume?
We will show you exactly how!
[Click here to directly go to the complete Splunk resume sample]
Give your Splunk enterprise security resume the much-deserved makeover and entice the recruiters into shortlisting you.
Take a look at an ideal ATS-compatible Splunk sample resume:
3+ years experienced engineering professional and Splunk Enterprise Certified Administrator adept at maintaining and integrating Splunk environment as part of providing technical support to senior leadership. Highly skilled in developing and implementing solutions to increase the value of internal operations and bolster cybersecurity capabilities. Adept at designing dashboards for monitoring overall organizational performance and liaising with customers and key stakeholders to gather user requirements for improving security posture.
• Splunk Maintenance & Integration • Solution Development & Implementation • Customer Service • Query Development
• Dashboard Design & Implementation • Documentation & Reporting • Data Structure & Process Development
• Project & Upgrade Planning • Technical Support • Operations Management • Performance Monitoring
Software:

Splunk, Microsoft Suit, Microsoft SQL Server

Operating System & Platform:

Unix, AWS
PROFESSIONAL EXPERIENCE
Start typing, then use the up and down arrows to select an option from the list
An American public multinational corporation headquartered in San Francisco, California, with revenue worth USD 2 billion
Maintaining integration between Splunk and

external tools

to provide ongoing technical support

Leading

routine operations

and maintenance of the Splunk environment including planning of upgrades to ensure reliability
Sharing best practices and creating innovative solutions to

maximize

the value of Splunk in

internal operations by 60%

Architecting, developing, deploying, and administering Splunk Enterprise to support

10 cybersecurity capabilities
Splunk Integration & Dashboard Design
Designing and implementing

2 dashboards

while drafting weekly reports for the

senior management

Integrating Splunk with a wide variety of data sources and developing dashboards for

monitoring performance
Allying with

10

customers to gain in-depth understanding of the

user

needs

for facilitating the growth of

security posture

Collaborating with

60 IT professionals

, and technical users to meet defined technical needs
Documentation & Reporting
Documenting and maintaining a list of system changes to meet the requirements of

10 key stakeholders

Providing on time, accurate and realistic status reports by

deploying standard templates

to identify security violations
Start typing, then use the up and down arrows to select an option from the list
An American multinational technology company headquartered in Armonk, New York, with revenue worth USD 77 billion
Data Structure & Process Development
Created

10 data structures

and ETL processes for the collection of homogenous smart grid data from the sensors

Formed flexible data structures and streamlined data architecture to turn data resources into

informative intelligence
Liaised with the

IT team of 30

to ensure that data solutions are implemented in an efficient and technically manner

Instituted & implemented

2 utility solutions

for sentient energy to gain an in-depth understanding of Workforce data assets
Query Development & Coding
Designed, wrote and debugged complex code while supporting

10 domain data scientists

in writing complex queries

Built

2 data pipelines

by developing data engineering code while writing complex data queries and algorithms to

ingest data
Participated in planning & execution of projects as part of steering

Software Development Lifecycle

in an Agile environment

Assisted

30

clients

and partners with project planning to ensure consistent delivery of optimal data architecture
Documented all

phases

of delivery

including specifications, models, etc. to assist in migration and optimization of processes

Developed

3 process flows

and technical documentation to determine new features
Splunk Enterprise Certified Admin

| Splunk | Jul '20

Splunk Core Certified Power User

| Splunk | Jan '18
EDUCATION
B. Sc. in Computer Science
Start typing, then use the up and down arrows to select an option from the list
A national research university in USA with a student base of 35k+ students
Languages

: English (Native) and Vietnamese (Interactive)
Here's a summary of our Splunk Resume Blog:
Research the resume guidelines of the country you are applying to for a job.
Avoid inputting unnecessary information in your UNIX developer resume.
Consistency is important, so use the same month & year format to present the dates in your Splunk engineer resume and the city & state name format to present all locations.
Write your real full name as the Splunk resume header.
Write a Splunk resume summary if you have 3 or more years of work experience and an objective statement if you have less than 3 years of work experience.
Moreover, this blog has section-wise Splunk resume samples to help you visualize how your Splunk developer resume should look like at the end.
To perfect your Splunk administrator resume, read and follow the Splunk resume points listed below:
We will now walk you through each of these Splunk resume points in detail to help you make a shortlist-worthy Splunk analyst resume.
In the meanwhile, check out our Online Resume Builder to make your resume writing woes disappear.
Take a look ath the topics we will be covering in this blog:
Optimize your Splunk resume for ATS compliance
Did you know that it's a bot that decides the fate of your resume when you first submit it to an organization?
That's right! It is more likely that your resume will first have to face the applicant tracking system (ATS) before it is passed on to a recruiter. And that will only happen if you have an ATS-compliant resume.
This software is being used by more and more professionals in the recruitment industry to perform the first round of candidate vetting.
As the applications that recruiters receive for a single job opening is in the thousands, it makes sense to use software to scan through them and reject the least desired applications at the first step itself.
But this means that many qualified candidates face rejection as well since they do not know how to make an ATS compliant Splunk analyst resume.
We are here to make sure that your Splunk admin resume never suffers such a fate.
Have a look at the criteria based on which the ATS will either select or reject your UNIX developer resume:
Readability
An easily readable Splunk administrator resume is not only favored by human recruiters but also by the ATS.
A well-formatted Splunk developer resume is more likely to be parsed by an ATS. So, optimize everything from the content to the margins, font size, spacing, etc.
Keywords
The presence of keywords is important as this is what an ATS looks for in a resume to parse it. These are the criteria you will find in the JD which can range from skills to qualifications.
When an ATS identifies the presence of these keywords in your Splunk security engineer resume, it assumes that you hold the required expertise and thus parses your UNIX developer resume. This is why it is incredibly important that your JD and CV match to a certain extent.
We would advise you to make sure that your Splunk administrator resume is easily readable and full of rich keywords.
However, relevancy matters a lot. Mindlessly stuffing keywords in your Splunk developer resume will backfire as an ATS might pass it but at last, it will be a recruiter who will be doing the final shortlisting and they will see through your farse and reject you instantly
You can use this Splunk resume example by signing up on our Online Resume Building Platform. Once you have signed up, you can easily edit and do your Splunk resume download.
Present information under distinct sections in your Splunk resume
Organizing your information neatly so that it is easy to navigate is the easiest way to get into the recruiter's good books. On top of that, it also makes the ATS's job easier and your Splunk security engineer resume stands a higher chance of getting parsed.
What more reason could you need to file your information in neat and organized sections?
These are the must-have resume sections that you should consider including in your Splunk enterprise security resume:
Header
Personal Information
Profile Title
Summary/Objective
Key Skills
Professional Experience
Education
These sections will cover all the basic information that a Splunk enterprise security resume should cover. However, if you have important information that does not fit into these sections, fear not. There are additional options available in such cases.
Here are some options for you to accommodate information that does not fit into the conventional sections:
Internships
Certifications
Volunteering Experience
Our Resume Sections Guide has more on this topic.
In the meanwhile, get your existing Splunk enterprise security resume analyzed by our team of in-house resume experts with our Resume Review Service.
Get guidance and actionable tips on how you can make a better Splunk security engineer resume that stands a chance at being shortlisted in today's brutal job market.
Draft the header, personal information, and profile title correctly in your Splunk resume
The first three sections of your Splunk enterprise security resume are:
Header
Personal Information
Profile Title
Let's see what you can do to perfect them:
Splunk Resume: Header
Here are some guidelines that will help you perfect your Splunk administrator resume header:
Stop labeling your Splunk developer resume as 'Resume' or 'CV' right this minute.
Write your real full name on the topmost part of your Splunk security engineer resume, this will act as the header of your Splunk administrator resume.
Use font in the size range of 16-20 points.
Individuals with middle names should consider initializing it. So, for example, if your name is David Hunter Parker, write it as David H. Parker.
Have more questions? They will all be answered in this Guide To Writing The Perfect Resume Header.
Here's a splunk sample resume illustrating an impeccable resume header:
All snapshots of Splunk resume samples in this guide have been made using Hiration's Online Resume Builder.
Splunk Resume: Personal Information
Moving on, let's talk about the personal information section. This is another majorly important section as this where you give the recruiter means on contacting you so they can inform you of a shortlist or call you in for the next recruitment rounds.
Here are the details that you should include here without failing:
Updated mobile number: If you use multiple numbers, consider putting down only one on which you are available all the time so you do not miss any calls.
Professional email ID: Use your name in the ID. So often we have seen IDs with silly phrases that we must warn you that it might look insignificant but recruiters pay attention to these things. An unprofessional looking ID will paint a bad picture.
Current Location: Do not give out your full home address. Only your state and city name should suffice.
Hiration Pro Tip: Make sure that you know the exact resume guidelines of your country of employment. A little research will take you a long way.
Further, you can consider adding the following information in this section as well:
LinkedIn profile URL
Link to your personal website
Read our Resume Personal Information Guide to get a better understanding of how to perfectly curate this section.
Here's a Splunk resume example showcasing the perfect personal information section:
For more section-wise Splunk resume samples like these, read on.
In the meanwhile, you can also use our Online Resume Builder to curate an impeccable Splunk enterprise security resume.
Splunk Resume: Profile Title
Here is what your profile title tells your recruiter about you:
Your current job title.
Your functional industry.
Your seniority level
Here are some tips for you to perfect your profile title:
Write the profile title of your Splunk enterprise security resume in the second-largest font size of 14-16 points.
Be honest! Do not promote yourself and lie about what title you actually hold because you are most likely to be caught and if you did not then you would do a poor job for lack of expertise.
Here's a Splunk resume example illustrating an impeccable profile title:
Sign up for our Resume Review Service and get advice on what you can do to make it into your dream shortlist.
Highlight your responsibilities under the professional experience section of your Splunk resume
This is where all the details regarding your job roles & responsibilities go.
Moreover, you will be telling the recruiters all the organizations you have worked in and your tenure at each of them.
Seeing that this section holds the power to make or break your case, you should work tooth and nail to perfect it.
Following are some tips that will help you perfect your professional experience section:
Use the reverse-chronological format
Use one-liner points
Use power verbs
Use achievement figures
Use bucketing & bolding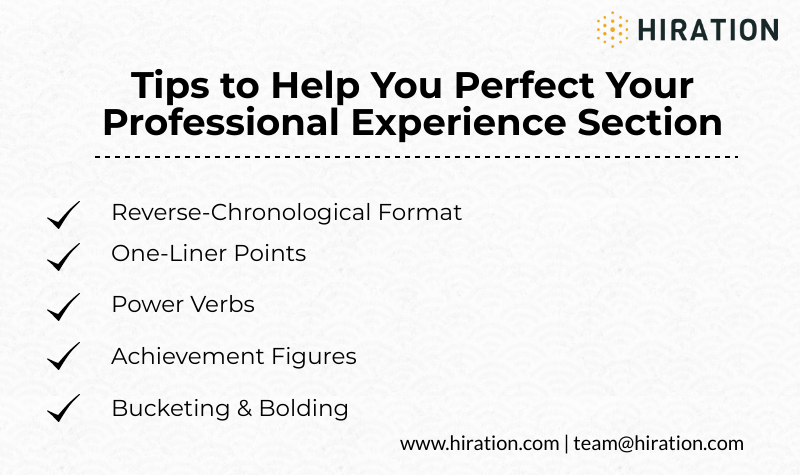 Use the reverse-chronological format
There are other formats available as well, like the functional or combination format. But we at Hiration think that the reverse-chronological format holds a better chance at getting resumes shortlisted.
Why?
Because, first it is extremely ATS and recruiter friendly, and second it displays your most relevant and recent job first. Thus, making it the perfect resume format choice.
So, if you are to follow our advice, use the chronological format to present your work experience details.
Showcase your career trajectory in a positive light and how you have evolved as a professional. By using this format.
Use one-liner points
Moving on. It is important to know how to correctly communicate your past roles and expertise to your recruiters.
Anyone can haphazardly dump their information but to curate a Splunk developer resume that a recruiter can't take their eyes off is an art.
If you belong to the former category and think that getting the information on the resume is more important than presentation then you could not be more wrong.
While information is obviously important, your Splunk developer resume won't even be parsed by the ATS if it has poor formatting. Even if by some luck it gets through the bots, it will not be read by the recruiter if you are using paragraphs or really worded points.
To overcome this hurdle, start using crisp one-liner bullet points.
It makes your Splunk security engineer resume ATS friendly and makes it easier for the recruiters to read, thus increasing your chances of getting shortlisted.
Use power verbs
Now let's get even deeper and see how you can perfect your one-liner points.
The easiest way to make this possible is by using power verbs. Just using these to begin your points can create an impact on the recruiter.
So, will you now be usingpower verbs to begin your professional experience statements?
We hope you do.
Use achievement figures
There is a famous saying, "show, don't tell!".
This applies to your Splunk admin resume as well.
Rather than just telling the recruiter all that you did, show them.
How?
Through achievement figures!
Rather than saying that you optimized processes that saved time, tell the approximate hours that you were able to save. Similarly, if you were able to save money for your company, tell the exact amount to the recruiter.
This will make your Splunk admin resume so much more desirable.
Use bucketing & bolding
In the end, use these 2 tactics to improve the quality of your Splunk developer resume.
First is bucketing where you have to assemble similar one-liner points under a unique heading or 'bucket'.
This successfully makes your Splunk administrator resume extremely reader-friendly and conveys important information to the recruiters through the buckets itself as they represent your key functions.
Second is bolding where you highlight key information by marking them in bold. This will successfully divert the recruiter's attention to the information you want them to focus on.
Splunk Resume Sample for Professional Experience
Want to know more about how to compose the work experience in your resume, read this guide.
Here's a splunk resume example showcasing an impeccable professional experience section:
If you want to access these Splunk resume examples that we have displayed here simply sign up to our Online Resume Builder and make your Splunk security engineer resume in minutes.
Give an account of your educational background in your Splunk resume
Looking for some Splunk resume points to perfect the education section of your Splunk developer resume? We have got you covered.
If you are wondering whether you should even dedicate space in your Splunk administrator resume to the education section, we are here to assure you that it is a must. If you are doubtful because of a low GPA, leave that detail off your Splunk security engineer resume.
These are the details that you should present:
Name of your school/university/college.
Your degree name.
Location of your school/university/college.
Enrolment and graduation dates.
Also, consider adding course modules if you are an entry-level employee.
Read more on our Resume Education Section Guide.
Here's a splunk sample resume illustrating a perfectly put-together education section:
All the Splunk resume samples shown in this guide are taken from the template available online on our Resume Building Platform. If you like the look of this, sign up and easily edit & do a Splunk resume download for this template.
Use a distinct section to highlight your Splunk resume skills
Get the job of your dreams by putting your skills in the front and center so the recruiters don't miss them while going through your Splunk security engineer resume.
Make a distinct key skills section in your Splunk enterprise security resume and make a subsection to display all your technical skills as well.
Read our Resume Skills Guide where we dive in-depth on this topic.
Here's a splunk sample resume showcasing an impeccable skills section:
Moving on, get your Splunk administrator resume reviewed by our experts at Hiration.
Conclude your Splunk resume using an impeccable summary
Through your summary, you give the recruiter a peek into your career proficiency.
If you follow the right format and be smart about it, these 5 lines alone can guarantee a shortlist or at least a spike in the recruiter's interest.
The fact is that no recruiter is spending more than an average of 6 seconds on a resume, so the name of the game is, optimization of the resume. The summary section has shown to be very effective in reeling a recruiter in that is why we implore you to give special attention to it.
Here is a list of tips concerning the summary section:
Write a Splunk resume summary only if you have a minimum work experience of 3 years. If you don't, write an objective statement instead.
Compose your Splunk resume summary at the end of the resume writing process. This ensures that the time you spend on this section is not wasted as once all the other sections are formed, you can easily pick important points to display here.
Talk about your achievements and highlight them to pique the recruiter's interest.
Keep your Splunk summary short, crisp, and to the point. Don't use filler words or jargon and stick to a 3-5 line paragraph limit.
Read our Resume Summary Guide for more on this topic.
Here's a splunk sample resume showcasing an impeccable summary:
In the meanwhile, use our Online Resume Builder to make the best Splunk enterprise security resume.
What's more? It supports Splunk resume download in both doc & pdf formats!
Use Hiration's Resume Services
We have been working tirelessly to help job-seekers land their dream jobs! Here are our services that you can choose from:
Resume Review Service
Online Resume Builder
Resume Review Service
Use our resume review service to make use of the following features:
Global Compatibility
Recruiter Friendliness
Design Compatibility
Resume Formatting (font, margins, the order of sections, etc.)
ATS Compliance
Conversion Scope
Performance Assessment
Compliance with industry norms
Content Relevance
Online Resume Builder
Here are the features that come with our AI-intuitive resume building platform:
25+ resume designs
100+ pre-filled resume templates
LIVE resume score
JD-resume matcher
Full rich-text editor
Unlimited PDF downloads
1-click design change
Intuitive next text suggestion
Auto bold feature
Option to save unlimited resumes
A sharable link
LIVE resume editor
Key Takeaways
You have reached the end of our Splunk enterprise security resume blog.
Here are the key takeaways of this guide:
Don't use the same generic Splunk engineer resume to apply for every job as it reduces your chances of getting shortlisted. Instead, customize it for each job according to the demands on the JD.
Use the right format according to your work experience. Most professionals will find that the reverse chronological resume format suits their needs the best.
Give special attention to making your Splunk developer resume ATS-compatible. Great readability, proper structure, and relevant keywords will help you achieve this.
Use resume sections to organize the information in your Splunk administrator resume.
If you have a great digital presence, including the links for the same in your Splunk administrator resume. A great LinkedIn profile or personal website can bode in your favor.
Go through the hiring guidelines of your country of employment to ensure relevance.
Quantify your professional experience statements by listing your achievements for maximum impact.
Distinctly mention your Splunk skills under the key skills section of your Splunk engineer resume. Make a separate subsection for your technical skills.
Write down the details regarding your education. If you scored a good GPA or percentile, write it down.
We hope that this blog has provided you with some value.
Use the tips we have outlined here to make a stellar Splunk analyst resume to get shortlisted for the best jobs in your industry.
To resolve pending queries, write to us at team@hiration.com