Click here to directly go to the complete Node JS resume sample
How to mention node JS in resume?
If you have the same question, then we have the answer for you.
From section-wise explanations to section-wise node JS resume examples - we have left no stones unturned to help you perfect your node JS developer resume.
Here's a summary of our node JS Resume Blog:
Add relevant certification details in your javascript developer resume.
Mention the node.JS projects for resume that you have led or worked on.
Describe your work experience in one-lines and list them under relevant groups.
Keep your summary statement limited to a 3-5 lines paragraph by highlighting relevant achievements.
Provide your contact details & link to your website and work portfolio.
Mention both key skills and technical skills in separate sections.
It is necessary that you get a clear idea of why a resume and is required and how you can make it requiter-friendly.
Clear the following questions in your mind before you frame your node JS developer resume:
If you'd like a quick fix to your problems, Hiration's Online Resume Builder is here to give you the resume help you need.
With 250+ pre-designed resume examples & profile-based resume templates, our platform is designed to help you perfect your existing javascript resume.
Why it is Necessary to Make Your Node JS Resume ATS-Compliant and How?
Application Tracking System (ATS) helps in making the hiring process easier for recruiters and hence they rely on it.
You need to ensure that your node JS resume is crafted in such a way that it easily gets past the ATS.
How?
Well, you simply need to match your resume with the job description of the targeted job profile.
Look out for keywords that relate to the skills you possess and are required for the targeted job profile.
Add those relevant skills in terms of words and phrases in your resume so that the ATS can match your resume to the job description.
Ensure that the skills and experiences you mention are possessed by you and are relevant to the requirements and not just mentioned randomly.
Once your node.JS developer resume is filled with relevant keywords placed strategically in your resume, getting past the ATS would be easy.
Check out the given statistics to have a rough idea of a Java developers average salary package in the US.
So read on to learn the do's and don'ts of resume perfection.
Node JS Sample Resume
In this blog, we will help you write a resume as impeccable as this Node JS Resume Sample:
5+ years experienced Certified Node.js Application Developer adept at building and implementing web-based business application software and features to provide effective customer service. Highly skilled in recommending new technologies and tools for streamlining processes and increasing team productivity. Proficient at conducting research for improving application architecture and contributing to knowledge base.
• Application & Architecture Development • Feature & Software Implementation • Process Optimization • Research
• Technical & Website Design • Coding • Project Management • Code Versioning & Review • Component Testing
• Database Development & Protection • Front-end & Back-end Development • Configuration Management
Technical & Cloud Platforms:

Node.js, AWS, Azure, Okta, AWS Lambda

Database & Software:

SQL, Aurora, MySQL, Postgres, RESTful APIs, Git

Programming Languages & Protocols:

GraphQL, LDAP, JavaScript
PROFESSIONAL EXPERIENCE
Start typing, then use the up and down arrows to select an option from the list
Building and enhancing

web-based business application software

for the entertainment industry

Utilizing

best practices

for building software by

deploying Node

and JavaScript in a continuous integration environment
Feature & Software Implementation
Liaising with

10

quality and business analysts for designing & implementing new feature requests as per customer feedback

Implementing

complex enterprise software systems

from the ground up as part of a Software Development

team of 20
Recommending

new technologies

, tools, and

standards

to improve efficiency and productivity within the team

Making

front-end frameworks

with a focus on

continuously improving existing processes

and technology
Testing

new technologies

and conducting research to

support the application architecture

Conducting

research

and contributing technical information to the

knowledge-base
Technical Designing & Coding
Developing

technical designs

and conducting

2 monthly component testings

inline with the functional specifications

Employing

configuration management

& integration/build automation tools to lead and implement Java scripts and codes
Start typing, then use the up and down arrows to select an option from the list
Collaborated with

cross-functional teams

for designing front-end web and back-end architecture by deploying

Node.js

Gained proficiency in working on single-page applications and

REST-based architectures
Ensured the

responsiveness

of applications

and liaised with

6 graphic designers

for developing website design features

Coordinated with the graphic designers for converting

designs to visual elements
Oversaw a

supporting project

from conception to

final product delivery

as part of assisting the Data Science team

Planned and

implemented application specific project

and feature as part of training
Organized and maintained the

integrity

of codes

by deploying distributed source code management systems like Git

Deployed tools like

Git

for performing code versioning & collaborated with seniors for conducting

2

quarterly code reviews
Database Development & Protection
Obtained in-depth understanding of data security and

implemented data protection strategies

Designed and

developed new features

including database and

services

for 6 clients

to scale the analytics platform
EDUCATION
Start typing, then use the up and down arrows to select an option from the list
Certified

Node.js Services Developer

| Ocean View Academy | Fayetteville, AR | Jan '18 - Jun '18

Certified

Node.js Application Developer

| Broad River Institute | Fayetteville, AR | Jul '15 - Dec '15
The given node JS developer sample resume is one of the many resume samples from Hiration's Online Resume Builder
Choose the Right Node JS Resume Format
Choosing the right resume format for your node JS developer resume is important. It helps you draw attention to those aspects of your career trajectory that you want to showcase.
For example, the chronological resume format is time-based. What makes this resume format extra special is its widely accepted usage. This format is the norm for resume writing & most recruiters are familiar with it too.
It is considered ideal for professionals in different stages of their careers. As long as you don't have employment gaps, we recommend this node JS developer resume format for you.
At poles apart is the functional resume format which follows a skill-based approach to organizing & structuring resumes.
While considered ideal for professionals who have jumped jobs too frequently and those with career gaps, we do not recommend it as it is not recruiter-friendly or ATS compatible.
Similarly, we also recommend the combination resume format. This type of resume format puts equal focus on the timeline of your career trajectory and your skill sets. This is a one size fits all resume format for all professionals including those with gaps in their careers.
Use Different Sections to Organize and Improve the Readability of Your Node JS Resume
Organizing your Node JS Resume using sections helps you achieve two things:
It helps you present information effectively
It improves the readability of your node js resume
These two things are important because it makes it easy for recruiters to understand the content of your resume, thus encouraging them to evaluate it.
Long story short: use resume sections.
Here are 7 must-have sections that you should include in your javascript resume:
Header
Personal Information
Profile Title
Summary/Objective
Key Skills
Professional Experience
Education
While curating your node JS resume, you need to have these sections at all costs. In addition to this, you can also include the following sections if you have more information to showcase:
Internships
Certifications
Projects & Training
Volunteering Experience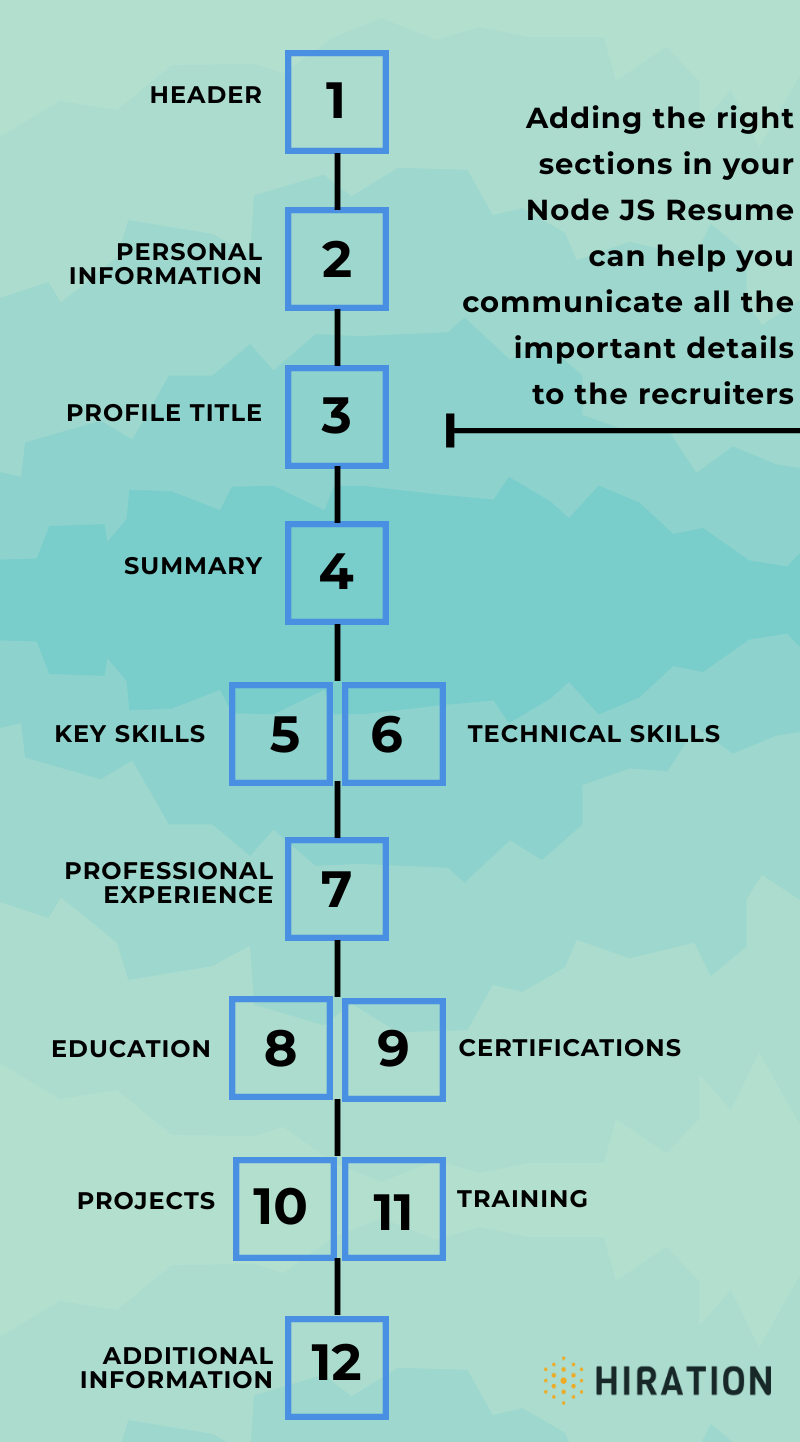 Visit our Online Resume Builder and check out all the amazing feature made to enhance your resume.
Perfect the Header, Personal Information, and Profile Title
We will now discuss the first three sections of your node JS resume & outline basic node JS resume points that you should implement to perfect them, namely:
Header
Personal Information
Profile Title
Header
The header is the first section of your node JS resume.
We have curated a list of 3 node JS resume points that you should follow to perfect your resume header:
Rule #1: Don't use a generic term like 'CV' or 'Resume' to label your node JS resume. That your resume is a resume is self-explanatory. It does not need to be explicitly outlined.
Rule #2: Write your real full name in the topmost part of your resume. Doing this will tell a recruiter that the resume belongs to you in one go. It will also reduce the chance of resume misplacement.
Rule #3: Write your resume header in the largest font size of 16-20 points. This will ensure that your identity does not go unnoticed.
Are you wondering what the resume header should look like in your node JS resume?
Here's a node JS resume sample illustrating the perfect header:
Personal Information
Do you know what the personal information sections of your node JS resume are?
It is the second section where you include important information such as:
Your updated mobile number for telephonic interviews & communication.
Your email ID for official communication & collaboration.
Your current location in city/state code format to communicate your current place of residence.
Links to your profiles on Kaggle, GitHub, LinkedIn, or personal websites.
Hiration Pro Tip: Don't include details like your gender, sexual orientation, race, age, ethnicity, etc. unless explicitly stated in the resume guidelines of your country for employment as it might lead to biased hiring.
Read our Guide to Curating the Resume Contact Information to learn the do's and don'ts of the personal information section of your web developer resume.
Here's a node JS developer sample resume showcasing a well-composed personal information section:
For more node JS resume examples like this, read on.
This is a snapshot from our node JS resume template that we have designed using our Online Resume Builder.
You can use our platform to curate an impeccable node JS developer resume that is designed for shortlist success.
With features like section-wise analysis & recommendations, overall skill analysis, text prediction, one-click design change, and much more; resume perfection is guaranteed with our Online Resume Building Platform.
Don't wait. Get your hands on it now!
Profile Title
The profile title is the third section of your node JS developer resume. It is also a must-have section which means you should include it in your resume.
The profile title because it communicates these details:
Your current or last job designation.
Your functional industry.
Your seniority level.
Your expected salary/income.
Given its importance, it is crucial to accurately present this information. Putting a job title that is not yours can lead to loss of credibility so don't even try it!
To ensure that a recruiter sees it the instant he/she evaluates your node JS developer resume, compose it in the second-largest font size preferably 14-16 points.
Here's a node JS resume sample showing an accurately presented profile title for a Node JS Developer:
In the meanwhile, we strongly advise you to go all out on our AI-powered Online Resume Builder. It comes with pre-arranged section headers that are pre-sized in the ideal size, saving you the time and the hassle of doing it yourself!
Moreover, our resume building platform supports a quick JS resume download of your node JS resume in both PDF & WORD format.
Optimize the Professional Experience Section to Prove Your Node JS Expertise
If you're wondering how to write node JS in resume or where to put node JS in resume, then this is it. The professional experience section of your node js developer resume is where it should go.
This section is the heart and soul of your node JS developer resume. It is the legs on which your resume stands.
It is also your one-way ticket to proving your suitability for your target job. After all, it not only helps you show the organizations you have worked at, the work you have done, your job designation, the duration of your association with each organization; but your visible achievements too.
All these factors combined help a recruiter take a judgment call on whether you'll be the right fit for the job vacancy.
So your job before you get the job is to perfect this section at all costs. Here are three tips to help you do it.
Tip #1: Use one-liner points
Tip #2: Begin each point with a power verb
Tip #3: Outline your achievements & quantify them
Tip #4: Highlight important words & phrases in bold
Tip #5: Group similar points under a unique heading
ONE-LINERS
This section is where the details of your work experience go. It is the resting place for your roles & responsibilities.
The question is this:
Do you present your work-centric information using one-liner points? or do you do it using one-liner points?
We recommend the use of one-liner points to communicate this information because it improves the readability of this section.
On the contrary, when you use paragraphs to communicate your work-centric information, it makes your resume unnecessarily bulky.
This negatively impacts the readability of your information. When your resume is hard to read, an ATS recruitment software struggles to parse it as it cannot read it.
Thus we advise you to strictly use one-liner points. It makes your node JS resume both reader-friendly and ATS compatible.
POWER VERBS
What are power verbs? They are action-packed words.
Why are they important? They are important because it helps you add a tone of professionalism to the nature of the work you have done.
Instead of using words like 'managed', we advise you to use these power verbs: 'Spearheaded', 'Directed', 'Organized', 'Executed', etc.
ACHIEVEMENT FIGURES
In this section, giving a bland account of your everyday roles & responsibilities is not enough. That you can do node.JS development is a given. That you can work with basic tools to execute your work is expected. This does interest a recruiter.
Instead, what a recruiter is interested in is your skill proficiency. How good are you at what you do? What have you achieved using your skills?
The recruiter seeks to find the answers to these questions in the professional section of your node JS developer resume.
Thus, we advise you to outline your achievements. Show how your node.JS development skills help you achieve a company goal. Moreover, quantify your achievements wherever possible. Even a ballpark figure will do.
HIGHLIGHTING
We spoke about the importance of presenting your achievements & quantifying them. Doing this helps you communicate your proficiency.
But sadly, this is not enough.
In a pool of unending information, how will a recruiter identify what your chief achievements are?
Moreover, what if a recruiter abandons your node JS resume mid-way and decides to not evaluate your work details all the way through?
This is a real possibility. Key communication points such as your achievements will be lost in translation if this happens.
So your job is to make it easy for a recruiter to instantly identify your achievements & key career highlight in each point. Marking them in bold can help.
This simple method is called highlighting. By marking relevant words & phrases in bold, you can easily direct the recruiter's attention to that place in your resume where you want them to focus their attention.
Sounds neat? There's one more tip to go!
GROUPING
We spoke about the importance of using one-liner points. You now know that it improves the readability of your node JS resume.
However, you'll find that when you put multiple one-liner points together, it fails to make the desired impact.
While easy on the eyes, it becomes difficult to instantly pinpoint important information such as your key expertise area.
This is why you should group similar points under a unique heading. This is called grouping.
Doing this will tell a recruiter what your key expertise areas & key roles & responsibilities are.
Moreover, by reading the group headings, recruiters can focus their attention on those aspects of your work experience that suits your target profile.
Additionally, it saves time, and optimizes your resume too!
It is a win-win!
Node JS Resume Sample for Professional Experience
The node JS resume points or tips that we have outlined above are designed to help you perfect this section.
For a better understanding of this section, read our Resume Professional Experience Guide. It deep dives into an in-depth explanation of what you can do to perfect this section.
Here's a node JS resume sample showcasing a perfectly composed professional experience section:
For more section-wise node JS resume examples like this, read on.
In the meanwhile, get expert resume advice on your existing node JS developer resume from our Resume Experts at Hiration.
Our Resume Review Service is designed to give you the resume help you need via a dedicated evaluation of your resume using relevant parameters.
Node.JS Projects for Resume
How to frame node JS resume project description?
Your node.JS projects for resume should be included in a separate section so that recruiters can get an insight into your professional involvement.
By doing so you can make a positive impact on the hiring managers who would consider this as a professional trait and take this fact into account while shortlisting your resume.
All you need to do is:
Mention the name of the project
Name of the client or organization for whom the project was held for
Duration of the project
Some points describing your roles and responsibilities
Keep this section brief and meaningful and remember that you only need to add those projects that are worth mentioning to highlight your Node JS expertise.
Provide Education & Certifications Details in Your Node JS Resume
Recruiters want to know which universities you have gone to, if you fulfill the basic educational criteria for the job, etc. It helps if you have majored in a subject in your niche as it helps you apply for senior roles.
In other words, your educational background matters.
Here's what you should put in the education section of your node JS developer resume:
Name of the school/university you have attended.
Name of the courses you have pursued.
The location of your school/university.
Enrolment and graduation dates in month & year format.
Refer to Hiration's Guide on how to list education on your resume to read an exhaustive guide on how to correctly curate the education section.
Here's a node JS resume sample showcasing the perfect education section:
Apart from your education details, make sure that you mention the certifications that you have already completed or currently pursuing.
It can make you stand out as an applicant who strives for advanced skills and tends to evolve as a professional.
Present Your Node JS Skills Using a Distinct Skills Section
Your node JS skills matters.
Recruiters should be able to identify them when they lay their eyes on your node JS developer resume. So your job before you get the job of your dreams is to make your resume recruiter-friendly.
To make your skills easy to locate, make a distinct 'Key Skills' section, and dump all your node JS skills in it. After you do this, make a 'technical skills' subsection within this section to illustrate your technical proficiency and tool knowledge.
Hiration Pro Tip: Do not use phrases like 'experienced in' or 'expertise in' to endorse your node JS skills.
Does this sound too confusing?
If it does, read our Resume Guide on what skills to put on a resume to get better clarity on this section.
Here's a node JS resume sample showcasing a perfectly composed key skills section:
Are you doing what it takes to perfect this section?
Should you go for a node JS resume download in PDF or word format?
Find the answers to all these questions and more by consulting with our Resume Experts at Hiration using our Resume Review Service.
Conclude Your Node JS Resume With an Impeccable Summary Statement
Now that we have covered all major sections, we will now show you how to perfect the final section i.e. the summary.
You cannot make the best node JS developer resume if the summary falls short of perfection.
So here's our curated list of things you should do to curate an impeccable node JS resume Summary:
Write a summary only if you have over 3 years of relevant work experience in node.JS development. IF you don't, write an objective statement.
Do not exceed the 5 lines paragraph limit. An excessively long summary fails to create the desired impact on the recruiter as you run the risk of losing the interest of the recruiter.
Given how recruiters spend an average of 6 seconds on a resume, it is important that you keep the summary crisp, to the point, and effective. You can accomplish this by presenting your career highlights & achievements to show to a recruiter that you have what it takes to bring value to their organization.
Compose the resume summary at the end. This
Read our resume summary guide to learn how to write an impactful summary for resumes.
Attached below is a resume sample showcasing the ideal resume summary for your node JS developer resume:
Use Hiration's Resume Services
At Hiration, we believe in empowering professionals and helping them meet their dream job. How do we do this? By arming them with tools they can use to perfect & transform their resumes into a shortlist-worthy document.
If you don't want to curate your node JS resume by yourself, you can make use of our two services:
Resume Review Service
Online Resume Builder
Resume Review Service
With us, our in-house Resume Strategists will review your resume in compliance with the below-mentioned parameters to help you achieve your career goals.
ATS Compliance
Global Compatibility
Recruiter Friendliness
Content Relevance
Design Compatibility
Performance Assessment
Conversion Scope
Compliance with industry norms
Resume Formatting (font, margins, the order of sections, etc.)
Online Resume Builder
Our Online Resume Builder comes with an illustrious selection of premium features such as:
Auto bold feature
25+ resume designs
LIVE resume score
100+ pre-filled resume templates
JD-resume matcher
Full rich-text editor
Unlimited PDF & Word downloads
1-click design change
A sharable link
LIVE resume editor
Option to save unlimited resumes
Intuitive next text suggestion
Hiration Cover Letters & Other Services
Hiration's Cover Letter Builder provides:
10+ ready to use templates
15+ designs
Freedom to customize templates
Create multiple cover letters
Easy downloading
This is not all!
You can also check out the following features:
Key Takeaways
Thank you for making it to the end.
Here's a list of the key takeaways of our Node JS Resume Blog:
Use the reverse chronological resume format if you have a steady uninterrupted career trajectory. Use the functional resume format if you have career gaps.
Use the must-have resume sections to organize information and improve the presentation & readability of your node JS resume.
Mark all dates in the month & year format.
Mark all locations in the city/state code format.
Outline your node JS skills using a distinct section. Differentiate your technical skills from your core node JS skills by making a technical skills subsection within the key skills section.
Keep the summary statement restricted to a 5 lines paragraph. Highlight relevant Node JS Achievements in it.
Mention your basic contact details & do it accurately. A spelling error can keep an interested recruiter from getting in touch, so cross-check for spelling mistakes before sending the final draft to a hiring manager.
Communicate your work experience details using one-liner points.
Begin each point with a power verb. Example: Directed, Executed, Administered, etc.
Highlight relevant words & phrases in bold to draw the recruiter's attention to them.
Present your education details. Leave out your GPA or percentile details if you don't have a high GPA or percentile.
We hope that you were able to learn from this Node JS Resume Blog. Implement each step and you'll have the best node JS resume to your name.
For more details, write to us at team@hiration.com - We look forward to it!