Click here to directly go to the complete GIS resume sample.
At a loss on how to use your GIS skills?
Over the years, GIS jobs have blown up, and the demand for high-quality GIS professionals is predicted to go over 35% every year. So in such a highly competitive field, we get you, and your need to perfect your GIS resume.
To support this journey, we have some solid tips that you can use to make sure that your GIS resume is as updated and personalized to your trajectory as possible!
Here is a summary of the blog to help you polish your GIS resume:
Use the industry-standard reverse chronological resume format as it will enhance your authenticity as an applicant
Draft your professional experience as a bulleted list of concise one-liners to increase the readability of your GIS resume
Create separate sections for your GIS skills and technical skills as it will help you shine a light on all your areas of expertise
Dedicate a section to your GIS certifications and list them under one another to make it easier for your recruiter to assess your knowledge
Highlight important information in your GIS resume work experience section and group similar functions into relevant sections
Make sure that your summary consists of your best experiences as a professional and ensure that they fall within five lines
Want to know more? Here are some questions that you might want an answer to as a GIS professional:
Creating shortlist-worthy GIS resumes for every job can be taxing! However, with our Online Resume Builder, you can get personalized suggestions on how you can improve your GIS resume based on industry standards!
What is GIS and How Does it Work?
A Geographic Information System creates, manages, and analyzes all types of data. It connects data to a map and integrates the location and description of objects in that place.
Through data analysis, GIS helps users have a deeper understanding of spatial patterns and display all forms of geographic information in the form of maps, globes, reports, and graphics.
GIS Career Trends
Being well-versed with GIS means that you have plenty of job opportunities. From entry-level jobs like GIS analysts and technicians, you can move up to advanced roles like GIS developers or programmers.
According to Indeed job trends, GIS programmers, developers, and managers are one of the highest in demand as they portray a deep understanding of GIS systems.
GIS Salary
Entry-level jobs like GIS analysts and specialists are at the lower end of the pay spectrum, whereas the top is bagged by higher-level roles like GIS project managers and developers.
Out of all the job postings on different websites,
Indeed says that GIS analysts earned an average of $60,267 per year and developers were paid a yearly average of $105,850
Meanwhile, Zip Recruiter's statistics show that GIS analysts made $72,710 a year, and developers made $110,411.
GIS Roles and Responsibilities
The roles you have to perform differ with your seniority level and expertise. Given below are job descriptions from two ends of the GIS jobs range.
Here is a job posting for a GIS Developer:
Direct activities of the development team, understand the technologies implemented, and interface with the project manager on status and technical issues.
Solve and articulate complex problems with application design, development, and user experiences
Ensure that ArcGIS software meets real-world usage scenarios
Collaborate with customers to scheme, develop and put geospatial software program packages into effective use
A GIS Analyst job description:
Assists with development and maintenance of GIS data resources to be utilized for geographic data of Florida City Gas
Assists with the data gathering and compilation, Geographic Information Systems, GPS, mapping, and data analysis
Performs varied data gathering and entry to create, maintain, display, and update Geographic Information Systems databases, coverages, and linkages to various GIS databases
Produces accurate maps and other representations of data for business use and fieldwork activity
GIS Resume Points
To bag good jobs, you need to stay on par with industry resume standards. It is time to move on from narrating your work experience to optimizing them in bulleted lists.
Recruiters have limited time to spend on your GIS resume and you need to work with that by enhancing the readability and providing every bit of information in a concise format.
You can optimize your work experience section by:
Writing succinct one-liners consisting solely of relevant information
Quantifying details wherever possible
Using the same font throughout and entering major points in bold
Maintaining a cause-effect relationship
For reference, you can check resume points for related roles to gain deeper insight:
Programmer Analyst
Project Manager
Software Engineer
GIS Resume Format
The resume format you choose can say a lot about your career trajectory. Though it may not be apparent to you, skilled recruiters can detect quite a bit of your trajectory through your presentation.
There are three main formats you can use for your GIS resume: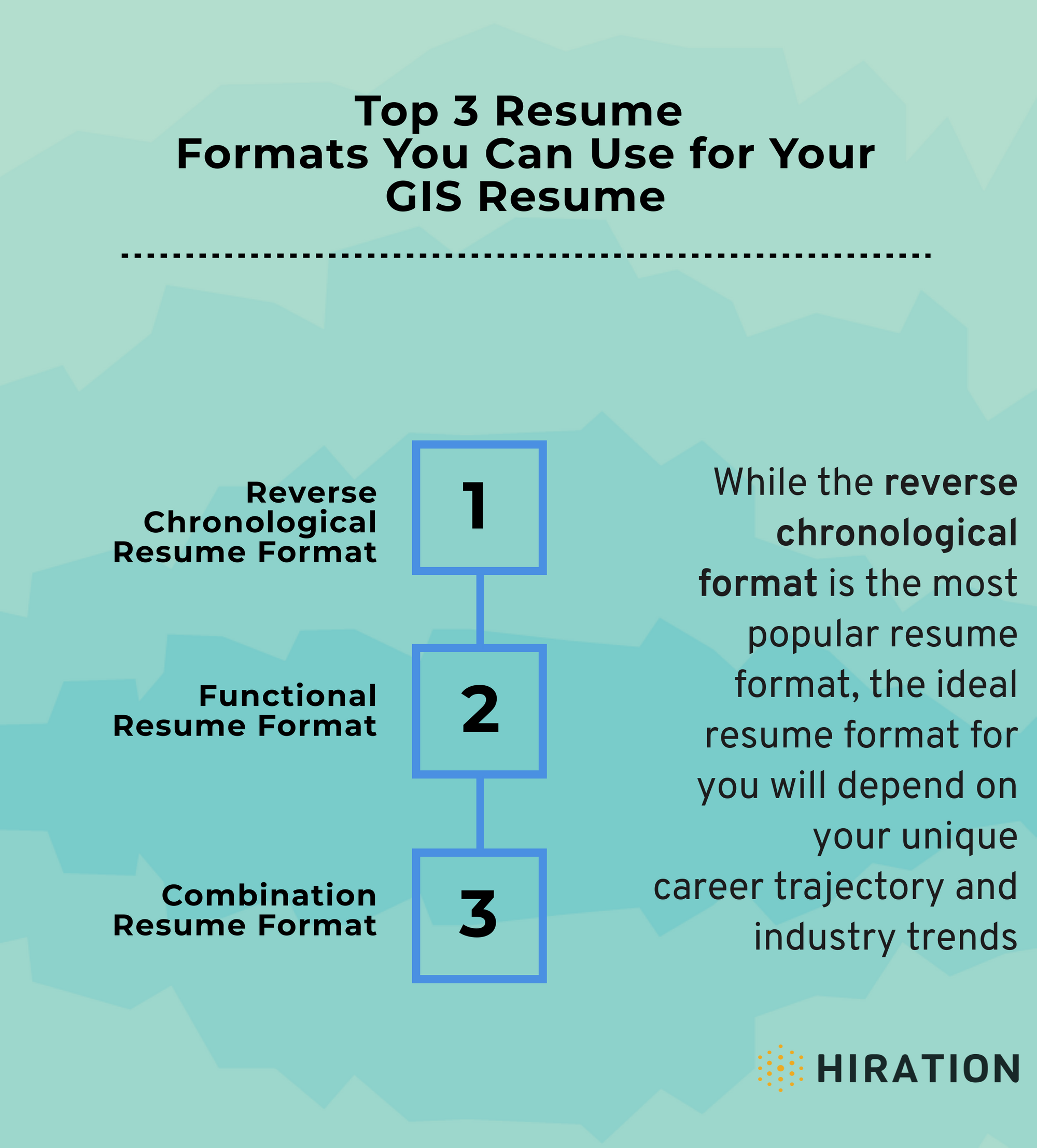 The industry standard is the reverse chronological format as it lists your work experience in the order of relevancy, from your latest employment experience and moving backward.
GIS Resume Sections
Instead of clubbing sections or providing clusters of information, it is a better practice to organize your GIS resume into sensible sections to enhance the readability of your GIS resume.
Largely divided, these are the resume sections that you can include in your GIS resume:
However, feel free to pick and choose which sections you want to include depending on job descriptions and your expertise.
Also read: How many resume sections should you ideally have?
Introduce Yourself in Your GIS Resume
The first section of your resume is all about introducing yourself to your recruiter. Aside from basic details like your name, it can also include your personal website or portfolio to give your recruiter a deeper understanding of your expertise.
The section will include details such as:
Header
Instead of blankly stating Resume, your GIS resume header should be your name written in the standard format.
It should be written with a large font, preferably within a size range of 16 points as it literally defines your candidacy.
Here is a GIS resume sample for a resume header:
Profile Title
One look at your profile title can immediately tell your recruiter two things about you: your expertise and seniority level.
A GIS resume can host a variety of profile titles, such as:
GIS Analyst
GIS Specialist
GIS Technician
GIS Operator
GIS Manager
GIS Developer
Additionally, if you hold a senior position or if you want to apply for that role, add Senior before the profile title. Your resume has to be a well-rounded explanation of your application, so customize it as much as you can.
Here is what a profile title looks like in a GIS resume:
Contact Information
In this section, you must enter your details accurately as it could even cause you to lose a potential job.
What you need to include in this section of GIS resume are: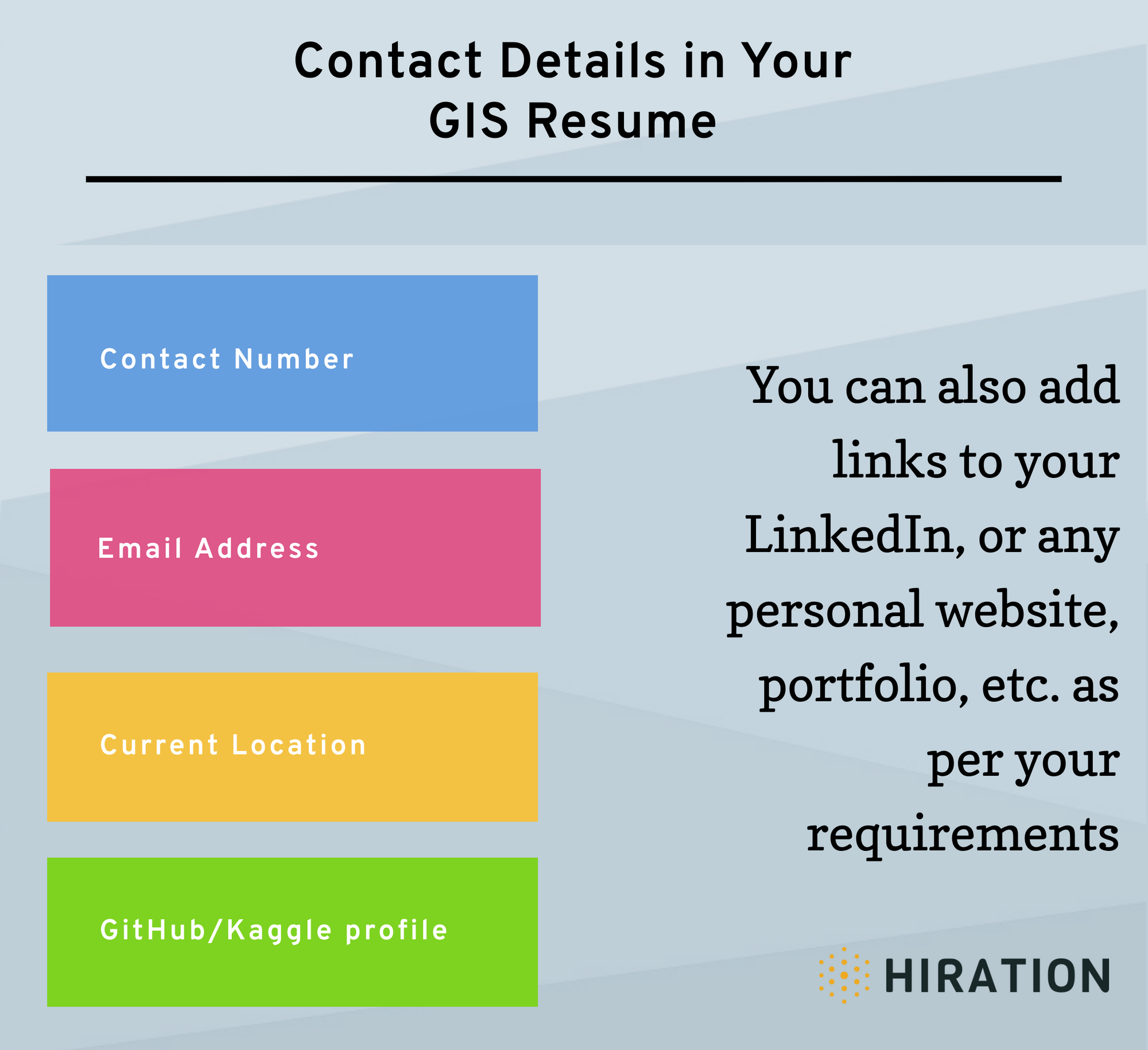 Entering external links for your portfolio could help your recruiter recognize your potential, thereby making them more confident to call you for an interview.
Given below is a GIS resume example for an ideal contact information section:
If you have trouble figuring out the spacing for each of these details, you can check out a few pre-made templates at our Online Resume Builder and create your GIS resume without any hassle.
Also read: Should you include social media details as contact details on your resume?
Optimize Your Work Experience in GIS Resume
For such an up-and-coming industry like that of GIS, recruiters do not have the time to go through resumes at leisure.
So, succeeding in the task of making your resume as readable as possible is what will get you an interview.
You can avoid writing paragraphs at all costs and integrate these tips into your GIS resume:
Additionally, integrate GIS resume keywords from the job description into your resume as it will help you pass the ATS compatibility test.
If you are hesitant to do it by yourself, you can check our Online Resume Builder, where the live resume scorer will tell you exactly what you need to do to stay on par with industry standards.
Here is a GIS resume sample for an optimized work experience section: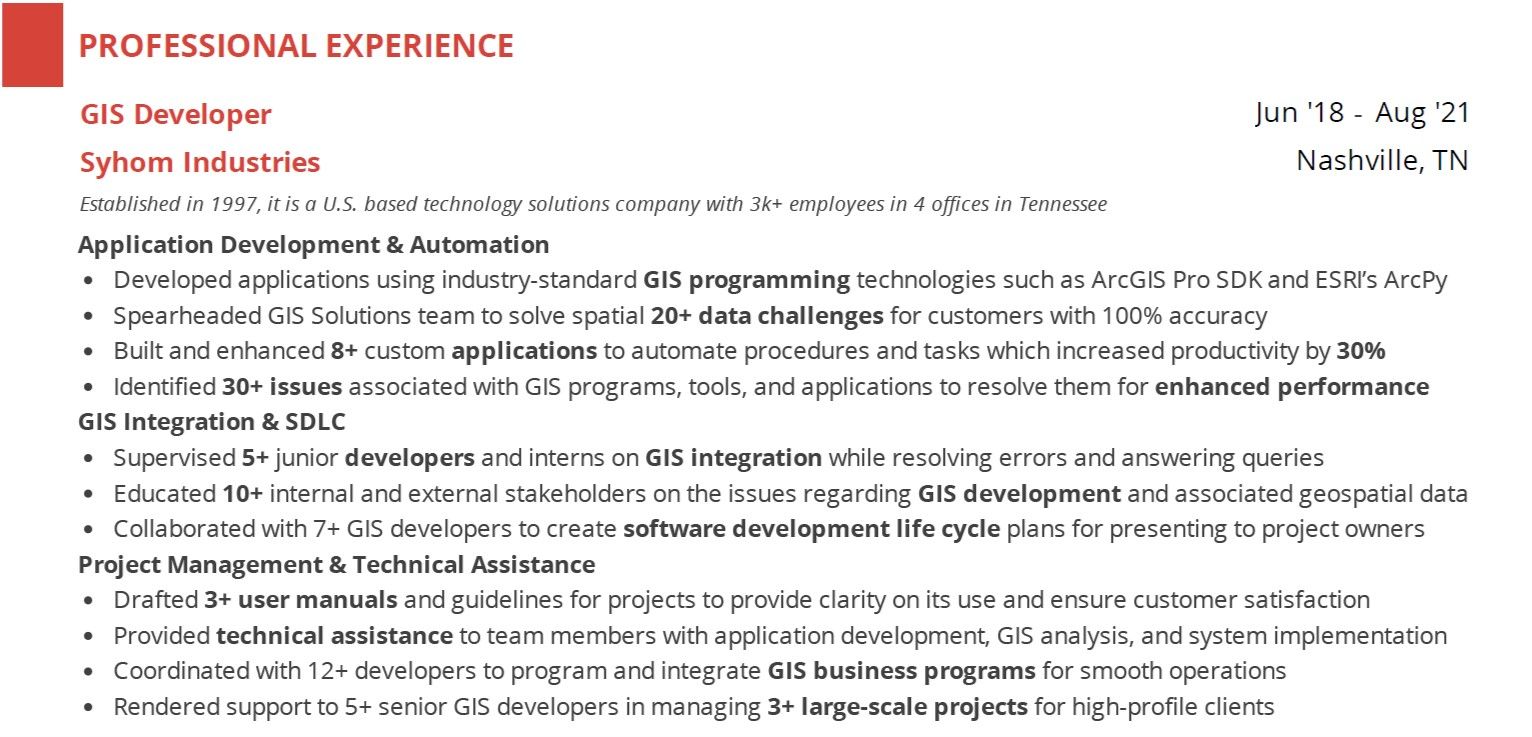 Also read: Beginner's guide to perfecting your work experience section
GIS Analyst Resume
As an entry-level role, your GIS analyst resume can include extra details like your internships or academic curriculum.
Your GIS fresher resume has to make up for the fact that there isn't much work experience and hence, use extra information to convey your expertise.
Need a GIS analyst resume for yourself? Use our Online Resume Builder and get suggestions on how you can land jobs with just a GIS fresher resume!
Include Your Educational Qualifications in Your GIS Resume
To qualify for GIS jobs, you are required to hold a bachelor's degree in any of the following subjects:
Computer Science
Geography
Geoscience
Engineering
However, degrees in related fields will be accepted as well, depending on the subjects. As of late, there has been a surge in dedicated Master's Degrees for the field of GIS.
Here is how you can enter your educational qualifications in your GIS resume if you are an entry-level applicant:
Enter details on your university name, degree, time, and location
Mention your GPA
Include relevant course modules
However, if you have years of experience, you can avoid adding the course modules as your work experience can speak for itself, like the GIS resume sample given below:
Also read: How to make the most of your educational qualifications?
Add Your Certifications to Your GIS Resume
Recognized certifications such as the Esri Technical Certification can help you stand out from the sea of applicants due to its assured quality of work and expertise.
The correct format to include your certifications is:
Certification | Certifying Authority | Date
For more information on certifications, visit the GIS Certification Institute to identify which one will benefit your career.
Here is a GIS resume sample for a well-written certifications section:

Also read: How many certifications should you add to your resume?
Flaunt Your GIS Skills
Briefly put, your skills section is what the recruiter looks at to gauge what your strengths are as a professional. It is a compilation of skills that run through your entire resume but are relevant to the job you are applying for.
As it is a technical profile, you can split your GIS resume skills into two sections, namely:
Key Skills
In this section, you can list skills that you can contribute to a workplace as an employee. If you are a GIS developer, some of the skills you could write are:
Geospatial Mapping
GIS Integration
Application Development
Process Improvement
Solution Delivery
To do this, you need to assess both your areas of expertise and the requirements enlisted by the company.
Here is one of the GIS resume examples for a key skills section:
Technical Skills
To organize your technical skills into proper sections, we recommend that you club your skills in relevant groups to make it easier for your recruiter to get their answers.
As a GIS developer, acquaintance with JavaScript and Python are requested quite a lot in job postings. In your technical skills section, you can create a group named 'Programming Languages' and add them next to it.
Given below is a GIS resume sample for a technical skills section:
Also read: How to appeal to recruiters with your skills on your resume?
GIS Specialist Resume
You can use a GIS specialist resume once you have gained enough experience in the field of GIS. A GIS specialist resume can also act as a stepping stone to more advanced roles like a GIS developer or GIS project manager.
Here is a sample GIS specialist resume to give you a fair idea:
Like what you see? Get yourself a similar GIS specialist resume by signing up on our Online Resume Builder and receive proper guidance on how you can give your GIS specialist resume a facelift!
Draft Your GIS Resume Summary
Put in the very beginning, your resume will act as a brief introduction to your GIS resume. As it is a highlight reel of your resume, you need to draft it at the end of your resume-writing process to give you a well-rounded collection of information.
As with other sections, you need to make sure that your summary is readable and as concise as you can make it.
Here is what you can do while writing your GIS resume summary:
Start with power verbs to create a bold impression
Maintain a cause-effect relationship by relying on how your functions helped the company
Try not to let it exceed five lines
Highlight your recurrent responsibilities and best experiences
Additionally, you should also refer to job descriptions to extract relevant GIS resume keywords to enhance the ATS compatibility of your resume.
However, if are a fresher, you can write a GIS resume objective stating how you can contribute to their company.
Here is one of the GIS resume examples for a summary section:
Also read: Create a short industry-standard summary to complete your resume introduction
Introduce Additional Sections in Your GIS Resume
Our guide cannot possibly fit your career trajectory like a glove, and you are free to customize your resume based on what your requirements are.
Aside from the sections that we mentioned, a few you can add to your GIS resumes are:
GIS Research
Training
Honors & Awards
Volunteer Experience
Along with that, you can alter your section headings to make your resume as customized as you want it to be. For example, instead of blankly writing Professional Experience as your work experience, you could make it GIS Experience.
Here is a GIS resume example for an additional section:
Hiration's Resume Review Service
Have a GIS resume that you want to tweak? Head over to our Online Resume Builder, and we will check if your GIS resumes are up to date with the industry standards.
Our live scoring feature will tell you what you need to do to perfect your GIS resume and make sure that your score falls above 75.
Another feature known as the JD Match will test your resume's compatibility with your company's job description and check if you have integrated all of the GIS resume keywords for maximum ATS compatibility.
The team of experts at Hiration will review your GIS resumes in reference to the following features:
Design Compatibility
Global Compatibility
Performance Assessment
Resume Formatting
ATS Compliance
Conversion Scope
Content Relevance
Recruiter Friendliness
Compliance with industry norms
Before you send your job application, you can run final checks on factors like ATS compatibility and JD match. Doing so will make sure that your application is strong enough to get an interview!
Leave Your GIS Resume to us at Hiration's Online Resume Builder
You can customize your own GIS resumes from our repository of resume designs and pre-filled templates! So no more figuring out technicalities such as spacing or fonts, all you have to do is fill in your details, and we will take care of the rest!
At Hiration's Online Resume Builder, you can ensure that the format of your GIS resume is up to your requirements with features like:
25+ resume designs
Intuitive next text suggestion
100+ pre-filled resume templates
JD-resume matcher
Auto bold feature
1-click design change
LIVE resume score
Full rich-text editor
LIVE resume editor
A sharable link
Option to save unlimited resumes
Unlimited PDF downloads
We have more!
For other aspects of your job application process, you can check out these features to ensure that you are prepared to get the job!
GIS Resume Sample
With all the tips we have given you throughout this blog, you can create a GIS resume that is not only visually appealing but is on par with industry standards.
Here is a GIS developer resume sample for you to have as a guide to preparing your unique GIS resume:
Certified IT professional with 6+ years of experience in developing applications by integrating GIS programming technologies and solving data challenges for accurate geospatial mapping. Highly skilled in building custom geoprocessing tools and applications for automating procedures and increasing productivity. Proficient in maintaining data entry into geospatial databases for minimal data loss. Adept at resolving issues regarding GIS development for accurate rendering of digital maps.
• GIS Integration • Geospatial Mapping • GIS System Administration • Application Development • Project Management
• Process Improvement • Data Visualization • Debugging • Programming • Software Development • Automation
• Database Management • Software Installation • Technical Assistance • Issue Resolution
Programming Languages:

Python, Javascript, CSS, HTML

Software:

ArcGIS, GIS, Jira, ArcPy

Database:

MySQL, DevOps, Oracle

Operation Systems:

Windows, Linux, iOS
PROFESSIONAL EXPERIENCE
Start typing, then use the up and down arrows to select an option from the list
Application Development & Automation
Developed applications using industry-standard

GIS programming

technologies like ArcGIS Pro SDK and ESRI's ArcPy

Spearheaded GIS Solutions team to solve spatial

20+ data challenges

for customers with 100% accuracy

Built and enhanced

8+

custom

applications

to automate procedures and tasks which increased productivity by

30%

Identified

30+ issues

associated with GIS programs, tools, and applications to resolve them for

enhanced performance
Supervised

5+

junior

developers

and interns on

GIS integration

while resolving errors and answering queries

Educated

10+

internal and external stakeholders on issues regarding

GIS development

and associated geospatial data

Collaborated with

7+ GIS developers to create

software development life cycle

plans for presenting to project owners
Project Management & Technical Assistance
Drafted

3+

user manuals

and guidelines for projects to provide clarity on its use and ensure customer satisfaction

Provided

technical assistance

to team members on application development, GIS analysis, and implementation

Coordinated with 12+ developers to program and integrate

GIS business programs

for smooth operations

Rendered support to 5+ senior GIS developers in managing

3+ large-scale projects

for high-profile clients
Start typing, then use the up and down arrows to select an option from the list
Application Development & Data Visualization
Developed

2+ mapping applications

and tools to analyze spatial data with 20% increase in productivity

Converted physical maps to digital form for easy retrieval of data and

reduced project timelines

by

15%

Performed

data visualization

for data and produced 3+ monthly reports on geographic data for senior developers

Maintained digital library of

35+ geographic maps

by designating file types for 100% availability of resources
Database Management & Geospatial Mapping
Collaborated with 5+ analysts to produce maps presenting

spatial distribution

of data for management

Created and maintained user interfaces to aid data entry in the company's

geospatial database

for minimal data loss

Built

2+ custom geoprocessing tools

by designing GIS systems and modifying extensive GIS environments

Troubleshoot ~7 applications by identifying issues during checkups and

debugging programs

to enhance functioning
Software Installation & Training
Provided training to

10+ interns

in GIS technology areas like programming, application development, and debugging

Coordinated with 10+ junior analysts to install industry-standard

software

on

20+ systems

in the company
Certified GIS Professional

| The GIS Certification Institute | Feb '20

Enterprise Geodata Management Professional

| Esri Academy | Jul '18
EDUCATION
Start typing, then use the up and down arrows to select an option from the list
Top

8 percentile

in class
Start typing, then use the up and down arrows to select an option from the list
Languages: English (native) and French (intermediate)
Key Takeaways
You may have potential as a GIS professional, but to get a job, you also need to pay attention to the technicalities such as making a killer GIS resume and cover letter!
Here is what you can take away from this blog:
Provide links for your personal website or portfolio in your contact information section to enhance your chances of getting an interview
Include important information about your career in your resume summary as it will be the first piece of information about your expertise
Separate your GIS skills from your technical skills to give equal focus to all of your skills and not exclude anything
Include your work experience in one-liners instead of paragraphs and maintain a cause-effect relationship for all that you claimed to do
Assess your areas of expertise and the job descriptions enlisted by companies to make sure that your GIS resume is ATS compatible and application-ready
Happy job-hunting!
Go to Hiration resume builder and create a professional resume for yourself with the help of our 24x7 chat support.
Additionally, reach out to us at support@hiration.com and you can get professional assistance with all your job & career-related queries.