Click here to directly go to the complete Editor resume sample
Need to write the perfect resume for an editor job?
This is the right place to learn the art of writing a job-worthy and recruiter-friendly editor resume.
Editorial jobs are abundant out there but only the top applicants can make it to the end of the race in the job market.
When it comes to creating the perfect editor resume no stones should be left unturned to make it crisp and of the highest quality.
Here is a summary of our editor resume blog to ease your resume writing:
Choose the right resume format i.e the reverse-chronological format to curate your editing resume.
Describe your professional experience in one-liners to make the best impression on the recruiters through your editing resume.
List your editorial skills in a separate section meant just for the skills that you possess.
Include a summary of your editor resume to communicate the impact of your contributions towards the growth of a business.
Avoid personal details such as religion, gender, marriage status, etc., and stick to providing official contact details in your resume.
To understand the mindset of the recruiters and get past any hurdle during the job search you need to understand the following:
Read on to get the best tips on resume writing to perfect your editing resume and highlight your editor skills in the best way.
Hiration's Online Resume Builder is a huge library of pre-filled resume templates that you can customize as per your needs.
Additionally, you can also check out all the amazing features such as Cover Letter Builder, Interview Prep, LinkedIn Review, and Digital Portfolio Builder.
What is an Editor resume and why do you need it
You must be aware of what a resume is but are you sure that you know enough about an editor resume?
It is your identification card in the job market.
So your editor resume is a document that should contain the details of your expertise as an editor which also highlights all your interests, qualifications, editor skills, etc.
It will reflect your professional level in the best or poor light based on how you create the entire document.
Bulk hiring in big companies is handled by relying on ATS (Applicant Tracking Systems) so that there is less human effort in the process of hiring professionals.
Hence, your resume needs to be filled with the right set of keywords and content that can be picked by the ATS in order for your editor resume to rank higher than the others.
Resume experts of Hiration are always willing to give you a helping hand in your pursuit to write the perfect resume.
So if you are eager to learn how to write an editor CV resume make sure to check out our Online Resume Builder and get an insight into all the amazing features that can make your resume sparkle like an evening star.
Average Salary of Editors
According to Salary Explorer, an Editor in the United States earns around 83,800 USD per year and salaries range from 38,600 USD (lowest) to 133,000 USD (highest).
Salary packages differ according to the industry norms and highly about an applicant's set of skills/expertise, years of experience determining one's seniority level, etc.
According to the Bureau of Labor Statistics, the median annual wage for editors was USD 63,400 in May 2023.
Whereas, according to PayScale, an editor can make on average USD 36k-83k per year.
The sample editor resume given below is the ideal way to get past the ATS and make an impression on the recruiters.
To get your copy editor resume built by a professional, click on our Online Resume Builder today!
Best Resume Format for Editor Resume
A resume framed using the right format will get past the ATS as well as get you noticed by the recruiters.
Professionals commonly used the following resume formats:
Reverse Chronological
Functional
Combination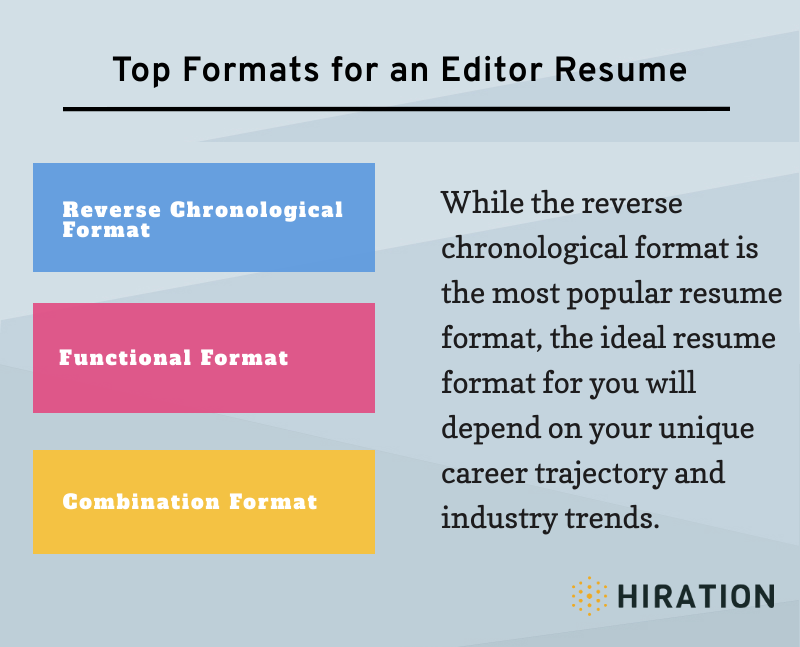 Amongst the 3 resume formats, the reverse chronological format is the most suitable format to highlight your editor skills and experience.
It allows you to present your current or latest work experience on top and the rest of the older profiles follow.
By doing so, the recruiters would have an obvious idea of what your capabilities are as per your relevant work profile and add leverage to your job application being shortlisted.
The functional format is mostly used for shedding the spotlight on your skills while covering up career gaps.
It is not ATS friendly and hence not the best format for framing your editor resume.
But if you are someone who tends to frequently shift jobs then this format can do the job in covering up the existing career gaps and showcase your skills.
Whereas, the combination format is simply a mixture of both reverse chronological and functional format. Despite being ATS friendly, this format is a big NO-NO if you have zero to less experience.
Do you still feel that you need to learn more about resume formats?
Go ahead and read Hiration's guide on the best resume format to learn how to pick the most suitable resume format.
Editor Resume Sections
An editing resume is divided into various sections wherein every section plays a major part in amplifying your job application.
The following sections are the must-have sections in your editor resume:
Header
Personal Information
Profile Title
Summary
Key Skills
Professional Experience
Education
Apart from the sections listed above, you can include any of the following sections if required:
Certifications
Training
Volunteering Experience
Co-curricular Activities
Hobbies
Read more about resume sections and include all those sections that can make your resume stand out while elevating your editor skills.
You can simply go to Hiration's Online Resume Builder and pick any pre-filled template to create your book editor resume.
Professional Experience Section for an Editor Resume
There are 3 main approaches to write a crisp and clear professional experience section in a resume for editor.
Star Format
Framing one-liner
Grouping & Highlighting
Let us start with the first point.
STAR FORMAT
Situation: The situation/backdrop/context of your contributions.
Task: The actual task that was assigned to you.
Action: The strategy you used to execute the assigned task.
Result: The result/outcome of your action in the form of an achievement figure.
Each point you write should highlight the cause-effect of your roles and responsibilities.
Example:
Collaborated with 5 writers to complete a book for timely launch
Monitored budgets and cost-effective workflow for 10+ guidebook projects
The given example clearly states that the editor has managed to complete a book by collaborating with other writers to ensure timely publication of the book.
Now, this point will intrigue the recruiters' interest in the applicants' ability to achieve something and raise the chances of short-listing the applicant.
As a content editor, your job is to ensure that the content is of top quality and void of any mistakes or errors.
And likewise, as a video editor your job is to ensure that the video content is of the highest quality in compliance with the company standards and policies.
No matter what editing field you are in, you should always make sure that your editor resume reflects the same and give the recruiters an insight into your professional experience.
FRAMING ONE-LINERS
Every point should be one line and straight to the point.
This is possible when you use a power verb to express your professional duties that you currently performing or have already performed in the past profiles.
A suitable power verb like "Supervised" can be used to start a sentence wherein you describe your authoritative and leadership role.
Example:
Assigned new topics to 10 writers and edited the final draft before publishing
Brainstormed & conceptualized writing guidelines for the upcoming 5 projects
From the given example we can clearly understand the editor's responsibility and performance.
So when the recruiters read those points they would easily make out that the editor has leadership quality and has knowledge of creating guidelines.
And once the recruiters recognized an applicant's talent it is a step closer to the targeted job for the applicant.
We can also see that the right usage of power verbs throws light on your authoritative presence as well as creative potentials
Therefore, always frame one-liners to describe your work experience and start with suitable power verbs.
GROUPING & HIGHLIGHTING
Do not dump everything you have done as an editor in a pile of lengthy paragraphs as it would take away the effectiveness of your experience.
In simple words, avoid writing paragraphs to describe your editorial experience.
Instead, stick to creating strong headings that describe your expertise as an editor and list the one-liners under them.
Example:
Fact Verification & Proofreading

Conducted extensive research to ensure 100% accurate content
Proofread 20+ manuscripts weekly and provided feedback to the writers
From the given example we can see that the header "Fact Verification & Proofreading" consists of all those points related to the stated heading.
Now it is eye-catching and easy to spot for a recruiter while also ATS friendly as it contains keywords that describe an editors job description.
Grouping the figures also makes one's level of expertise pop out distinctly. So it is always better to bold those points that specify your contribution or editor skills.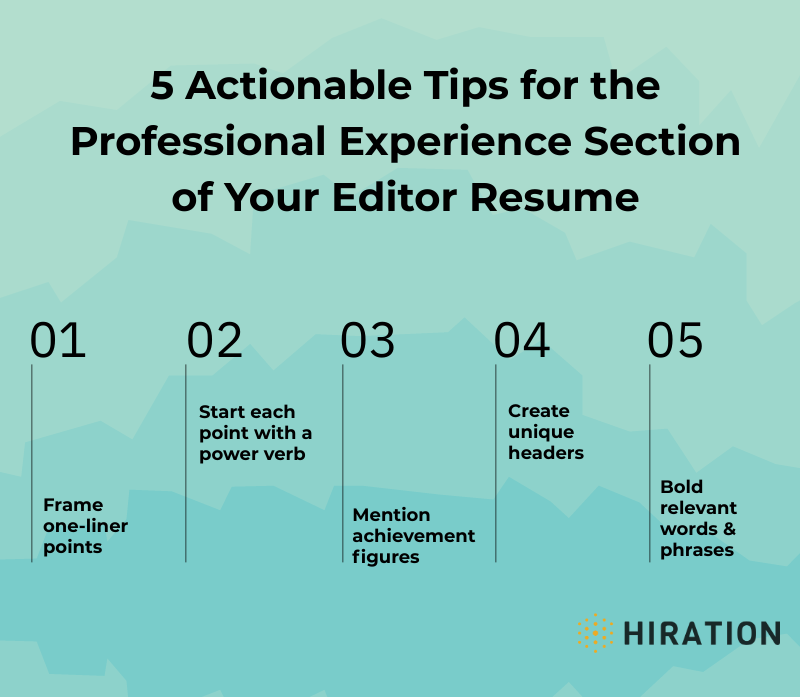 Ensure that you follow a professional approach while framing your professional experience section by creating suitable groups and then bold the most impactful points.
No matter how experienced you are or qualified you are you may fail to make a positive impression on the hiring managers if your editor resume is not crafted with perfection.
Always bring your A-game when it comes to creating job-worthy resumes.
Read Hiration's guide on how to frame the work experience section in your resume to get an in-depth understanding of this section.
Here is a snapshot of the professional experience section of our sample editor resume:
The Header of an Editor Resume
The header of your resume simply refers to your name.
Many professionals make the mistake of writing "CV" or "Resume" on the top of their resume instead of writing their name.
It is such a basic thing yet many applicants ignore the importance of a resume header and its impact on the job application.
For instance, out of a hundred resumes, a recruiter would not be able to keep an easy track if the resumes are labeled as CV or Resume.
But on the flip side if every resume is named after the applicants it would be easier for the recruiters to keep track of the unique resumes.
Small things matter and in this case, your name as the resume header can have a positive impact on your job application, especially to make it easier for the recruiters to keep track of your resume amongst the rest of the hundreds or thousands of resumes.
Not sure about the importance of the editor resume header?
No worries!
You can read Hiration's extensive guide on Resume Header and learn all the details of resume header.
you can also take a look at the given example to have a visual understanding of the perfect resume header:
Profile Title of an Editor Resume
Your professional status is of utmost importance in an editing resume.
It may not describe your expert editing or writing skills but it will definitely shout out your professional status for the recruiters to accept you likewise.
If you are wondering what a profile title means, well it is your professional designation.
As an editor, you need to let the recruiters know where you stand professionally, and hence if you are a senior-level editor you can mention Senior Editor, or simply mention editor if that is your current profile.
It is a simple no-nonsense detail on your resume that communicates who you are and determines if you are suitable for the vacant job as it is step 1 of being considered valid for the targeted job profile.
Avoid lying about your professional profile at all times as it may have a negative impact on your job application when the recruiters find out that you are not who you are claiming to be.
Some of the common profile titles for an editorial job profile are:
Senior Editor
Managing Editor
Associate Editor
Content Editor
News Editor
Video Editor
Every profile has its unique requirements and how you present them in your copy editor resume would determine the chances of your job application's acceptance.
An ideal profile title in a resume for editor should look like the one given in the editor resume sample given below:
Are you still thinking ...
"What does a copy editor resume look like?"
Waste no time and visit our Online Resume Builder today!
Editor Resume Skills Section
One of the best places to use ATS-friendly keywords and show off your skills as an editor to the recruiters.
Wondering how and why?
Well, all you need to do is:
Create a separate key skills section
List out the editor skills that you possess and have acquired over the years of your experience, training, studies, etc.
Read through the job description of the job profile that you are applying for
Then mention any relevant skills that connect you with the targeted job.
Once you identify those skills, simply list them in your key skills section and ...
VIOLA!
Your editor resume will easily get past the Application Tracking System and the recruiters will easily recognize your potential as an editor.
But while doing so you need to make sure that the skills you highlight are those skills that you have actually acquired and possess.
And make it a point to prove your potential by highlighting them in your professional experience section while describing the tasks performed by you.
Here is a list of some common editor skills required for an editor to possess in order to be hired by the recruiters:
| EDITOR | SKILLS |
| --- | --- |
| Content Editing | Copy Editing |
| Proofreading | Facts Verification |
| Publication Launch | Performance Tracking |
| SEO Management | Team Management |
You can highlight your editor skills as shown in the snapshot from our editor resume sample:
From the given example you can also see that the technical skills are highlighted along with the key skills.
Now, this is done in order to make the recruiters easily identify the computer kills required by an editor to possess in order to execute the editorial task.
It is the best way to grab the attention of the hiring managers and make them consider your job application to be suitable for the targeted editorial job profile.
For more clarity on how to frame an editor resume skills section, you can read our guide to skills on resume.
Contact Details on an Editor Resume
Keep this section clear and precise!
A resume without your contact details is simply useless because if the recruiters cannot reach out to you there is no point in you sending your resume for job application.
Once your editor resume gets past the ATS, the recruiters may need you to come for face to face interview or simply call you on the phone to interview you.
As a matter of fact, they may simply send you an email regarding the status of your job application.
Hence it is important that you provide your active contact number, email address, and your current location.
Example:
| Personal | Information |
| --- | --- |
| Contact Number | +1 236 231 1111 |
| Email Address | karen@xyz.com |
| Current Location | LA, CA |
Make sure to cross-check your contact details to ensure that you have given the correct contact number and an official email address.
And in the meanwhile, make sure that you are prepared for any call from the recruiters.
They may call or mail you to inform you about your selection, an interview, or directly interview you over the phone itself.
Check out the clear snapshot of the personal information section from our editor resume sample:
It is always a bonus if you provide the link to your LinkedIn, Github, or any other personal websites through which the hiring managers can connect with you.
The personal information section of your editor resume should be clear without the presence of any unnecessary details that may overshadow your important details.
Hiration Pro Tip: Go through the provided guidelines of the targeted organization before giving out your personal details. Some organizations/country prohibits applicants from mentioning details of marriage, religion, gender, etc. to avoid bias hiring.
Summary or Objective in an Editor Resume
For an experienced editor with more than 3 years of work record, a summary should be included in a resume for editor.
An editor resume summary can help you give an introduction to your professional status and expertise even before a recruiter goes through your editor resume.
Once you complete filling up your entire resume:
Compose 3-4 lines highlighting your professional history
Mention your editor skills so that the recruiters can get an insight into your resume.
Whereas for an objective you need to keep it simple and short.
An editor resume objective should be included in a resume for editor by those professionals with:
Less than 3 years of work experience
'OR'
Entry-level professionals applying for entry level editorial jobs.
It is simply an introduction to your interest and presentation of what you are willing to contribute to the targeted organization to meet their goal if they end up hiring you.
Hiration Pro Tip: It is always a good thing to add either an editor resume summary or an editor resume objective to give an insight into your entire resume.
Refer to the snapshot of the editor resume summary section from our editor resume sample given below:
A brief and clear editor resume summary can communicate your top skills and expertise to the hiring managers with ease if composed as provided in the example above.
So always spare some time in composing a high-quality summary of your editorial expertise and skills while writing an Editor resume.
Editor Resume: Educational Qualification Section
Most editors are required to possess at least a bachelor's degree in English, Journalism, Communication, or any relevant field of study.
A Master's degree can give you extra dips in the job world as we all know how competitive the current job market is.
But it is not compulsory for one to have a Master's degree to apply for an editorial job profile.
Times are changing and more and more employees are on the lookout for those who are talented and passionate about their work.
As an editor you would be expected to possess an eye for detail, a knack for writing, and strong communication skills.
For those seeking entry level editorial jobs, the education section is a must and needs to be highlighted at all costs.
Always remember that hiring managers are on the lookout for a complete package in an editor and you need to be able to communicate the same through your editor resume.
Therefore, provide the details of your educational qualification to confirm your editorial expertise with a strong backup of your scholastic qualification.
Look at the education section from our sample editor resume given below:
Hiration Pro Tip: Avoid mentioning your high school details if you have a master's and a bachelor's degree. You can add details of your high school only when you have very little work experience to highlight in your resume.
There is a whole blog on how to list education on your resume so you can go through it and learn about this section in detail.
Additional Details in Your Editor Resume
Furthermore, you can create an additional information section wherein you can add any productive hobbies that you keep or mention the languages that you are familiar with.
It can give the recruiters an insight into your productive nature and make them recognize any additional perks that can link you to the targeted job profile.
Here is an example of how to list your known languages and their proficiency level in your editor resume:
Hiration Pro Tip: You can also create separate sections with different headings such as; Certifications, Training, Co-curricular Activities, Hobbies or Volunteer Experience, etc., and add any information if available.
Hiration Online Resume Builder
Here are some of the amazing features of our online resume builder:
Unlimited PDF downloads
Option to save unlimited resumes
25+ resume designs
Full rich-text editor
A sharable link
100+ resume templates
1-click design change
Live resume editor
So go ahead and pick a resume of your choice and start customizing any pre-filled template or simply reach out to our resume experts.
You can also upload your existing resume to our builder and get it reviewed by our experts.
Hiration Cover Letters
A cover letter can add value to your resume by giving the recruiters an insight into your resume.
It can intrigue the hiring managers into going through your resume if curated with perfection.
Go ahead and get professional cover letters built today!
Hiration's Cover Letter Builder provides:
10+ ready to use templates
15+ designs
Freedom to customize templates
Create multiple cover letters
Easy downloading
Hiration Services
This is not all!
There are other amazing products and services of Hiration that can help you create a name in the professional world.
Make sure to check out the following features:
Sample Editor Resume
Seeing is believing and we do agree with that phrase so here is an editor resume sample created from Hiration's Online Resume Builder:
9+ years experienced content professional armed with a prolific track record of directing end-to-end copywriting functions from content planning to the final execution of multiple big-ticket projects for the company and key clients. Adept at writing & editing manuscripts and educational books for clients while ensuring optimal quality and customer satisfaction. Proficient in managing SEO and various events as part of promoting the brand via online & offline marketing while adhering to industry's guidelines.
• Content Editing & Proofreading • Copy Editing • Manuscript Development • Quality Assurance
• Web Content Writing • Email Marketing • Social Media Marketing • SEO Management • Leadership • Client Servicing
Technical Skills: SEMRush, Ahrefs, Microsoft Excel, Microsoft Word, Microsoft PowerPoint
PROFESSIONAL EXPERIENCE
Start typing, then use the up and down arrows to select an option from the list
Content Editing & Brand Promotion
Assigning new topics to

40+ freelancers

and editing their completed blogs before publishing

Coordinating with 5+ graphic designers to create relevant infographics for

10+ educational books

for children

Directing copywriting tasks and collaborating with content & marketing team of 20 to organize an online promotional event
Conducting thorough research and

ensuring

100% accuracy

of the information published on online & offline platforms

Playing a vital role in proofreading the content of manuscripts from

20+

in-house

writers

for ensuring optimal quality
Business Growth & Collaboration
Brainstorming & conceptualizing writing guidelines for a new book launch as part of boosting

10% profit margin

Collaborating with a team of 5 editors for planning editorial content, graphics, and layout while developing

story ideas
Received the '

Best Editor Award'

in Dec '20

for outstanding performance in executing 5 key projects within stipulated time
Start typing, then use the up and down arrows to select an option from the list
Copy Editing & Client Servicing
Singlehandedly edited

5+ books

within a month to ensure timely delivery and retain clientele

Eliminated typos, grammatical errors, and spelling from

100+ documents

to enhance the readability and language quality
Manuscript Development & Research
Coordinated closely with

5+ authors

to develop manuscripts from clients and ensured

100% quality

Conducted extensive research to ensure accuracy of details and completeness of the information in the manuscripts
Collaborated with cross-functional teams, and successfully delivered

10+

big-ticket

projects

within a year
Start typing, then use the up and down arrows to select an option from the list
Web Content Writing & Email Marketing
Composed & published

3 creative blogs

weekly while ensuring premium quality and zero plagiarism

Formulated

40+ emails

daily for product & service that led to a 20% increase in sales
Social Media Marketing & SEO
Optimized

100+ old posts

by complying with the latest SEO guidelines, and proofread 10+ guest posts per day

Created content for social media platforms spanning Facebook, Instagram & Twitter, and increased the

traffic by 10%
EDUCATION
Start typing, then use the up and down arrows to select an option from the list
Start typing, then use the up and down arrows to select an option from the list
Languages: English (Native) and French (Fluent)
Key Takeaway
Here are some key takeaways from our editor resume:
Always pick a suitable resume format before you start framing your editor resume in order to get past the ATS and highlight your details in the most effective manner.
A clearly written resume has higher chances of showcasing your potential so make sure to follow the Star format and write one-liners that are listed under suitable headers.
Mention whether you are an entry-level, junior, or senior level professional by highlighting an accurate profile title.
Use suitable keywords from the job description to highlight your editor skills as it will help your editor resume get past the ATS and make the recruiters identify your potential.
A resume summary is an easy way to get hold of the recruiters' interest so ensure that you compose a strong editor resume summary.
Go through each and every snapshot from our editor resume samples provided in this blog and get a better understanding of the importance and impact of every section of an editor resume.
Go to Hiration career platform which has 24/7 chat support and get professional assistance with all your job & career-related queries. You can also write to us at support@hiration.com and we will make sure to reach out to you as soon as possible.