Technical Resume - The 2019 Guide to Technical Resumes (With Samples & technical resume Examples)
We have been accustomed to how technology can be a useful servant but a dangerous master.
In fact, Jobs was very clear that technology is nothing. What is important is the faith that goes behind the people - the faith that people are basically good and smart, and that if you give them the tools, they will do wonderful things with them.
So how do you manage to reflect that your purpose of using information technology is to empower people to do what they want to do? How does it reflect that to you technology is indistinguishable from magic?
Technical resume could be difficult to make. We mostly believe in copying and pasting. It's just a technical resume, right? Why spend hours and days when there's a shortcut right there?
Being time and money savvy with good attention to technical details is what professionals are looking for!
We bring you the best technical resume guide for 2019. We have made sure to include the newest trends for writing the tricky parts of your technical resume.
Be it the technical summary or the technical work section, we have included all the tips and tricks in one place.
To make it easiest for you, the professionals at Hiration have built a super cool resume builder. With 20+ free customized resume templates to match your job profile, you can build your technical resume instantly. Check it out here.
Scroll down for your go-to guide to write your technical resume.
What is a Technical Resume?
Technology is a very rapidly evolving industry with diverse areas of specialization.
Searching for a job in these fields of technical support will have a different set of interests and skills. But all of the recruiters will have one thing in common: they will want to see a powerful tech resume.
To build a strong technical resume, check out our pre-existing technical resume templates and professional resume builder.
Your technical resume will vary widely, based on your experience level, your certifications, and your long-term professional goals.
This blog post on technical resume samples can help you understand the following:
The kind of information your employers will be looking for
How should your technical resume be formatted on the page
Some special tips for writing the various sections
And all kinds of details that will help you stand out.
There is no right way to create a tech resume for a technical position. However, there are certain details that almost every employer wants to see.
These can be put into distinct subheadings as follows:
Technical Resume Summary
Education Section
Work Experience Section
Skills Section
An ideal Technical Resume looks like the following:

Cover letters with a technical resume
We all worry about sending a cover letter with our technical resume. The most common fear is of going unnoticed. Are cover letters a waste of time?
That depends.
So, do write a cover letter. Great cover letters that match your technical resume will give you an advantage over other candidates.
But keep in mind the following tips:
Do not copy your technical resume into your cover letter.
Make it short and personal.
Use the hiring manager's name and e-mail ID. Find it out online, or call the company.
Prove that you understand the problem that the job is offering. Read the job description for a hint.
Demonstrate your solutions. Point out your accomplishments regarding that solution.
Add a call to action. Example: "I'd like the chance to talk more with you."
Boom. You're done with your cover letter.
Quick Tip: After you send your professional technical resume, send a follow up! A call or e-mail on a weekly basis can put you ahead of thoughts.
Check out Hiration's guide to writing stellar cover letters with examples here.
Why do you need a Technical Resume?
Any technical resume does the following:
Grabs the recruiter's attention
Reflects your strongest skills and accomplishments
Conveys how you are a perfect match for a position or project
Gets you the job interview
Further, a technical resume exemplifies:
What are the skills you have learnt/exercised across your career
How these skills can be exercised in your subsequent jobs
What was the impact of exercising these skills before
How you may exercise innovative tools or methods to overcome challenges
Your technical resume therefore stands as a testimony for why you should be working for your target company.
Where do you need a Technical Resume?
Your work experience is the most important part of your technical resume. Your work history reflects your skills as well as your ability to remain in a role for an extended period of time.
In fact your work history is the best way to decide where your tech resume is headed. You may have to share your technical resume with companies that are looking for transferable skills, to ones you have to sell your brand and your identity, to ones who are looking at your accomplishments, to ones which will test your keywords, or to ones with all the compulsions.
We have noticed how everybody gets so much information all day long that they lose their common sense.
So value your ethics and share your technical resume with the company that values similar ethics to maintain a sane and flexible work experience.
How to write the technical resume
There are several technicalities that go behind drafting your technical resume from writing the Master CV to tailoring your technical resume according to your target job description. The following guide will enable your to issue a final draft that looks like the wonderful technical resume examples.
Choosing the format
When it comes to the layout of your technical resume, you will have two different options:
Present your technical resume using the classic chronological layout.
In chronological format, you focus on your career progression and your past jobs. This is why, a chronological format will work better for candidates with no employment gaps. They must have a track record of previous job profiles with decent levels of responsibility.
Present your technical resume using a modern functional layout.
The functional layout, on the other hand, focuses on what you are able to do for your target employer. It does not care about what you ave done in the past. This format does not include extra details about past jobs, responsibilities, and accomplishments. You should draw the attention towards your skill sets and ambitions. The functional format would be a better choice if your work history involves a few gaps or career shifts.
Both are acceptable in the industry but each one emphasizes different aspects of your background.
Chronological layout:
You will have an opportunity to boast about the work you have done in the past, and the projects you have completed.
Start by listing each of your past jobs in reverse order.
Put your most recent position first.
For each job title, provide the employer, employment year, and the basic requirements of each job.
Add a list of your achievements while you held that role, including your awards and challenges.
Try and make your accomplishments quantifiable.
Functional layout:
This layout focuses more on what will be able to do for your job. It focuses on your future career.
Open this technical resume section by listing your "core competencies" or special areas of experience and talent.
Follow up with a short summary of past job titles.
You do not necessarily have to follow up with employment dates and too much detail about responsibilities and accomplishments.
Still can not decide which layout is the best for you? Check out The Best Resume Layout: 2019 Guide with +50 Examples and Samples to find the best layout for your technical resume profile.
Personal information
Following information must be included in a technical resume:
Full Name
Updated Phone Number
Professional Email Address
Example of a contact information block would be:
Tony Almeida
216-775-3363 | tony@hiration.com | SF,CA
You can also add your LinkedIn account, Twitter handle or other social media addresses to your technical resume.
Technical Summary section
If you notice the technical resume samples, you will see that each of them begin with a summary. It is usually placed at the top of the document, beside the candidate's name and contact information.
A technical resume summary is also called by various other names such as career summary, resume summary statement, resume profile summary, resume summary of qualifications, qualifications summary etc.
Before writing the summary, ponder over the following points to make sure you do not miss out anything:
What are the core skills the interviewer is looking for?
What are the soft skills the job requires?
What are the strict NOs mentioned in the job description?
Your technical summary should provide the following information:
Most important credentials/key skills
Quick overview of the information that appears in the rest of your profile
Your biggest achievements according to the job profile
Have a look at the summary sample given below:
4+ years experienced & result oriented software engineer skilled in software development, testing, documentation etc. across the complete development life cycle of a product. Adept at end to end software design & development including requirement gathering, documentation, infrastructure setup, coding & unit & integration testing. Gained proficiency with a wide-variety of programming languages & developed in-depth knowledge of the latest technologies as a result of working on numerous complex projects. Handles complex project management & coordination work very efficiently to deliver results. Looking forward to applying the acquired gamut of skills to a challenging software development role.
Check out this explicit guide on how to build a powerful summary for your job profile here
Tech Resume: Skills
Key skills
One of the most important sections on your technical resume is the key skills section. The ATS quickly scans you on the basis of the key skills.
Hence it is important that rather than listing a dozen odd skills relevant to the job, you demonstrate them.
Instead of adding skills relentlessly like a robot, elaborate them. Show how you exhibited that certain trait, resolved bugs, handled mid-project crisis and inner team dynamics.
Quantify your skills if you can, because it is going to give you 10x more attention than merely adding the appropriate keyword.
Any good tech resume will contain a healthy mix of both hard skills and soft skills, with emphasis on the former. Hard skills demonstrate how you are fit for the job, while soft skills prove how well of a team member you are.
Some of the most recurring key skills for technicians could be:
• Engineering Design & Analysis • Technical Documentation • Design Formulation & Optimization • Prototype Development • Machine Layouts and Assembly • Equipment and Fixture Design • Conveying Systems/Jigs & Fixtures • SPMs, Machining & Heat Treatment • Castings, Forgings & Welding • Pneumatics & Hydraulics • Costing & Estimation • DOE, DFSS, DMIAC, DVP&R & VAVE • ANSI/ASME/DIN/ASTM/API/ISO • R&D and Innovation •NPD & VI Projects
Any special skills related to:
budgeting
scheduling
problem solving
negotiation
customer service
interpersonal relationship management
may also be included to throw light on specific part of your tech resume.
If you have a special skill or interest and you are not sure whether it will leave a lasting impact through your tech resume, put yourself in the position of your hiring manager.
If you would find this skill interesting in a candidate, list it.
Technical skills
For a technical resume, a special requirement is of technical skills section.
Create a special tech resume section dedicated to these skill sets. These skills must:
Bear direct relevance to your target position
Skill sets that are not directly relevant but may elevate your profile potentially
These technical resume skills can include:
software skills
leadership and management skills
presentation skills
foreign language skills
design skills
Look at this sample technical skills section:
Languages: Python, Java, Nodejs, HTML, CSS, JavaScript
Frameworks: Codeigniter, YII, Drupal, Spring, Flask
OS: Windows, Linux
Software: Apache, Nginx
Database: MySQL, MongoDB, Neo4J
Still confused about this technical resume skills section, check out this blog post Resume Skills Section: The Complete 2019 Guide with 100+ Examples of Skills for Resume
Tech resume: Work experience
The work experience section of your technical resume is the most important section. And it is most frequently done incorrectly.
Before writing down this section, go through the following points:
Include the name of the company, description of the company, location, job title and dates of employment for each position of your profile.
Write 5-8 points for each position which highlight your responsibilities and achievements
Quantify your experiences to back up your achievements.
Do not list too many responsibilities without any tangible achievements.
Bold the important keywords that instantly catch the eye of the hiring manager.
Make suitable buckets for different types of work you did. Ex: product management, client management.
If you are a fresher, list volunteer or unpaid experiences that qualify as work experiences.
In case of an extensive list, you can create a new section for activities, associations, and volunteer work.
If your experience runs deep, do not include details about positions held around 15 to 20 years ago.
You can insert this section beneath or above your education credentials.
Choose to opt for the layout that suits your experience well:
traditional chronological layout, the functional layout, or a hybrid of these two styles.
Action verbs and Powerful words
To write a technical resume that creates an impact, use action verbs and powerful words.
The best power verbs to use in your technical resume are:
Tech Resume words for 'Planning' or 'Strategic Planning': Administered, Developed,Formulated
Tech Resume words for 'Managing': Aligned, Cultivated, Directed
Tech Resume words for 'Organizing':Acquired, Designated, Activated
Tech Resume words for 'Supervising' or 'Leadership': Chaired, Authorized, Cultivated
Tech Resume words for 'Executing' or 'Worked on' or 'Handled': Arranged, Compiled, Composed
Tech Resume words for 'Communication': Advocated, Authored, Clarified
Tech Resume words for 'Helping': Aided, Bolstered, Eased
Tech Resume words for 'Creativity' or 'Problem Solving': Altered, Drafted, Overhauled
Tech Resume words for 'Responsible for' or 'Getting Results': Accomplished, Operated, Targeted
The trends of buzzwords comes and goes. Do not forget to check out our 2019 trendy list! Take a look at some of the most used action verbs and powerful words here.
GPA and Education
Your education and GPA will provide essential background information to your potential employers. It is a very important part of your technical resume, especially for the freshers.
Start by listing each of your degrees and academic credentials
Follow up with the name of your institution
Provide information about your course of study, major, minor etc
Add your graduation year
List your GPA, if you choose to
Following is an education template for a technical resume:
B.E. Computer Science
UC Berkeley | Berkeley, US | May '13
The University of California, Berkeley is the top public university in the United States
Top 15 percentile of the class
Trainings, certifications and internships
Your technical certifications, trainings and internships can help you grab even more attention. They are considered even more relevant to your potential employer than your academic degrees.
In order to keep your certifications, trainings and internships from going unnoticed, be sure to :
Place this information in a separate section.
Emphasize credentials that are recent and the ones that are of special relevance.
Take a look at this technical resume samples for your trainings and certifications:
Certified MongoDB developer, by MongoDB. Inc., '17
AWS Certified Developer - Associate Level '16
Oracle Certified Java Developer- Professional '15
Red Hat Certified JBoss Developer '14
Attended the 'National workshop for Python Developers' |MIT | '12
Gained exposure to the latest best practices in the world of Python programming
Take a look at this technical resume sample for your internships:
Stark Tech LLC
Summer Intern | New York, US | May '12
Worked as a Web Developer & Mobile Application Intern to develop web pages by using scripting languages
Are references required?
Before signing an official offer, almost all employers follow a code for the review process:
They contact you for a personal interview
They want to see a list of professional references
BUT usually, these steps do not happen until after a thorough technical resume review. So we recommend that you:
You should have your references ready.
They must be in a separate document.
Do not include this information into the text of your tech resume.
Since your technical resume should be short and concise (one or two pages at the most), it occupies unnecessary space.
If your employer has specifically requested a list of references, you should:
Submit the names, phone numbers and email addresses of at least three professional contacts or former employers
They must be the ones who can vouch for your skills and accomplishments
Be sure to contact these people first
They must have an idea of the call
Choose the people who can speak on your behalf
Wondering whether to write "references available upon request"? It is not highly appreciable. For more tips and tricks for the references section, check out our guide here
Customized technical job profile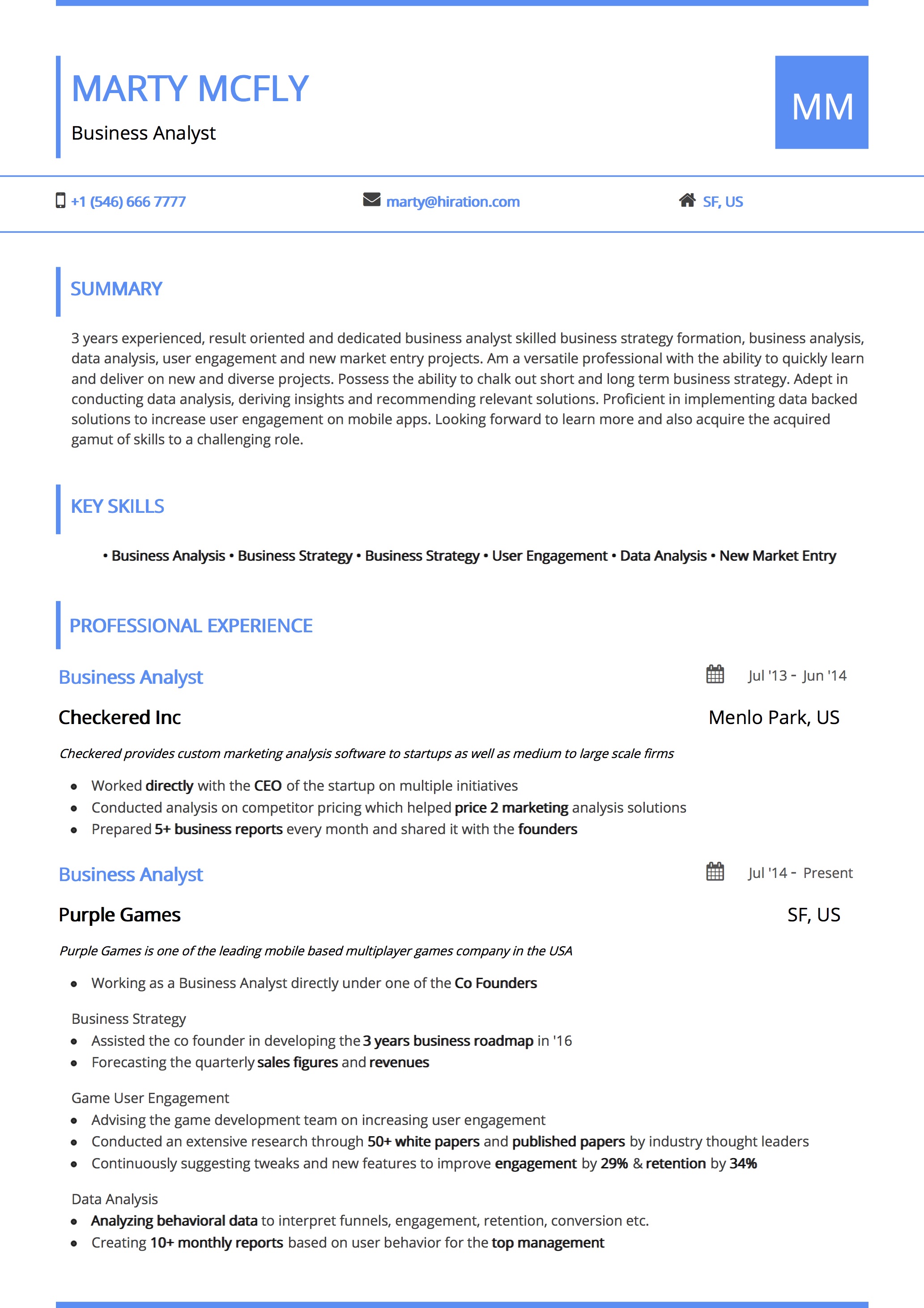 How to stand out?
Power verbs, action words and some buzz
Including words that instantly catch the eye of the hiring manger is imperative. Stand out by using power verbs, action words and buzzwords.
Some action verbs to include in your technical resume work experience section are:
Interpreted, Analyzed, Administered, Developed, Managed, Prepared, Performed, Reviewed, Resolved, Addressed, Implemented, Led, Restored, Responded, Maintained
Build an Online Portfolio
An online portfolio can immediately one up your technical resume. Bring out your geeky animal out! Let the hiring manager reach beyond your technical resume.
After building your super cool tech resume, link your portfolio to it.
If you can not fill your portfolio, sign up for some small projects or freelance jobs. You can also do a little fun work for yourself.
Quick Tip: Working for a small company helps you sharpen your skills. Big companies might not give you a real share of work.
Technical resume fails: Mistakes to avoid
Keep looking out for some of the common mistakes in technical resumes:
Missing details: The employers may be most interested in a certain certification. They may want an experience with a very specific technical skill. Do not let any details go unnoticed. Mention all your experiences explicitly.
Non-specificity: General skills and abilities are great. However, read the post carefully and tailor your tech resume to your job profile.
Overstatements: Do not claim skills and abilities that will be difficult for you to prove. Indicate your level of expertise and years of experience with the platforms carefully.
Super one-stop checklist:
Be sure to use this checklist for your technical resume:
Read the job offer
Bold the important words and numbers
Use bullet points instead of paragraphs
Quantify your achievements
Use power words and action verbs
Be short and to the point
Highlight your most important work
Prove your skills in your experience section
Add "other" sections that have your best accomplishments
List it all in your technical resume
Not sure about how to write this technical resume? Think of your technical resume as an opportunity to stand out!
For any doubts or queries, give us a shout out in the comments.