Looking for college student resume?
As a student, your success lies in reaching from failure to failure without losing your enthusiasm.
Making a student resume has novel challenges.
Firstly, the student resume can be customized for two entirely different audiences.
Secondly, due to lack of work experiences, you must include only the most relevant experiences.
Thirdly, your skills shall essentially comprise your extra-curricular
In the next few sections we observe how you detail your enthusiasm and streamline your expertise in your resume.
With a step by step resume guide along with sample student resumes and college student resume examples we have answered the main questions:
Let's start!
What is a Student Resume?
Resume for college students is the first document for job search.
A student resume is the first concise document of your skills and experiences tailored to your target job.
It is usually 1 typed sheet of paper documenting your growth and expertise.
There are many different formats for writing a student resumes. They usually vary from profession to profession. But for a student the most preferred format is the functional and the reverse chronological order formats.
While in the service industry you might need to include a photo of yourself, the STEM field, usually required a list of specific programs you've taken part in.
Your student resume could be brief and fairly general.
When creating a resume as a college student, you need to emphasize not only your work history but also your education.
Demonstrate your skills and expertise by including volunteering experiences and extracurricular achievements.
Who Should Use a Student Resume?
The student resume could be used by a high school graduate or a college student.
High School Graduate Resume
[Back to Table of Content]
Work experiences at high school gives your student resume an upper hand.
Not only does this leverage your income but it also demonstrates your work ability when you're applying at a university or to a job portal.
The below given high school resume template shows how one can incorporate valuable information in their resume before you get your first job.
Your volunteer initiatives, programs, fests and extracurricular achievements show it to the recruiters your proficiency to deliver projects on time ad your prioritization skills.
General Mistakes in High School Student Resumes
The most common mistake is thinking that there is nothing to write on a student resume.
Extensive work history and high end educational degrees is not what a resume is all about.
Highlight your most impressive traits and skills along with college student resume examples of contributing and achieving across your career. You may ask your family, friends and teachers to relate what your strengths are.
College Student Resume
[Back to Table of Content]
College students typically seek jobs that could help start a career or one that could earn them a pocket money.
An impactful student resume should highlight your part-time work, your volunteering and your internship experiences together to build your character and strength.
It should also showcase your major accomplishments and goals that you have achieved while highlighting the relevant skills you've acquired over the course of your employment history.
Common Mistakes For A College Student Resumes
A resume for college student should not be generic.
Do not recycle the same resume for each job application. Many university students apply for a variety of positions requiring different skill sets.
That's a big NO!
Change your phrases and highlight your skills to tailor your resume to each target job description.
Now, changes do not mean completely rewriting your resume for each application. Only re-order the most relevant accomplishments and skills to catch the recruiters' eyes at the beginning of each profile.
Remove irrelevant job experiences from your resume.
Do not be tempted to list every job you've ever had in case your work experience is limited. Instead include relevant jobs and volunteering positions and show the extent of your contribution at length.
Why do you need a Student Resume?
While a professional resume is just another part of a portfolio, a student resume provides a valuable edge.
These documents are absolutely necessary for selective summer programs, job applications, internships, and more.
Resumes are often required while applying for a job or internship. But, student resume are not just for work, either.
You will need a student resume for a:
scholarship application
summer program
volunteer position
college/university interviews
While you might not need a resume anytime soon, it is important to keep a strong one updated and handy.
So, keep your resume prepared.
When should you use a Student Resume?
A student resume could be handy either for a high school graduate or for a college student.
High School Graduate Resume
[Back to Table of Content]
Let's look at all the important factors on how to make a resume for a highschool student.
Your student resume factors the most important theme of education - not of work.
Although resume writing as a high school/college student without prior work experiences can seem difficult, we assure you, you have enough to fill 1 page of relevant information.
Let's find how.
College Student Resume
[Back to Table of Content]
Resume for college students is comparatively simpler to make.
If your'e a freshman, your resume would essentially have the data from school.
If your'e about to graduate, your resume would comprise data from college.
Possibilities are that you apparently have more information to write in your resume than you think you do. Involvements like that of volunteering, lawn mowing and babysitting can all showcase the important skills that recruiters want in an employee.
Just because you dot have the required job experience which is relevant to the job you're applying for, doesn't mean you don't have the skills at all required for the job.
How To Write A Student Resume?
Student Resume: Design
We have listed sample student resumes perfect for both a high school graduate and a college student.
From the same, we find that your design should comply with only a few valuable guidelines:
1 page
Incorporate maximum text
Dual-colour format
Justified/Left-aligned
A sample high school resume and a sample college resume are slightly different in nature. While a college resume could be more detail oriented, a school student resume should be specific in design.
Always opt for a resume template the suits your purpose the best.
Resumes are usually field specific, whereas others are generic and are used for similar jobs.
Skills and experience sections in a resume are of prime importance. Before writing your resume collect all the information that you want to put in a resume and then choose a suitable template according to the amount of the resume.
Student Resume: Body
[Back to Table of Content]
This is the most crucial part of the resume. One should be able to put together the basic components of a resume in the resume body.
Usually, a resume is split into sections. These sections are personal information, professional experience and education section.
Apart from this, one can include additional sections like that of certifications and training, awards & recognition and languages.
One might not need all of these additional sections. Add only those sections for which you have relevant information to the profile you are applying for. These sections also set your resume apart from the hundreds of other resumes.
Sample Student Resume Layout
Contact information
Resume objective
Education
Work experience (if you've got none, let's skip this section for now)
Skills
Additional Sections:

Honors and Awards
Volunteer Experience
Certifications and Trainings
Hobbies and Interests
Going forward, this article will give you information step wise on each of the sections and how to incorporate them in a resume.
Resume Profile For College Student
[Back to Table of Content]
A profile in a student resume should reflect the job the candidate is targeting.
You should write your profile tailored according to the job profile you are targeting. Let's look at the example of the student resume header below.
Consider the following resume profile examples for college students:
Law Graduate
Clinical Psychologist
FAA Licensed Commercial Pilot
Sales & Marketing Professional
Psychology Scholar
Finance Analyst
Developmental Research Analyst
Civil Engineer
HR Associate
Student Resume: Personal Information
[Back to Table of Content]
The personal information always goes at the top of the resume so that the recruiter is able to contact you easily when he/she wants to.
You need to include the following information in your personal information section:
Full Name
Phone number
Email address
City and state
LinkedIn URL/Personal Website
Make sure your LinkedIn profile is up-to-date and has enough endorsements on your skills to make it reliable in terms of information for the recruiter. Also, your email address should be professional without nicknames.
College Student Resume Summary/Objective
Limit your college student resume objective to ~60 words.
Students with no experience should write an objective section instead of a summary section as it serves the purpose better. It tells the recruiter what are your goals and aims in terms of the job you are seeking in just 3-4 sentences.
But objective statements aren't always necessary.
However, writing one will help the recruiter understand why you are the best applicant that they should get on-boarded. This is best for those students who don't have enough relevant work experience.
Make sure your objective section is to the point and not beating around the bush.
One common mistake that people make while writing an objective section is that they state how the job will benefit them, instead write how you will be beneficial for the company.
Stand apart from the other applicants by stating in your objective section why you are the best bet for the job you're applying for.
A resume objective for college student is the best fit. It factors in:
your previous experiences
your future promises
relevant skills to achieve the promises
educational qualification
your passion
But an unready objective statement is worse than none.
Here's one example of a POORLY written objective section:
Sales or Marketing profile where i can use my knowledge to grow as a professional in the field and learn more. I've internship experiences in sales and marketing wish to gain more knowledge on the workings of modern marketing and social media.
The above objective statement only outlines personal goals.
It tells the recruiter how the job would be beneficial for the candidate. It does not relate to the recruiter how the candidate could potentially benefit them.
It is also vague.
For the interests to recruiter, "internship experiences" and "use my knowledge" is not specific enough. It is unnecessary to mention "internship experiences" in the objective, as it is clear from the resume itself.
Your student resume objective points should point out your objective and how the company goals align with the same.
You college student resume summary should align your skills and experiences to your target job.
Both should essentially point out your call to fame.
Now, here's an example of a GOOD resume objective for college student:
Dynamic and target-driven Sales & Marketing Professional adept at conceptualizing and implementing marketing strategies to bolster visibility and enhance brand awareness. Proficient in deploying diverse channels, from door-to- door marketing to social media, to execute key project deliverables and maximize customer satisfaction. Highly skilled in liaising with multiple teams to deliver compelling business value to key stakeholders, senior leadership and critical clients.
Following is an example of a GOOD college student resume summary:
Data-driven Marketing Professional adept at formulating & implementing marketing strategies to effectively execute key project deliverables. Proficient in identifying and fostering client relationships while conceptualizing initiatives to bolster brand visibility. Highly skilled in leading teams to drive promotion campaigns in liaison with multiple stakeholders. Adaptable transformational leader with an ability to work independently for converting opportunities & accomplishing organizational goals.
The above objective and summary statements from college student resume examples confirms the recruiter the following factors:
specific skills you have to offer
unique details about your functions
quantifiable impact you can achieve
functional experiences you have had
This summary of information would show the extent of your contribution and responsibility to make you a desirable employee.
The following college student resume examples should help you complement the guide.
Student Resume: Relevant Skills
Identify and quantify your skills and experiences
Make a comprehensive key skills section so that it makes up for your limited or no work history.
Do not list skills like 'Social Media' and 'MS Word' in your skills section. The recruiters expect that students already know how to deploy these are these are basic skills.
Instead, put skills like 'WordPress' if you've ever designed a website, 'Conducting Interviews' if you've conducted interviews for some research project or school/college newspaper or 'Photography' if you've got enough experience of photography experience at college level.
Always include only those details in each of your resume section which are relevant to the job. If you're adding photography as one of your skills then make sure to explain what kind of photography in the professional experience section but in just one line bullet point. No extensive explanation is needed.
You may find relevant skills in our database of resume examples.
Let's look at the following Key Skills for a the following profiles:
Development Research Analyst & Consultant
| | | |
| --- | --- | --- |
| Leadership & Team Management | Reporting & Documentation | Impact Assessment |
| Research & Analysis | Public-speaking & Communication | System Dynamics Modelling |
| Behavioural Analysis | CBA Analysis | Primary & Secondary Research |
Sales & Marketing Professional
KEY SKILLS
| | | |
| --- | --- | --- |
| Market Analysis | Door-to-Door Marketing | Content Marketing |
| Sales & Distribution | Project Execution | Customer Satisfaction |
| Team Leadership & Supervision | Logistics Delivery | Strategy Formulation |
TECHNICAL SKILLS
| | | |
| --- | --- | --- |
| MS Office | Windows/OS X | Java |
| MySQL | C++ | Javascript |
| | | |
| --- | --- | --- |
| Consulting | Data Analysis | Data Collection |
| Primary & Secondary Research | Recommendations | Business Strategy |
| New Initiatives | Profit Management | Team Management |
| | | |
| --- | --- | --- |
| Due Diligence | Coordination & Liaison | Drafting |
| Legal Research | Vetting Documents | Document Review |
| Contracts & Legal Documentation | Agreements | Compliance |
Include and justify keywords and skills from the job description.
Start brainstorming - list your past jobs, internships, school projects, and volunteer work.
At this stage, don't leave anything out. Past work that seems irrelevant to your current job search, like lawn-mowing or babysitting, might still demonstrate some skills that employers are looking for.
These notes don't have to be polished. This is just information for you to refer to as you write your resume. Taking detailed notes about your past experiences now will make the resume writing process easier later on.
Prioritize the skills which are most useful for your target job.
If you're looking for a customer service job, communication skills will be important. For an entry-level job at a bank, cash handling skills will be needed.
Look over the work history to find whether you used communication skills to defuse arguments between the kids you were tutoring or how you managed a budget while volunteering at a fundraising event.
Write down what skills you used, and how they might relate to the job you want. This is an easy way to figure out what to put on your resume when describing your experience or skills.
By customizing your resume for the job you want, you can show employers you have the skills and experience they're looking for.
To guide your brainstorming, here are a few skills employers might be looking for:
Leadership
Teamwork
Communication
Problem-solving
Work ethics
Initiative
Analytical
Flexibility
Technical Skills
The "Key Skills" section always plays a crucial role in getting shortlists.
Most people either miss the section altogether or they relentlessly stuff a resume with keywords. Both of these options are a huge NO.
The most underrated source of relevant keywords is your job description.
Never submit your resume without consulting the Job Description. While comparing the JD, you shall find the necessary skills required for your target job.
Prioritize:
leadership/professional skills (project management, team management, stakeholder management, etc.)
over soft skills (coordination, communication, etc.)
First, establish a cause-effect relationship in your professional section and highlight how you utilize the skills to achieve organizational goals.
Analyze the job description against which you are making you resume.
A Key Skills section increases your chances of getting scored higher by the Applicant Tracking System.
The Key Skills and Technical Skills should always be prioritized above the Academic Achievements/Qualifications as can be seen in the sample resume with no work experience above.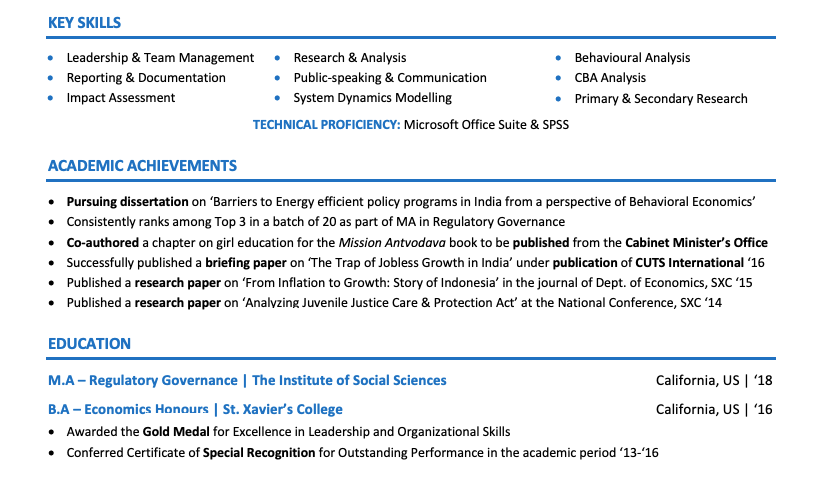 For a greater understanding of the role which the Key Skills section plays in your resume, check out our comprehensive guide on Resume Key Skills.
Student Resume: Education
The education section goes to the top of your student resume.
As you gain work experience, you may reorder your education section accordingly in your resume.
In reverse chronological order, list details of each education based on the following factors:
Name of institution
Location
Dates of qualification
Degree
Major and Minor (if relevant)
If you are making a high school graduate resume, you can put your high school name on your resume. While making a college student resume, you may only include the college degree/qualification along with relevant work experiences.
While making a student resume, as opposed to an experienced resume, you should use list relevant classes or projects under a heading called "Coursework".
This shall enable your recruiter to directly find whether you have your theory right for the job you are targeting.
Your educational qualification must show employers that you're inspired and committed to learning.
You should also include a list of your academic achievements in a student resume.
The following example has allows the candidate to stand out owing to an "Academic Achievements" section reordered on top.
Student Resume: Work History & Internships
[Back to Table of Content]
List each job in reverse chronological order.
Your "Work Experiences" section lists all the past jobs you've had.
Internships
Part-time jobs
Participation in programs
Freelancing experience
Extracurricular activities
For each job, it is important to show the job title, the name of the company, and the dates of employment. Additionally, include the location (city and state).
You might have processes 50 calls from customers on a daily basis to enable a sales of USD 50,000 MoM at your call center job. This data is the relevant part.
Only make sure your points in the work experience/internships are tailored according to your target job description.
You may list internships or volunteer work in this section as long as they are relevant to the target job.
You may leave unrelated ones. But try not to leave any unexplained gaps in your work and educational history.
Employers often prioritize and valuate a college student resume based on the following factors:
Internship in the same industry
Work Experience
Major in a relevant course
Leadership position
High GPA (3.0 or above)
Extracurricular activities (clubs, sports, student government, etc.)
Volunteer work
Schools attended
Training & Certifications
Fluency in foreign language or abroad studies
Be specific about your responsibilities or accomplishments at each job. Bullet points are an easy way to do this.
Use 2 - 3 bullets to describe the skills you used to impact or benefit the company you worked at.
Ensure that your work experience is targeted.
Include details around your internship or work experiences in the following order:
Designation | Company | Location | Dates
Company Description
Contributions
For example, if you were to put your store in-charge work history on a student resume for a sales job, it might look like this:
Store In-charge | MRN Retail | Glasgow, UK | Jan '16 - Dec '16
MRN Retail is a leading chain of retail stores in the United Kingdom.
Delivered strong customer service & consistently met targets to increase the profitability
Met daily targets of GBP ~3,000
Managed profits in terms of revenue, employee engagement, customers' minimum basket spends, etc.
Managed a team of 4 to efficiently monitor the inventory & provide the highest level of customer service
Trained the team on their roles & responsibilities, standard operating procedures, daily tasks & scheduling
With listing your work history in this way, you have displayed:
you can provide good customer service
meet large targets to return profits
handle teams responsibly and train them
Although your experience was at a retail store, these skills have a better chances at landing you the sales job than an experienced sales professional with a poor resume.
Your work experiences section should ideally be placed below the education section.
However, in case your educational domain does not synchronize with your target profile, then you may re-order your work details over your educational qualification.
We have added a sample student resume for a "Commercial Pilot" for further guidance.
Since his student resume had a few experiences and his education was from an entirely different field, he had re-ordered it in order to target his resume to the job.
A resume for college student should be relevant.
Remember to be detailed and specific in your Work History section. Saying "good customer service" is not enough. Employers want to know exactly what you did or learned so they know what you have to offer as an employee.
Emphasize the relevant experiences you had a chance with.
Volunteering/Campus experience with non-profit/on-campus organizations like student magazine, a band, an LGBT group, etc.
Leadership roles you have had showcased with accomplishments achieved and skills developed that are relevant to your target job roles.
Programming Knowledge from courseworks or academic projects.
Student Resume: Honors and Memberships
[Back to Table of Content]
If you've received any awards, you can break out an honors section to list them. You can also have a skills section where you list soft skills as well as any programs, languages, or certifications you have.
When you're first getting started writing a resume as a student, include as much information as possible. You can always edit it down later!
Let's consider the following college student resume examples:
Classical Piano Student | Athens Music School | Jun '20 - Present
The above example does not quantify or qualify much of the nature or extent of your work. However, adding quantifiable data around your contribution in the same would further your chances for getting shortlisted.
President | 24 Carrots Club | Aug '19 - Aug '20
Chaired meetings for the horse club on a weekly basis to plan and organize fundraisers for a budget of USD 10,000
Detailed or quantifiable activities represent commitment and responsibility that can help employers judge you as the most suitable candidate for the job.
Aim to have your resume be a single page.
A longer student resume is considered excessive for someone just starting out in a career.
Student Resume: Extra-curricular Achievements
[Back to Table of Content]
Extracurricular activities can include
clubs
groups
bands
events/events
sports
babysitting
volunteer work
community service
These activities can show your potential skills and abilities.
Student Resume: Non-Profit Leadership
[Back to Table of Content]
Be it at a senior position in a club or as a captain to the sports team, a college student resume is best supported by your leadership skills.
Student Resume: Trainings & Certifications
Student Resume: Achievements and Awards
Awards, honors, and achievements back your claims as a promising candidate.
You could be in the "Honor Society" or could have been declared "Employee of the Month".
Here's an example of the Achievements and Awards section:
Employee of the Month | City Coffee Office | Oct '18
2nd position, Project exhibition competition, Sep '17
1st position, College level paper presentation, Nov '16
National Honor Society member | '15 - '16
Essay Contest Finalist | The Social Dilemma | Jun '14
Student Resume: Projects
Projects represent that you are a responsible manager who promises results.
Student Resume: Interests and Activities
Interests and activities go a long way in a student resume.
Being a part of the sports team can show you as a team player.
Taking music lessons for a long period of time could show passion and dedication. Being active at chess often shows an upper hand in strategy.
Similar to the other sections, again, you must mention:
what you did
where you did it
how long you did it for
what were your achievements in the same
any related qualifications
In case you did not have much work history to list, you could add relevant details about skills related to your interests and activities.
Further, the interests in a college student resume can include:
Sporting or community club participation
Odd jobs or volunteer activities
Practicing Yoga or Gardening
Strategic games like chess or crossword puzzles
Video production, journalism, and broadcasting
Sports like skydiving or swimming
Playing musical instruments or singing
Gaming or Programming/Coding
Blogging or Digital Marketing
Painting, Cooking or Stamp collecting
Travelling, Photography or Wildlife conservation
College Student Resume+
[Back to Table of Content]
The following resume tips for college students shall furnish your existing student resume with the essential attributes.
References
[Back to Table of Content]
Do not list references on your student resume, but keep at least 3 positive referrals from your previous employers, instructors, coaches, or community leaders to provide at the interview, if necessary.
Your resume should otherwise be polished and spotless. You can use Hiration's online resume builder.
Bragging
[Back to Table of Content]
You may brag a bit on your resume.
Avoid the common mistake of boasting in your student resume, but do list awards or achievements that you have.
For example, list your GPA above a 3.0, but do not write it if it's untrue.
Add a section for special accolades under the heading of "Honors and Awards" or "Highlights".
Include promotions and commendations from your supervisor. Add how you improved processes, or if you were given a raise.
Achievements stand out on a student resume.
Key Skills
[Back to Table of Content]
What you lack in work experiences, you may possess in life experiences.
Volunteering works, summer work, fraternities, sports, or club experiences often relates to employers that you can work as part of a team, have leadership skills, and can interact with others.
These further establish a strong ground for key skills like "Team Leadership", "Strategy", etc.
Proofread
The final step in resume writing.
Employers reject 40% of resumes due to typos and mistakes although the profile is impressive.
Proofreading and submitting an error free resume show that you are detail-oriented and organized.
Double check for spelling and grammar errors. Also, get it professionally reviewed to ensure you haven't missed key spots.
Trim your resume to 1 page
Highlight relevant skills and experiences
Reduce irrelevant information
Format for increased readability
Student Resume FAQ
How many pages can a student resume comprise?
1 page. Do not breach the length.

How to make a resume for a highschool student?
Making a resume for a highschool student is fairly simple. It should have targeted data and relevant keywords.

What should a resume look like for a highschool student?
A high school resume should have a lot of space and should only be dual coloured.
Key Takeaways
You have more qualifications and experience than you think.
Focus on academic qualification - school, degree, dates and achievements.
Include information around your GPA and Dean's Merit List inclusion as long as it is strong.
List certifications or course related to the target job
Include relevant part-time/freelance/odd jobs
If your work experiences aren't directly related, highlight experiences you had that are relevant to the job you want.
Summary statement to highlight your skills and experiences
Personal and transitional skills tailored according to target job
Achievements and awards from educational institutes
Volunteering experiences play a massive role in student resumes
Focus on interesting or relevant hobbies
Use college student resume examples or templates to guide your own writing
Prioritize your leadership experiences and achievements
Include extracurricular activities if you have limited experience
Use action verbs to show the impact of your contribution and responsibility
Quantify your skills and achievements in your student resume
Tailor your resume to fit your own experiences and the target job
Professionally proofread to submit a clean and error-free student resume