Online resume building can be both tough and tricky.
[Click here to directly go to the complete comparison table]
But in the transgressive era of professional resume building, an online resume builder is your best friend.
They can save the time and resources behind making your perfect resume from scratch.
Hiration's free resume builder comes packed with one-click features and pre-filled content templates tailored specific to each industry so you can customize and download your resume within a few minutes.
Otherwise, finding the best resume builder for you can be quite the task. So we have figured it out for you.
Some of the top Resume Builders that provide free services around resume-writing are listed below:
Here's a list of what we will cover in this blog:
The following table scores the top 12 resume builders based on key features of 2022 so that you can find the one that suits you most.
| | | | | | | |
| --- | --- | --- | --- | --- | --- | --- |
| Product | UX | Templates | Value | Design | Redundancy | Overall |
| Hiration | 9 | 22 | 8 | 9 | 0 | 36 |
| Zety | 10 | 6 | 7 | 8 | -2 | 29 |
| Kickresume | 6 | 6 | 7 | 8 | -3 | 24 |
| EnhanCV | 5 | 9 | 5 | 8 | -4 | 23 |
| VisualCV | 6 | 7 | 7 | 5 | -6 | 19 |
| ResumUP | 6 | 4 | 8 | 6 | -7 | 17 |
| Resume.com | 10 | 4 | 5 | 2 | -5 | 16 |
| Resumonk | 5 | 4 | 5 | 4 | -2 | 16 |
| SlashCV | 3 | 0 | 9 | 2 | 0 | 14 |
| CVMaker | 4 | 2 | 5 | 2 | -2 | 11 |
| ResumeGenius | 7 | 3 | 5 | 2 | -8 | 9 |
| Resumebuild | 7 | 2 | 4 | 4 | -8 | 9 |
Using a professional resume builder online is an excellent choice for anyone who wants a nice looking resume fast and cheap.
But which free resume builder should you choose? Which is the best free resume builder available? Well, choosing that is harder than it sounds.
While some have amazing resume templates, others take a hand-holding approach and will virtually write your resume for you. The following post reviews the 13 best resume builders online.
You can check out the prices, functionality, the number of templates and features. And that way, you can choose the one that best fits your needs. Our suggested best online resume builder is available with both free and premium options for any budget you want.
Presidency
Professional Resume Builders for both the designer and the writer in you.
We believe that users should know what they are signing up for.
Thus, we have dissected our resume builder for users to find out what they might be using.
First, a glimpse at our resume:
We boast of the single most important thing in the modern resume - content.
Having hand crafted more than 25,000 resumes till date, the professionals at Hiration have programmed the best online resume builder to ensure a phenomenal user experience.
Hiration's resume building tool has a single-click design change feature so that you do not have to worry about the content once you wish to change the design.
Our design professionals have restricted the spacing option in most templates so as to ensure that your resume complies with universal spacing guidelines.
The pre-formatted version of the tool allows the users to be flexible with the content without having to worry about the format, the fonts, or the sizes. The format is established according to industry standards for the best benefit of the user.
Step 1: Creating a New Resume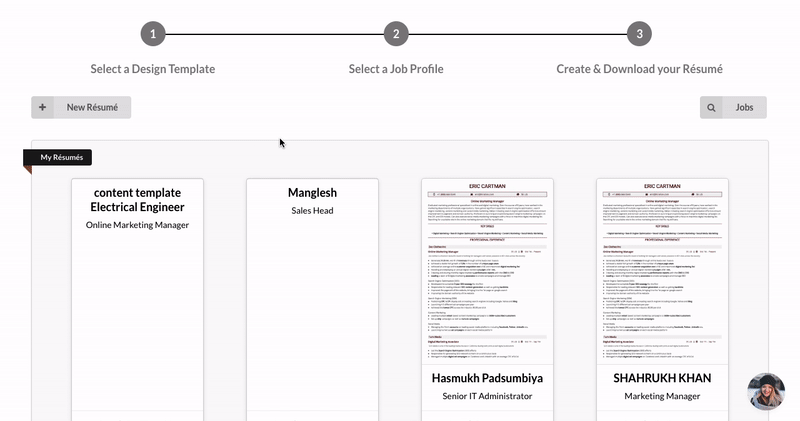 Step 2: Choosing your Favorite Design
Step 3: Choosing your Target Industry
Step 4: Read the necessary tips or skip
Step 5: Tailor your information
Tailoring the information within the resume builder according to your target job description is the most important step.
Do not use the same information provided on the resume builder.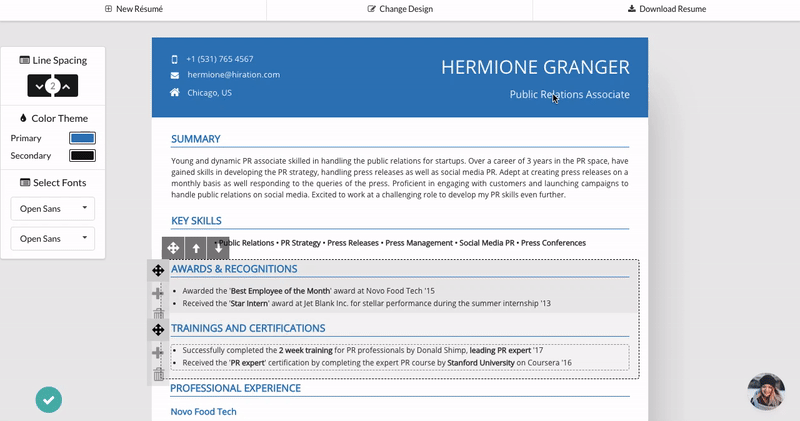 Once you have tailored your resume, you may click on "Download Resume" option to render a PDF copy. You may host the resume online by using the same link provided to you at the time.
To sum up the features of our online resume builder that facilitates resume building:
industry-specific resume summary examples
free resume builder template(s)
one-click spacing feature
font change
color palette
live changes
prearranged sections
unlimited downloads
web-hosted online resumes
Build a resume with just a few clicks within minutes.
Hiration provides a free resume review option for all users which highlights the necessary resume parts you have missed. The professional resume review feature is reserved for candidates who want their resume reviewed by industry-specific experts.
Our most unique proposition is our valuable resume reference tool with over 100+ industry specific resumes to refer to.
Hiration's free resume builder strives to be the best online resume builder available owing to its client-centric approach.
The app has been designed by skilled recruiters who have hired 2,000+ professionals and resume experts who have written 25,000+ resumes. Also, it is updated every day to retain its status as the best free resume builder online.
Hiration's resumes have been rated 5.0/5.0 by top resume reviews. So build a resume with the best free resume builder today.
Zety
Zety provides a very flexible and quick resume builder with lots of tips to enumerate where you might go wrong.
This is one of the best online resume builders available providing 4 starter resume templates at $4.99 for 30 days and 20 Premium templates at $14.99 for 30 days with a provision for a 3-Month Premium Version at $29.99 for 90.
However, Zety lacks a key reference toolkit for its users. Although Zety's tips qualifies it as one of the best resume making tools in the market.
We have attached a few examples to showcase the value of Zety's resumes.
Ministry
Resumonk
Resumonk has a different user interface which asks the user to enter data on a form. This form is processed to then generate a resume.
Resumonk provides its users with flexible resume format sections with the option for 4 free templates and 17 paid resume templates.
It then creates resumes and cover letters using templates that create PDF and Word output which can be tweaked to your personal needs.
The premium plan comes with resume tracking option with unlimited PDF downloads starting at $19 per year with full features or a lifetime version at $59 along with full features.
SlashCV
SlashCV spares you the pain of registering your information by giving you immediate access to the online resume builder. You simply get started on a blank canvas.
In SlashCV, your CV is designed to be responsive and works on all screen sizes: mobile, tablet and PC.
You may compose and edit your CV on a tablet or PC. The inbuilt editor is easy to use and works without complications.
However, a few limitations include the reduced flexibility of the sections. You are unable to change fonts or the size of the fonts beside the pre-designed template structure.
You may save your resume as PDF to Dropbox or host your CV online. SlashCV gives instant access to your CV on all your devices.
SlashCV currently provides 28 basic, pre-designed templates with option to save as PDF and to share on Dropbox.
Cabinet
VisualCV
Whether it's a mind-blowing web portfolio or a professional PDF, every VisualCV template is carefully crafted to get you from application to interview.
In today's competitive market, customization is the key. Easily manage multiple VisualCV versions personalized for each application.
To ensure that you don't get lost in the resume black hole, VisualCV analytics let you know when your resume is viewed or downloaded so you can follow up.
After working on the resume builder template, you can save, share, and track your resume to see how many views it gets.
VisualCV allows the user to use 3 templates in the free version and 14 templates in the premium version at only $12 per month paid for at least 3 months of access.
Here you have the option to see examples of perfect resumes and CVs for your industry, with dozens of options.
You can import a professionally written sample to create your VisualCV faster. Then customize your CV and download the PDF or share the live link with your next employer to get hired.
Further, VisualCV boasts of its option to get free feedback on your resume before you share it. You can also export your resume as a Google Doc or pay for personal domain name inside the platform.
CVmaker
Cvmkr.com gives you the choice of filling up a form which is a basic text editor giving you a printable resume template and the option to move and add sections.
Once you have logged in, you may download your resume as a PDF, TXT, or HTML document. CVmaker boast of 14,980,357 downloads and 5,789,091 saved CVs with a very flexible pricing scheme.
The free version has 6 branded templates while the premium version at $16 per year has 4 high quality templates.
Cvmaker is a simple, free tool that saves you a lot of effort from choosing a resume format.
However, users do not have tips in this online resume generator which might help them in the journey, so you're on your own. Further, it has a pre-packaged reference section that you cannot delete.
Executive
ResumUP
ResumeUP provides the following benefits:
Easily accessible registration and profile creation system
Allows to gather information about users' past experience and future inspirations
Visual Profile as testing platform to display different kinds of information
Ability to gather more information from users through visualization of their data
Candidates network
Search and post job offers functionality
You can see how much design work has gone into creating ResumUP's templates.
Creating resumes to cater to niche recruiting companies, career centers and counseling services, they believe in using creative resume builder templates to make your resume stand out.
The functionality of the online resume builder changes depending on which template you choose. Some templates allow you to fill in blanks and others don't.
Their pricing scheme varies from a Free Version that renders 2 templates (including a Facebook ad and an ATS-friendly plain text version of your resume for Notepad) to paid versions ranging:
1 Template for 1 Month $15 for 1 month access to 1 template
1 Template for 1 Year $6 per month ($72 per year)
Any Template for 1 Month $20 for 1 month for access to any template
Any Template for a Year $8 per month at ($96 per year)
Lifetime Plan $149 for lifetime access to any template
They provide 11 Professional Resume Templates which allows you to add sections like skills or achievements.
They have a lot of fancy templates including an infographic template. A lot of these resumes have heavy design elements. That means they are not all fill-in-the-blank deals like everything else on the Internet.
ResumUP is the best option if you are graphic savvy. Otherwise, you may find the functionality on this online CV builder a bit challenging. The features they provide are:
Visual Résumés
Customized Career Planning Tool
Multiple search option
Custom branding
Structured knowledge base
Skill sets comparison
Resume Genius and Resume Companion
The Resume Genius and Resume Companion online resume builders are the same, with minor branding and template differences.
Whether you just want to see what a professional resume looks like or you want to make one of your own, their resume examples, writing guides, and tips are a great start for job seekers in most industries.
To get started, choose a resume builder template. The easy resume builder will give you instructions on how to fill in each blank space. You pay at the end before downloading your resume.
Resume Genius and Resume Companion offers a 14-day Access $1.95 for 14 days which self-renews to $39.95 per month ($479.40 a year). They have an annual payment option at $95.40 a year ($7.95 per month). Their 21 professional templates offer a vibrant resume making experience.
The easy resume builder gives you prompts and tips as you go along so you know what to put in each space. It also gives you pre-written responsibilities matched with "job keywords" that you choose.
Resume genius boasts of 103+ Resume Tips by Mark Slack and a library of resume templates.
However, you cannot leave fields blank when you're working on a section. The resume wizard will prompt you to fill them in before allowing you to move to the next section. So, you shall not pass without filling in the blanks.
Commander
Resumebuild
Resumebuild opens with choosing your template and filling in basic information like name, title, and contact information. Once cleared, you can log in using either your email-id, Facebook, or Google.
In this online resume builder, you can not leave fields blank. The resume generator prompts you to fill them in before allowing you to move to the next section.
Their pricing scheme includes a monthly payment of $9.95 per month, payment of $6.95 per month for 3 months and $3.95 per month for 6 months.
Resumebuild provides 28 paid templates in different colors, out of which only 3 templates are available with text aligned to the left.
The online resume maker includes tips and you can also find pre-written responsibilities if you do not want to write your resume on your own. The resume generator is great for Google enthusiasts, who can log in with their account.
However, resumebuild asks for a lot of information. It does not let you move forward until you have filled in all blanks with information.
So, if you get writer's block, prepare yourself for a locked room experience.
Enhancv
Enhancv will assign you a resume builder template based on your field and experience. Here, you can't choose your own adventure.
Their upgrade includes new colors, backgrounds, icons, and fonts. The idea is to let you enhance your CV as much as you want.
In the unpaid version, you can test drive unlocked features and download resumes for one month for free. Their premium version starts at $14.90 per month whereas their annual version comes at $143.04 for a year.
Students, hold your horses. You may use their services at the rate of $2.90 per month annually ($34.80 for a year).
EnhanceCV provides users with one template with 2 unlocked layouts and one locked layout. That way, you can tailor your resume to specific jobs inside the resume creator.
There is a video that you can watch before buying the premium package that shows you premium perks.
Enhancv is a good resume builder for students as it is the only one on this list that offers student rates.
Legislative
Resume.com
The easy resume builder is straightforward and provides you with tips to guide you through your resume making experience.
Their service is free of charge and you can download your documents in PDF or DOC.
Resume.com has 24 free templates to choose from with straightforward functionality.
Though the selection of templates is relatively wide, they're not very fancy and focuses explicitly on the client's data.
Resume.com is a good place to create a basic, standard resume boasting of 4,137,818 active members.
Kickresume
Kickresumee provides its users with the ability to chat with assistants in real-time while making the resume. Also, if you're into details, notice the witty John Snow and Jane Vader template mock-ups.
They provide 2 templates for free and 22 templates under the premium version of $4 per month at $48 a year.
They have an additional proofreading service which costs the user $19. (Oh well, we do it for free!)
Kickresume further provides its users with live tips and tricks to guide a novice through the resume making experience.
Key Takeaways
The ranking is just a number. Choosing an online resume builder format is all about finding one that feels comfortable. Remember the following hacks to choosing your favorite resume builder:
You should be aware of which template helps and hurts your chances at a job.
Online resume builders save you time and frustration.
They can provide you with a neat and presentable resume in no time.
Free resume builders usually come with premium packages with better designs.
Always get a professional or free resume review before submission.
However, if you are not sure how to match the design of your template to your profession, we can help.
Let us know your pressing questions to team@hiration.com, and we will help you figure out how to choose the best one. Additionally, for the best resume building experience, visit Hiration's online resume builder.