What is a professional resume?
A professional resume is a document of your details and information that are fabricated in the right format.
So now the question is, why do you need a professional resume?
Well, you need a professional resume to present yourself as a potential applicant so that the recruiters will shortlist you for any targeted job profile.
It is to make sure that your job application makes a positive impact on the recruiters and does not end up in the shredder or the trash can.
If you are wondering how to write a professional resume, then this blog is the right source to learn about the same.
We have compiled all the tips and guidelines to help you learn the whats and hows of resume-writing that can effectively help you in curating the perfect resume.
You can directly go to Hiration's Online Resume Builder and check out the professional resume examples/professional resume templates.
Choose the right format to curate your professional resume
There are ideally three standard professional resume formats that you can choose from. Namely:
Reverse-Chronological Format
Combination Format
Functional Format
Be careful while choosing a format for your resume because a professional resume format needs to be presented effectively and get past the ATS (Applicant Tracking System) that is widely used by recruiters to filter resumes.
Reverse-Chronological resume format should be used only when you have a clear career trajectory with no career gaps or changes in your field of work.
It can help you present your most recent and relevant profile initially in your resume before highlighting any of your past profiles.
Functional resume format should only be used if you have career gaps to cover or when you are writing a resume to change your career.
Try not to use this format unless necessary because it is not the most efficient format to present your professional experience.
The Combination resume format is a combination of both the reverse and functional format where the focus lies in your work experience as well as your skills.
It can give the recruiters an insight into all that you have professionally achieved as well as your professional skills at the same time.
Pick a suitable resume template to fabricate your professional resume
There are plenty of professional resume templates that you can choose from to fabricate your resume but to pick the most suitable one is a task in itself.
Since the recruiters rely on the ATS (Application Tracking System) to filter resumes and you need to keep that fact under consideration while framing your resume.
While picking a resume template you need to make sure that it is ATS-compliant and suitable for your job application.
You need to decide if your career trajectory should be best presented on a two-section template or a single section template.
In fact, you would also need to decide whether to pick a traditional format or a modern template that can make your resume stand out.
To check out what all suitable professional resume templates you can pick from to write your resume, visit Hitation's Online Resume Builder.
Include distinct sections in your professional resume
Look at the given infographic to see what all sections need to be included in a professional resume at all times: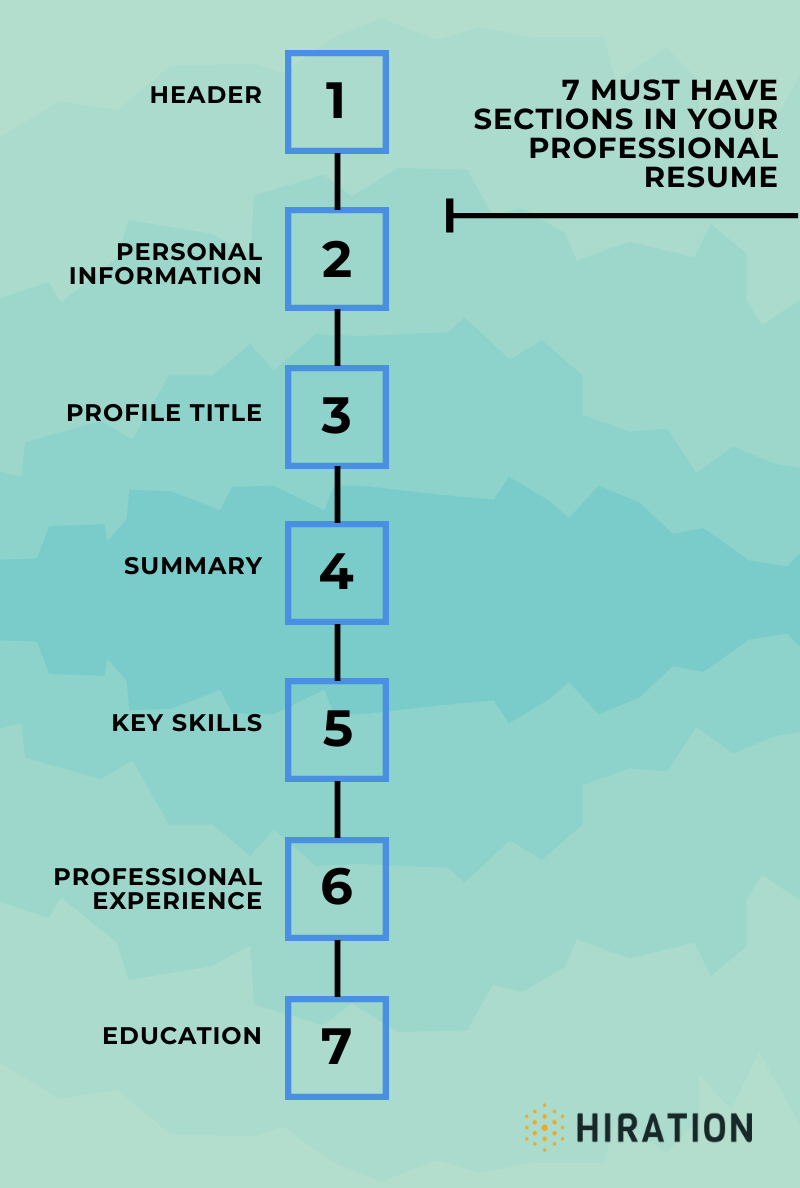 Every section plays a distinct role in communicating your details and particulars to the recruiters through your resume.
A professional resume should always include the standard sections highlighted above.
Resume Header, Personal Information, and Profile Title
When the recruiters glance through a resume, the first thing they notice right away is the topmost section of your resume.
This is where you need to highlight your name, personal information, and profile title.
Resume Header: Simply write your name on top of your resume and label it to maintain a unique identity so that the recruiters can keep an easy track of your resume.
The ideal font size should be 16-20 so that the resume header stands out as the largest text in a professional resume.
You can learn about resume header in detail from Hiration's Guide to resume header.
Personal information: The personal information segment should consist of your contact number, email address, and current location.
Provide your contact number and email address so that the recruiters communicate with you for any matter related to the job application.
Providing your current location can help the recruiters determine your interest in re-locating for any job placement so make sure to mention your location accordingly.
Scan through our resume guide to contact information before you start curating this section in your professional resume.
Profile Title: The recruiters can straightaway make out where you stand professionally just by looking at your profile title.
Mention the accurate profile title that best describes your professional level of expertise and the field of your work.
It is an opportunity to get the recruiters' attention so make sure that you do not waste the chance of making a positive impression on the potential employers.
You can use the ideal 16-14 font size to frame your profile title to make it stand out in your resume after the resume header.
Professional Summary for Resume
Create an image of yourself as a suitable applicant for the recruiters to get an insight into all that is highlighted in your professional resume.
The professional summary for resume is a must-have segment in your resume.
It can make your job easier by getting the attention of the recruiters who spend hardly 6-7 seconds on a resume.
Include the most significant highlights of your career along with your core skills that have been justified in your resume.
Do not focus solely on your roles and responsibilities but mention your accomplishments too as it can elevate your job application.
And keep in mind that you need to have more than 3 years of professional work experience to include a professional summary for resume.
To understand more about the resume summary, you can read Hiration's Guide about resume summary. So go ahead and give it a read today!
Key Skills
To create a professional resume you need to make sure that the skills you list are those skills that validate your professional expertise.
How to list professional skills on a resume?
Do not simply list vague skills that are not relevant to the targeted job profile.
Cherry-pick only those professional skills to list on resume that connects you with the job profile that you are targeting and list them in the key skills section of your professional resume.
The idea is to make sure that the recruiters recognize you as a qualified applicant who is equipped with the right set of skills.
Hence reflect on all the roles and responsibilities that you have professionally executed then pick all the skills you have acquired over the years.
For IT professionals it is advisable that you create a separate section to highlight your functional skills as well as your technical skills.
Doing so can make the recruiters acknowledge your suitability for the targeted job profile and raise your chances of being shortlisted.
Professional Experience
What does professional experience mean on a resume?
Professional experience refers to the narration of your work experience on a resume for the recruiters to recognize you as an experienced applicant.
As a professional, you need to mention your work experience in your resume so that the recruiters can make the connection between your experience with the targeted job profile.
The professional experience section is an important segment that should always be included in a professional resume.
Describe what you have professionally achieved in your current or previous organization.
We will further explain more about the right way to curate this section in the latter part of this blog so keep on reading.
Education
A professional resume should always include your educational qualification background details.
Never treat the education section as an afterthought in your professional resume because it is as important as any other section on a resume.
How to list education on resume as a professional?
All you need to do is mention the details of your school/university and the dates of your admission and graduation.
Keep in mind that it is enough to mention the highest educational qualification that you have acquired. you need not mention your high school details if you have a graduation degree.
Keep your professional resume free from any irrelevant details or information to maintain a professional approach at all times.
You can go to our resume guide for listing education details before you start framing the education section.
Strategically list your work history in a professional resume
As mentioned earlier, lets us run you through the right way to curate the professional experience section for your resume in detail.
The following factors can effectively help you describe your work experience in a resume:
Framing Points: Write brief broadcast statements to describe your work history to the recruiters.
In simple words, frame one-liners to give an account of the professional roles and responsibilities you executed in your current or previous job profile.
One-liners are clear to read as well as easy to understand so the recruiters will right away acknowledge your professional experience.
Power Verbs: Use suitable power verbs to start your experience statements because it can enhance the effectiveness of your one-liners.
Professional resumes ought to be created in a way that can connect your skills with your professional experience hence using power verbs can help you achieve the same.
By using power verbs you can cut off the chances of using repetitive words while elaborating your past work history to the recruiters.
Achievement Figures: The best way to make the recruiters acknowledge you as a suitable applicant is by providing achievement figures.
Simply mention the percentage or number of values you have contributed towards an organization by performing the roles assigned to you as part of your job.
The recruiters will straightaway notice your potential without you having to try too hard to get their attention.
Bolding and Bucketing: No matter how well your professional experience section is curated the recruiters will not be able to figure out what you are trying to communicate unless you organize it professionally.
The best way to do so is by creating different buckets and listing all the similar points under suitable headings.
Once you sort out your one-liners pick significant words and phrases that throw light on your professional expertise and bold them.
Doing so will make it easy for the recruiters to notice your potential without having to scrutinize through your entire resume.
Highlight your mention-worthy credentials on a professional resume
Wondering how to use professional credentials on resume?
Well, it is simple but you need to make sure that everything you mention in a resume is relevant and valid.
Your credentials can mean anything from your certifications, educational background, training, professional experience, and so on.
In simple words, it refers to anything that indicates your suitability for the targeted job profile.
Apart from your work history and educational qualifications, there are quite a lot of details that you can mention in your resume to make a positive impression on the recruiters.
Some mention-worthy credentials are:
Certification(s)
Training
Extracurricular Activities
Additional Information
Ideally, the above-mentioned segments are optional and can be added only when deemed necessary hence before you add the details check if the credits you hold is relevant to the job profile that you are currently applying for and if it is relevant then you can go ahead and add them in your resume.
Check out Hiration's professional resume builder that has been created to assist job-seekers in creating job-worthy professional resumes.
Proofread your professional resume
Always proofread your resume before you send it out for any professional job profile.
The recruiters will expect you to show professionalism from the moment they go through your resume.
Here is why you need to proofread your resume:
To make sure that every detail you mention in your resume is correct.
To make sure that the particulars framed by you are relevant to the targeted job profile.
To avoid missing out on important information.
To avoid making mistakes with grammar, punctuation, spelling, etc.
To ensure that there are no typing errors.
To remove any unnecessary information.
From the listed reason you can see that proofreading is to make sure that your resume is devoid of any mistakes and errors.
Hence, make it a habit to proofread your resume before you send it out.
Key Takeaways
Here are some key takeaways from the blog:
Make sure to check out the different resume formats and pick the right one to fabricate your resume.
Apart from the resume format you should also check out resume templates and pick a suitable one fro curating professional resumes.
Always include only the distinct sections that can enhance your professional resume.
Present your work history in one-liners and organize them under different headings.
Proofread your professional resumes at all times to avoid unnecessary mistakes.