There are just 3 responses to a creative design: Yes, No and Wow!
[Click here to directly go to a creative resume sample]
This is the crux of the creative design world, isn't it? Whatever your design may be, it can elicit these 3 responses. There is no other way.
The same holds true for creative resumes.
So Which reaction do you want from the reader of your resume - Yes, No...or Wow?
Choose from our 20+ resume templates with options to customize colour, font and more!
Today, we'll focus on the last one. Let's get a WOW from the recruiter going through your resume, eh?
Thank god you do not have to be a designer to create a creative resume template.
We thought we'd save you endless time and trouble by compiling some of the best creative resume templates for you.
Along with free creative resume templates 2022, this article takes you through the amazing creative resume templates, with complete samples and examples, so you have what the recruiters are looking for.
what is a creative resume?
where to use a creative resume?
how to make your resume stand out visually?
To make the rest of your resume writing process a breeze, check out out state-of-the-art online resume builder with 20+ premium designs and ready-to-use resume templates!
This blog will walk you through:
What is a Creative Resume?
Now if you're here already. You probably have a vague idea regarding what a creative resume is.
For making the resume creative, you must first
When to use Creative Resume Templates?
First figure out where you are applying.
Creativity in a resume is important for certain industries while it is looked at.
For example, when you are applying to an advertising firm for the job of, say, a graphic designer, then this template comes handy.
Infact, a non-creative dull resume will not take anywhere when applying in a creative field.
Also, in fields like visual arts, theatre, advertising agencies, fashion and even marketing communications; creativity in the resume matters.
But for say banking industry, this template is not the correct option. Even if it is, it has to be on the lower end of creativity!
Using a Creative Resume Template
A creative resume speaks volumes about your creativity and can render a lot of brownie points from the recruiter.
Recruiters in the creative industry have an eye on design. That is why applying through a design less resume is asking for a rejection.
Do not use a Creative Resume Template - if there are specifications in the JD
Creativity might just backfire sometimes specifically when the recruiter is defining what he/she wants to see on the resume.
If there are specifications laid out to use a particular font size and layout then it is understood that your creativity does not matter.
In this case, a simple regular resume template would help you to get through the process.
Simple Creative Resume Template is an Oxymoron!
Yet, it is important to understand and limit your creativity on a creative resume template. Understand that it is not for visual entertainment, it .
Being simple yet original is the key.
Simplicity can be adopted just by following these basic rules in a creative resume template:
Clarity of date wise professional journey
Major accomplishments in your career
Education details with dates mentioned
Keywords are important to clear ATS
To avoid annoying the 6-seconds recruiter, make sure you are abiding by these basic rules in your creative resume template.
A Creative Resume & the ATS
Content precedes creativity.
You have to kill it. Your creative resume should not only present the best creative resume a recruiter could come across.
A creative resume design might interfere with the ATS. But what if there is an elimination software sitting between you and the recruiter?
Applicant Tracking System is deployed by major firms to do the first round elimination on the basis of tracking keywords.
So essentially, creativity would take a back seat if your resume misses out on basic keywords which the ATS is looking for.
Keywords are taken from the job description of the recruiter and shall be aligned with your current work experience.
In fact ATS would look for exact word for word matching keywords.
So be careful while applying through a creative resume template format.
How much creativity in a resume is too much?
This is a subjective question.
For some people, a very simple resume is creative enough. Because they find creativity in being as plain as possible.
For some others, resume literally becomes a canvas for colors.
Candidates literally take creativity game to a new height by building the resume using bedsheet prints, dress designs and what not making them look like design disaster.
Sometimes a fabric is used in place of paper to display creativity and ask for undivided attention!
But there are yet others who use creativity brilliantly and never fail to impress the recruiters.
In all the cases, just remember these 3 tips:-
A decent collaboration of colors does not mean a colorful resume
Know your audience
For a graphic designer, good amount of creativity goes a long way.
It does not hold true for a Finance professional.
How To Make A Creative Resume?
A creative resume employs a lot of colours.
You may make an innovative resume for the
Resume colors
Using the right colors in your resume shall liven up your creative resume. Do not use colors which might appear too bright or ones which would dull down the text. Rather choose the colors that complements your personality and your contributions too.
Without going into too much psychology, let us discuss a few colors which might appear right on a resume and a few which cross the line.
✔️ Right Resume Colors
❌ Wrong Resume Colors
Purple
Light Green
Sky Blue
Pink
But then even the right shades of wrong color can make your resume look right.
Ensure that the colour you choose is uniform across your resume and cover letter.
To ensure the same consistency and choosing recruiter-friendly colors for your domain, visit Hiration's online resume builder.
Also, a fancy resume often calls for careful consistency:
Apply the same hue to your website, blog or any document linked to the resume
Use the same colored envelope for sending your cover letter and resume
Try to incorporate it into your outfit and the items you bring to the interview
Formatting A Creative Resume
An innovative resume is unique in it's very nature.
So traditional formatting techniques do not apply. However, when we look at most of the examples of creative resume templates below, we many of them follow a functional approach.
Creative Resume Templates 2022
Let us check out some of the brilliant creative resume templates present on the web and some made by our own designers.
You would surely pick up one of these today!
You shall find most of the following creative resume layouts on Hiration's online resume builder.
Pink Accents creative resume
This resume template speaks volumes of sophistication in style using subtle shades of pink and apt space for display of information.
Want to find more pretty resumes, head over to Behance to find the one that suits you the best.
You can get a link to this resume template here.
Gradient Green Creative Resume by Hiration
Out of the lot of resume templates that we own, we particularly like to this one.
Reason being, it never fails a candidate in landing the interview.
The aesthetically beautiful green shade highlights the angular headings which render clarity of information.
There is a strong impact of typographic composition used and attention to details given.
Condensed typography usage in displaying the name attracts the recruiter.
We are pretty sure, this green beauty will take you to many interviews in the coming future.
Use this link to start making your resume today using this brilliant template.
Black, Pink & white Creative Resume Template
This creative resume template by Botanica Paperie offers a connection of pink shades mixed with old world resume charm of black and white.
With a graphical background display, this resume template has a swag of its own and lends enough creativity without disturbing the information provided.
This creative resume can be found here.
Minimalist Black & White Creative Resume Template
This design caters to people who are not applying for the creative field but are still ready to showcase some creativity.
It lends clear information with clever usage of white space and stands out among the pile of resumes.
This creative resume template can be found here.
Floral Creative Resume Design Template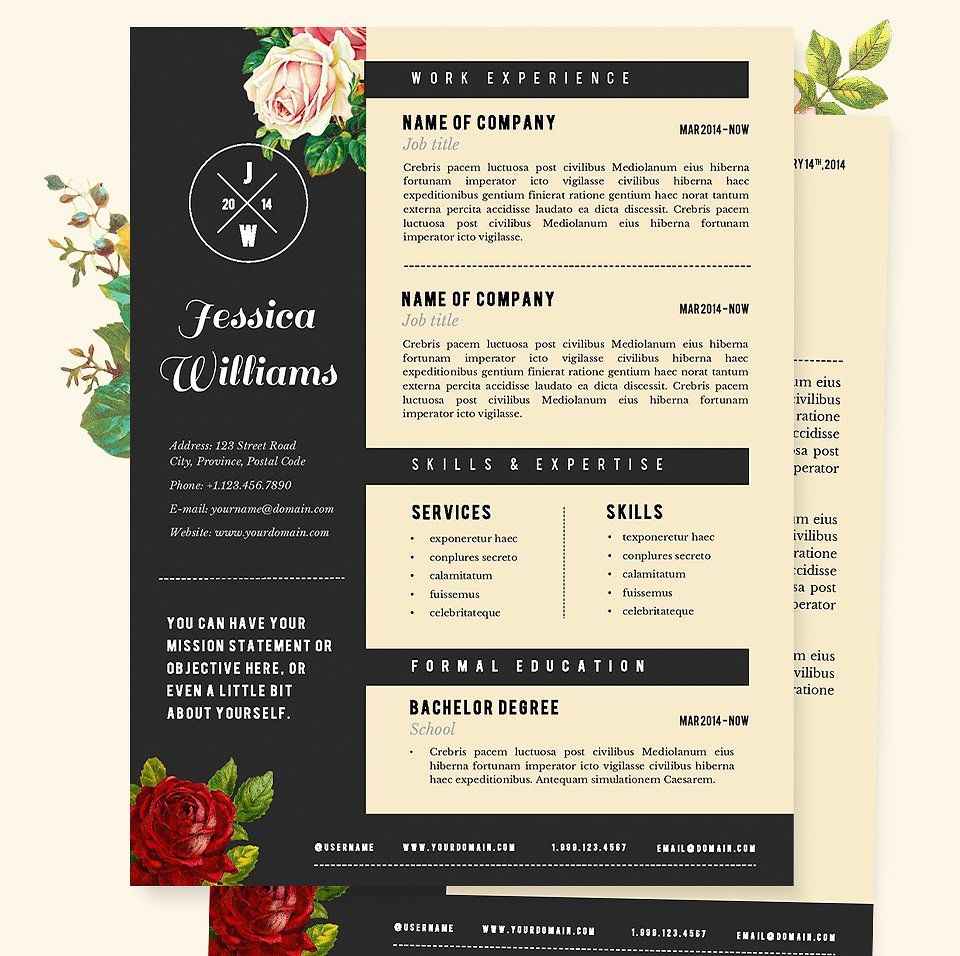 The creative resume template by hipster is easy to edit and print and is perfect for someone in love with bold contrasts.
The unorthodox approach towards using bold black headers & floral designs gives a very solid and concrete impression about your work experience.
Clever display of initials and unusual font used for the name is a catch in the eye.
This resume template shall definitely give you an interview call.
This creative resume template can be found here.
Trendy Design by Hiration
This is an apt example of how one can play with colors and symbols to be launched in the resume and win the recruiter's heart.
1. Content
This creative resume template uses:
symbols and colors
reverse chronological order
two columns for segregated information
2. Structure
This creative resume template deploys a double column format with ample white space. This renders high readability.
3. Designing
The theme used in this creative resume template format deploys:
white color for the entire template
ample white space for a tinge of sophistication
the use of symbols for heading gives as a unique selling point unmatched with other templates
4. Font Colour & Type
The use of Open Sans in black color is the most basic nature of any creative professional resume.
The name is highlighted in pink. But the black font color has been used throughout the creative resume template.
Deco Geometrics & Dramatic Header in a Creative Resume Template
This resume template employs one of the very famous and influential art patterns in art history of 1920's and 1930's, i.e. Geo Deco architecture.
Features:
The name header pops up and highlights the initials
Stylish font usage in all the headings gives a distinguished look
Easily captures and highlights technical information in a crisp fashion
Space for the picture is cherry on the cake
2 page Resume template (8.5 x 11 in)
Precise and clear lines give to add to an artistic feel
Let's look at the technicalities that make this customizable yet convenient:
Customizable design with editable headers, fonts, artwork, colors and layout
Matching Cover Letter template included
Compatible with MS Word and iWork Pages
You can find this creative resume template can be found here.
Orange Twist Resume Template by Hiration
Content & Structure
This creative resume template uses a single column format for all the sections:
Summary
Key Skills
Professional Experience
Education
Internships
Additional Information
Information does not come across as loaded and rather gives a user-friendly experience.
Designing
The theme used in this creative resume template deploys:
elegant usage of orange shade for the headers
does not over-use the color
keeps it simple yet creative
Font Colour & Type
We have used Open Sans in this creative resume template.
However, Hiration's online resume builder let's you choose your most favourite font to be applied across the resume.
Visit our Guide on Fonts For A Creative Resume Template
Culinary Theme resume template by Behance
We guess you must have figured out what this resume template is all about.
With a quirky display of different food items like mushrooms, bread, etc. its is template par excellence for the culinary world.
This creative resume template hones the relationship between a chef and food.
Features:
relatable graphics
yellow hue
female candidature
combinational format
This creative resume template design can be found here.
Space-it-out by Mikha Makhoul
This creative resume perpetually brings forth the use of blocks with contrasting black & whites for ample clarity.
Features:
resume picture
text blocks
sufficient spacing
section headers
Laconique Resume Template
There is something about this resume design which finds itself deeply rooted in mid 20th century.
A minimalistic approach is taken by accenting the creative resume with a vertical architecture.
Features:
minimalistic
skill rating
experiences points over achievement points
bio over summary
This creative resume template can be found here.
Resume in Black by Vincenzo Castro
This bold and powerful resume design template surely gets you that interview you have been dreaming about.
Walking the road less traveled, this resume embraces the total black theme and positively displays operating system art design.
Condensed typography used for all headings enhances the artistic value of the resume.
This creative resume template can be found here.
Professional Black Resume Template by Hiration
Content
This resume template employs same features as Traditional Blue resume template. Additionally, it has a feature of initials of your name in the signature section.
Structure
This resume template has a double column format to highlight multiple aspects of your resume.
The miscellaneous sections along with the "Summary" and "Key Skills" are in the narrower lefthand side column for easy perusal.
The dated "Professional Experiences", "Internship", and "Education" sections are to the right due to:
width to incorporate bullet points
maintaining of chronology of work history
Designing
This resume design comprises:
shades of gray including black and white - to highlight resume sections
the use of dashed borders to highlight intra-section separation
Font Colour & Type
Since this template is made to incorporate a lot of text, the use of white spacing has been done very cleverly to give a spacious feel to the resume. The best thing is that you'll be able to write all your content in the resume, without cramping it!
Once you are done with selecting the appropriate creative resume template, it is time to apply for the right jobs.
Creative Resume Template Design Tips:
A Creative Resume Template should render a lot of flexibility to incorporate information
A Creative Resume Template should showcase crystal clear information without cramming it with information
A Creative Resume Template should be different from the pile of resumes out there but should not look like it was made by a toddler
A Creative Resume Template should be peppy and not dull
Sections and headings in a Creative Resume Template play an important role
Creative Resume Templates+
Headers are important. Make them pop with the usage of bright color.
Color contrasts are important. Go soft with a lot of whites, pinks, and blues if you do not consider yourself a designer.
Use a good font which makes the text readable on an otherwise design heavy template
Ample spacing should be used between the sections to give a spacious feeling.
Proofread your resume professionally
Even if you are using a creative resume with fancy colors, it is important to ensure that you have included all the necessary content for getting shortlisted.
Do not worry, the professionals at Hiration have got you covered.
Creative Resume FAQ
1. Which two types of résumés can be formatted to be visually appealing?
Any document could be formatted to be visually appealing.
However, you could make your functional and combinational resume formats visually appealing as you are at the liberty to move your sections to highlight the most relevant skills.
2. How to Print a Creative Resume Template?
Specially designed creative resumes with so many efforts would go waste on a normal paper. You must use textured paper in white or cream color with a light self-texture to showcase craftsmanship and enhance the designing bit.
Key Takeaways
Stick to roots and be simple if your recruiter has laid resume specifications in word format.
Use creativity depending upon where and what profile you are applying for.
Do not miss out on important information like key skills while drafting. Be careful of ATS compliance.
Use textured paper with self-design for printing
PDF file format is the best and most acceptable format globally.