The process of resume building can be a daunting task, with the rising standards of the job market.
That's where resume builders enter like a soothing breeze. But with so many online resume makers available, it can be difficult to decide which one is ideal for you.
In this blog, we'll compare Hiration and Resume Genius, two of the most popular resume builders in the market, to help you decide which one best fits your needs.
We will give you a brief idea of the features, template designs, and user experience of both of these options to help you make an informed decision.
Whether you are just starting in your career or seeking a change, choosing a viable resume builder can make all the difference in your job hunt!
The Impact of AI on Resume Making
The impact of artificial intelligence (AI) in the field of resume-making has been significant, offering job seekers new and innovative ways to create professional and effective resumes.
AI-powered professional resume generators use advanced algorithms to analyze job descriptions and create resumes that match the specific requirements of each job.
While the AI handles the design and formatting, the job seeker can solely focus on the content of their resumes. According to a survey by TopResume , 69% of job seekers claim that AI-powered resume builders make the resume-making process way easier and more efficient.
The Features of Hiration Resume Builder
Obviously, a career website will tout its own career resume tool as better. But think about it. It wouldn't be possible for us to be one of the top career websites online if our product wasn't effective.
It is Hiration's AI-powered resume builder that offers features that are unique to the platform, so no other resume builder tool offers similar functionality.
Hiration not only offline provides resume writing assistance, but also offers professional tools such as resume review, cover letter builder, LinkedIn profile reviewer, interview preparation, and online portfolio builder.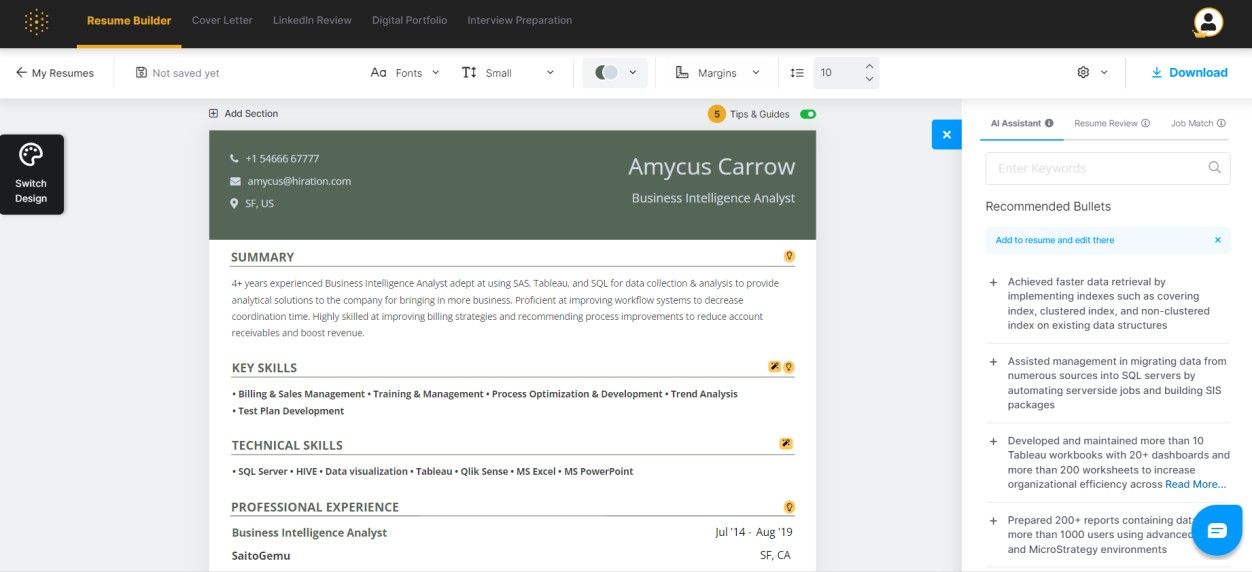 Here are some of the features that make Hiration's resume builder stand out:
AI Assistant: It will recommend bullets based on your experience and job title. You can create a new resume or upload your existing resume and get actionable tips to make your resume better in every capacity.

AI Review: Provides a real-time review of your resume by grading your resume structure, skills, contact information, format, and bullet analysis. Bullet analysis aids you to draft better points in your resume.

Job Match: By examining your job description, it suggests any crucial skills that are missing from your resume. It enables you to produce tailored resumes for each position you apply for.

Tips & Guides: It helps you create an effective resume, with several personalized suggestions catering to each section.

Role & Experience-based Templates: With 20+ resume examples that are pre-written samples based on your work experience or expertise/niche.

Template Design: Users can switch between 30+ ATS-friendly templates with a single click. Our templates include both single and double-column formats.

Customizable Options: Customize everything from line spacing, font style & size, and section sequence, and remove/add custom additional sections. You can also change the date format as well as the page size from A4 to US letter.
With a rating of 4.8/5, here is one of our latest Trustpilot reviews to back up our claim :
Also read: Which resume builder is better between Hiration and Novo Resume?
The Features of Resume Genius Builder
There are several benefits to using Resume Genius resume builder while creating your resume.
Their library offers users 15 templates to quickly and easily construct a distinctive and professional resume. Their pre-written bullet points are AI-backed and recommended as per your experience.
You can use each of their resume writing suggestions as a guide while creating your own. They also provide an adaptable, ATS-friendly format which ensures that your resume will not be rejected based on technical reasons.
Let us skim through the top features of resume genius resume builder:
Tell About Yourself: You will have to answer a couple of questions before getting to template options such as your experience range, qualification, and graduation status. Based on your entries, the algorithm recommends some of their suitable templates.

Template Designs: They provide 15 modern templates with a decent color palette to select from, along with templates specifically designed for different experience brackets from no experience to 10+ years.
AI-Backed Bullet Points: Each bullet point outlines duties and skills relevant to your career and is taken from a database of typical professions.

Customizable Options: You can make section-wise entries and tailor every detail per your choice of margin, font, and additional sections.
Is resume genius free? It is free for use to experience all of its services, but you cannot download without subscribing.
Also read: What are the pros and cons of Hiration and Canva resume builders?
The Decision: Hiration vs Resume Genius
Let's begin with some points in common. Hiration and Resume Genius both require a tad bit of technical know-how to function. Users should have no trouble navigating the website and creating a professional resume.
Here's a table that will help you understand the notable differences in a better light:
| Category | Hiration | Resume Genius |
| --- | --- | --- |
| Template Designs | 30+ Template Designs | 14+ Template Designs |
| Customer Support | Email, Chat, and Phone Support | Email and FAQ section |
| Role-based Examples | Present | Absent |
| Product Tour | Present | Absent |
| AI Resume Review | Present | Absent |
| Job Matcher | Present | Absent |
Hiration's AI-powered services will be a treat to all job seekers attempting to create the ideal, shortlist-worthy resume.
Key Takeaways
Hiration is an AI-powered resume builder that offers a wide range of templates and design options, as well as personalized resume advice based on industry standards and best practices.
Resume Genius, on the other hand, has a more conventional approach with tips and suggestions along with pre-written bullet points based on your profile.
Studies show that 69% of job seekers rely on AI-powered resume builders as it makes the entire process easier and more efficient.
Hiration provides some advanced AI-powered options over Resume Genius, like our real time AI review that gives your resume an instant score out of 100, and a job matcher that will allow you to customize your resume for specific job roles.
Thus, we recommend you avoid further delay and check out Hiration's all-encompassing career service platform with 24/7 chat support for all your professional needs - from building a shortlist-worthy resume and cover letter to optimizing your LinkedIn profile, preparing for interviews, and more!
For any concerns or queries, reach out to us at support@hiration.com.