Want to check the unique resume templates?
Leave a lasting impression on the recruiter with our compilation of the most unique resume templates!
A resume template includes the formatting on the page which you use to arrange all the different sections in your resume. A resume template is the first thing you decide before you start filling in the rest of the details.
Resume Templates can be Simple, Traditional, Professional, Modern, Creative...you get the gist. We have compiled a list of some of the most unique free resume templates which you can use immediately.
You can also use our online resume builder for trying out more templates for your professional resume. Choose from a multitude of designs and customize accordingly.
You may additionally find resume templates tailored as per your target job profile on our website.
Types of Resume Templates
The two broadly classified template structures are:
Single-columned is the standard resume template that caters to diverse professionals. This resume template includes all your resume sections arranged in a single-column format.
For people with extensive professional experience, this resume template can suffice since it allows greater space.

Double-columned is mainly for freshers of entry-level professionals where your experience is minimal. However, this gives more space for additional sections for extra-curricular activities, internships, certificates and training, projects, etc.
The following are the standard templates segregated for the best understanding of the categories you can use them for. They are mainly categorized according to your mood.
Without further ado, here are the most unique resume templates which you can use right away to jazz up your resume!
Hip Hop Resume Template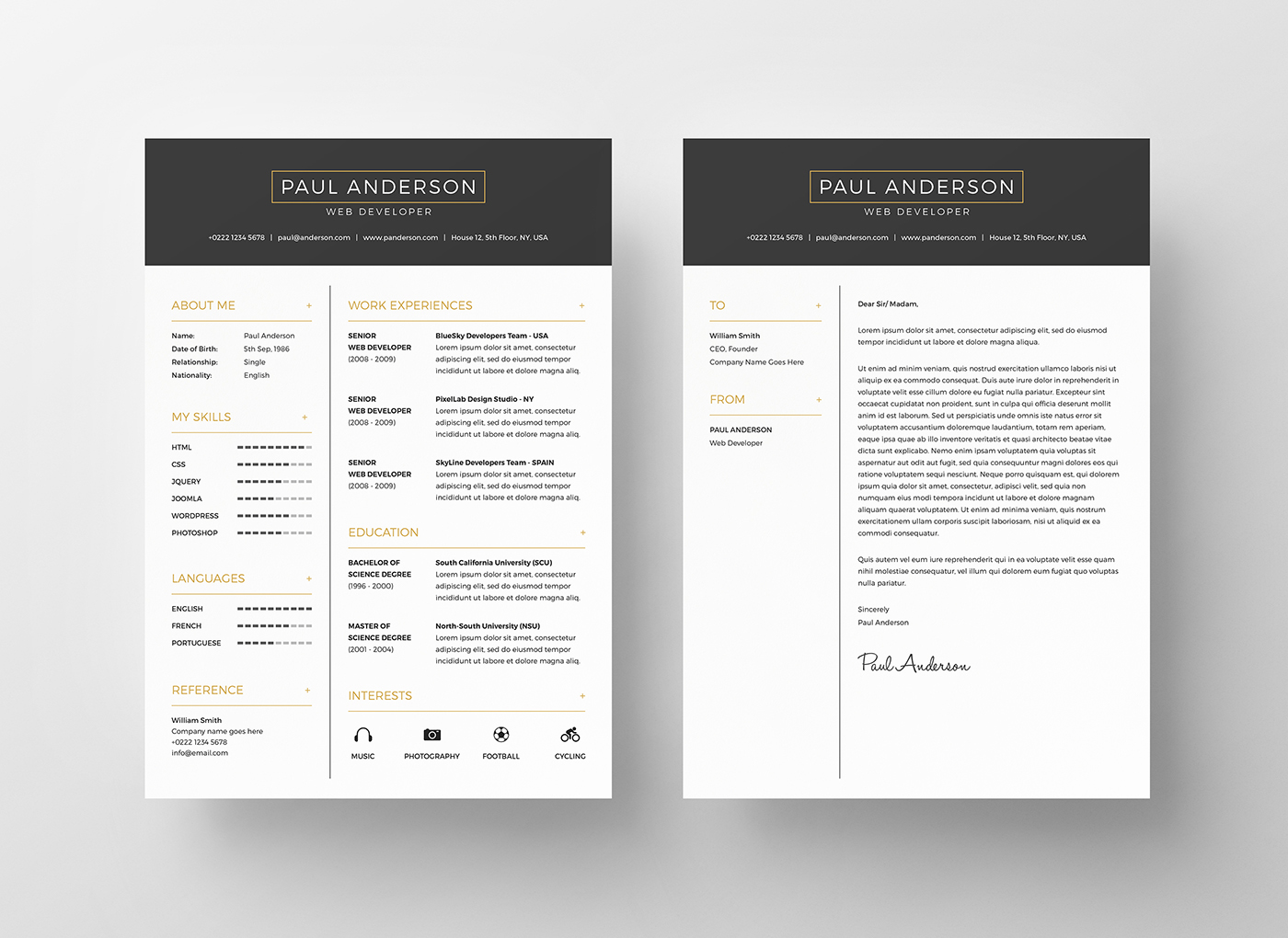 Go to Smashfreakz website to check out this resume template
The YA resume template and the Smashfreakz template showcase an exuberant style with minimal details. Hiration's design exemplifies a usual professional approach to a creative template. Creative templates are usually catchy but often comprise lesser data than the recruiter's desire. The professional
Monday Blues Resume Templates
These simple resume templates come with compact designs. The ATS can easily parse them.
The following template employs very little color and is suitable for jobs across all industries, from internships to the government sectors.
You can access it for free on our online resume builder.
Simple Black Resume Template
The Simple Black Template is a part of Simple Resume Templates and uses only grayscale shades across the entire template.
It is suitable for professionals who are looking for minimal formatting or style.
Rock & Roll Resume Templates
These free resume templates are designed specifically for people who want to optimize them according to ATS. They are preferred by applicants who are looking for a simple, high-quality resume but cannot afford to pay for the premium versions.
The following templates are most suitable for students to create a killer resume. It hardly takes a few minutes to fill in your details. You can check them out here or on our online resume builder.
Mono Resume
This free resume template by Ikonome feature the following characteristics:
Clean and functional
Single page resume
Suitable for US letter and A4 sizes
Features bold design combined with sharp graphic details
The page header contains a customizable logo area
Mono Resume is designed to create impact
Professional Color Scheme
Standard and readable text size
Royal Blue
You can create your resume on this template for free and download it. In this template, the sections: Professional Summary, Key Skills, Professional Experience, Education, Internships, and Miscellaneous - are displayed in a single-column format available for editing.
This employs a 3-color scheme. It is primarily of a professional shade of blue for the header and sectional headings. It uses white color as the Resume background and gray for the descriptive text for the information.
Open Sans with just the right amount of white spaces to make even content-heavy resumes easy to read.
It's easy to scan for all the information on a basic resume template. They are ATS-friendly and are designed in a way that emphasizes content over anything else.
The only difference between basic resume templates & simple resume templates is that the former uses a few colors to highlight important keywords and headings.
It's more suited to modern industries and can be used by students & entry-level professionals who are trying to figure out a way to highlight their achievements.
Additionally, this template provides an option to use both single-column and double-column formats.
Global Citizen Green
The features are:
Premium: The Global Citizen Green Resume Template is a premium template on Hiration's Resume Builder.
Structure: The structure is similar to the Global Citizen Red template, except the primary color, which is green in this case.
Design: The background and primary color of this resume template use green, along with the resume body for highlighting headings & sub-headings. The underlined headings make the section beginnings more prominent.
Typography: Open Sans along with a high line spacing has been employed to make the text easy to read.
You can find this template on our resume builder here.
Folk & Fusion Resume Templates
Modern Resume Templates have been designed for today's professionals who excel in up-and-coming industries and need to pay equal attention to both design & content.
Professionals across domains like Software Development, Analytics, digital marketing, product/project management, etc. can use our modern resume templates to completely revamp their resumes.
These templates will highly increase your chances of getting shortlisted. Modern templates work best for both ATS and human recruiters alike.
Some of the most popular modern resume templates on our online resume builder are:
Infographic Resume
This template by Fernando Baez exemplifies the ideal functional resume where the skills are focused on. The template characterizes:
A white sheet with a bold graphic reflection of the applicant's skills
Easily quantifiable skills
Concise information about the applicant
Attractive design
Black and Pastel
This Canva design exemplifies a creative approach to the modern layout.
The template feature the following characteristics:
Bold Text
Professional Fonts
Combinational Structure
Black background to establish a strong variety
Mixed sections for easy viewing
Boxed Navy
The Boxed Navy Resume template utilizes boxes to separate the sections on your resume. There's also a provision for incorporating an image to your resume to add a touch of that modern look.
Check out this resume template on our resume builder to get done with your resume before you can even blink!
Modern Teal
This resume template provides a very modern look to your resume by employing a blend of colors such as teal and shades of grey. It is a two-column template with a special bar highlighting the professional title in the resume.
Check this resume template out on Hiration's resume builder to create your professional resume now!
Signature Timeline
The signature timeline resume template depicts your entire resume with a visual timeline. Moreover, it has icons and images which give a modern yet professional look to your resume.
Check out this resume template on our resume builder to add a touch of madness to your resume!
Country Resume Templates
Our Professional Resume Templates have been designed with a focus to bring out your achievements in front of the recruiter.
Iconography and other design elements have been used in a very minimalistic manner, whereas the colors are restricted to 2 to add a more professional look.
The best thing about these Professional Resume Templates is that they are suitable for all professionals across all industries, as they are designed based on industry standards used over the years.
Additionally, recruiters are quite familiar with these templates and even the Applicant Tracking Systems can parse all resumes prepared in these templates effectively.
Some of our popular Professional Resume Templates are:
Traditional Blue
A single-column resume template and a best seller in the Professional Resume Templates pack, this template is suitable for mid-senior level professionals with a lot of information in their resume.
While the primary color of the template is blue, you can go ahead and customize the same by choosing the primary/secondary colors of your choice.
Key features of this template are:
Premium Template: The Traditional Blue template is one of the highest-rated templates on Hiration's Resume Builder. This template is highly ATS compliant and also receives an amazing response from human recruiters. No wonder it's one of our best sellers!

Structure: This resume template has been created for professionals who have a lot to present in terms of their experience and achievements. Hence, it is a single-column template that can carry a lot of text and information.

This template is ideal for mid-senior level executives who need that extra bit of professionalism in their resume, without compromising the look and feel of modern resume templates.

Design: As the name suggests, the template plays on very professional and sober shades of blue, with different versions being used to highlight various aspects such as headings, name, designations, titles, etc. A darker shade of gray has been used for the descriptive text of the document.

Typography: Since this template is for professionals with a lot of valuable content to write, the use of white spacing has been done very cleverly to give a spacious feel to the resume.
The great thing is that you'll be able to write all your content in the resume, without cramping it! The text/line spacing option allows you to uniformly increase or decrease the margins across the entire document. Formatting a resume will be a breeze!
You can check out this template on our resume builder here.
Professional Blue
A 2-column resume template with complementary colors in each column, this will go a long way if you want to impress the recruiter by sending a digital copy. And as with all of our templates, this is also ATS compliant.
Key features of this template are:
Premium: The Professional Blue Template is a premium template on Hiration's Resume Builder.

Structure: This resume template is a 2-column template, with one column occupying roughly one-third of the resume width on the left and the other occupying two-thirds. The left column highlights the smaller resume sections such as key skills, summary, small projects, and additional information.
This provides an opportunity to highlight multiple things apart from your professional experience. This resume template should be used by anyone who wants to exhibit multiple facets of their career on their resume.

Design: The left column of this resume template is a darker shade of blue with the overlaying text in white. The exact complementary arrangement has been used in the right column. Dashed separators have been used in time-dependent sections (Education, Professional Experience, etc.) to separate sub-sections.

Typography: Open Sans has been used along with a uniform line spacing to provide a highly professional look to the document.\
To build your resume using this template, check it out!
Professional Black
This 2-column Professional black template allows you to deliver a stellar resume. It's ideal for professionals who want to balance their professional experience with complementary information without cluttering their resume too much.
Key features of this template are:
Premium: The Professional Black Template is one of our oldest and most trusted templates. It is a premium template on our Resume Builder - check it out and you'll find out why!

Structure: This 2-column resume template allows you to highlight multiple aspects of your resume. The dated sections such as Professional Experience and Education are present on the right and are wider. The miscellaneous sections along with the Summary and Key Skills sections are in the smaller, left column which helps you highlight multiple aspects of your resume at the same time.

Design: This resume design comprises various shades of gray including black and white to highlight different parts of your resume. Moreover, the use of dashed borders has been done to highlight intra-section separation

Typography: Only a single font, i.e. Open Sans has been used in the resume with just the right amount of white spaces to make even content-heavy resumes easy to read.
Check it out here! You won't regret it!
Jazzy Resume Templates
The Creative Resume Templates pack is a set of amazing resume templates that you can use to jazz up your resume. They carry a variety of graphical and other novel elements to make your resume stand out from the competition.
Our team has conducted in-depth research to incorporate timelines, icons, and colors into these templates to ensure that any recruiter looking at a resume in one of these templates, is sure to continue reading it.
Some of our popular Creative Resume Templates are:
Trendy Design
This resume templates, loaded with all modern design elements such as icons, vibrant colors, and section borders, is sure to get you noticed by Hiring Managers and recruiters.
The Trendy Design Resume Template employs various design aspects such as intensive use of Icons and colors to deliver the resume that will make you stand out from the rest. You can use it now on Hiration's website.
---
Key Takeaways
Can't figure out which one would be the best resume template for someone with your professional experience?
Don't worry! Hiration's Resume Builder allows you to try out multiple designs while retaining the content in its entirety. Why wrack your brains to zero in on one template when can try out all our designs and see the outcome for yourself?
Do remember to go through the industry requirements and specific clauses around your target profile (you'll find them in the relevant Job Description) before zeroing in on a resume template.
Go to Hiration career platform which has 24/7 chat support and get professional assistance with all your job & career-related queries. You can also write to us at support@hiration.com and we will make sure to reach out to you as soon as possible.