An investment in self-development pays the highest dividends.
Financial analyst jobs are projected to grow by at least 11% till 2026 and you may find the highest level of employment in the states of New York, California, Texas, Illinois, and Florida; and in the following metropolitan areas: New York City, Chicago, Boston, Houston, and Washington D.C.
Employers search for a few specific traits when they examine a financial analyst resume. They need candidates who:
has a track record of success in similar roles
understand the company's business model and the factors affecting the industry
can translate technical information for common people and company decision makers
Offering these traits in your resume can make it a powerful career-building tool. Further you need to ensure that recruiters can read it quickly and find the most important information.
For a professionally sound resume making experience, visit Hiration's online resume builder.
The following guide will walk you through the process of making the financial analyst resume that highlights your financial analyst skills and achievements while reflecting your experience.
What is a Financial Analyst Resume?
Corporates and businessmen rely on the knowledge and financial analyst skills every day. They have to be extremely detail-oriented and possess strong critical thinking skills to provide analysis on accounting and other related projects.
If you are applying for a job as a financial analyst, it's important to include a resume summary that clearly and efficiently states your training, skills, and background.
You may use the following financial analyst resume examples to draft your resume.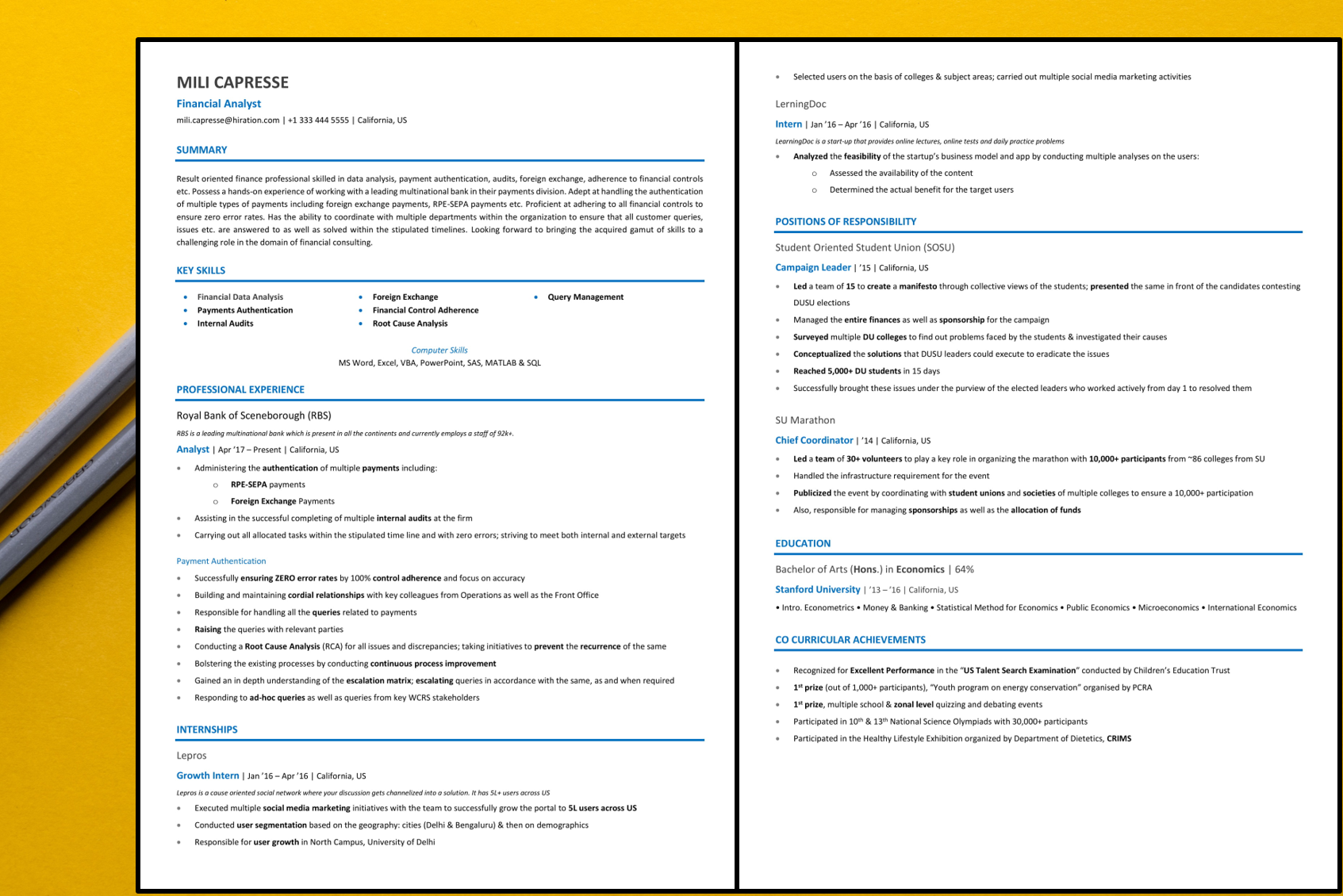 Who needs a Financial Analyst Resume?
Financial analysts possess strong strengths in projections of current and future market trends. They play crucial roles in navigating businesses to financial stability.
When people want advice on the market and investment opportunities, they turn to financial analsysts. That is the value of a professional opinion both in experienced or in entry level financial analyst jobs.
It is an important first step in any job search to show your financial analyst skills and experience, while also demonstrating the value you bring to a company.
Financial analysts have to be extremely detail-oriented. Therefore, their resumes have to be equally so. It is time to revise your resume to make it stand out from the rest of the financial analyst applicants by covering more than just your work experience.
When do you need a Financial Analyst Resume?
To become a financial analyst, you need to be swift with numbers and adept at anallyzing. If your future includes a great job, you'll need to spend some time crafting a winning resume. Think of your resume as a snapshot of your work career, tailored to each hiring manager, that draws attention to how your qualifications meet the needs of potential employers.
Given that most financial analysts have a lengthy work history, this is one of the rare cases your resume can be over a page. Consider one page the minimum and two full pages the ideal.
Why do you need a Financial Analyst Resume?
Before securing a financial analyst job, you should invest in creating a resume that sells your best financial analyst skills.
There is no consensus on the perfect format. But the following section will guide you through the challenge of creating a financial analyst resume. From the right length to the right skill sets, we got your covered. For more financial analyst resume examples, check out Hiration's free resume samples.
How to Write a Financial Analyst Resume?
Standard resumes begin with a short summary of your professional role and history. The average amount of time that goes into reading your resume is roughly ten seconds. Therefore the summary becomes of prime significance.
After the summary statement, highlight your overall experience and skill set. Showcase your professional history and not just where you've worked and your daily tasks. List how you have excelled and grown during your professional tenure.
Finally, close your resume with your education experience as well as volunteer opportunities and extracurricular activities.
Finance Resume: Personal Details
Your resume begins with your personal details.
Ensure the following details:
Name
Phone Number
Email-id
Location
LinkedIn Id/Website (if applicable)
Make sure all this information is updated.
Finance Resume: Title
Always have a clear title to your resume.
A brief title at the beginning will help your resume stand out amongst others.
A title should be crisp. At the same time it should describe you definitely.
Recruiters tend to pick up more resumes with clear and distinctive titles because it directs focus without any confusion.
Be clear and crisp in your title. For example in the sample finance resume, the title suggests:
Financial Analyst
Finance Resume: Summary Statement
Remember that your resume should always start with a brief summary or an overview of your work experience.
Your resume summary should help prospective employers understand your overall capabilities and core competencies. You should note crucial software knowledge like MS Excel, pivot tables, VLOOKUPs, HLOOKUPs, and IF Statements.
It is important to make sure your language is easy to understand. Your summary needs to quickly convey that you are the one they are looking for.
A recruiter or the ATS is the first point of contact with your resume. They both may have only a rudimentary grasp on the complicated world of finance. So make sure your language is clear and direct.
The summary should ideally begin with the number of years of work experience that you have. It shoul d continueshould reflect both software knowledge and significiant skill to detail the business domain you have that experience..
In case you are a fresher, provide your career objective or goal upfront. Companies search for candidates who are clear about their goals and know what they want. Also they hire candidates whose goals or career objectives correspond to the mission and vision of their company.
You can also brief about your strengths, goals, your educational qualifications, etc.
Finance Resume: Financial Analyst Skills Section
| | | |
| --- | --- | --- |
| Strategy Development | Risk Management | Corporate Finance |
| Concept Implementation | Financial Accounting | Documentation & Reporting |
| CFA certified | Time Management | ERP systems |
| Insight | Accounting | Multi Currency Reporting |
| Analytical | Mathematics | Project Management |
| Problem Solving | Computer Skills | Asset Managment |
| Inquisitive | Financial Modeling | Vacancy Analysis |
| Understand Materiality | Data Visualisation | Data Analysis |
| Insight | Accounting | Multi Currency Reporting |
If you are creating a financial analyst resume, divide into skill headings, with specific examples bulleted under each section.
For other common financial analyst skills check out the table above. To find out your relevant skill set, try our ready-made templates for you on our online resume builder today.
Financial Analyst Resume Work Experience
You can write the work section for your financial analyst resume in three simple steps.
Make a list of all your achievements.
Read the job offer thoroughly with close attention to the financial analyst skills and abilities required.
Prove you have those abilities by quantifiable that match the job offer.
When you list down your experience in your resume always remember to showcase your work experience in a reverse chronological order. List the most recent work experience first.
When listing your years of experience on your resume allign your dates in the format (mm/yy). This will make it simpler for the recruiter to understand the timeline of your work experience.
You can provide the under each work experience in the bulleted format.
While listing your employment history, mention what you've accomplished in each position alongside your job duties and financial analyst skills.
Instead of using "responsible for" or "managed" enlist concrete list of goals you met, improvements you made and complex tasks you executed. This will showcase the quantifiable impact of your efforts to manage job demands.
Also include quantifiable value like the sizes of budgets you have been in charge of, etc. This immediately reflects the scale of responsibilities you were in charge of.
Finance Resume: Education Section
The educational qualifications is an important element of your finance resume. A lot of recruiters give importance to this part especially for a fresher finance major resume.
In the reverse chronological order, the highest education always comes first.
Distinctly align your information about your education qualifications, along with the name of the school/college you graduated from, year and grades of graduation.
You can also add an extra section of other professional degrees or certifications such as short coerces on financial modeling or on the stock market. Any certifications obtained and any expertise in a particular sector of finance major resume should be accompanied by their certifying authority and dates of certification.
Finance Resume: Key Achievements
You must have had a lot of achievements. Add your key achievements and important accomplishments in a section under "Key Achievements". These can range from your school or college days to your earlier employment to your current employment experience.
The key achievements section in a finance resume distinguishes your career from other prospective career seekers.
These could be any awards or trophies that you may have won. Employers look out for achievers, be it in any field.
Finance Resume: Hobbies and Interests
If you list your hobbies and interests in your resume make sure they align with the interests of the company or the job profile.
Also candidates must give equal importance to other extracurricular activities to showcase well rounded employee dedication.
Finalizing the Finance Resume
1. Be detailed but keep it short
A compact resume is an effective resume.
Investment bankers spends the same ten seconds to review your resume. Instead of overloading it with extraneous information, focus on the key points.
However, do not compromise on your font size, spacing and overall legibility in order to envelope all your experiences.
2. Be truthful
Although making an impression at first glance is important do not do it at the cost of exaggerating your qualifications or experience in the resume.
Professionalism is the key. Keep your resume honest with all accurate details.
3. Follow the format
To best portray your experiences, write your resume in reverse chronological order.
This makes it easy to comprehend and highlights career growth. It is also the most preferred format by recruiters.
Keep your resume readable. Avoid blocks of texts and lengthy sentences. Keep plenty of white spaces. Leave at least half to one inch margins to make your resume look less cluttered and chaotic.
Do not leave any blank fields. Proofread your resume for grammatical and typographical errors. Be consistent with the font size and style throughout the resume. Make use of headers wherever necessary.
4. Provide examples wherever possible
The common mistake while writing a resume is focusing on details of duties and responsibilities performed at the job. Instead, focus on highlighting the achievements that you attained.
Elaborating your unique accomplishments and keeping your duties concise will highlight your financial analyst skills and make you stand out.
Recruiters always prefer achievers. So quantify your results and to get them convinced.
5. Use Simple Language
The fact that you have to fit everything that you want to say in a one or two page format makes it even more challenging to write the resume.
Here, using effective language plays an effective role.
Let the language be simple, but remember to make use of powerful words, be as specific as possible, keep it concise, and use bullet points wherever necessary.
You will find that writing the resume in the first person, using the active voice, along with use of correct grammar helps makes your resume more impactful.
Key Takeaways
Both corporates and businessmen rely on the knowledge and skills of financial analysts every day.
Financial analysts have to be extremely detail-oriented and possess strong critical thinking skills to provide analysis on accounting and other related projects.
Your personal details should include your: Name, Phone Number, Email-id, Location, LinkedIn Id / Website

Your summary section should reflect both software knowledge and significant skills.

The Skills section should be optimized properly to contain the most relevant/significant skills like: Strategy Development, Problem Solving, CFA certified, Corporate Finance, Multi Currency Reporting, Financial Modeling

Maintain a cause-effect relationship in all points to create an impact in the minds of the recruiter concerning your performance.

Extend a Key Achievements section in your job profiles to contain all major achievements during your career.

Further:
Be detailed but keep it short
Be honest
Follow the format
Provide examples and quantify your data
Be simple