Click here to directly go to the complete product manager resume sample.
To have the most useful experience, the primary consideration should be user experience.
But how do you emphasize your product management resume skills while writing down your responsibilities?
As Bezos asks us to be stubborn on vision but flexible on details, we have followed the same steps for our product manager resumes.
First, your product manager resume is not a Master CV of all your qualifications. So, you should know what exactly to tailor and how exactly to tailor it to your prospective job application.
Secondly, once you have added information, the next step is to add sections to your product manager resume. This comes with the responsibility of ensuring that none of your points breach the cause-effect relationship.
So, keep reading to guide yourself through the process of writing the best
Product Manager Resume.
Here is an overview of our Product Manager Resume blog:
List important projects that you have worked on or singlehandedly led.
Describe your professional experience in short one-liner sentences.
Opt for the reverse chronological format to list details in your product manager resumes.
Create a summary to give a brief insight into your entire resume.
Include extracurricular details if they are relevant to the targeted job profile.
Creating a product manager resume could be a hassle. Especially when you have mostly covered a lot of responsibilities across your career from project to part-time.
So, how do you prioritize your ability to prioritize? Or, do you emphasize your analytical product management resume skills? Do you draw attention to your executive or your communicative product management resume skills?
The following questions will be cleared in your mind by the end of this blog:
Prioritizing and specifying your product manager skills to showcase your personality is how you write a product manager resume.
So how would your product manager resume speak of the brain of an engineer, the heart of a designer, and the speech of a diplomat? Let's guide you through it.
Hiration's Online Resume Builder contains the best features that can help you build a stronghold in the professional domain.
You can also read our following blogs to enhance your product manager resumes:
What is a Product Manager Resume
A product manager is responsible for:
defining and actualizing the product vision of the organization
directing end-to-end product development lifecycle
coordinating with internal/external stakeholders to determine the demand for a specific product
identifying potential customers, and how to gain their support.
They are responsible for the right product/right time and everything that entails.
They develop strategies for pricing that maximize profits and market shares without leaving customers unhappy.
The Product managers must be able to monitor marketing trends and determine how to use them advantageously. In addition to excellent customer service skills, they must be highly proficient in the English language and a variety of computer software. The attached product manager CV example gives more detailed job descriptions.
Why Do You Need a Product Manager Resume?
A good product manager takes full responsibility and measures themselves in terms of the success of the product.
Your recruiter exercises the right to decide whether your product manager resume reflects the same or not.
To gain employment in a competitive field, you must be able to impress hiring managers from the first contact. In most cases, that will be your product manager resume.
To be a successful candidate for product manager jobs, resume expert Kim Isaacs says it helps to have a comprehensive resume.
Having a well-written CV that highlights the skills, experience, education, and personality traits that make you the right choice for the job is vital. Writing one is much easier if you have the proper knowledge to do so.
Product Manager Resume Format & Sections
This is the part of the product manager resume that should be decided first but is executed only at the very end.
The usual product manager resume template and the product manager resume examples portray the contributions of the candidate in reverse chronological order.
Broadly, there are 3 resume formats: Chronological Resume, Combination Resume and, Functional Resume.
Of these 3 formats, reverse chronological resume format is the one most preferred by recruiters.
This is the most widely accepted product manager resume format as it exercises the most appropriate amount of transparency to the recruiter clarifying any breaks/career changes in between.
Further, in this format, you shall have to put the blocks together in the following product manager resume sections:
Personal Details
Summary Section
Key Skills
Professional Experiences (Latest - Past)
Internship Experiences
Educational Qualifications
Training & Certifications
Additional Details
How Do You Write Your Professional Experiences a Product Manager Resume?
Connecting the dots looking backward.
Steve jobs elaborate on the fact that you cannot connect the dots looking forward and that you can only connect the dots looking backward.
We have in the following guide broken the sample product manager resume into fragments/steps. The steps should facilitate designing your product manager resume in order.
The 'Professional Experience' section is considered the backbone of the resume. It is an important section as it tells the recruiter how you used your skillset to benefit the organization.
In fact, you start with a list of all possible contributions you made across your career and the experiences you had in the process.
Step 1: Master CV
Your Master CV essential contains information across your career - beginning from your achievements at school to your extra-curricular to your work profiles.
In fact, your Master CV is not restricted to your target profile, it reflects your progression across your career spanning:
Your name and contact details
Your responsibilities/contributions across all job profiles
Your achievements corresponding to the same
targets you have achieved
metrics reached
Step 2: Starting the Product Manager Resume
First, remove crazy instances from your MasterCV that do not reflect your contribution in the field of product management.
What should be removed from a product manager resume? The dance lessons you took when you were 5.
Step 3: Drawing cause-effect relationships
You may then revise all your points, collating cause and effect points to enhance the value of your contribution individually.
To maximize the value in your product manager resume points, you should break all your points into three parts:
Your contribution
Effect/Impact
Corresponding Achievement
Eg. "Successfully integrated 3 new payment gateways to facilitate flexibility during payments"
Remember to use product management keywords and highlight them in bold to make sure the recruiter sees them.
Also, make sure that all the points begin with a power verb, and are in the past tense (excluding points in your current profile).
These power verbs communicate your message more strongly and confidently than when using other verbs. Also, refrain from using the same words too many times.
Eg. "Accelerated the delivery of each module to ensure that timeline was met"
Additionally, quantify your contributions by adding numerical values to the effect you were able to establish.
These values make it very clear to the recruiter what you want to have been able to achieve and gives an idea of the scope of your performance.
Eg. "Launched recommendation feature leading to an increase of 32% in the average order value"
Step 4: Grouping & Highlighting
You should highlight the important words/numbers on your product manager resume.
This is to ensure that you pass the 6-10 seconds which a recruiter will peruse your product manager resumes for.
The general principle that you should follow while highlighting your product manager resume is that you should only highlight those words/facts that are relevant to the roles you're targeting.
Eg. "market research", "requirement gathering", "user experience", etc.
Additionally, under all your job experiences, you can create subheadings or 'groups' as we call them (mainly the broader level of skills you acquired/showcased in the corresponding job profile) and club similar points together.
Eg. "Product Management"
Consequently, the recruiter won't have to necessarily read all the points, just perusing through those subheadings can suffice.
Then highlight significant numbers and achievements in each or most points to make the recruiter's job even easier.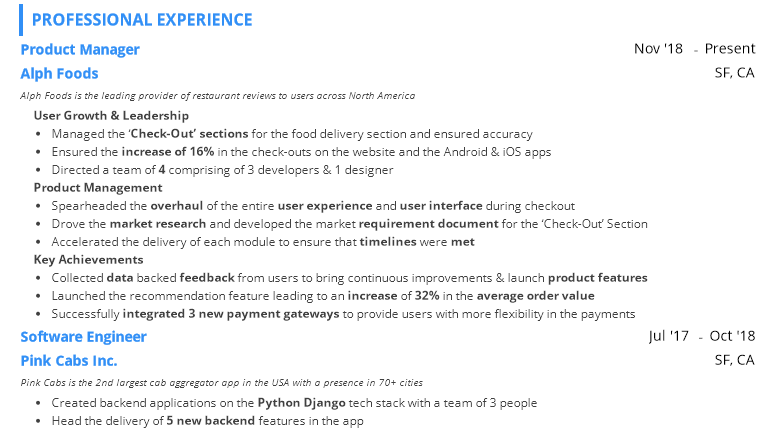 Check out the list of bullet-points that we have compiled for a product manager resume:
Product Manager Resume: Selected Projects
The Selected Projects section is extremely important in the product manager resume. It showcases that you have the ability to independently administer and monitor functions and mainly that a company can trust you.
In case a candidate has managed projects under any specific job profile, it is also advisable to put it there.
However, in case a candidate has independently administered projects with companies, as in the product manager sample resume, then the product manager resume should reflect that in an individual section.
The section could further be furnished by the candidate's actual performance and contribution against the respective projects.
Product Manager Resume Skills Section
Product Manager Resume Keywords
Your skills should reflect keywords from your contributions. To make this easier, you may simply copy your groups as your primary product manager skills - key skills which appear in the first line.
For example, "Product Management" is the primary key skill as per the example and it is represented at the very beginning of the key skills section.
You should remember to use product management keywords, especially the ones in the target job description.
Further, from the highlighted terms in the product manager resume, it is easy to note the key skills:
Product Overhaul
Feature Integration
Product Development
Saas
Training & Mentorship
Additional Skills may include:
| | | |
| --- | --- | --- |
| Technical Product R&D | Team Leadership | Product Lifecycle Management |
| Agile / Scrum | Product Roadmap | SDLC |
| GTM Launch Plans | UX / UI Design | QA Testing |
| SaaS Solutions | Competitor Research | Requirements Gathering |
| Test-Driven Development | Troubleshooting & Debugging | Financial Modeling |
| Business Analysis | Data Analysis | |
Product Skills should reflect:
Developing Cases for New Products/Features
Developing Pricing Framework
Developing Strategies for Product Launches
Developing Value Propositions
Driving Product Strategy
Evaluating Advertising Proposals
Managing Risk Through the Product Cycle
| | | |
| --- | --- | --- |
| Product Development | Feature Definition | Product Implementation |
| Product Launch | Product Strategy | Project Management |
| Marketing | Market Research | Documentation & Reporting |
Analytical Skills would involve:
| | | |
| --- | --- | --- |
| Budgeting | Distribution Strategy | Customer Analysis |
| Financial Analysis | Sales Forecasting | Social Media Management |
| Effectiveness Mapping | Product Functionality | User Acceptance |
| Metrics Report | Market Research | Market Trends |
| Data Synthesis | Progress Mapping | Customer Feedback |
| Product Modification | Stakeholder Management | Customer Segmentation |
Product manager resume keywords should be included in your product manager resumes as per the relevance of your expertise and job description.
Product Manager Resume Summary
Tailoring the Product Manager Summary
To write the best executive summary product manager, you may use the following steps in reference to the example:
Starting with the number of years of experience:
Eg. "4+ years experienced"
Then continuing with your current/target job profile:
Eg. "4 years+ experienced Product Manager"
Then, exemplifying your skillset:
Eg. "well versed with all facets of product development and management"
To enumerate your key skills in your summary, you may use the following phrases:
"proficient in"
"highly skilled at"
"adept at"
Using similar phrases, build your summary to enlist a few key achievements in the same area of work and contributions to add value to your skills.
Your summary should be the overarching umbrella that sets the theme for the rest of your product manager resume.
An umbrella with holes is better than no umbrella. So, ensure spending additional time to place the most important stitches together.
A summary is suitable for a senior product manager resume.
If you are a fresher or an entry level professional seeking to write an entry level product manager resume, then you would need to opt for a product manager resume objective.
Go through our guide blog on resume objective for more tips and guides.
We also suggest you use Hiration's online resume builder to find industry-specific summaries tailor-made for your specific profile. You may refer to our free reference tool for the same.
Personal Information on a Product Manager Resume
In the product manager resume header, ensure that you first include your name in large texts (14 - 16 pts)
Secondly, ensure that you have included your correct contact details.
Example:
| Contact | Details |
| --- | --- |
| Phone Number: | +1 273 222 1111 |
| Location: | CA, US |
| Email Address: | halsey@xyz.com |
| LinkedIn/GitHub Link: | www.linkedin.com/in/halsey |
You may limit your personal details to only these in a product manager resume.
Do keep in mind that no matter how experienced you are or your product management resume presents you to be, if you do not provide your contact details there is no guarantee that you will land a job.
There is no way for recruiters to reach out to you unless you provide your contact details.
Product Manager Resume: Training & Certifications
To become a product manager, you may often need courses, as no school directly teaches you the nuances of the subject.
It is also often difficult to acquire product manager skills while at work. Therefore, it often becomes necessary to take courses to enlist in your product manager resume.
Some of the certifications to frame in a product manager resume are:
CPM® | AIPMM Certifying Board
Product Management Certification Program | edX
SAFe® 4 Product Owner/Product Manager (POPM)
Product Manager Resume Examples
Online Resume Builder
Access the following resources with Hiration's Online Resume Builder:
Option to save unlimited resumes
Intuitive next text suggestion
Auto bold feature
25+ resume designs
LIVE resume score
JD-resume matcher
Full rich-text editor
Unlimited PDF downloads
100+ pre-filled resume templates
1-click design change
A sharable link
LIVE resume editor
Hiration Cover Letters & Other Services
Hiration's Cover Letter Builder provides:
10+ ready to use templates
15+ designs
Freedom to customize templates
Create multiple cover letters
Easy downloading
Make your professional portfolio stand out amongst any other professional by checking out the following features of Hiration:
Product Manager Sample Resume
~4 years experienced Product Manager well versed with all facets of product development & management including design, development, launch & marketing. Possesses in depth experience of translating complex customer needs into requirements to deliver features that provide competitive differentiation to the product. Adept at understanding product requirements from a technology as well as business point of view.
PROFESSIONAL EXPERIENCE
Start typing, then use the up and down arrows to select an option from the list
Managed the '

Check-Out' sections

for the food delivery section and ensured accuracy

Ensured the

increase of 16%

in the check-outs on the website and the Android & iOS apps

Directed a team of

4

comprising of 3 developers & 1 designer
Spearheaded the

overhaul

of the entire

user experience

and

user interface

during checkout

Drove the

market research

and developed the market

requirement document

for the 'Check-Out' Section

Accelerated the delivery of each module to ensure that

timelines

were

met
Collected

data

backed

feedback

from users to bring continuous improvements & launch

product features

Launched the recommendation feature leading to an

increase

of

32%

in the

average order value

Successfully

integrated

3 new payment gateways

to provide users with more flexibility in the payments
Start typing, then use the up and down arrows to select an option from the list
Created backend applications on the

Python Django

tech stack with a team of 3 people

Head the delivery of

5 new backend

features in the app
INTERNSHIPS
Start typing, then use the up and down arrows to select an option from the list
Played a key role in

defining

&

developing

software

solutions for 2 clients
EDUCATION
Start typing, then use the up and down arrows to select an option from the list
Conceptualized & set up an online

pet food store

Achieved sales worth

$ 4.7k

Prototype development for Traffic Congestion Relief

| Oct '13

Developed a

prototype

to predict the shortest

path

based on the density of traffic

Applied multiple

algorithms

to calculate shortest path b/w nodes using traffic density as the main weight
1st position

,

International

Sports Quiz, Stanford University '13

1st

Runners Up, Inter College Science Quiz, UCLA, '12

1st position

, Inter College debate competition, NYU '12

1st position

, National Level elocution competition,

Harvard

University '12
Languages

: English, Spanish
Downloading a product manager resume pdf or a product manager resume doc n our Online Resume Builder is easy and simple.
So go ahead and check out today!
Key Takeaways
Do use your professional summary to your advantage. It should include your best assets, hard and soft skills, experience, and personality traits.
Do not use paragraph format anywhere other than the professional summary and interests sections. Bullet points look neater and are easier for the hiring manager to skim for the most important information.
Do be specific when listing your job duties as a product manager. Focus on quantitative information, such as increasing sales or creating new products.
Do not forget to proofread. Spelling and grammar mistakes make even the best resume look unprofessional.
Go to Hiration resume builder and create a professional resume for yourself. Additionally, reach out to us at support@hiration.com and you can get 24/7 professional assistance with all your job & career-related queries.