Click here to directly go to the complete Oracle DBA resume sample
How to write a oracle DBA resume?
We are here to answer that question and more!
It does not matter if you are writing oracle DBA resumes for 4 year experience or 8 years experience.
Whether you are an entry-level or experienced professional. This guide has something for everyone.
Before we begin, here's a summary of our Oracle DBA Resume 2023 Blog:
As the Oracle DBA is a technical job, you must add a technical skills section in your Oracle DBA resume and add your database skills in that section.
Identify projects you have done as individual or as part of your profession, include it in the Oracle DBA resume.
Do not write about your responsibilities as a Oracle DBA, but create a cause and effect relation in your professional experience.
Make sure to use the reverse chronological resume format unless you are switching your industry or have a significant career gap.
Make sure to add your Github, LinkedIn or Kaggle link at the personal information section of the resume
Group similar bullet points in the resume and highlight your accomplishments
Wait, there is more. This blog is riddled with section-wise admin resume examples so you have a visual understanding of how every section should look like once you have finished creating your SQL server DBA resume.
To perfect your Oracle DBA resume, follow these sections:
Confused? Fret not! We will simplify things as we go along.
In the meanwhile, check out our Online Resume Builder to simplify the task of building a resume. Leverage the resume examples & resume templates to write perfect oracle DBA resumes.
Here's a list of what we will be talking about in this blog:
Customize your oracle DBA resume for each job listing
Using the same SQL DBA resume to apply for every job will backfire. Instead of mindlessly applying for every possible job you come across, apply to a select few that are more up your alley.
Quality over quantity!
The name of the game is, what makes you any different from all the other applicants out there?
There are thousands of other applicants with the same generic SQL DBA resume as you apply for the same job as you. So, why would not one of them get the job over you?
It is highly likely that they might!
So, change your approach today and start customizing your SQL DBA resume before you apply to any more jobs. We promise you will start noticing a change in how many interviews your SQL DBA resume gets you in.
Start by researching the job descriptions of your target jobs. Use the information present here to draft your SQL DBA resume. Introduce keywords in the summary, skills, and professional experience sections.
Roles & Responsibilities of a Oracle DBA
DBA or database administrators are responsible of recognizing & managing data using Oracle's database software. Large scale enterprises who uses Oracle software requires Oracle DBA' to manage the data in a secure way.
Their primary job includes monitoring & troubleshooting database hardware, performance monitoring, security analysis, performing data backup, & data recovery.
Here is a typical job description of a Oracle DBA:
Installing & monitoring Oracle database
Maintaining SQL database & performing ad-hoc data backups
Resolving tickets & providing support to the vendors and users
Performing security checks & data extraction
Oracle DBA Salary
[Source](http://www.salaryexplorer.com/images/salary-by-experience.jpg)
According to indeed.com the salary of a Oracle database administrator is $136,627 per annum.
According to US News, maiden salary of a Oracle DBA is $93,750 per year.
Present information using sections in your Oracle DBA Fresher Resume
The right information presentation spans from the right format to choosing the correct sections to file your information under. When it comes to resume formats, we would advise using the reverse-chronological order. It works best for professionals with a seamless career projection. However, oracle DBA resume format for freshers may not work for workforce with 10+ years of experience.
If you have career gaps, functional resume format is the way to go.
Highly experienced professionals may adopt the combination resume format to fulfill their needs.
Coming to the sections and their organization, here are all the must-have resume sections for your database administrator resume:
Header
Personal Information
Profile Title
Summary/Objective
Key Skills
Professional Experience
Education
In addition to this, here are some extra add-ons that you can use to present information for oracle DBA fresher resume :
Internships
Certifications
Volunteering Experience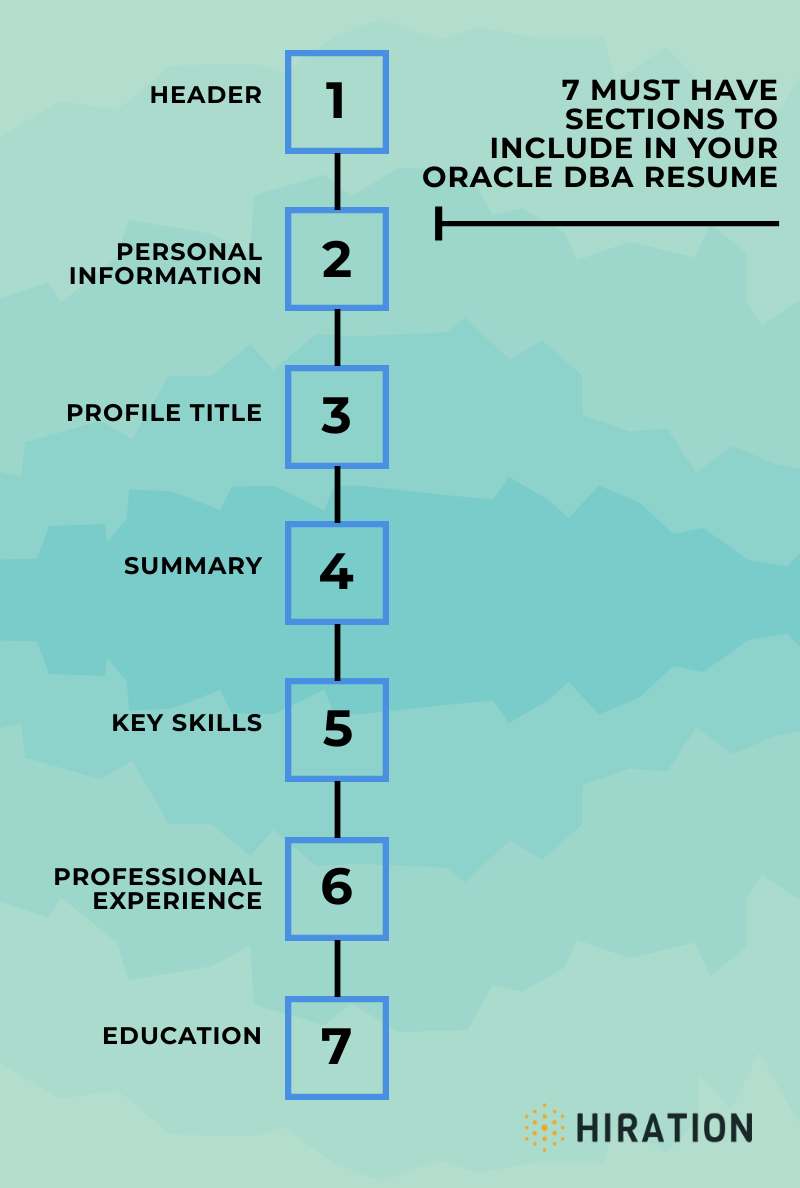 Wondering how to go about building the right sections? Visit Online Resume Builder which comes with templates that have pre-arranged resume sections that are positioned right where they should be. Moreover, you can do a senior oracle DBA resume pdf or oracle DBA resume download!
Perfect the header, personal information, and profile title in oracle DBA resumes
The first three must-have resume sections of your database administrator resume are:
Header
Personal Information
Profile Title
We will now discuss these sections in detail in the coming sections.
Oracle DBA Resume: Header
Get ready to do some actual writing after all this planning. The first thing you have to write is your oracle DBA resume headline.
Following are some tips you can use to correctly draft the oracle DBA resume headline for your database administrator resume:
If you have been labeling your oracle DBA resume as CV or Resume, it's time to stop.
Use your real full name to label your oracle DBA resume. Write it on the extreme top part. People with a middle name, initialize it. For example, if your name is Sarah Jessica Parker. Write it as Sarah J. Parker.
Being the label, it is supposed to be the largest thing on your oracle DBA resume so it is quick to notice. Ensure that your oracle DBA fresher resume headline does not get overlooked by writing it in the font size of 16-20 font size.
Read Hiration's Guide To Writing The Perfect Resume Header where we get into more detail about this section and how to perfect it.
For more section-wise admin resume examples like these, read on.
Oracle DBA Resume: Personal Information
Do not omit this section at any cost as it is where you provide all your contact details to the recruiter so that you can be contacted in case of a shortlist.
Here is all the mandatory information that goes here:
Updated mobile number: Only give out the number you are 24*7 available on.
Professional email ID: Write an email ID that preferably has your name in it.
Current Location: Write your city and state if you are applying in the same country and your state and city if you are looking for opportunities abroad.
LinkedIn: Provide your updated LinkedIn profile link at the personal experience section.
GitHub: Because Oracle DBA is a technical profile, you need to include your GitHub profile link to the personal information section.
Elements to add on Oracle DBA Resume:
Here is an example of a personal information section for Oracle DBA resume:
Hiration Pro Tip: Adding links to your LinkedIn, personal website, etc. can bode in your favor if you have optimized these platforms and use them in a professional capacity.
Here are some tips that you can follow to perfect the resume contact information section of your database administrator resume.
Here's an oracle DBA resume sample showcasing the perfect personal information section:
For more section-wise admin resume examples, read on.
To make resume writing an effortless affair, use Hiration's Online Resume Builder.
You can use the pre-designed & pre-filled oracle DBA resume template and modify it to suit your professional needs and qualifications!
Moreover, you can also do a senior oracle DBA resume pdf and oracle DBA resume download!
Oracle DBA Resume: Profile Title
Why is the profile title so important? Because it communicates the following important information to the recruiter:
Your current job title/designation. Do not fudge the details about your seniority on your oracle DBA resume. If you are a fresher or an entry-level professional, state the same on your junior oracle DBA resume.
Your functional industry. Let the recruiter know your industry with just your profile.
Your seniority level: Your title will communicate your seniority level to the recruiter. This not only helps them understand your eligibility but also can be a major factor in the salary you are offered.
Use the following tips to perfectly write your profile title:
Write it in the second-largest text after your resume header. A font size of 14-16 points will be great to ensure that a recruiter does not miss it.
Lying or exaggerating the profile title should not be done. This comes across as fraudulent and an attempt to cheat your way into a position and salary that your work experience does not deserve.
Here are the different profile titles for different experience level of the candidate:
Junior Database Administrator
Oracle DBA
Team Lead - DBA
Senior Database Administrator
Database Consultant
Here's an oracle DBA resume sample showcasing an accurate profile title for the resume:
For more admin resume examples like this, read on.
In the meanwhile, get your existing database administrator resume reviewed by our resume strategists at Hiration.
Draft an impeccable professional experience section in your oracle DBA resume
The resumes getting shortlisted have one thing in common:
The professional experience section is well laid out, easy to read, comprehensible and achievements based. You will not beat the competition with a perfunctory professional experience section.
This section showcases important career-specific details that help the recruiter imagine whether you would be a good fit in their organization and carry out the role being offered.
Here you tell the recruiter the organizations you have been associated with, the duration you have spent working for them, how your job profile has evolved through each engagement, and what your most notable achievements and career highlights have been among other details.
Is this enough to convince you that you need to leave no stones unturned while working on this section?
Here are some tips that will help you perfect the professional experience section of your database administrator resume:
Use one-liner points
Use the STAR format
Quantify your achievements
Use grouping & highlighting
Use one-liner points
Whether you're drafting an oracle DBA resume 8 years experience or a less-experienced oracle DBA resume for 4 year experience, here's what you should do:
Use one-liner points instead of paragraphs to communicate your responsibilities & skills within the professional experience section.This enhances the readability of this section considerably.
The more readable the resume, the higher the chances that it will get evaluated by recruiters. On top of that, a well-formatted resume stands more chances of being passed by the ATS recruitment software.
A recruiter might overlook poor formatting if the candidate is highly eligible but an ATS will never forgive that and you need to appease the ATS to make it to the recruiter.
This is why you should start using one-liner points to write your professional experience section if you aren't already doing that.
STAR Format
Is there a certain format to be followed while composing your one-liners?
Of course, there is!
Using the STAR format to compose your one-liners will not only make sure that your Oracle DBA resume is readable but also ensure that it delivers value.
Here's what the STAR format stands for:
S stands for situation: The situation/backdrop/context to your contributions
T stands for task: The actual task that was assigned to you
A stands for action: The strategy you used to execute the assigned task
R stands for result: The result/outcome of your action in the form of an achievement figure
Once you use this strategy to write your points, the recruiter will be able to easily identify your roles and responsibilities and how your contribution benefited our previous employers. That is an indication of what you are capable of bringing to the table now.
Other than that, use power verbs to start every one-liner to drive the point home and achieve maximum impact.
Quantify your achievements
Listing your accomplishments will only take you so far without any context.
Provide numbers/achievement figures to give a backbone to your statements. So instead of saying that you achieved an x target, show the figures around it.
Here are some ideas around the kind of information you can add achievement figures to:
If your work helped save time for the company, mention a ballpark figure of the hours you were able to save.
Saved some money because of your negotiation skills? Mention the amount on your oracle DBA resume.
Made a process easier and increased the efficiency of the time? Relate it to the time saved and mention a number or percentage.
Grouping & Highlighting
Let's now work on how you can further highlight the main features of your oracle DBA resume by using the grouping & highlighting technique.
The first is grouping. Here you will be grouping similar points under one unique heading.
Further, bold relevant words, phrases, and numbers to put them in the limelight.
Want more such actionable tips that you can put to use straight away? Read Hiration's Blog on how to compose the work experience in your resume
For more admin resume examples like this, read on.
In the meanwhile, get an expert opinion on your database administrator resume for feedback and tips on how to improve your existing data management resume from our resume experts at Hiration.
Junior Oracle DBA resume Professional Experience:
You may not have years of experience in database management but if you have some academic experience or internship experience you should put that in your resume:
DON'T DO IT :
Professional Experience
Enthusiastic computer science undergraduate looking for a database administrator job
Additional Experience
Sales Associate | Best Buy | Jan '18 - Mar '20
DO IT :
Oracle DBA In-Training
CIANT Technologies Pvt Ltd | Jan '18 - Mar '20
Gained hands on experience in creating database by deploying Database Configuration Assistant (DBCA)
Assisted the senior database manager to perform data back-ups by deploying the Oracle Database Management System
Oracle DBA Resume for 5 Year Experience - Professional Experience
Senior Oracle DBA
Vergiania Tech Pvt. Ltd.
Performing database administration tasks on a daily basis for enhancing data security
Monitoring database performance as part of identifying bottlenecks & resolving it for maximum performance
Overseeing the capacity planning for maximizing database space while maximizing CPU performance
Collaborated with cross-functional teams for ensuring project success
Outline your academic details under the education section in your oracle DBA resume
It does not matter how much experience you hold, your academic history matters. Showcase your SQL projects for resume in this section. Moreover, here's a list of things to put in the education section of your database administrator resume:
Name of your school/university.
Name of the courses you have pursued.
The location of your school/university.
Enrollment and graduation dates.
Refer to our Resume Education Section Guide to understand this section.

For more administrator resume examples like this, read on.
Add your SQL projects for resume in the education section.
Oracle DBA Resume: Project Section
As a technical resume, you need to include your academic or professional projects in the Oracle DBA resume template.
Here is the best way to write the Project section in the resume:
Create a "Key Project" section in the resume
Enter your projects by serial numbers, such as Project 1, Project 2, Project 3
Write the Project name, Tech Stack for each projects
Enter the project description for each projects
Write bullet points about your contribution and key achievements
Start each bullet points with power verbs
Oracle DBA Resume Project Example:
**Project 1: Online Music Database | Tech Stack: Oracle, JavaScript, PHP
Objective: Developed a online music database for music lovers to quickly find new playlist from all over the world.
Oracle DBA Resume: Certifications
Getting a DBA certification is the best way to get ahead in your career quickly.
So, always start doing career-oriented certification course & make sure to mention it on your resume.
Here are some common certification course for Oracle Database Administrator:
IBM Certified Database Administrator – DB2
Microsoft SQL Server database certifications
Oracle Certified Professional, MySQL Database Administrator
Oracle Database 12c Administrator
SAP HANA
Read our 2021 guide about certifications on resumes to get a better understanding of this section.
Increase your chances of getting shortlisted by creating a Oracle DBA resume in the Hiration Online Resume Builder.
Highlight your skills under a key skills section in your oracle DBA resume
You must make a distinct key skills section in your data management resume so that recruiters do not have to look through your data management resume to find your abilities.
How you can put your skills in the front and center:
Make this section towards the end so that you can go through your professional experience section and pick out skills from here.
Outline your core functional skills or soft skills under the "key skills" section.
Form a subsection named "technical skills" to showcase your tech-based skills like languages, tools, software, etc.
List of skills for oracle DBA resume
| Oracle DBA Resume | Key Skills |
| --- | --- |
| Common Table Expressions | SSIS Development |
| PL/SQL | Data Indexing |
| Database Architecture | Oracle Database Management |
| ETL | Report Generation |
| Data Security | Customer Service |
Technical Skills
Oracle DBMS
SQL
PL/SQ
Refer to our Resume Skills Guide for more on this section.
For more section-wise administrator resume examples like this, read on.
Conclude your resume with an Oracle DBA resume summary
The summary section is your chance at holding the recruiter's attention from the get-go. This is an overview of your entire career trajectory in 3-5 lines where you tell the recruiter your years of experience, your career highlights, and achievements.
Learn how to perfect your Oracle DBA resume summary:
Compose the oracle DBA experience resume summary at the very end so you don't have to rewrite or edit your summary again and again.
Go through your work experience section to pick the highlights of your career and display them here.
Do not go over a 3-5 lines paragraph.
Write a data management resume summary only if you have 3+ years of work experience. For freshers and entry-level professionals, a data management resume objective is more appropriate.
Confused whether you should be using a summary or objective. Learn the difference by reading the guides on Resume Summary and Resume Objective.
In the meanwhile, use our Online Resume Builder to curate an effective database administrator resume.
Career Objective for Oracle DBA in Resume
If you have no experience or you are a fresher in a field, white the career objective in Oracle DBA resume.
Here is an Example of Oracle DBA Resume Objective:
Detailed oriented computer science undergraduate highly skilled at operating multiple computer applications & managing a huge array of data while demonstrating leadership qualities.
FAQs
How can you prepare for Oracle DBA Interview?
Here are some steps to prepare for Oracle DBA interview:
Get an understanding of the interview expectation from a Oracle DBA professional
Create a Oracle DBA resume in the Hiration Online Resume Builder
Prepare a list of interview questions and practice them in your home in mock interviews
User Hiration Interview Preparation service to prepare for interview
What are the skills required for Oracle DBA?
Here are some basic skills you need to become a Oracle DBA
Ability to install & configure Oracle Database
Backup & recover data from the Oracle Database
Initial knowledge of Oracle Database issues
Knowledge about SQL & PL/SQL
Understand DBMS series
Top 3 Oracle DBA Interview Questions and Answer
What is an Oracle index?
Ans. It is a database object which is used to increase the performance of retrieval of data

When a table gets fragmented, what is the process of rebuilding it?
Ans. Alter table move to an another tablespace, and rebuild the indexes

What are the various tools to monitor performance in Oracle?
Ans. AWR,ADDM,Trace,TKPROF,OEM
Resume Review Service
Get advice from experts that have helped thousands of applicants get their dream job. Use our resume review service to get your data management resume reviewed in compliance with the following parameters:
Performance Assessment
Content Relevance
Compliance with industry norms
Recruiter Friendliness
Conversion Scope
ATS Compliance
Design Compatibility
Global Compatibility
Resume Formatting (font, margins, the order of sections, etc.)
Online Resume Builder
Hiration's Online Resume Builder will provide you with the following amazing features:
25+ resume designs
100+ pre-filled resume templates
1-click design change
A sharable link
LIVE resume editor
Option to save unlimited resumes
Intuitive next text suggestion
LIVE resume score
JD-resume matcher
Full rich-text editor
Unlimited PDF & DOC downloads
Auto bold feature
Oracle DBA Resume Sample
Want to know what the perfect oracle DBA resume looks like? Here's a oracle DBA sample illustrating the perfect:
Oracle Database Administrator
~6 years experienced Certified Oracle Database 12c Administration professional adept at developing infrastructures and administering databases to define the integrity of relational database management systems. Highly skilled in managing complete project lifecycle and ensuring compliance of business requirements to accomplish client retention. Proficient in gathering requirements and implementing changes to improve overall organizational operations.
• Infrastructure Development • Database Administration • Project Life-cycle Management • Compliance • Interviewing
• Requirement Gathering • Change Implementation • Disaster Recovery Management • Quality & Application Analysis
• Policy & Procedure Development • Data Formatting & Organization • Strategy Development • Capacity Management
Software:

Oracle, Microsoft SQL Server

Systems:

Linux, PostgreSQL
PROFESSIONAL EXPERIENCE
Start typing, then use the up and down arrows to select an option from the list
Infrastructure Development
Developing, supporting, and maintaining infrastructure components as part of a

lean team of 6

members

Designing and developing the strategy for infrastructure while leading the design & development of operational

data stores
Planning and maintaining dynamic Oracle &

MS SQL Server

relational database environments to define integrity of RDBMS

Creating and maintaining

6

databases required for development, quality analysis &

production usage
Project Life-cycle Management
Driving and contributing to

10

business projects

while administering capacity management & support activities

Serving as the

Database Subject Matter Expert

for 10 internal projects and administering the entire project lifecycle
Identifying database requirements by

interviewing 200 customers

while analyzing department applications & operations

Collaborating with the Product Manager and acting as SPOC for

2 engineering teams

& customers to gather requirements
Executing changes in

database environment

by following pre-defined change management policies and procedures

Recommending and implementing major changes to

existing products

, services & processes
Start typing, then use the up and down arrows to select an option from the list
Maintained the

integrity

, security, and availability of 10 databases while administering Oracle & MS SQL Server databases

Evaluated and recommended available database management system products while administering the

application server
Disaster Recovery Management
Gained an in-depth understanding of database administration,

data backup

& recovery, security, and query tuning

Supervised disaster recovery, performance analysis & tuning, index maintenance, and

data monitoring activities
Policy & Procedure Development
Streamlined, maintained, developed, and implemented policies & procedures for

ensuring database security

& integrity

Determined, enforced, and documented database policies, procedures & standards to

ensure consistency

and accuracy
Assured the highest level of

system performance

and availability in compliance with business requirements

Ensured user interfaces for database administration and

input

& view data are in compliance with accessibility standards
Data Formatting & Organization
Organized and formatted data for efficient query & storage processes while utilizing data analysis queries to

identify issues

Administered

data quality management

through data entry reviews by compiling and organizing data
Certified Oracle Database 12c Administrator

| Bayshore Institute | Jun '20

Certified Oracle Database Administrator

| Valley View Academy | Jan '18
EDUCATION
Start typing, then use the up and down arrows to select an option from the list
Languages

: English (Native) and Tagalog (Interactive)
Want to access this template? Click on it to edit and get your oracle DBA resume download. You will be transported to our Online Resume Builder where you can sign up and get your senior oracle DBA resume pdf.
Need more of a reason to check out our Online Resume Builder? It comes with an AI-powered personal assistant that gives you features like next word prediction, live review, JD-CV match, and much more.
Key Takeaways
With this, you have reached the end of our oracle DBA resume 2023 guide:
Instead of submitting the same beat-up data management resume to every job you apply for, start customizing it.
Use sections to file and organize the information in your data management resume.
Label your database administrator resume using your real full name.
Withhold extremely personal details and only give out your contact details in the personal information section.
Write your profiles and professional experience section in the reverse-chronological format.
Do not let your summary/objective statement exceed 5 lines.
Distinctly curate a key skills section and create a subsection under it named technical skills to file your tool/language/software related knowledge.
Use achievement figures to quantify your one-liner statements. Employ grouping & highlighting to enhance your data management resume readability and impact.
Make an education section to display your degrees, academic qualifications, and SQL projects for resume.
Follow the tips laid out in this blog to write the perfect data management resume.
Go to Hiration resume builder and create a professional resume for yourself. Additionally, reach out to us at support@hiration.com and you can get 24/7 professional assistance with all your job & career-related queries.