Click here to directly go to the complete nursing resume example
Nurses are the foundation upon which our healthcare system is built. This has never been the case more so than during the COVID-19 pandemic.
Nurses do incredibly meaningful work, and they are compensated well to complete that work, which means a smooth career both with little to no fluctuations.
According to the Bureau of Labor Statistics, the demand for nurses is going to grow much faster than other professions, with a median pay of $74,000.
How can you land your next (or first) nursing job in 2023?
We've analyzed thousands of nursing resumes and have learned what works and what doesn't, to help nurses get great jobs.
Here are some questions that will help you understand more:
[How do I write a nursing resume?](#how-to write-nursing-resume)
Why Do You Need a Nursing Resume?
Nursing is one of the prestigious and most sought-after professions in the United States.
According to The Atlantic, the USA is in major nursing shortage.
In fact, almost 1.2 million vacancies are going to emerge for registered nurses between 2014 and 2022.
So, the major reasons for you to create a nursing resume today are:
There are around 3.1 M registered nurses in the USA. And the number is growing, making this field highly competitive.
With the USA's aging population increasing day by day, there will be a massive demand for nurses in the future, so a good nursing resume is the need of the hour.
Technology is advancing, and nurses need to upgrade themselves with the upcoming technology to render better services. This is showcased first through your nursing resume!
Existing nursing professionals are aging as not many are joining the profession due to the availability of career options. So they want new nurses to take the baton forward.
Also Read: How to write a brilliant nursing student resume in 2023?
When Do You Need an RN Resume?
The Bureau of Labor Statistics suggests that jobs for registered nurses have been growing by 9% from 2020 through 2030.
In this competitive environment, it's not easy to get a nursing job.
First, let's see how healthcare organizations hire nurses.
First, the resume is parsed through an AI-based ATS software, which checks for specific keywords in the resume. Then it comes to a human recruiter. Who checks the resume's content and sees if the resume consists of what the organization exactly looks for.
If they find that the resume is formatted professionally and you pass the eligibility test, then they will reach out to you for an interview.
We can see that a nursing resume is the first contact between you and an organization.
That's why you need to create a stellar nursing resume to stand apart from the rest of the candidates.
So, how do you create one?
Also Read: How to write a nursing cover letter in 2023?
How to Write a Nursing Resume?
Let's take a look at the sample nursing resume:
There are several sections to it, and don't you worry, for we have a detailed explanation for each!
ICU Nurse Resumes: Formatting and Alignment
Use the reverse-chronological resume format because it is the most commonly used and globally accepted format. This format is eye candy for the recruiter as it makes it easy to scan through your details and makes maximum impact.
Bullets should be used in the nursing resume and not any awkward symbols. ATS is best designed to scan bullets.
Keep font plain, simple, and not below 10pts. Keep it readable. You can use fonts like Opensands, Calibri, Times Roman, and Arial.
Follow chronological order and mention the dates in proper order
Now the format is done, let us move further to the first section.
RN Resume: Reverse Chronological Format
Reverse chronology is the most accepted format in the history of the employment industry.
Three reasons why your nurse resume should follow reverse chronology:
Reverse chronological format is accepted globally
It is ATS compliant
Easier for the recruiters to scan through
Also read: Which resume format is best for my experience level?
Nursing Resume: Personal Details
Do not include the full address as it will appear redundant on your nursing resume.
Recruiters are good enough with the information on city and country and they are really not concerned about your house number and street number.
Keep it minimalistic and professional.
Do not use a picture on your resume unless the recruiter mentions it.
Also read: What personal details do employees usually require?
Nursing Resume Key Sections
You must split your nursing resume into distinct sections to enhance readability and make it recruiter-friendly. Having a neat resume gives an instantly good first impression to recruiters.
Here are a few sections you can include:
Nursing Resume: Career Summary
It is a 4-5 line synopsis summarising your entire career journey to make an impact on the recruiter. In 6 seconds, a recruiter neither has the time nor the patience to read each line in resumes for registered nurses.
But they use what we call scanning rather than skimming.
The recruiter just registers the relevant information in these 6 seconds and moves on to the next resume.
This was a human recruiter.
Now let us face the ATS that is driven by keywords and job/industry-specific jargon.
So your resume summary should have these qualities to land all the dream interviews:
Tailor-made according to your potential employer and not a formulaic document
Put keywords used by the recruiter in the job description to clear ATS
Start with adjectives and the number of years of work experience to give power to your summary
Use cause-effect relationship in each line to make better sense of the tasks you performed
Use any particular high-rated certification in your industry to get through the shortlisting round
Let us look at the RN nurse resume sample:-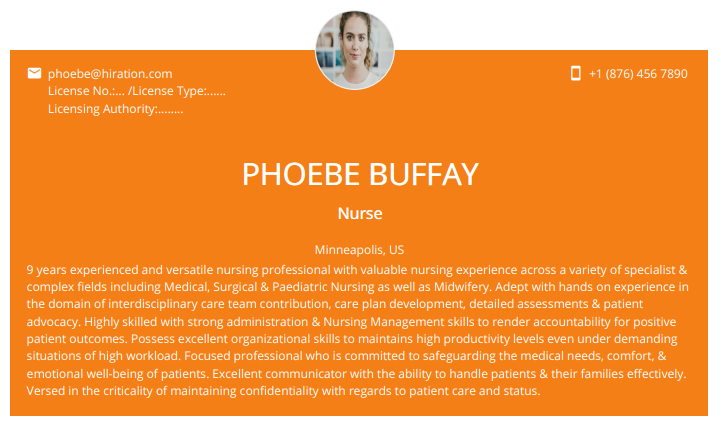 Starting with power verbs show positive assertiveness and cut a huge probability of impressing the recruiter.
Also read: Should I include soft skills in my resume summary?
Certifications in Summary
You may start your nursing resume summary with an "Emergency Nurse" certification.
Example:
"Certified Emergency Nurse (CEN) with dedicated hospital nursing experience in ER and trauma unit."
Nursing Resume: Key Skills
Nursing skills for resume take it to the next level. Not many people are aware of it.
Many sample nursing resumes you find on the web will not display this section.
This is because ATS has come into play recently, and the employment industry is still coming to terms with it.
There are five simple rules to state your nursing skills for resume:
Use bullets to separate them and for easy scanning
Place the key skills section just after the professional summary (in case the license details are mentioned in the personal details section)
Use small phrases and not statements for the sake of space and professionalism. Also, for the sake of ATS
Align it with your current work experience but never forget to match exactly with the keywords used by the recruiter in the job description
Avoid abbreviation in key skills if possible, unless it's industry jargon
Looking at the above example of a nursing resume, you will see many nursing skills for resumes that are relevant.
| | | |
| --- | --- | --- |
| Accuracy | Surgery Assistance | Medication Administration |
| Chemotherapy Administration | Bedside Monitoring | Bladder Irrigation |
| Blood Administration | Pain Management | Wound Irrigation |
| Discharge | Emergency Room Care | Empathy |
| Healthcare Software | Infection Control | Lab Testing |
| Intramuscularly Injections | IV therapy | Maternal care |
| Blood Samples Withdrawal | Physical Assessments | Psychiatric Care |
| Rehabilitation | Seizure Precautions | Surgery Preparation |
Other skills which you may incorporate across your nursing resume are:
Observation
Physical Endurance
Teamwork
Communication
Critical Thinking
Let us look at a sample key skills section for nursing resumes:

Nursing Resume: Work Experience
You should pay extra attention to the most important section of your resume, as it has the power to make or break your candidacy.
To write impactful work experience points, you must frame them in the STAR format.
The STAR format exemplifies each of your contributions in the Situation - Task - Action - Result.
Your RN resume could have duties, contributions, and achievements as part of the experiences section. Start all the one-liners with a power verb, and verbs should be in present tense for current professional experiences.
RN Resume: Duties
Let's look at the RN resume sample. The main points in the duties section of a registered nurse resume cover the following points:
Type of medication the candidate administered
Specific equipment/devices the candidate used
Range of patients the candidate looked after
Experience in starting or administering IVs
Industry processes, procedures & protocols
Nurse Resumes: Achievements
Your achievements can be framed together with the duties, if possible, to include both simultaneously so that you explain how you accomplished the results while performing your regular duties.
This is not possible all the time; therefore, the following questions might help to identify the achievements to write on your nursing resume:
Have you received any awards, praise, or recognition from your previous workplace?
Did your previous workplace receive any awards or recognition? If yes, how did your duties contribute to their success?
Bullets & One-liners
The best part is that it takes up less space in a nursing resume and is easy to read and scan, helping recruiters understand your candidacy without spending too much time.
By starting your words with power verbs and maintaining a cause-effect relationship, you can attain the perfect one-liners.
Grouping and Highlighting
For recruiters, entering important words and figures in bold will go a long way in making an impact. For all the points in your work experience, it is beneficial to club similar points under relevant subheadings to make a recruiter's job easy.
Without any grouping, it will become a pile of information challenging to scan and make sense of.
Here is how you can achieve that:
Include as many achievement figures as you can as it directly shows the consequences of your hardwork.
Nurse Resume Education Section
Just like the work experience section, education should be mentioned in reverse chronological order, with your recent education displayed first followed by the education before that as given in the example below:
Given that your nursing resume shall not take up more than 2 pages, you can include your projects and other academic details in your education section.
Any specific achievements during your education years can be clubbed separately in another section titled Awards & Achievements.
Nurse Resume Certifications
Certifications matter a lot in today's competitive world.
The nursing profession has many certifications to gather. The more skills you acquire, the more chances are there for you to get shortlisted.
The best way to mention your certifications is to make a separate section for the same, and follow the format:
Certification | Certifying Institution | Dates
However, training is different from certifications. Not every training gets you a certificate.
So if you have taken training and certifications, it is safer to name the section as Training & Certifications.
Let us see the example below:
Place the section just after the education section for maximum impact.
Also read: How many certifications should you add in your resume?
Nursing Resume: Professional Affiliation
After thorough research, we have concluded that there is a bit too much importance given to this factor in nursing resumes: Professional Affiliation.
It doesn't hurt to portray yourself as an active professional with the passion to interact with those in their field and grow continually. Here is what you need to include in this section:
Affiliation name
Your date of admission
Offices held
Brief description of your role
Nursing Resume: Licence Numbers
There is a fair argument around mentioning your license on the resumes for registered nurse.
But as we found, this information is already available as public records, and there is no breach of privacy happening while you mention it.
In fact, mentioning the license number might make the recruiter's job very easy and may act as a distinguishing element for you.
These five details are necessary while stating License details:-
Name on the license (if it is different than the name on the nursing resume)
License Expiration Date
License Issuing Authority
License Number
License Type
You can use a separate section on your nursing resume to highlight the important details.
Also, you may state your license number just below your personal details in the same section:
Nursing Resume: Bypassing the ATS
ATS is the abbreviation of applicant tracking system. This is software designed to conduct the first round of eliminations before your resume reaches human recruiters.
Research says that 75% of employers these days are using ATS to scan resumes. Here is what you need to know to crack this test:
ATS Works on Keywords
The ATS system is made to scan your resume with specific keywords from the job description, such as industry-specific terms and jargon.
Your first rule is to include such keywords from job description in your nursing resume.
Tailor Your Nursing Resume to Your Target Job
Usually, candidates make only one resume and apply to different jobs with it. This is a wrong approach.
A formulaic nursing resume, at best, would get you a few interviews.
But, If you really want to stand out of the crowd, your nurse resume shall be tailor-made according to the company you are targeting.
With the JD Match feature, you can ensure that your nursing resume is complimentary to the job description provided by the company.
Nursing Resume Sample
It can be difficult to draft an entire nursing resume, but this sample is proof that you can draft a perfect industry-standard nursing resume with the right resources!
10+ years experienced Nurse with valuable experience across a variety of specialist fields including medical, surgical, and pediatric nursing. Adept at care plan development, detailed assessments, patient education, and safeguarding a patient's medical needs, comfort, and emotional well-being to facilitate the best health services & treatment to patients.
• Pre & Post Op Care • Surgical Assistance • Wound Care • Midwifery • Nursing Administration • Charting
• Physiotherapy • Order Execution • Psychological Counselling & Support • Unit Preparation • Patient Education
• Emergency Management • Nursing Diagnosis & Interventions • Medication Administration • Records Management
• Cardiac Monitor • Defibrillator • Pulse Oxy-meter • Centralized Oxygen Supply & Suction
• Electronic ECG Machine • Glucometer • Infusion Pump & Nebulizer • Suction Apparatus • Foetoscope
• Non -Stress Test Machine • Foetal Doppler • Oxygen Cylinder • Crash Cart
PROFESSIONAL EXPERIENCE
Have taken care of the proper

care

and

recovery

of

10k+ patients

over the past 9 years

Responsible for handling the

Unit Preparation

for receiving patients & attending &

managing emergencies

Monitoring vital parameters

& general condition of patient & conducting

nursing diagnosis

Implementing

nursing interventions

& evaluating nursing practice

Maintaining

patients records

& reports along with

stock drugs

& inventory

Maintaining fluid & electrolyte balance by

IV therapy

&

administering medication

to the patients

Rendering

psychological support

to the patients & their families & administering

Physiotherapy

to the Patient
Assisting procedures which include:

Normal & Forceps

deliveries

, Inductions, Vacuum delivery,

Defibrillation

, Echocardiography

ET Incubation

& exhumation, Inserting central line & arterial Lines, abdominal tapping, ICD

Catheterization

, wound dressing, Lumbar Puncture, Traction, plastering & closed reductions
Implementing

the

doctor's order

in conformity with hospital policy & legal limitation

Executing

pre & post-operative orders

for surgical patients
INTERNSHIPS
Assisted the head nurse in taking care of

patients

in the

ICU

Also assisted in billing and other administrative functions
EDUCATION
Top 5 percentile

of the class
Registered Nurse

'| Registration Number: KK222YY33 | Minneapolis, MN | Jun '08
Languages

: English, Spanish and French
Also Read: What are some brilliant examples of resumes?
Key Takeaways
Display license details on your nursing resume
Key skills should be drafted carefully by picking out keywords from your work experience and job description, keeping in mind the ATS compliance
Professional summary should be assertive with the usage of powerful adjectives and should not exceed more than five lines
Follow a reverse chronological format for all the sections like work experience, internships, certifications, and education
Avoid using abbreviations in resume
All the Best!
Go to Hiration resume builder and create a professional resume for yourself. Additionally, reach out to us at support@hiration.com and you can get 24/7 professional assistance with all your job & career-related queries.