Your own nursing resume is just a couple of clicks away!
[Click here to directly go to the complete nursing resume sample]
Click on the Nursing resume sample below to edit and download the same on our AI resume builder!
10+ years experienced Nurse with valuable experience across a variety of specialist fields including medical, surgical, and pediatric nursing. Adept at care plan development, detailed assessments, patient education, and safeguarding a patient's medical needs, comfort, and emotional well-being to facilitate the best health services & treatment to patients.
• Pre & Post Op Care • Surgical Assistance • Wound Care • Midwifery • Nursing Administration • Charting
• Physiotherapy • Order Execution • Psychological Counselling & Support • Unit Preparation • Patient Education
• Emergency Management • Nursing Diagnosis & Interventions • Medication Administration • Records Management
• Cardiac Monitor • Defibrillator • Pulse Oxy-meter • Centralized Oxygen Supply & Suction
• Electronic ECG Machine • Glucometer • Infusion Pump & Nebulizer • Suction Apparatus • Foetoscope
• Non -Stress Test Machine • Foetal Doppler • Oxygen Cylinder • Crash Cart
PROFESSIONAL EXPERIENCE
Have taken care of the proper

care

and

recovery

of

10k+ patients

over the past 9 years

Responsible for handling the

Unit Preparation

for receiving patients & attending &

managing emergencies

Monitoring vital parameters

& general condition of patient & conducting

nursing diagnosis

Implementing

nursing interventions

& evaluating nursing practice

Maintaining

patients records

& reports along with

stock drugs

& inventory

Maintaining fluid & electrolyte balance by

IV therapy

&

administering medication

to the patients

Rendering

psychological support

to the patients & their families & administering

Physiotherapy

to the Patient
Assisting procedures which include:

Normal & Forceps

deliveries

, Inductions, Vacuum delivery,

Defibrillation

, Echocardiography

ET Incubation

& exhumation, Inserting central line & arterial Lines, abdominal tapping, ICD

Catheterization

, wound dressing, Lumbar Puncture, Traction, plastering & closed reductions
Implementing

the

doctor's order

in conformity with hospital policy & legal limitation

Executing

pre & post-operative orders

for surgical patients
INTERNSHIPS
Assisted the head nurse in taking care of

patients

in the

ICU

Also assisted in billing and other administrative functions
EDUCATION
Top 5 percentile

of the class
Registered Nurse

'| Registration Number: KK222YY33 | Minneapolis, MN | Jun '08
Languages

: English, Spanish and French
Nurses are the heroes of real life available for 24x7 patient support.
Quiet and poised, these professionals keep us safe and sane through all illnesses.
Rather obliged and happy to share the technical knowledge, we invite all nurses to build the strongest nursing resume by keeping in mind the factors we talk about across the article:
After all the efforts nurses put in, they deserve to grow and achieve success. Our sample nursing resume along with the guide shall help you accent your career.
In this post we will be covering:
Why do you need a Nursing Resume?
Nursing is one of the super prestigious and most sought-after professions in the United States.
Nursing indeed is the largest healthcare profession in the USA.
According to The Atlantic, USA is in major nursing shortage.
In fact, almost 1.2 million vacancies are going to emerge for registered nurses between 2014 and 2022.
So the major reasons for you to make a strong nursing resume today
There are around 3.1 M registered nurses in the USA. And the number is growing. The field is becoming highly competitive.
With USA aging population increasing day by day, there is a huge demand for nurses in future and so a good nursing resume makes sense.
Technology is advancing and nurses need to upgrade themselves with the upcoming technology to render better services. This is showcased first, through your nursing resume!
Existing nursing professionals are aging as not many are joining the profession due to the availability of career option. So they want new nurses to take the baton forward.
That is why the growing importance of a good reasonably made nursing resume cannot be denied.
Who needs a Nursing Resume?
Refer to the Wikipedia page to know different levels of nursing professionals and paraprofessionals in this profession.
Nursing profession has different requirements and needs which you must know in order to build a brilliant nursing resume.
You have to know your target audience before stating facts in the nursing resume.
Follow 3 rules to research your potential employer:
Search for LinkedIn/other nursing profiles to make the best RN resume
Scan social media pages of your potential employers
Research targeted keywords used in target job descriptions
This shall benefit your nursing resume in 2 promising ways:
Parse the ATS with a high score
Render the resume recruiter-friendly
When do you need an RN Resume
The Bureau of Labor Statistics suggests that jobs for registered nurses have been growing by 15% from 2016 through 2026. This is much faster than average.
The highest level of employment for registered nurses is in the states:
California
Texas
New York
Florida
Pennsylvania
in the metropolitans:
New York City
Los Angeles
Chicago
Houston
Atlanta
As an RN, you can earn a median wage of USD 70,000 per year.
It's high time you make the perfect nursing resume to get the job.
Don't have time? Visit Hiration's online resume builder to find a pre-filled template customizable for you. Download your PDF in under a minute.
How to write a Nursing Resume?
Let's take a look at the sample nursing resume:
Let's look at one of the nursing resume examples in the "Orange Twist" theme on Hiration's online resume builder. This has aptly incorporated all the necessary information in a single column without leaving gaps.
The color lends brightness to the nursing resume for nurses and your picture sharply increases the chances of get shortlisted.
Refer: Guide on Resume Template for using other nursing resume templates.
Nursing Resume: Personal Details
Do not include full address as it is absolutely redundant on your nursing resume.
Recruiters are good enough with the information on city and country and they are really not concerned about your house number and street number.
Keep it minimalistic and professional.
Use a professional and pleasing picture of yours and make a reasonable impression on the recruiter.
Nursing Resume: Professional Affiliation
After a thorough research, we have concluded that there is a bit too much importance given to this factor in nursing resumes: Professional Affiliation.
This is because there are zillions of them and you are affiliated with one.
Many hiring managers in the nursing industry are interested in knowing these details which you ought to mention in your nurse practitioner resume for landing those interviews:-
Affiliation name
Your date of admission
Offices held
Brief description of your role or reason you chose this group over others
Nursing Resume: Licence Details
There is fair argument around mentioning your license on the nurse practitioner resume.
But as we found, this information is already available as public records and there is literally no breach of privacy happening while you mention it.
In fact, mentioning the license number might just make the recruiter's job very very easy and may act as a distinguishing element for you.
These 5 details are necessary while stating License details:-
Name on the license (if it is different than the name on the nursing resume)
License Expiration Date
License Issuing Authority
License Number
License Type
You can use a separate section on your nursing resume to highlight the important details.
Also, you may state your license number just below your personal details in the same section:
You may also include it within your nursing resume summary.
Nursing Resume Key Sections
Nursing Resume: Career Summary
A professional nursing resume summary is that junction in the nursing resume which makes crossing the next road very easy for the recruiter.
So to say, this is a 4-5 line synopsis summarising your entire career journey and makes the everlasting impact on the recruiter.
A 6-seconds recruiter neither has the time nor has the patience to read each and every line in the nurse practitioner resume.
But he uses what we call it as scanning rather than skimming.
The recruiter just registers the relevant information in these 6-seconds and moves on to the next resume.
This was a human recruiter.
Now let us face the ATS that is driven by keywords and job/industry specific jargons.
So your career summary should have these qualities to land all the dream interviews:
Tailor-made according to your potential employer and not a formulaic document as we discussed earlier
Put keywords used by the recruiter to clear ATS
Start with adjectives and number of years of work experience to give power to your summary and make an impact on the recruiter
Use cause and effect relationship in each line to better make sense of the tasks performed.
Use any particular high rated certification in your industry to get through the shortlisting round.
Let us look at the rn nurse resume sample:-
In the above example of nursing resume, the candidate starts the summary mentioning first the number of years of experience and adjectives like Versatile.
We can still make it better by using some powerful words in each line:-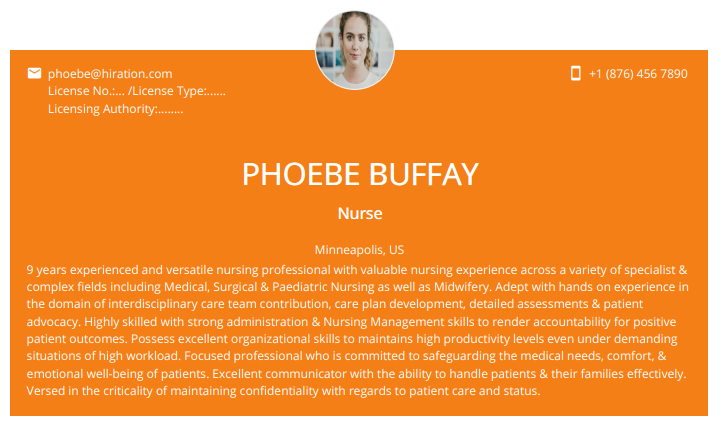 Here we have employed impactful words like Adept, Highly-skilled, etc.
These words show positive assertiveness and make for a huge probability of impressing the recruiter.
Note that we have used a simple job title as "Nurse".
However, it does not necessarily have to match your current job title. But it should definitely should be in line with the target job title.
It could be either of the following titles depending on which job you are targeting:
Registered Nurse
Nursing Assistant
Licensed Practical Nurse
Home Health Aide
Nurse Practitioner
Registered Nurse – Medical/Surgical
Licensed Vocational Nurse
So, if you are applying for a Head Nurse profile and right now you are at Supervisor-Nurse level. you can safely use this job title as 'Head Nurse' to convey your aspirations.
Make sure that you possess the required experience, however. For example, do not write "Licensed Practical Nurse" without really having a license for it, or a "Home Health Aide" without having practical experience in Home Health.
In such cases, you may only tweak your title to an extent which represents both your current designation and the one you are aiming for.
Certifications in the Summary
For example, you may start your nursing resume summary with a certification for an "Emergency Nurse".
"Certified Emergency Nurse (CEN) with dedicated hospital nursing experience in ER and trauma units"
Nursing Resume: Key Skills

Nursing skills for resume takes your nursing resume to the next level. Not many people are aware of it. You are lucky to be reading this.
Many sample nursing resumes you find on the web will not display this section.
This is because ATS has come into play recently and the employment industry is still trying to come in terms with it.
There are 5 simple rules to state your nursing skills for resume:
Use bullets to separate them and for easy scanning
Place the key skills section just after professional summary(in case, the license details are mentioned in the personal details section)
Use small phrases and not statements for the sake of space and professionalism. Also for the sake of ATS
Align it with your current work experience but never forget to match exactly with the keywords used by the recruiter in the job description
Avoid abbreviation in key skills if possible
Looking at the above example of nursing resume, you will see many nursing skills for resume which are relevant to the resume and you can use the same.
| | | |
| --- | --- | --- |
| Accuracy | Surgery Assistance | Medication Administration |
| Chemotherapy Administration | Bedside Monitoring | Bladder Irrigation |
| Blood Administration | Pain Management | Wound Irrigation |
| Discharge | Emergency Room Care | Empathy |
| Healthcare Software | Infection Control | Lab Testing |
| Intramuscularly Injections | IV therapy | Maternal care |
| Blood Samples Withdrawal | Physical Assessments | Psychiatric Care |
| Rehabilitation | Seizure Precautions | Surgery Preparation |
Other skills which you may incorporate across your nursing resume are:
Observation
Physical Endurance
Teamwork
Communication
Critical Thinking
Let us look at the wrong key skills for comparative analysis:

Nursing Resume: Work Experience
The guidelines behind a nursing resume exemplifies the unspoken regulations to make your standard nurse resume.
To write impactful work experience points, you must frame them in the STAR format.
The STAR format basically exemplifies each of your contributions in terms of the Situation - Task - Action - Result.
These are the main components of your point. But how do you frame your points accordingly?
Hiration's resume experts have got you covered. The nursing resume templates on the resume builder have pre-filled content which tells you how.
Your RN resume could have duties, contributions and achievements as part of the experiences section.
Duties
Let's look at the RN resume sample. The main points in the duties section of a registered nurse resume covers the following points:
Type of medication the candidate administered
Specific equipment/devices the candidate used
For example, you can use instruments like - automated IV pump, patient-controlled analgesia pump, peak flow system, portable water collection system, etc.
Range of patients the candidate looked after
Experience in starting or administering IVs
Industry processes, procedures & protocols
Achievements
Your achievements can be framed together with the duties if possible, in order to include both at the same time, so that you explain how you accomplished the results while you performed your normal duties. This is not possible all the time; therefore the following questions might help to identify the achievements to write on your nursing resume:
Have you received any awards, praise or recognition from your previous work place?
Did your previous work place receive any awards or recognition? If yes, how did your duties contribute to their success?
Bullets & one-liners
Recruiters do not have more than 6-seconds to spare for you and your resume.
It is pretty less, but it is the closest to fair. Considerably, the ideal length of your nursing resume should be 2-pages.
Given these 2 constraints, you may want to state all your tasks performed in one-liner using bullet points.
The best part is that it takes up less space in a nursing resume and is easy to read and scan.
Incorrect:
Correct:
Bolding
Highlighting has a very important role to play in the writing industry and in any document for that matter which you ever prepare.
Be it drafting of letters, applications, cover letters, even answering a question paper.
We highlight things to help the reader scan the important points.
The same rule applies here.
For the6-seconds recruiter, bolding of important words and figures will go a long way in making an impact.
Incorrect Way
Correct Way
Bucketing
For all the points in your work experience, it is beneficial to club similar points under 1 bucket to make a recruiter's job easy.
Without any bucketing, it will become a pile of information difficult to scan and make sense of.
Let us see an rn resume examples:
Incorrect Way
The image above makes it very difficult for the recruiter to gauge any insight or scan any important information.
At best, what recruiter would do is move on to the next resume!
Correct Way
Key Achievements
The tasks you have performed as a nurse are clearly stated but what attracts a recruiter is the special achievements which you had.
These achievements give you an edge over the other candidates who are in the competition.
If you mix the achievements and accomplishments in the work experience then they won't be visible enough to be acknowledged.
To explicitly showcase these achievements, it definitely makes sense to keep a separate bucket for the same under each work-experience.
This way, it will catch the recruiter's eye.
Let us understand from rn resume examples. Scan the key achievements of this nurse in the work experience shown:-
Incorrect way
Could you find out? Yes. Did it take you a lot of time? Yes. How much? Now let us compare it with the one below:-
Correct Way
Now how much time it took you to scan the key achievements?
So go with the correct approach and mention all the verbs in the achievements section in past tense as you have already achieved the goal.
Formatting and Alignment
We have followed a reverse-chronological resume format because this is the most commonly used and globally accepted format. This format is definitely an eye candy for the recruiter as it makes it really easy to scan through your details and makes maximum impact. Font used is open sans and ample white space gives it a spacious feel.
Now the format is done, let us move further to the first section.
Align your dates and other details
Industry standards and our experience say that the best way to align these details is keeping the company name and designation on the left.
And keeping the dates and location of the workplace on the right.
The way it is important to correctly align the date, it is also important to mention the start and end date of a work experience.
This gives insight to the recruiter around the number of years you served in an organization.
Remember, at each step we are trying to make recruiter's work easy.
The recruiter should not be confused and wonder about the information in the nursing resume.
Also, mention the day of joining is not necessary. The correct and appropriate format is the month and the year.
As we saw in the example above, it is professional to mention the last 2 digits of the year and so mention the date in MM/YY format.
Incorrect Way
Correct Way
Hiration Pro Tip: Facing difficulty in aligning dates and company details on the same line. Do not worry and use our Resume Builder to make it quick and easy with all the alignment in place.
Company/Institutional Description
The 6-seconds recruiter has to be given some benefit of doubt.
With zillions of nurse resumes and applications on his table, it is utmost difficult to spare more time.
And since our entire job is to make the recruiter's job easy, doesn't it make sense to write company description?
How does he know the scope of the organization you worked for? It could be a brand, but you cannot expect him to know about every brand on earth.
What if 5 other nursing resumes have company description but yours don't have. Why would you like to miss it?
Also, mentioning about your company does give a very positive impression of you valuing your company.
And your respect towards the hospital will be highlighted in the way you mention about one.
Words do not make a difference. Numbers do.
Numerals, quantities, and numbers have a way to a recruiter's memory.
The best way to mention about your hospital is to give important facts like number of employees, number of beds, turnover, and number of hospitals in form of numbers.
Let us understand from nurse resume sample:-
Incorrect Way
Correct Way
Reverse Chronology
Reverse chronology is the most accepted format in the history of the employment industry.
The oldest of nursing resume you get on the web describe the work-experiences stating the recent job first followed by previous jobs.
3 reasons why your nurse resume should follow reverse chronology:
Globally Accepted.
ATS compliant
Easy for the recruiter
Let us see an example:
Incorrect Way
Correct Way
Numbers are Important
As a nurse, you must have assisted in many operations and must have set up operation theatre for many surgeries.
You must have treated many patients.
Agreed. But recruiter would only get to know the impact of this if you display the information via numbers(digits, percentages, ratios) and not words in your nursing resume.
Let us understand this through an example:-
Incorrect Way
Correct Way
Mind your Tenses
Start all the one-liners with a power verb and verb should be in present tense for the current company.
For example:
In a current company you would write your verbs in present tense.
Order Implementation

Implementing the doctor's order in conformity with hospital policy & legal limitation
Executing pre & post-operative orders for surgical patient
For the previous companies, you would write your verbs in past tense.
Order Implementation

Implemented the doctor's order in conformity with hospital policy & legal limitation
Executed pre & post-operative orders for surgical patient
For Key Achievements section in the current company, you can use past tense for the verb as the thing is already achieved.
Nurse Resume Education details
Just like work experience section, education should be mentioned in reverse chronological order with your recent education displayed first followed by the education before that as given in the example below:-
Given the fact that your nursing resume shall not take up more than 2- pages, it is necessary no to cramp education section with projects or other details.
Any specific achievements during your education years can be clubbed separately in the section 'Awards & Achievements'.
Nurse Resume Certifications
Certifications matter a lot in today's competitive world.
The nursing profession has many certifications to gather. More skills you acquire more chances are there for you to get shortlisted.
Best way to mention your certifications is to make a separate section for the same.
And remember that training is different from certifications.
Not every training get you a certificate.
So if you have taken training and certifications both, it is safer to name the section as 'Training & Certifications'.
Let us see the example below:-
Incorrect Way
In the above image, you will see that there is no proper order being followed in stating the certifications.
This will confuse the recruiter.
Want to know more about the formatting of certification section? Read our detailed Guide on Certifications List on a Resume.
Correct Way
Hiration Pro Tip: Place the section just after education section for maximum impact. Follow reverse chronology, highlight important words and go BOLD.
To see the list of certifications in the nursing industry, follow this link.
Nurse Resume: Equipments
This section plays a very important role in a nursing career.
Nurses use all sort of equipment from basics to diagnostics and special equipment.
Your competence in using an equipment should come across to the recruiter in a separate section and not hidden between the lines.
So to gain the competitive advantage and render maximum impact, look at the example below on how you can draft this section:-
Formatting of the section would be like key skills section using bullets and phrases.
You can gain more insight around the type of equipment and their groupings on this link.
Nursing Resume: Bypassing the ATS
ATS is an applicant tracking system. This is a software designed to conduct the first round of eliminations before your resume reaches the human recruiter.
Research says that 75% of the employers these days are using ATS to scan the resumes.
So given the fact that you have to deal with this machine, let us learn what all you can do to crack an ATS:-
ATS works on keywords
So the ATS system is made to scan your resume with specific keywords which the human recruiter puts in.
These keywords are mostly around the exact words used in job descriptions and industry-specific words and jargons.
So your first and foremost role is to stuff your nursing resume with these keywords to get through ATS.
And that is why we mentioned the research required in the first place.
Tailor your nursing resume to your target job
You definitely would make 1 nurse resume and that's it.
But you can not use it for every company and every job out there.
A formulaic nursing resume at best would get you a few interviews.
If you really want to stand out of the crowd, your nurse resume shall be tailor-made according to the company you are targeting.
And again as we said, you do not have to write many nursing resumes for this.
But just use the research done previously and twist the skills displayed and a summary section according to a particular job description.
And that is why we started this article with research. because it plays a major role in your nursing resume.
Formatting a nurse resume
Bullets should be used in the nursing resume and not any awkward symbols. ATS is best designed to scan bullets.
Keep font plain, simple and not below 10pts. Keep it readable. You can use fonts like Opensands, Calibiri, Times Roman and Arial.
Follow chronological order mentioning the dates in proper order
No Abbreviations
This industry employs a lot of technological jargons pertaining to machinery, drugs, etc.
It is safe to use the full form of these abbreviations even if they have long names and put the abbreviation in the bracket.
You never know the ATS is programmed not to read abbreviations to eliminate maximum resumes possible.
Key Takeaways
Display license details on your nursing resume
Draft a separate section for equipment knowledge
Key skills should be drafted carefully keeping in mind the ATS compliance and other factors
Professional summary should be assertive with the usage of powerful adjectives and should not exceed more than 5 lines
Follow a reverse chronology for all the sections like work experience, internships, certifications and education
Avoid using abbreviations
Once you are done making your nursing resume, you can now apply on the best online job sites. Visit our Guide on Best Job Sites. And land your dream interview.
All the Best!
Feel free to leave your comments below, we would be more than happy to help.