[Click here to directly go to the complete warehouse resume sample]
How do you write a perfect warehouse resume?
You may have exceptional organizing skills and proficiency with record keeping but that alone is not enough to get you shortlisted for job vacancies at warehouses.
Like all job profiles, your resume is the first thing that recruiters see when you send in an application.
Thus, if you want to get a chance to meet the recruiters to discuss your candidacy, your warehouse resume has to work its charm.
And not just on the recruiters. Your warehouse resume also needs to rank high in the Applicant Tracking Software (ATS) that scans resumes for keywords and selects the most relevant resumes.
Read on to get clarity on the following questions related to drafting a compelling warehouse resume:
Warehouse Job Description for Resume
Broadly speaking, a warehouse professional is responsible for streamlining supply chain processes and other systems to ensure effective receiving, dispatching, and shipping of goods.
And with respect to the job title, your warehouse resume has to be optimized accordingly.
For instance, a general warehouse worker resume would be different from a warehouse supervisor resume and a warehouse associate resume is different from a warehouse manager resume.
Some of the general responsibilities of a warehouse professional include:
Processing orders and preparing/packaging orders for delivery
Maintaining stock by reviewing delivery records
Overseeing the maintenance of trucks by scheduling periodic checkups and repairs
Complying with the company guidelines to ensure optimum quality of service
Organizing the work area as part of improving safety and security
Preparing daily reports and managing the production deadlines
Coordinating with the other warehouse workers
Also read: How to write a warehouse cover letter?
Why Do You Need a Warehouse Resume?
A warehouse resume is an important document that supports your job search as it displays your top skills and experiences that makes you a fit for the job.
You need a warehouse resume because:
It describes your qualifications and professional experiences
Helps you stand out among other applicants by marketing your skills and strengths
Helps you land interviews with potential employers
It is the key that can help you kickstart your career as a warehouse professional.
Also read: What are some common warehouse worker interview questions?
How to write a Warehouse Resume?
Before you start writing your professional warehouse resume, you must choose the perfect pitch to bat i.e. shortlist the job listings you want to apply to.
This step is crucial because your warehouse resume needs to be tailored according to the job description provided in the listing.
And this means that sending out a common warehouse resume to multiple job listings is a no-no.
Follow the below-listed steps to begin your research process:
Identify the key requirements and keywords from the job listing
Scan the LinkedIn profiles of the warehouse managers already on the front-end to get an idea about what all certifications or courses you need to take before applying for the job
Go through social media platforms like Twitter, Facebook, or Instagram to understand what they are seeking in their potential employee
Identify the keywords that you need to use in your warehouse resume
Once you get that out of the way, you can begin writing your warehouse resume in sections.
Here's the breakdown:
Warehouse Resume Header
The header is the first thing that recruiters will see in your warehouse resume.
Instead of writing a generic header like "CV" or "Resume", you must write your full name.
The font size for your warehouse resume header can range between 14-16 points and if you have a middle name, you can initialize it.
Take a look at the following sample of a resume header:
Also read: How to write a resume header?
Warehouse Resume Personal Information
The personal information section in your warehouse resume comes right after the header.
You must list the following details in this section:
A reachable contact number with an ISD code and a "+" sign before the number
A professional email id
Your current location (city & state)
A link to your LinkedIn profile or an online portfolio
Your profile title
Ensure that you don't provide an email id with nicknames etc. as it immediately makes your candidacy unprofessional.
Also, the profile title must be the job title you've applied for.
For example, if you're applying for the position of a manager, your resume profile title will be 'warehouse manager.'
It can be written right below the personal information section with a font size of 12-14 points like in the below given sample:
Warehouse Resume Summary
Although the summary and key skills section are placed at the top part of your warehouse resume, it is essential to write these sections only after writing the other sections.
This is to help you get a better idea of what you must summarize and what are your key skills.
Here are some tips to help you write your warehouse resume summary:
Begin your warehouse resume summary by highlighting the years of experience you have
Mention your most noteworthy achievements in terms of the job description
Ensure that the summary includes keywords to support your resume's ATS-friendliness and that it doesn't exceed 3-4 lines
Use the cause & effect relationship to frame your sentences and make them crisp and impactful
Make use of phrases like adept at, armed with, proficient at, etc.
Look at the following example of a resume summary to get more clarity:

Also read: What are some points you can write in your warehouse resume objective section?
Warehouse Resume Key Skills
The key skills section is an important part of your warehouse resume as it highlights your potential.
At times recruiters may base their hiring decision on just reading your summary and key skills section.
Follow these steps to list your key skills in your warehouse resume:
Separate every key skill with a bullet point
Incorporate the keywords used by the recruiter in the job description
Avoid using abbreviations
Identify your core skills by referring to your professional experience section
Create a subsection for your technical skills like proficiency with using software and tools (if any)
Take a look at the below given sample to get more clarity on how to list your key skills:
Also read: What skills should you put in your resume?
Warehouse Resume Professional Experience
The professional experience section of your warehouse resume can either make or break your candidacy.
This section must showcase your past roles and duties in reverse chronological order so that recruiters can learn about your most recent experiences.
Given below are some guidelines that you can follow to write an impressive professional experience section:
Use Bullet Points & One-liners
Don't bore the recruiters with bulky paragraphs that they won't read most likely.
You must list your experiences in bullet points with one-liners.
Bucket Similar Points Under a Heading and Bold the Keywords
To enhance readability, you must group similar bullet points under a single heading.
Also, by bolding the keywords, you can direct the recruiters' attention to key details.
Use the Reverse Chronological Format
The reverse-chronological format presents your most recent work experience at the top, followed by the older ones.
One of the reasons why you must use the reverse chronological format in your professional experience section is because:
It is the most widely accepted format by recruiters
It is ATS compliant
Enhances readability
Use Numbers & Figures
Instead of providing vague information about the work you've done and your accomplishments, use specific numbers and percentages.
For instance, if you've led a team in your previous position, mention the number of people that were in the team.
Following this approach makes your one-liners more compelling and impressive.
Use the Cause & Effect Relationship
To frame your one-liners, use the cause and effect relationship to explain your duties.
You can begin with a power verb and go on to talk about your task and the result you achieved.
This helps to make your bullet points short, crisp, and impactful.
Take a look at the following examples using the cause & effect relationship:
Responded to client accounts questions including billing to field 10+ service requests
Troubleshot hardware, peripherals, and software issues to make appropriate recommendations
Given below is a snapshot of a professional experience section in a warehouse resume:
Also read: How to list work experience in a resume?
Warehouse Resume Education Section
After the work experience section comes the education section where all your academic information is to be showcased.
You must again list your qualifications in a reverse chronological format.
However, if you have 3+ years of work experience, you can avoid providing details about your high school diploma.
You can refer to the below given example to get greater clarity on how to list your qualifications in this section:
Also read: How to list education on a resume in 2022?](https://www.hiration.com/blog/education-on-resume/)
Warehouse Resume Certifications
With the prevalent competitive job market, having extra certifications can be crucial to boosting your candidacy.
If you have taken up extra certification courses with respect to the job profile, you can list them in your warehouse resume under a separate certification section.
The more the number of certifications portraying your diverse skill set, the more is the chance of you getting shortlisted.
Warehouse Resume Additional Information
If you can speak 2 or more languages, you can list the same in your warehouse resume under the additional information section.
You can also provide details of any relevant volunteer work you've done in the past that can support your candidacy.
Additional information as such can help you stand out to the recruiters.
Also read: What are the most essential sections in a resume?
Warehouse Resume Sample
18+ years experienced Warehouse Manager armed with a track record of leading teams to manage transportation and distribution environments while meeting deadlines and ensuring on-time delivery of goods. Adept at overseeing the inventory, liaising with vendors and steering cost-reductions initiatives to deliver compelling business value to the stakeholders.
• Warehouse Management • AC plant Management • Compressor Management • Team Leadership & Training
• Stakeholder Management • Client Relationship • Inventory Control • Production Scheduling
• Operations Management • Logistics • Shipping & Receiving • Quality Assurance • Production Scheduling
PROFESSIONAL EXPERIENCE
Executive Warehouse Manager | '09 – Present
Managed 10+ tonnes of daily stock & manual to sustain the inventory level

Attending to sales persons & customers

along with the storekeeper; resolving all issues faced by them

Verifying that the

sales stock report & warehouse stock is matched

up to 100% daily

Managing the warehouse, storekeeper, GP, labor & other staff

Ensuring that the staff are

properly trained

& assigned correctly
Operations Manager | '07 – '09
Maintaining the temperature for the -18F repair works cold room

Responsible for the purchase of spare parts for the cold room maintenance

In-charge of maintenance of the 1000 KVA gen set

Promoted

to Executive Warehouse Manager
Independently

handled the Ammonia Plant

Looked after the chilling plant

(500 ton) with 2 compressors of KC – 6

Operated

& maintained the

air compressors

– HP (40 kg) & LP (10 kg)

Promoted to Operations Manager from Technical Manager
EDUCATION
Top 5 percentile

in the class
End to end management of warehouses including:

Daily check in & check outs from the warehouse

Resolving issues of the storekeeper as well as the customers

Labor payments & transport payments after cross checking for shortages

Ensuring that the warehouse is running at the highest efficiency
Warehouse Professional Salary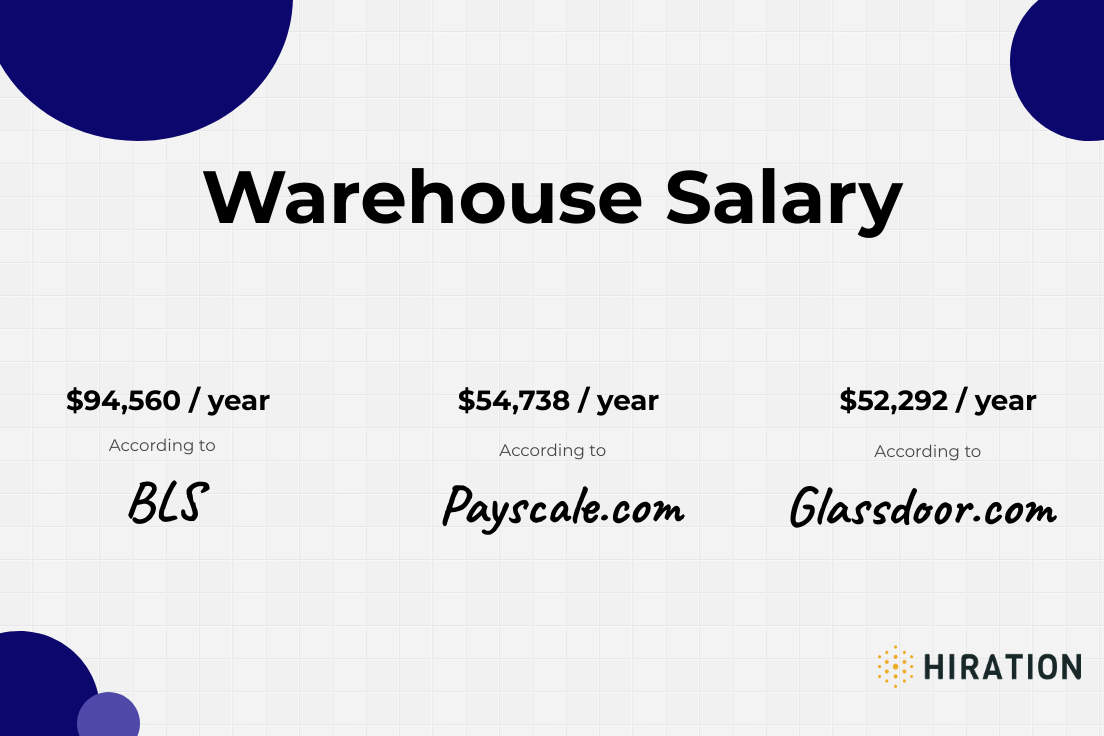 Listed below are different payscales of warehouse workers based on their specific job title:
| JOB TITLE | SALARY |
| --- | --- |
| Warehouse Clerk | $33,356 |
| Warehouse Material Handler | $33,369 |
| Warehouse Worker/Production Worker | $34,145 |
| Forklift Operator | $33,559 |
| Warehouse Manager | $56407 |
Also read: How to negotiate salary in 2022?
Key Takeaways
Write your full name as the header of your warehouse resume.
Provide a professional email id and a reachable phone number in your personal information section.
Analyze the job description to identify keywords and the key requirements of the recruiters.
Write the summary and key skills section only after writing the other sections of your warehouse resume.
Begin your warehouse resume summary with the years of experience you have and limit it to 3-4 lines.
Follow the reverse chronology to present your work experience, educational qualifications, and certifications.
Use the cause & effect relationship to frame your sentences in your summary and professional experience sections.
If you have 3+ years of experience, you can skip providing details about your high school diploma.
You can use Hiration's AI-powered Resume Builder to create a compelling warehouse resume in minutes and write to us at support@hiration.com if you have any queries.