How do you write a perfect warehouse resume?
[Click here to directly go to the complete warehouse resume sample]
Read On!
How often have you helped your mom organize things at home?
Well, if you are shy to say it, I can understand.
If your forte lies in organizing things, supervising people, dispensing duties to a large number of people, liaising with suppliers and vendors...then a warehouse professional seems to be your ideal job profile.
All you need is to seek an opening where you can put your skills to some good use.
But hang in there!
Here is a sample of complete warehouse resume for you to see how a warehouse resume should ideally look like:
18+ years experienced Warehouse Manager armed with a track record of leading teams to manage transportation and distribution environments while meeting deadlines and ensuring on-time delivery of goods. Adept at overseeing the inventory, liaising with vendors and steering cost-reductions initiatives to deliver compelling business value to the stakeholders.
• Warehouse Management • AC plant Management • Compressor Management • Team Leadership & Training
• Stakeholder Management • Client Relationship • Inventory Control • Production Scheduling
• Operations Management • Logistics • Shipping & Receiving • Quality Assurance • Production Scheduling
PROFESSIONAL EXPERIENCE
Executive Warehouse Manager | '09 – Present
Managed 10+ tonnes of daily stock & manual to sustain the inventory level

Attending to sales persons & customers

along with the storekeeper; resolving all issues faced by them

Verifying that the

sales stock report & warehouse stock is matched

up to 100% daily

Managing the warehouse, storekeeper, GP, labor & other staff

Ensuring that the staff are

properly trained

& assigned correctly
Operations Manager | '07 – '09
Maintaining the temperature for the -18F repair works cold room

Responsible for the purchase of spare parts for the cold room maintenance

In-charge of maintenance of the 1000 KVA gen set

Promoted

to Executive Warehouse Manager
Independently

handled the Ammonia Plant

Looked after the chilling plant

(500 ton) with 2 compressors of KC – 6

Operated

& maintained the

air compressors

– HP (40 kg) & LP (10 kg)

Promoted to Operations Manager from Technical Manager
EDUCATION
Top 5 percentile

in the class
End to end management of warehouses including:

Daily check in & check outs from the warehouse

Resolving issues of the storekeeper as well as the customers

Labor payments & transport payments after cross checking for shortages

Ensuring that the warehouse is running at the highest efficiency
You need to be aware that you are not alone in running this race to fetch the opportunity to become a warehouse worker or a warehouse associate or a warehouse manager. A fierce competition is waiting for you the moment you step outside.
Most of the applicants, some of whom might be as potent as you are (if not more), want to get that one single vacancy that you think is meant only for you.
But you know that you are the most viable warehouse worker. If getting a warehouse job is the game of shadows, then you are surely the Sherlock of the show. #noshit
You know you are the best, we know you deserve the job too. Here the most important argument is - How will the recruiters sitting there get the same idea? Having a satisfactory job in 2021 is a more tedious task than having a personal vehicle or a Euro-Trip. Getting shortlisted for a job is also quite a success worth celebration.
But you got nothing to worry about. We are here to help you make an exemplary warehouse resume and vividly exhibit all your warehouse skills for resume for getting a warehouse job.
Before, we go further and start soaring on the waves of queries ranging from low tidal waves to edging tsunamis, first we need to inspect the boat (the boat in this case being the knowledge of lead roles and responsibilities of a warehouse worker or a warehouse associate or a warehouse manager.)
A Warehouse professional is responsible for a vital part of the supply chain processes and streamlining processes, people and systems to ensure effective receiving, dispatching and shipping of goods and managing the production deadlines.
To get a warehouse job, the most important thing (after the appropriate skills, of course) is having a professional warehouse worker resume.
Always keep in mind that for different functions, the warehouse resume has to be optimized accordingly. A general warehouse worker resume would be different from a warehouse supervisor resume, a warehouse associate resume and a warehouse manager resume.
In this article we will talk about creating the different parts of warehouse resume, such as:
This article is for that purpose itself. Here, we are going to introduce you to the idea that first, why is it important for you to have a professional warehouse worker resume and second, take you through the various steps involved in making the resume for warehouse worker.
Here is a list of all that you will be learning in this blog:
Warehouse Job Description for Resume
The common job responsibilities of a warehouse worker includes:
Processing orders and preparing/packaging orders for delivery
Maintain stock by taking records of delivery
Overseeing the truck maintenance by scheduling periodic checkups and repairs
Comply with the organizations guidelines to ensure optimum quality service
Organize the work area as part of improving safety and security
Preparing daily reports
Coordinate with the other warehouse workers
Warehouse Professional Salary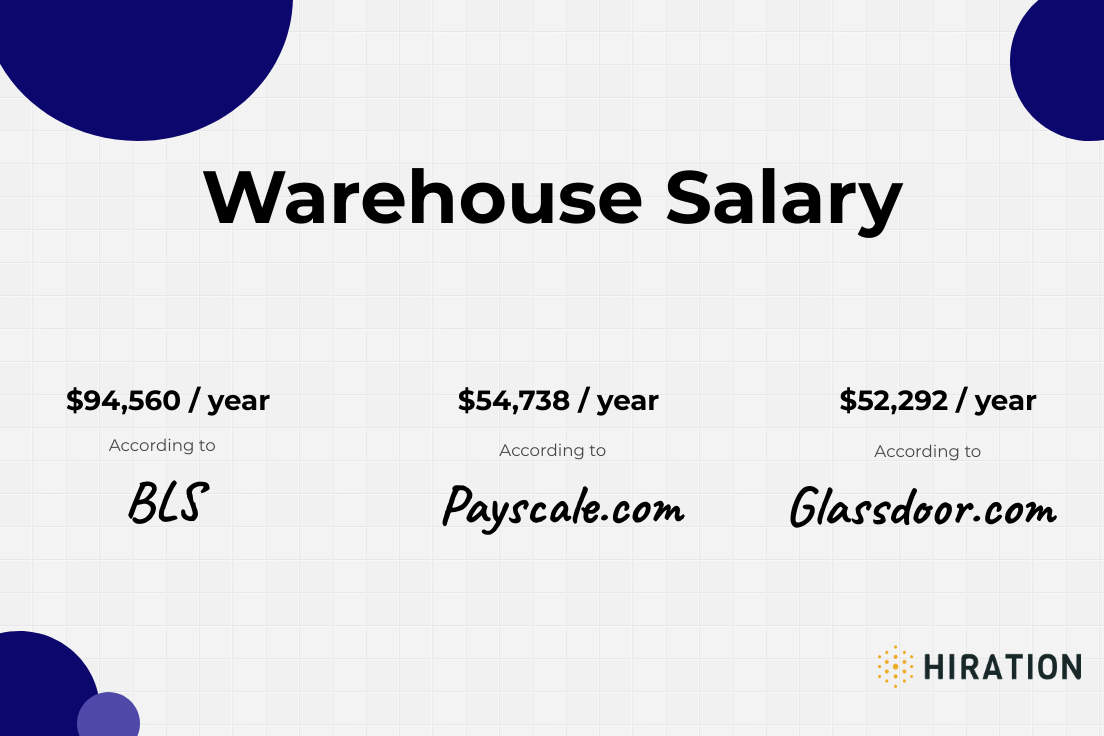 According to U.S. Bureau of Labor Statistics data, the average salary of a warehouse manager in the USA is $94,560
And warehouse professional will see a 4% job opportunity growth from 2019 to 2029.
According to Payscale.com, average salary of warehouse manager is $54,738 per annum
According to Glassdoor.com the average salary of warehouse manager is $52,292 / year
Why do you need a Warehouse Resume?
From academic institutions and armed forces to manufacturing firms, all these sectors require warehouse professionals ranging from workers & supervisors to managers who can efficiently handle responsibilities, supervise the workers and manage the day-to-day dealings like liaising with the right suppliers for purchase of goods, taking safety measures, etc.
Customer satisfaction being the key to run any organization, a warehouse manager holds a quintessential responsibility to keep a tab on the on-time shipping of goods and fulfillment of deadlines.
A plethora of companies in the US are looking for a highly professional and skilled warehouse manager and if you believe you fit in right there, no one will be able to stop you from getting there.
Well! Well! Well! One hurdle might make you falter before you finish the race though. Lack of a Professional Warehouse Worker Resume.
A professional warehouse manager resume for a Warehouse Management Professional is as crucial as the base for a skyscraper to hold it firm. After all, not all the buildings can withstand the wrath of an earthquake without any turbulence.
With more than 10,000 job vacancies for mid-level to senior-level warehouse managers in the US alone, what more reason is reasonable enough for you to straight away get a professional warehouse manager resume for yourself.
The pace at which the industries are burgeoning and goods are being imported and exported from every corner of the world, the growth in the demand for a warehouse manager is going to scale up beyond the limits of any margins.
If now also you think a professional warehouse manager resume is not what is a necessary evil for you, then may you be blessed.
Who needs a Warehouse Resume?
Anyone who is adept at handling a group of people, dispensing the respective duties to them and overseeing them to solve any kind of issue they face while meeting quality standards on the delivered goods is in dire need of a professional warehouse manager resume which inarguable reflects all your warehouse management skills.
For different sectors, the responsibilities may differ slightly. A warehouse manager must be skilled so s/he can go make the professional warehouse manager resume to deliver an impact.
In order to make a professional warehouse manager resume, start with a few basic tips that are universal for making a resume pertaining to any profession.
Start by first choosing the perfect pitch to bat i.e. by shortlisting the top recruiters for a warehouse manager in the market, for whom you shall want to work.
While doing so, keep in mind whether the company you are targeting in has a good reputation in the market or not.
Now, you got to follow the 3 golden rules to begin a research process:
Your first stop in this research should be scanning the LinkedIn profiles of the warehouse managers already on the front-end to get an idea about what all certifications or courses you need to take before applying for the job.
Your next stop is going through all the social media platforms like Twitter, Facebook or Instagram to observe the credibility of your potential recruiters (companies) and understand what they are seeking in their potential employee.
The final stop is where you completely equip yourself with all the relevant jargon and the keywords to be used in your resume. This is going to serve a major purpose in the resume which you will get to know of in the article as we proceed further.
How to write a Warehouse Resume?
To help you get a brief idea of how a professional warehouse worker resume should appear, we have chosen the Traditional Blue template which easily encompasses the set of all the important data in a single column resume.
According to the color psychology, blue is said to be a sign of confidence and dependability which are some essential traits that the recruiters would want you to showcase. What better can it be if the resume itself delivers the same in the first place?
It doesn't sound such a great idea to you?
No problem, wait for me to tell you that we have a gamut of templates available for you on guide on Resume Templates, to choose from. (Duh! I already did)
Always prefer going in a reverse chronological format while jotting down your information in a warehouse resume as it is globally accepted and indeed, appears more professional.
By using this tip while making your warehouse worker resume, you have successfully upgraded your chances of getting shortlisted by a level. A face-to-face interview with the recruiter is not far away.
Go for an open sans font as it is the most preferred font style in the market today.
Being a professional is a tough task? innit? Now that you have determined yourself to follow the path, then no trouble is too big.
Further, be aware to provide ample spacing in the warehouse resume between the section and the points to make it look free and not tightened up. A stringent warehouse worker resume is just going to help you by decreasing your chances of getting recruited.
Also, keep in mind to take care of ample spacing to provide a free look to the warehouse resume. You would not want to decrease your chances of selection by making the recruiter tense their eyes while going through your warehouse worker resume.
Well, Well, Well, Congratulations!
With this, you have successfully completed your warehouse resume format.Let us now march further into the different sections of a warehouse worker resume.
Warehouse Resume: Header
The header is the first thing in your resume. It is basically made up of your name. It is of significant importance as it helps differentiate your warehouse resume from other warehouse resumes, giving it an identity of its own.
Now you must be thinking how difficult can it be to write your name and what can possibly go wrong in it because at the end you just have to write your name.
Well, in that case, let us tell you what can go wrong and what will be its impact on your resume.
Spacing. Yes, spacing in the header is what can ruin your whole resume and your first impression on the recruiter. Formatting mistakes like that of incorrect spacing or no space at all in the header can ruin your resume.
If you don't have a middle name, then the right way to write your name in the header is: 'Jennifer Aniston'.
A single space needs to be given in between your first name and surname. And if you do have a middle name, then you will write your name in the following manner: 'Laura J. Witherspoon'
First you will write your first name and then after giving a single space you'll write the first initial of your middle name as demonstrated in the example above. After writing the initial, put a full-stop and then again give a single name and then write your last name.
Do not write your whole middle name as it is not required as well as it is not the correct way to write your name in the header.
To get a better idea of how to write the header, read our Resume Header Guide and take a look at the below given one of the warehouse resume examples:
Remember that the header should be the largest text in whole of your resume. So, when writing your resume header, make sure it is written between the font size of 14-16 points.
Warehouse Resume: Profile Title
Next in line comes the profile title. It helps the recruiter know for which profile you've applied for exactly. Like you know there are various profiles under the profession related to warehousing, for example: warehouse worker, warehouse associate, warehouse manager, etc.
So, there being diverse profiles withing warehousing profession, if you do not add a profile title to your resume, it will get difficult for the recruiter to gauge for which profile you've applied for.
The title is also supposed to be the second largest text in whole of your resume. So, it is ideal to write it between the font size of 12-14 points.
To get more clarity on how to write the profile title of your resume, look at the warehouse resume sample given below:
Warehouse Resume: Personal Information
The first thing to write in this section is your personal mobile number. Writing personal mobile number is of utmost important as if you get shortlisted for the interview, the first means through which the recruiter is most likely to contact you is by calling you.
The personal mobile number will be written on the left-hand side of the warehouse worker resume. But writing down your mobile number doesn't mean to just go and jot down those ten digits there.
There is a specified way in which you need to write your personal mobile number.
Before writing your personal mobile number put a plus sign (+) followed by the International Subscriber Dialing (ISD) code of your country.
After writing these two thing give a single space and write your personal mobile number. When you're done writing your personal mobile number, give a single space after the first five digits of your personal mobile number.
In case you use multiple numbers, then do not think of writing all of them in the personal information section. Only write ONE mobile number which you use primarily.
Next in line is the personal e-mail ID. It is vital to write the personal e-mail ID in your warehouse resume as some recruiters prefer contacting the candidates over e-mail instead of calling.
Also, once you get shortlisted for the interview and crack it successfully, the process further is most likely to be taken ahead by the means of e-mail. If you use more than one e-mail ID, then write that one which you use almost on a daily basis.
Make sure the e-mail ID which you write in the warehouse worker resume is appropriate for writing in the warehouse resume. Do not use e-mail ID names such as 'sexysophia@xyz.com'. E-mail ID names like this are a strict no-no. They are considered unprofessional.
E-mail ID names like 'jennifer.aniston@xyz.com' are ideal for writing in a warehouse worker resume and look professional at the same time.
Also, along with the personal e-mail ID, you can also provide the hyperlink of social media IDs like that of LinkedIn, Facebook, Instagram, etc. as well as that of any personal website if you have any, only if they support your work in any way.
When you provide hyperlink for these social media platforms, make sure the are up-to-date with respect to your current professional work and in sync with each other in terns of information.
Now, the last thing to write in the personal information section is the current location of residence.
Avoid mentioning your full address as it is quite redundant and does not go with the industry standards prevalent today.
Only mentioning your city and country information is sufficient.
Always try to keep it crisp and to the point.
In case you are putting up a picture, try to keep it professional to reflect a reasonable impression.
Also, the address that you write in the personal information section needs to be the one where you are residing currently. In case you are living in a city which is not your home town, then you'll write the city in which you are living currently.
To get a better sense of this section, read our Resume Contact Information Section Guide now!
Here is one of the warehouse resume examples of an ideal Personal Information section:
Warehouse Resume Key Sections
Warehouse Resume: Summary
A professional career summary is not less than a ship in the ocean. It helps the recruiter in understanding your expertise in the relevant areas to make crossing the ocean of information that is yet to come, easier.
A summary is basically a 3-5 line synopsis giving an overview of your entire career to make a long-lasting impact on the recruiters' minds.
Recruiters are busy people. They have to rest the entire day (such a tedious task) so they will not go through every line of your warehouse worker resume.
They won't go on skimming the warehouse resume, rather will just have a quick glance.
They just filter all the relevant information in 6 seconds and move ahead with another one.
This is the manual sorting system.
On the other hand, ATS (Applicant Tracking System) is a software-driven specifically by some job/industry oriented jargons and keywords.
It is mandatory for your summary to have these qualities in order to get sorted by the ATS and help you reach to a one-on-one interview with the recruiter:
Tailor your warehouse worker resume based on the interests of the employer and not in any other whatsoever.
Mention all the specific keywords listed by the recruiter to pass the ATS test.
It is always recommended that you start either with the adjectives or the number of years of your experience to make your summary look strong and leave the recruiter mind boggled.
The cause-effect relationship should be used in every sentence to make the recruiter understand the reason of an implementation and the quantifiable impact of it.
If you have a high standard certification in the industry, put it to use immediately.
To make your summary section look versatile and at the same time be able to leave an impact at the recruiters mind, start it off by writing the number of years of experience that you hold as a warehouse professional.
To be able to show your professionalism in your summary, use words like adept at, armed with the skills, proficient at, etc. The impact of such words and phrases is far more than you can think of.
Usage of such words is a trademark of reflecting positive assertion to create an impact on the recruiter and in turn, impress them for your benefit.
Look at the warehouse resume example given below to get a better idea about how to write your warehouse worker resume summary section:

Warehouse Skills for Resume
Key Skills are a sure shot way to level up your warehouse worker resume game. Just letting you know that consider yourself lucky to be reading this as not many know of it.
A big number of warehouse resume samples over the net do not feature the key skills section.
All thanks to the ATS system which has recently come into existence. The companies are still trying to get a hold of it.
Key Skills can be displayed in your warehouse worker resume by following these basic rules: These 3 simple rules to state your key skills are:
Bullets all the way! Separate every key skill with them.
Key Skills section gets its place just below the professional summary section
Statements are redundant. Avoid them! Key skills should be in small phrases
Make sure that they are going in line with the work you have done but also incorporate the keywords given by the recruiter in the job description
Abbreviations? REDUNDANT! They confuse the recruiters. Not suitable
As mentioned in the above image, there are many such key skills which come in accordance with the warehouse resume you are making.
See the warehouse resume sample below to get more clarity on how to write the key skills section:
Warehouse Resume: Technical Skills
Technical skills are different from key skills. Technical skills basically consist of all the tools and machinery that you are skilled at using. So, for that you have to make a separate section of 'Technical Skills'.
In a warehouse worker resume, it is very important to highlight your technical skills as a fair portion of a warehouse professional involves making use of tools and machinery.
Putting your technical skills in a warehouse resume is a must. All the software you are adept with, the databases that you know handling, the programming languages you are proficient with, it all comes under this section.
Warehouse Resume: Professional Experience
The guidelines you follow while making a warehouse worker resume exemplifies the steps you take to make a standard warehouse resume:
Bulleting & One-liners
The recruiters won't be merciful enough to skim through the whole of your warehouse worker resume in depth. They are vicious people who just glaze through it in 6 - 10 seconds.
I know! it is very less, less than it takes you to frame a sentence but you got to understand it is not by choice but by conditions. There is not just your profile there, but also many others that they have to go through. Well, let's be fair here.
Now, if this is the condition then the ideal length of your warehouse resume should be 2 pages.
Here, as you see there are these 2 restrictions on you, it is important that you describe your work experience in such a manner which describes all the work you have done in a single line with proper bullet points.
Doing this is beneficial as it takes less space to begin with and also makes it easier for the recruiter to go through it maintaining a proper flow.
Bolding
When something is written in bold font, it really validates its importance and draws eyes towards it. This method has a very crucial role in the writing industry and the documents which are being prepared.
Everything you do from drafting letters, application forms, cover letters or even answering a question in the exams, highlighting an important phrase or word plays an important part.
Highlighting a text helps the reader to pay some extra attention to it as it is a deliberate action taken with a purpose to draw their attention towards it and showcase its worth.
The same thing applies here while writing a warehouse worker resume as well.
Now, when you are targeting a recruiter with just 6 seconds to spare for you, it is very important to bold important words, phrases and numbers to make a long-lasting impact on them.
Bucketing
While going forward with structuring your work profile and putting up points in that section, you will get to see a number of points which shows a particular trait you possess.
To make a warehouse resume more consistent, it is recommended that all the similar points are clubbed under a single sub-section or as it is called, a single "bucket".
Doing this makes the recruiter's job easy to go through your warehouse worker resume.
To avoid making your warehouse resume look like a dump yard of chunks and chunks of information reflecting no useful meaning in particular, bucketing is the only way to go forward to make it easy for the recruiter to scan.
Don't make it difficult for the recruiter to go through your warehouse worker resume.
If so happens, they won't even think once before they move on to the next warehouse resume!
Key Achievements
The duties you performed while working as a professional is now put on the platter.
But wait a minute! think about it! Is that enough?
What truly attracts a recruiter is the list of remarkable achievements that you have added under your folds while working as a help desk professional.
Your achievements are surely gonna provide you with a better edge over the other applicants in the game.
If you don't give importance to the achievements section in specific and would try to club it with the work experience, you will fail to bring out the x-factor that the recruiter might be eyeing at.
For an undiffused portrayal of your achievements, it is very crucial that you put them under a separate bucket under each work experience.
Give the recruiter the eye-candy they are looking for.
Always go with the right approach and do not forget to mention all the verbs under this bucket in the past tense because you have already achieved them all.
Aligning Dates & other details
Based on the extensive research involved in understanding the structure of warehouse resumes and aligning them with the industry standards, the best way is to keep the company name and designation towards the left.
In the same order, the location of the workplace and dates towards the extreme right.
Hiration Pro Tip: If you face any difficulty in the alignment of dates and company details to make them fit under the same lines, no need to worry. You can always use our Online Resume Builder to process the resume quickly and align the details in place in an easy manner.
Company Description
The recruiter with just 6 seconds in hand is a poor chap. We need to give them a benefit of doubt.
They have a gazillion of professional resumes and multiple applications on their desk as they start the day. With such a lot of their heads, it is nearly impossible to spare any more time to go through details in depth.
Here, it is our duty now that we make the job of the recruiter easy. Hence, it is really needed that we give them with a brief one-line company description for all our work experience.
After all, how and why would the recruiter know which company were you working at and what does it deal with? This is a lot to expect from them.
Ok, I get it if it is a brand. But come on, being sensible here, we cannot expect them to know of each existing brand on the face of the earth. Given that now everyone calls themselves a brand.
Also, look at it this way, the recruiter sees your warehouse worker resume but all the warehouse resumes they have been through before coming to you, have a company description under every work experience and yours don't?
Rings a bell? You lost a point here.
And the question stands that why would you want to miss it in the first place?
The description of the company in your warehouse worker resume also carries a positive impression on the recruiter proving that you value the worth of the companies that you work with.
Any kind of numbers or a related entity that quantifies something gets imprinted on the recruiter's mind.
Words are all the same (I hate saying that) but the numbers are what provides the real value in a warehouse resume.
The most exotic way to describe the company where you worked earlier or are currently working in, is by providing figures around the current revenue of the company and the number of employees associated with it.
This not only provides the recruiter with an idea about the company but also proves your stature of not being just any normal candidate in the lot.
Start Date and End Date
The more important it is to correctly align the date, the more it is important to mention the joining and resignation date from a company.
This is important as it provides the recruiter with the stability factor they are looking for.
Mentioning such details provides the recruiter with the insight in how long did you serve the company you were working with.
Let your mind not divert from the point that we are working to give the recruiter a sigh of relief by making their work easy and smooth.
The poor recruiter should not feel perplexed with the information in the warehouse worker resume or get aggravated by it. That would be a wrong move.
Moving forward, the exact date of joining is something that not everyone remembers, especially when a person is working in a company for a long time per say 18 years or so.
That is why the date of joining is not something which is important to be put on a warehouse resume. The most accepted format is that of the month of joining followed by the corresponding year, going on to the month and the corresponding year of resignation.
Also, it is only appropriate to mention the first three letters of the month and the last 2 digits of the year in the month & year format.
Reverse Chronological Format
Reverse chronology is the most basic and widely accepted format from a long time dating back to starting ages of employment industry.
Pick even the oldest of the warehouse resumes you can find. In each of it, you would see that the most recent work experience is always at the top.
This is further followed by the other jobs that you have done previously.
There are 3 particular reasons to this as to why a warehouse resume should be in the reverse chronological order:
Global Acceptance.
ATS compliance
Serves considerably as an easier job for the recruiter to scan.
Numbers are Important!
Being a warehouse worker you must have resolved a number of customer complaints or you definitely have provided troubleshooting solutions to the clients.
And you must have documented details of every customer on a daily basis.
We understand. But you need to put yourself in the shoes of the recruiter and think for yourself.
Will they understand?
A recruiter will only get to know the worth of your contribution only if you provide some potential figures to display that information via the help of numbers, percentage, ratio etc. Words are not your real friends here.
Grammar is important too!
Always put all the one-liners by beginning them with a power verb.
Every point should be in the present continuous tense for the current company (except the key achievements bucket)
Moving downwards, for all the other work profiles you were in previously, the one-liners should begin with a power verb with all the lines in the past tense.
To take an example, for your current work experience you would say:
Responding to client accounts questions including billing and field service requests.
Troubleshooting hardware, peripherals and software issues and making appropriate recommendations.
For the company you have worked earlier, put them as:
Responded to client accounts questions including billing and field service requests
Troubleshot hardware, peripherals and software issues and made appropriate recommendations
Just For a Reminder!!!
Key Achievements section will always be in the past tense as it portrays something that you have already achieved.
To learn more about this sectiom, read the Resume Professional Experience Section Guide.
Have a glimpse at the below given warehouse resume sample to see how to make the professional experience section:
Warehouse Resume: Education
After the work experience section comes the education section where all your academic information is to be put.
This also should be put in the reverse chronological order just like that in the work experience. Your recent education should be on the top followed by the course you took earlier.
Here, one important factor that you should be concerned about is that a standard warehouse worker resume is only 2 pages long. No need to fit in all the projects and other irrelevant details here.
If you have achieved anything remarkable during your academic tenure, that information can be separately put under the section of 'Awards & Recognition'.
To learn more about this section, check out our Education Section Guide.
See the below given warehouse resume example to get greater clarity on how to make the education section:
Warehouse Resume: Certifications & Training
The kind of competitive world we live in today, certifications have a crucial role to play.
There is a gamut of certifications for a professional help desk profession to acquire.
More the number of certifications portraying your diverse skills set, more is the chance of you getting shortlisted.
The most appropriate way to go about mentioning your certifications is to put it under a separate section in the warehouse resume.
Mention the certifications with the respective authority providing it and the year you received it in.
Although I believe you are intelligent enough, even though just to keep you off any perplexity, allow me to tell you this-
TRAINING AND CERTIFICATIONS ARE TWO DIFFERENT THINGS!
Don't you ever think that after the end of every training you are handed with a certification? No No No!
So in case, if you have taken certifications and also have undergone training, make it a point to put them together under the "CERTIFICATIONS AND TRAINING" section.
We are working to resolve the recruiter's problems rather increase them.
Are you still under confusion? Do you want to know more about the format in which the certifications should come? This is the solution: Guide on Certifications List on a Resume.
Hiration Pro Tip: For better coherence and to create a huge impact:

Align this section in the warehouse resume, just below the education section.
Reverse Chronology is the best way to go!
Highlight the important phrases with BOLD.
Warehouse Resume: Awards and Recognition
This section is what we were talking about earlier. Any remarkable achievements of yours during your college time or prior to that while working for an organization will come here.
This includes any title you received in any work profile for your excellence or any academic pursuit of yours.
But remember, this should also be something which strengthens your warehouse worker resume. Align it in that manner and avoid unnecessary details.
Follow reverse chronological order, mention the event or the competition you won the award for, followed by the year in which you got it.
Warehouse Resume: Co-Curricular Achievements
This is the second last section in the warehouse resume.
Yes! That's right! You are just there at the edge of completing your professional warehouse worker resume.
This section of your warehouse resume contains all the details of any achievements that you secured outside the work proficiency arena.
Everything from sports to extra- curricular activities, if you have anything, just put it here.
Warehouse Resume: Additional Information
The End is Here!
This is the last section. You made it. A pat deserving performance that was.
This section includes all the other information like languages, hobbies, interests in general etc.
And you are done!
Warehouse Resume: Bypassing the ATS
ATS is an abbreviation used for the Applicant Tracking System.
Now, this particular software is designed to help the recruiters.
How? Let me tell you.
ATS is a specially designed software which oversees the first round of rejections before the shortlisted resumes could reach the recruiter for manual shortlisting.
As per the data received from a recent research conducted, more than 75% of the company's recruitment involve the usage of ATS to prevent any assorting headache.
So to reach a human recruiter's desk, your warehouse resume needs to cross this so-called hurdle of a machine.
Don't you worry, child! We have got a plan for you.
Let us see what all can be done to win over this machine software.
ATS works on keywords
An ATS works based upon a specific list of keywords which are fed to it manually by the employer.
Now, these keywords are nothing to be afraid of. They are just some bunch of words used in certain job descriptions or are some industry-specific jargons and terms.
So what you got to do about it?
Put those keywords in your warehouse worker resume and just get over that machine. (Huh, thinks it can beat a human laugh)
Did it make you recollect the research that we asked you to conduct in the beginning?
Tailor your warehouse resume to your target job
Let's face it, you are probably going to make just one warehouse worker resume and that would be it.
But the point is that you cannot use it for every company or any job there is.
A warehouse resume prepared on a pre-defined pattern will only get you a few numbers of interviews.
But, if you really are passionate about your work and want to reflect an outstanding persona, the warehouse worker resume that you are making should be tailored in a way that it fulfills all the requirements of the targeted company.
And believe us when we say that, this is something you don't need to write a lot of warehouse resumes for.
All you have to do is use the research that you did earlier as mentioned at the beginning of this article. Just tweak the warehouse resume skills section and the summary to incline it towards a particular job description.
This is the only reason why you start anything, a thorough research is something we also focused upon, in the very beginning.
Research plays a crucial role to help you make a warehouse worker resume for yourself.
Formatting a warehouse resume
As per the industry standards, circular bullets are the most professional symbol to use in warehouse worker resume while putting up a point and not anything arbitrary. ATS is also designed to scan only these bullets.
Use a plain open sans font with a font size not less than 10 points. It should be good to be readable for the recruiter. Use fonts such as Calibri, Arial etc.
Reverse chronological order is the only way to put the dates in the proper order.
No Abbreviations
The profile you are targeting for, incorporates a lot of technological jargons in relation to software, product details etc.
To keep your warehouse resume full proof and avoid any discrepancy, it is advised to use full forms even if this means expanding even a long abbreviation and you can write out the abbreviated thing in a bracket to make it understandable for the recruiter.
Actually, why it is recommended to do so because none of us knows how the ATS is actually designed. It may have been fed with the information of eliminating the warehouse worker resume with a lot of abbreviations in them.
Key Takeaways
Put all the key skills in the warehouse resume in accordance with & keeping in mind the ATS compliance and other important factors.
The professional summary should bring out your assertive nature and should be in the range of 3-5 lines.
Follow a reverse chronology for each section from work experience to education and certifications.
To end with, Say NO to abbreviations.
Hang on for a minute, this is not where it all ends. You made your warehouse worker resume and that is it? (You really know nothing, Jon Snow! sigh)
To fight a battle and win it first you need to indulge yourself in one.
Want to create a warehouse resume by yourself?
Go to Hiration Resume Builder tool and pick from 20+ professional resume templates to create an impeccable warehouse resume.
All the best in your endeavors, you sweet summer child!
In case you are facing any query, send a raven to team@hiration.com. The Grand Maester would be more than happy to help you through it.