Let us make you smile with some funny resume memes.
A day in a job hunter's life includes everything- from writing a resume, writing cover letters, filling up job application forms, and following up with the hiring managers. And it can be quite stressful. We get that.
No matter how many jobs you are applying for, you need to make separate documents for each company. It is quite a nerve-wracking job.
Well, we have some news that may help you cope. In the USA alone the unemployment rate is 6.3%. That means almost 10 million people are going through what you are going through right now.
So, keep calm and give yourself a break with a quick laugh.
Mark Twain once said—
"Against the assault of laughter, nothing can stand."
With the concept "laughter as a stress relief" in mind, we have searched the web for the most funny resume memes to make you smile.
Enjoy this list of 19 resume funny memes that we have specially curated for you.
Perfect Use of "Keep Your Cover Letter Short"
What can we say? This is the hilarious resume pun example of our advice "keep your resume cover letter short."
But in reality, this might be a slight exaggeration. Yes, you need to keep your resume cover letter short. But at the same time, it needs to be professional, formal and grammatically correct.
When You Lie on Your Resume
This "when you lie on your resume meme" paints a hilarious picture of what happens when you lied on resume.
Everyone lies on their resume a bit.
But make sure to minimize your lies, or it will make a false impression of you, and you will face problems down the road.
It's Not What You Do, It's How You Tell It
These two funny resume memes are the classic example of how candidates converts basic skills and responsibilities into a nice and impressive format in the resume.
And, the best part is, it's not technically wrong. Recruiters prefer to see certain phrases and keywords on the resume. And that's why candidates use it on their resume.
Problems arise when candidates overuse it on their resumes.
So make sure to be mindful of how you describe your skills and achievements on the resume.
Also read: What are the power verbs best suited for a resume?
Formal or Informal Email, That Is the Question
There is a lot of confusion between candidates on what email address to use in their resume?
And this resume meme perfectly describes what you should do.
Your personal email address may be anything like, johntherock@gmail.com john.doe123_@gmail.com etc.
But you should not use these email addresses on your resume. Instead, create a separate professional resume with only your name, such as john.doe@gmail.com and include that email address on your resume.
Why Put All the Resume Information on the Job Application Form, Again?
This meme is a classic resume jokes of the age-old question of job seekers:
"Why should I put all the information again on the job application when I'm providing you with my resume?"
Let us give us the answer. Recruiters get 100s of resumes a day. And it isn't easy to open each resume, read and sort them out. That's why they ask you to put all your information in a job application form.
This application nicely sorts all the candidates' information in a single sheet, and recruiters can quickly sort the candidates without wasting time.
That Time When Your Resume Does Not Portray What You Say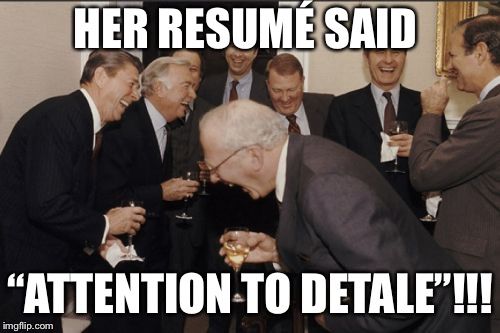 This is a hilarious resume meme perfectly portrays how you should not include unnecessary skills on your resume. It will not be a deal-breaker if you don't have a particular skill, because you can quickly learn it.
But, it will not look good in your resume if the interviewer finds out that you are lying about your skills.
This funny resume skills meme also reminds you to always do a proper grammar check before sending the interviewer's resume.
Gap in Resume? Oh My God!
This meme sarcastically integrates the current job scenario in 2022 after the pandemic with a little pun. In the USA alone, almost 20 million people lost their jobs because of the pandemic. And it certainly reflected on their resume when the job market is opening again.
However, here is a little tip from our side. Do not make any excuses for your resume gap. Instead, explain the situation to your interviewer. If the reasons are proper, the interviewer will not reject you because of the career gap.
Also read: How to explain a career gap in your resume?
Highlight Achievements: Yes or No?
Freesume has created a brilliant resume meme cartoon on how not to over exaggerate your skills and achievements in your resume.
Everybody highlights their skills and work experience in their resume. And it is essential to know what to highlight and how much to highlight. For example, you certainly can not say that you have experience in specific tools for five years when the tool is around for only three years.
Short and to the Point Resume: On Point!
What better way to make your resume short and to the point than this?
On a serious note, do not make your resume too much straight forward like this resume meme. Make sure your resume has all the essential information:
Professional Summary
Technical Skills
Key Skills
Certification
Projects
Professional Experience
Education
Extra/Co-Curricular Achievements/Additional
Be Truthful or Lie?
This resume meme accurately calls the candidate's dilemma to give accurate information on a resume or lie slightly to get an initial advantage.
But you need to remember that, the incorrect information on your resume might get you the interview. Still, the interviewer can easily figure out if you are telling the truth during the interview. And it can lead to rejection.
I Have Nothing to Say
This resume meme is a sarcastic example of what happens when you don't prepare for your interview.
Moral Dilemma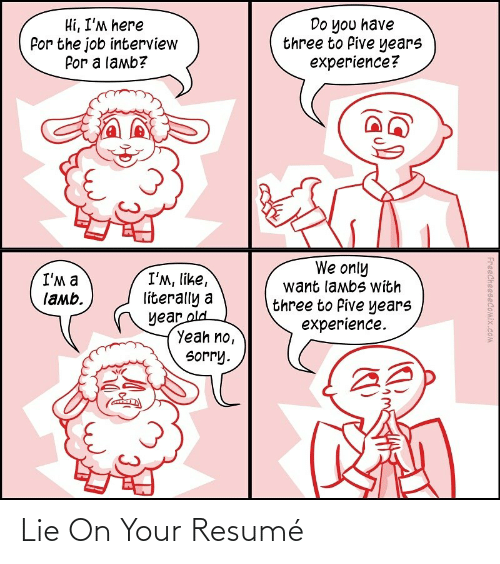 In the previous section, we told you that you should not lie to your resume. We still stand by the statement. But this resume meme perfectly articulates how the unrealistic industry expectations sometimes force you to lie.
That is also why we always advise students or job seekers to do as many internships as possible with studies. It will make you job-ready and help you crack any interview.
When Your Resume Feels too Short
We all are guilty of this, aren't we? You started creating your resume and after finishing it, it doesn't feel impactful!
So, what do you do? You start adding random funny resume skills on your resume.
The truth is, recruiters only care about skills related to the job profile. Apart from that they will not consider any other skills that directly or indirectly do not add value to the job responsibilities.
In fact, sometimes too much unnecessary skills may distract the recruiter, and they might miss the essential skills they are looking for.
So, make sure to stick to the key skills, and if you want to highlight other skills, you can include it in the cover letter.
Also read: What are the skills to put in your resume in 2022?
When You Know You Made a Great Resume
Writing a resume is challenging. We know that.
But it also makes the feeling of writing an excellent resume really special. Every resume is a gateway of opportunity, and with writing every resume, you are continually creating new opportunities for yourself.
Resume References Make Everyone Cry
This is a hard truth wrapped up in this funny resume meme. It is difficult for the job seekers to find trustworthy people to be their reference. That is why many job seekers put their parents or friends or relatives as their reference.
It is also pain or sometimes frustrating for the interviews to see these inappropriate references on a resume.
Also read: How and when to add references on a resume?
Resume as a Word Document- Be Careful
If you send your resume in a word document to the interviewer, this resume meme accurately portrays why it is not a good idea.
Every person uses a different version of MS Word. And the alignment in the word document varies from computer to computer. You may perfectly align your resume in your system, but it may not open correctly on the recruiter's computer.
So, always make sure to send your resume in a PDF format to the recruiter.
Also read: What are the pros and cons of a resume in word format?
Online Resume Builder
Meanwhile, if you want to create ATS-optimized and professionally designed resumes, go to Hiration Online Resume Builder and choose from 15+ design templates to create one for yourself.
Option to save unlimited resumes
Intuitive next text suggestion
Auto bold feature
25+ resume designs
LIVE resume score
JD-resume matcher
Full rich-text editor
Unlimited PDF downloads
100+ pre-filled resume templates
1-click design change
A sharable link
LIVE resume editor
Go ahead and try our Online Resume Builder and experience the professional resume-writing experience like never before!
Comics Sans Resume Font: You Are Playing with Fire
What font are you using on your resume?
Is it Comic Sans? Then you are playing with fire.
You need to use a professional resume font on your resume. These fonts are simple and easier to read. Also, make sure to keep the font size between 12-14 so that recruiters can easily read it.
With that, we have come to an end of this collection of resume memes. Hope you had a good laugh while also learning some valuable tips.
Also read: What are the font styles to choose for resume writing in 2022?
Resume Review Service
With that said, if you want to get your resumes reviewed by professionals, simply upload it on our Online Resume Builder and get insights from professionals on what changes you can make in your resume to make it shortlist-worthy.
Our experts will review your resume in compliance with the following parameters:
Content Relevance
Recruiter Friendliness
Design Compatibility
Conversion Scope
ATS Compliance
Global Compatibility
Performance Assessment
Resume Formatting
Compliance with industry norms
Make the best use of our Resume Review Service today!
Go to Hiration career platform which has 24/7 chat support and get professional assistance with all your job & career-related queries.
You can also write to us at support@hiration.com and we will make sure to reach out to you as soon as possible.