Click here to directly go to the complete Public Health Resume Sample.
Is the healthcare industry the correct career option for you?
According to a survey, employment in healthcare occupations is projected to grow 16 percent from 2020 to 2030. It means that you will find employment opportunities more easily and enjoy more career opportunities in the future.
Getting shortlisted for an interview is the first step to kickstart your career in public health, and how are you going to grab that interview?
By drafting an exceptional healthcare resume that will hold the recruiter's attention.
Good public health resumes are written evidence of your candidacy highlighting how your professional experience, skills, achievements, and qualifications match the job specifications.
Being in the public healthcare sector, one is accountable for identifying and solving community health issues. Healthcare professionals must be familiar with statistical software and health information management systems to analyze and address public health problems.
If you are passionate about helping people, working in the healthcare industry can be a rewarding career for you.
This guide will run you through a few actionable ways to showcase all the job-relevant information in the healthcare resume for various public health career options.
Read on to get an understanding of some frequently asked questions on healthcare:
Log in to Hiration's Online Resume Builder to build a kick-ass public healthcare resume. Check out the 25+ pre-designed resume templates and sample job resume examples for a hassle-free resume writing process.
Tips to Start Your Career in Public Health
To grow professionally, you need to keep yourself updated with all the job trends in the related field and ensure that you gain the required experience and skills along the way.
Get a Degree
The educational qualification required for public health jobs is widely varied. A basic bachelor's degree in public health is required for an entry-level job while some jobs require you to have a master's degree or a specific degree in a specialized area of public health to get into higher-level positions.
Involve Yourself in Public Health Work
While being a student, you can volunteer for organizations to enhance your public health skills. It will help you network in the healthcare industry and also improve your resume. You can get involved with public health professors and student groups on the campus for research and outreach roles to hone your skills.
Get an Entry-level Job
Make an industry-standard healthcare resume to showcase your educational qualifications, skills, certifications, etc. perfectly in your healthcare resume. Network with people in the industry and read the job descriptions thoroughly before applying for any jobs to get your foot in the right door.
Healthcare Resume Sections
Each resume section serves a different purpose. Based on the career trajectory, make the resume sections in the order mentioned below to reflect the required information in the best possible way.
Header
Personal Information
Profile Title
Summary/Objective
Key Skills
Professional Experience
Education
The below-mentioned sections are optional and should be included when necessary.
Certifications (if any)
Awards & Recognition (if any)
Additional Information (if any)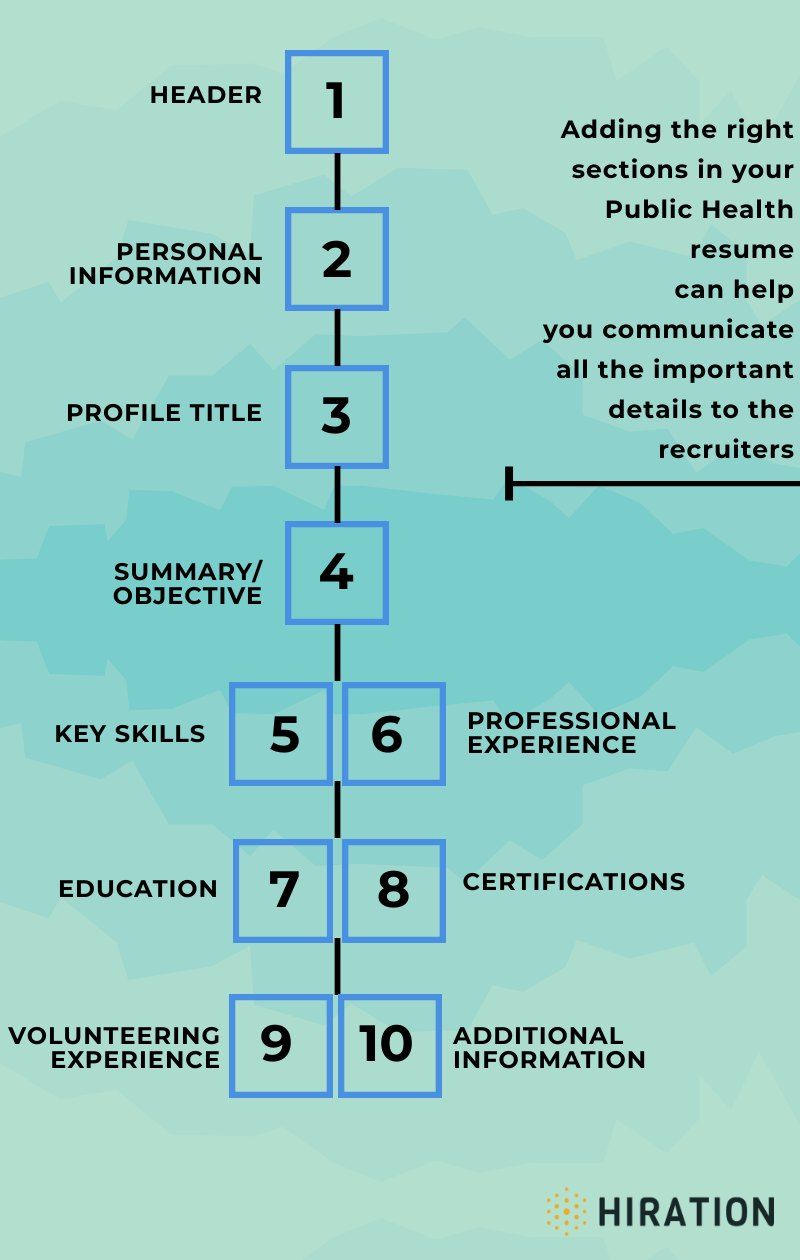 Public Health Resume Summary
A resume summary is a professional statement at the top of your resume highlighting a job seeker's skills and experience to showcase how they meet the job requirement.
Read the below-mentioned points to draft a perfect professional summary for your resume:
PRACTISE THIS:
Write the public healthcare resume summary in paragraph format
Mention the job title with years of experience
Describe your experience and core expertise in the minimum words possible
Establish a cause and effect relationship in each line
AVOID THIS:
Exceed the resume summary to more than 4-5 lines
Mention information that is not so relevant to the job profile
Focusing on previous work experience rather than current
Exaggerate your achievements or mention any information that is not true
Public Health Resume Summary Sample
Read the healthcare resume summary sample to draft a perfect summary for your resume-
5+ years experienced community health professional possessing diverse experience in offering services in various community service programs to improve overall healthcare. Adept at preparing reports and managing documents while providing constant support as part of promoting a healthy lifestyle. Skilfully managing health and wellness programs to ensure optimal public health.
Public Health Resume Objective
Below are a few reasons when you should curate a resume objective for a healthcare resume:
If you are a fresher
If you have career gaps
If you are changing careers
If any of the above reasons resonate with you, you must write a resume objective rather than a resume summary.
What is a good objective for a resume?
If you were wondering how to write an objective for a resume, below is a resume objective sample to help you write a perfect resume objective for your healthcare resume.
Meticulous and result-oriented public health undergraduate skilled at delivering excellent healthcare services to clients. Seeking to obtain a public health nurse job position at a value-based organization to utilize the acquired skills and learnings.
Healthcare Skills to Showcase in Public Health Resume?
Getting a public health degree is just not enough if you have not cultivated the skills required in the healthcare industry.
Make your public health resume ATS-friendly by customizing the skills section as per the job description. Make sure that you add healthcare skills if you genuinely possess them.
Read the below-mentioned tips to curate the resume skills section:
Read the job description to understand the public health job requirement.
Analyze your past work experiences to identify the crucial healthcare skills you possess.
Find the common skills required by new employers and the skills you possess
Amplify your chances of getting shortlisted by prioritizing the expected skills.
Public Health Key Skills
| Key | Skills |
| --- | --- |
| Clinical Operations | Health Program Formulation |
| Patient Care | First Aid |
| Medical Record Management | Staff Management |
Public Health Technical Skills
| Technical | Skills |
| --- | --- |
| WebMD | Epic EMR |
| Kareo | MediTouch |
Public Health Resume Education Section
A bachelor's degree in healthcare or a related discipline is always preferred for public health professionals.
Mention the details provided below while writing your educational qualifications-
List the name of the school/university you have attended.
Mention the name of the courses you have pursued.
The location of your school/university in 'City, Country Code' format.
Mention the month and year for both enrollment and graduation.
Also Read: How to curate the details of your education on a resume
Other Sections For Public Health Resume
Apart from the sections explained above, there are other crucial sections you must add to your healthcare resume.
Professional Experience in a Public Health Resume?
Read the following points to draft a perfect public health professional experience section:
Write one-liner bullet points to describe your past contributions and achievements.
Start each bullet point with a suitable power verb that perfectly describes your work role.
Establish a cause and effect relationship in each line by showcasing the results/outcomes of your actions.
Provide numbers to highlight your key achievements in prior job positions.
Highlight relevant important words and numbers for the recruiters to notice your accomplishments.
Also Read: How to curate a perfect work experience resume section
Public Health Resume Header
Read the below-mentioned points mentioned to curate a perfect header section for your healthcare resume:
Write your full name instead of writing a CV or resume.
The font size must be 16-20 points.
Write the initials followed by a full stop if you have a middle name.
Also Read: The perfect way to draft the resume header
Personal Details & Profile Title for Public Health Resume
Both personal details and profile title are incredibly crucial for your resume.
While the profile title tells the employer for which job position you are applying for, the contact details are required to contact you in case the employer needs any further information about your candidacy, or they may decide to do a telephonic interview.
A font size of 14-16 points is recommended for any healthcare resume profile title
The following details should be added to your healthcare resume:
Your phone number.
The location in the 'City, State Code' format.
Your professional email id.'
Have a look at the example below to understand what exactly are we talking about:
Certification Section in Public Health Resume
Create a separate 'Certifications' section to your public health resume and add the following details of relevant healthcare certifications:
Name of the certification/course name
Name of the certified authority
Mention dates for both enrollment and course completion
Also Read: How to add details of your certifications on a resume
Additional Sections For Healthcare Resume
Add the following sections if you have space in your public health resume.
Volunteer Experience: Include the name of the organization you volunteered for along with other details, including its location, the time period, followed by a bulleted list explaining your contributions & and key accomplishments.

Additional Information: In this section, you can mention your hobbies and languages known. But make sure that you add only the relevant details that add leverage to your healthcare resumes.
Public Health Cover Letter
A cover letter is a one-page document submitted to entice the hiring manager to read your resume.
To serve the real purpose of a covering letter, it is crucial to customize the public health cover letter for every organization you apply to.
Wondering how to go about it? Read the points mentioned below:
Write your full name and contact details at the top of the cover letter.
Address the cover letter by the hiring manager's name.
In the first paragraph, briefly mention how you came to know about the job posting and express your interest in the opportunity.
In the second paragraph, mention your qualification, skills, and achievements relevant to the job opportunity.
Mention what it is about the company that entices you to apply for the opportunity. This is where customizing a cover letter becomes crucial.
In the last paragraph, write a call-to-action by requesting a telephonic interview or a meeting in person to discuss the opportunity further.
End the public health cover letter with a professional sign-off and your full name.
Ensure that your public health cover letter is one-page or less in length.
Healthcare Resume Samples for Job Application
Key Takeaways
Read the job description thoroughly to understand the job requirements and find keywords to make your resume ATS-friendly.
Add resume sections as per your career trajectory to include all the relevant information required for the job.
Provide achievement figures to showcase the depth of your contributions.
Pair your public health resume with a personalized cover letter.
Go to Hiration resume builder and create a professional resume for yourself.
Additionally, reach out to us at support@hiration.com and you can get 24/7 professional assistance with all your job & career-related queries.