How to write a machinist resume in 2023?
[Click here to directly go to the complete Machinist Resume Sample]
Your Machinist resume is the first official document that a hiring manager reviews, and it sets the first impression on the prospective employer about you.
According to LinkedIn, 6 seconds is the average time spent reading a resume. Therefore, your resume must be neatly formatted that reflect your skills and qualifications that catch the recruiter's attention at first glance.
Confused where to start from? Do not fret. In this guide, we will guide you through the basics of writing a machinist resume for your dream job that will immediately get the hiring manager's attention.
Hook yourself in our 2023 guide to help you create the perfect machinist resume and create one machinist resume for yourself.
In case you want the summary of our machinist resume guide, here it is:
Suitable keywords should be used to customize your resumes as per the targeted job profile that you are applying for to help you pass the ATS test.
Providing phone number and professional email id in your resume is a must as it is the only way for the recruiters to get in touch with you if you are shortlisted for the interview.
Provide an overview of your resume by composing a compelling resume summary/objective to highlight your career achievements.
Group similar bullet points under a relevant subheading and highlight the important words and phrases to increase the readablility of your machinist resume.
In this guide, we will cover the following topics in detail:
In the meantime, go to the Hiration's Online Resume Builder and let us help you create a perfect machinist resume. In case if you want to make your machinist resume all by yourself, then hook yourself to our guide until the end to help you create the perfect machinist resume all by yourself.
What Is a Machinist Resume And Why Do You Need It?
The machinist resume is a formal document that you, as a job applicant, need to itemize your qualification for a position. Typically, your resume must be accompanied by a customized machinist cover letter as well to express your interest and enthusiasm for the job role.
Use your machinist resume to present detailed information about your relevant experience and skills in as short a space as possible. An ideal length of a resume is one page, or it can extend to a maximum of 2 pages.
A resume helps you sell your skills to the hiring manager by demonstrating your actual value to the employers. If done right can get you the job as well.
According to Jobscan, over 98% of Fortune 500 Companies Use Applicant Tracking Systems (ATS) to filter resumes based on the requirement of the role. Therefore, it is imperative that your machinist resume is ATS friendly, at least to make it to the hiring manager's table.
Turn to our online resume builder to create your machinist resume and a cover letter in compliance with industry norms. With our impressive features and 25+ designs, we can help you make an ATS-friendly machinist resume that draws the attention of the hiring manager.
Meanwhile, if you are a young professional, or do not know how to write a resume, follow Hiration how to write a resume guide to understand the basic principles of writing a professional resume.
Machinist Job Description
Machinist is a highly technical line of work and is responsible for producing and processing parts. Your machinist resume must include your experience in operating different types of machines and other vital information that apply to the job position you are seeking.
Steps To Follow To Beat The Bots
Step 1: Read and analyze the job description of the position you are seeking
Step 2: Write your machinist resume job title as mentioned in the job listing
Step 3: Tailor your skills in your machinist resume to the keywords in the job description
Step 4: Include the location in your machinist resume as required for the job position
Reading the machinist job descriptions carefully is crucial to curating your machinist resume that is ATS friendly by including relevant keywords in your resume. Pay special attention to job title, job requirements, roles and responsibilities, and location in the job description.
Include all the skills, key achievements, and experience you have held in the past that match with the job description. You must customize your resume to every job position you apply to before sending it to the hiring manager.
Machinist Salary
According to Indeed.com, the average base salary in the United States job market is $21.64 per hour.
According to Salary.com, the average machinist salary in the united states is $44,970.
According to Payscale.com, the average base hourly rate in the united states is $20.01.
What Are The Different Machinist Resume Formats?
Which type of machinist resume format is right for you?
There are three standard resume formats you can choose from while crafting your machinist resume. The resume format you choose must help you make an organized and professional machinist resume.
Your resume format determines your first impression and how the recruiters and the hiring managers view your candidacy. Let's have a look into the three common three types of resume formats:
Reverse chronological: This is the most classic and most used resume format. A reverse chronological resume lists your work experience in a reverse chronological order, which means your most recent work experience is written first and then works backward.
Functional: The functional resume format is skill-based. What differentiates functional resume format from reverse chronological resume format is that it focuses more on your skills than your work experience.
Combination/Hybrid: The hybrid resume format, also known as the combination resume format, is a mix of reverse chronological and functional resumes. This is used to highlight the skills and work experience as desired to detail the career trajectory.
Note: Whether you are a recent graduate or have a years of experience as a machinist, always choose a reverse chronological resume format to make your machinist resume. Choose a functional resume format if you have significant gaps in your work history to focus more on your skills.
What Are The Resume Sections That You Must Include In Your Machinist Resume?
Here are the key sections of a Machinist resume. Your resume sections must be readable friendly for both human readers and the applicant tracking systems (ATS). You must follow the best practices for these resume sections and ensure that all the information is included in the specific section.
Header
Personal Information
Profile Title
Summary / Objective
Key Skills
Technical Skills (if any)
Professional Experience
Education
Certifications (if any)
Awards & Recognition (if any)
Additional Information (if any)
Few writing tips to make an awesome machinist resume before we learn each resume sections in detail:
Look for keywords in the job descriptions to understand what the employer is looking for in a candidate. Do not waste your time applying for a job position you are not interested in.
Choose the best resume format for your machinist resume that strikes the perfect balance between your experience and targeted job profile.
Use a professional font that is easy to read and understand. Using a font size between 10 and 12 points is recommended for your machinist resume.
Prioritize the essential information first. Include only the information in your machinist resume that is relevant to the job position you are applying for.
Only include the relevant resume sections and subheadings. Whether you're using a resume template or creating on your own, there are some resume sections you do not need. For example, either you need a resume summary section or a resume objective, but you should not include both.
Follow the Hiration's Resume Key Section guide to get a more clear understanding about the sections of a resume.
Alternatively, you can go to the Hiration's Resume Builder and select from the library of 20+ professional templates and tweak them to create a banquet server resume.
Machinist Resume Sample
5+ years experienced machinist armed with a prolific track record of operating industrial machines with varying complexity. Possess diverse experience in managing repair tasks, reading and interpreting blueprint, inspecting product quality, proposing improvement suggestions to optimize production efficiency, and catapult business growth. Adept at deploying quality assurance tools and verifying dimensions and alignment of products in compliance with the companies policies and instructions
Technical Skills: CAD, CAM, Microsoft Office
CNC Machinist Training Program | Universal Technical School | Boston, MA | '20

EPA Amusement Operators Safety Certification | Zippia Institute | Boston, MA | '18
PROFESSIONAL EXPERIENCE
Start typing, then use the up and down arrows to select an option from the list
Received '

Employee of the Year Award

' for outstanding performance and timely completion of assigned tasks
Quality Inspection & Issue Resolution
Conducting product quality inspections while identifying and

recommending

process improvement

suggestions

Performing mechanical maintenance and repair tasks to enhance

equipment

operational reliability

and functionality by

20%

Diagnosing & troubleshooting the root cause of malfunction of industrial machines while ensuring

95% precision
Machine Operation & Quality Assurance
Operating press, drill, saw, and

deburring machines

to fabricate parts while adjusting machine controls as required

Implementing

equipment maintenance

plans through coordination with management, engineers, and materials staff

Deploying micrometers and other

quality assurance tools

to assure that the parts are within product specifications
INTERNSHIPS
Start typing, then use the up and down arrows to select an option from the list
Blueprint Reading & Process Improvement
Rendering assistance in analyzing and

interpreting blueprints

as part of verifying dimensions & alignment of finished products

Delivered assistance in

cleaning

the

machine

between cycles to streamline the production process and foster higher workplace morale

Assisted engineers and technicians in

mission-critical projects

while ensuring compliance with policies and procedures
Tools Selection & Verification
Deployed

precision measuring instrument

to verify dimensions of machine parts within the stipulated time frame

Maintained machine setup information documents including

CNC software

, machine programming, and program updates
EDUCATION
Start typing, then use the up and down arrows to select an option from the list
Precision Measurement | Blueprint Reading | Lathe and Milling Operation | Manufacturing Math | Quality Control
Start typing, then use the up and down arrows to select an option from the list
What Is A Header In A Machinist Resume?
As the name suggests, a resume header is the heading of your machinist resume and will be the 1st thing to be noticed by a hiring manager. Ensure that you include all the vital information in the header for what it is meant to be.
Let's understand how should you design your machinist resume header:
Avoid the age-old practice of writing a CV or Resume as your resume header. This practice takes away your chance of customizing the resume from the beginning. Avoid it at all costs.
Instead, write your full name as the resume header. It will help the recruiter recognize your resume, among other resumes.
The resume header font must be written in a size range of 16-20 points.
Always leave a single space between the first and the last name.
For middle name, only add the initial of the middle name in the resume header.
For example: If your name is Kenny Zakir Philippines, you should write in your resume, Kenny Z. Philippines.
Below is an example of a machinist resume header curated in our online resume builder
How Should You Write Your Personal Information Section In A Machinist Resume?
The personal information section in your machinist resume includes some of your essential details, such as contact number, email address, location, etc.
You should proofread multiple times to avoid the chances of overlook or misspelling your details in your machinist resume, as this may cost you the job.
Let's have a look into the necessary personal details required for your machinist resume:
Your mobile number that works 24/7
Professional email address
Location
Contact Number
Provide a contact number and make sure that it is active.
Write your contact number in this format: Add the country code without the brackets, add a space, then the 5 digits of your number, then another space, and then the remaining 5 digits.
Ensure that the number you put in your machinist resume is functional. Some people tend to miss out on many opportunities because the contact number provided in the resume was unreachable. Make sure that it doesn't happen to you, so be extra careful.
Email Address
An official email address holds as much importance as your contact number. It is also one of the ways for the recruiter to reach out to you.
Ensure that you do not provide any email address that is not professional as it can set a wrong impression about you on the hiring manager.
Below are a few examples of how your email address should look like in your machinist resume:
Hiration Pro Tip: Avoid using spammy-looking email id such as james.harry.9323#@gmail.com
Location
The location on your resume does not refer to your full address, street name, or locality name on a resume. Providing your complete street address is unnecessary as it is not important for the hiring manager while reviewing your candidacy for the job position.
When applying for a job in your current city or state, simply mention your location in the city, state format.
But, while applying for a job abroad, you have to enter your location in the city, country format.
Note: Your personal information doesn't include your physical characteristics, beliefs, or creed, such as your gender, religion, sex, etc. This information is irrelevant to the hiring manager.
You can add the link to your LinkedIn/GitHub Profile in your resume as well. Add your LinkedIn profile only when it is optimized and professional or else you can avoid it.
Thankfully, in the Hiration Resume Builder, we have implemented all these formatting rules required to create a professional resume. So, if you are using Hiraiton Resume Builder, you can make your machinist resume worry-free.
Take a look at the personal information snapshot to help you compose your machinist resume:
How To Write Your Profile Title In A Machinist Resume?
The profile title on your machinist resume is an essential part of the resume, like any other section in your resume.
It helps the hiring manager to understand your expertise level and experience.
A profile title should ideally include three things:
Your current designation.
Your functional industry.
Your seniority level.
Here are some few tips to help you frame a perfect profile title for your machinist resume:
Ensure that the profile title is the second-largest text in your resume after the resume header.
Use the ideal 14-16 font size to frame the machinist resume profile title.
Note: Make sure that your profile title is relevant to the job you're targeting and, in a way, bolstering your professional experience.
In the meantime, use Hiration Resume Review service to get your existing banquet server resume reviewed for creating a professional resume.
Below is a snapshot of machinist resume profile title to help you create an ideal profile title for your machinist resume
How To Create An Impeccable Summary For Machinist Resume?
You must write a resume summary if you have a few years of work experience in your target job profile. If you have work experience as a machinist, you can use the summary space to summarize your work experience and convey your expertise. In this way, you can frame yourself as an ideal candidate for the machinist job.
Below are a few points that should be kept in mind while framing a resume summary-
Curate a resume summary only if you have 3-4 years of relevant work experience
The resume summary should not exceed 3-4 lines. If you are a working professional with 10+ years of experience, only then it can be more than that.
Mention how you utilized your skill-set to achieve results in your previous company.
Use cause-effect methodology to frame your summary sentences.
Start your resume summary by mentioning the number of experiences you have.
Including quantifiable data in the resume summary will give the recruiter a nuanced understanding of your work.
If you want to learn more about resume summary, read our Hiraiton 2023 Resume Summary Guide to create an impeccable resume summary.
Below is a snap of a summary of a machinist resume to help you write an impecccable summary for your resume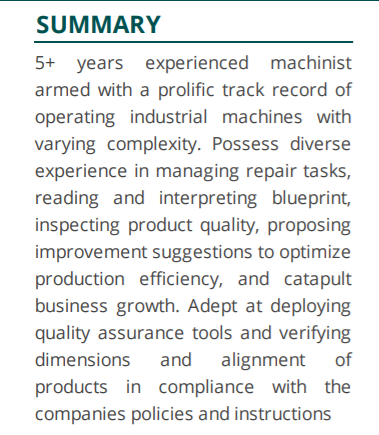 When Should You Create An Objective Section In Your Machinist Resume?
Confused, what is a resume objective? Let's discuss when do you need to write a resume objective in your machinist resume.
If you have no experience in the machinist job, you might ask yourself how you should create your resume, and this is where the resume objective comes in. If you have no or minimal experience, you must consider writing a resume objective than a resume summary.
Let's see who can use a resume objective:
Entry-level working professional
If you have below 3 years of experience in the targeted job profile
A person covering up long gaps in the resume
Someone who is shifting/changing industries
Now that you know who can use a resume objective, you should also know how to use a resume objective
Keep the resume objective 3-4 sentences long.
Explain how our skills set and experience can contribute to the growth of the organization.
Keep the objective section to the point
Use cause and effect methodology to frame your sentences.
Go through Hiration's 2023 Guide on Resume Objectives to understand how to create a perfect resume objective for banquet server resumes.
How To Write Your Skills In A Machinist Resume?
The skills section of a resume is ideally the best place to highlight and showcase your expertise as a machinist.
You should read the job description carefully and include keywords in your machinist resume skills section to raise the chance of your resume getting parsed by the ATS.
There are different types of skills that you can add in your resume to validate your potential to the recruiters.
Both technical skills and functional skills should be highlighted separately to ensure that your expertise in your professional line is defined accordingly.
You must be wondering how to add all these skills. Well, a lot of it depends on the profile you're targeting.
A machinist profile would require you to possess technical skills that can be used to execute the task that revolves around the profile. While also require you to possess functional skills to manage, organize, monitor, execute, etc.
However, if you have specific skills that aren't required but you think it will enhance your capabilities, you should definitely add them to the list.
Hiration Pro Tip: Do not add skills that you can't substantiate in your professional experience section. Bold all your key skills and separate them with a (•) to better highlight your skills.
For more information, go to Hiration 2023 guide on how to write key skills on a resume and read it.
Check out the ideal example of a skills section to help you create an ATS friendly machinist resume
How to Highlight Your Professional Experience In A Machinist Resume?
The professional experience section of your resume is the section you need to capitalize on. The section highlights your skills and your professional key achievements in bullet forms that are highly relevant for your targeted job profile.
The professional experience section must entice the hiring managers to know more about you and create the maximum chance for you to get shortlisted for the interview. You must ensure that you are not putting out any information in the professional experience section that is unnecessary and irrelevant to your targeted profile.
As resume professionals, we have developed a three-way process to create an impeccable professional experience section for a resume with our years of trials and errors.
Frame one-liner bullet points starting with power verbs to write your accomplishments
Use Bucketing & Bolding to emphasize key sections and accomplishments
Use the STAR format to structure the bullet points for maximum impact
Read on to understand how these three points work to create an impressive machinist resume for yourself.
Framing Points
Framing one-liner points makes your resume readable and understandable. Writing your professional experience in a paragraph format makes your resume difficult to read and incomprehensible.
The primary goal of your resume should be to improve readability. The method of framing one-liner points to list your professional experience is the most advisable and accepted way of presenting your professional experience in your resume.
Make it a point to start your bullet points with power verbs. Read our guide on resume action and power verbs to craft an impeccable professional experience for your resume.
Use achievement figures in your bullet points to give an approx idea to the hiring manager of your contribution in your past endeavors.
Bucketing and Bolding
What is bucketing and bolding?
Bucketing is the process of and listing down all the similar points under the relevant sub-heading. Bold important words, phrases, and numbers to highlight your skills and critical contribution in your resume.
When you list your similar points under relevant buckets, it helps to organize your experience and grab the much-needed attention from the recruiter.
Note: Put a maximum of 3-4 similar bullet points under one subheading and do not overbold. Bold only significant words and numbers.
STAR Format
Using the STAR format technique helps you highlight your accomplishments more effectively by creating a cause-effect relation that impacts the recruiter's minds.
The STAR stands for:
S stands for Situation, as in the situation you have executed the task.
T stands for Task, the task that was assigned to you.
A stands for Action, actions you undertook to perform the assigned task.
R stands for Result, The Results or outcome of your action.
Here is an ideal example of a professional experience section using STAR formatting
## How To Write Education Section In A Machinist Resume?
Education is a significant factor that decides your relevance and compatibility with the targeted job. Use the reverse chronological format while listing your degrees on the resume.
Keep the below-mentioned points in mind while formulating the education section of your resume-
Mention the name of your university first.
Provide the dates in (mm/yy - mm/yy) format for the graduation duration on the right side.
Mention the location of your university along with a short one-line description of it.
Mention the course modules and additional accomplishments/ certifications relevant to your targeted job profile.
Note: If you have above 3 years of work experience, you can remove 10th and 12th from your resume.
To get a better understanding of the education section of the resume, read Hiration 2023 guide on How to write education information on a resume.
Check out the education section snapshot to help you highlight your qualification in your machinist resume in the best manner possible
How To Curate Certifications Section In A Machinist Resume?
If you possess any certifications to prove your relevant experience, then do not hesitate to add this section to your machinist resume.
If you own machinist relevant certifications, it can not only increase your chances of getting shortlisted for an interview but also opens up a path for higher-paying jobs.
For all your certifications, follow this format:
Certification | Certifying Authority | Time Period
If you have a highly important certification for the job profile you are looking for, you must include all the course modules and topics you covered under the same in one-liner sub-bullets right below.
Get more details on how to craft a perfect certification section on a resume from Hiration's 2023 Guide on listing certifications on a resume.
This is how you should make a certification section in your machinist resume
How To Write Additional Information In A Machinist Resume?
Addition information is the last section of your resume. You can retain information such as hobbies, languages known, etc.
Listing hobbies relevant to the job and knowing multiple languages throws light on the productive aspect of your personality and gets you extra credits from the hiring managers.
Machinist Cover Letter
A machinist cover letter that goes with a well-framed resume can highly increase the chances of your job application getting shortlisted.
Send a cover letter along with your resume helps you to step up your job search game and help you stand out of the crowd. Consider sending a cover letter even if you are not asked to send one. Do not send a cover letter only when you are specifically requested not to.
Let's understand how should you design your machinist cover letter-
Your cover letter gives the recruiter a glimpse of your skills and achievements in a more personalized way.
Write short and crisp paragraphs. Readability is essential.
Do not exaggerate your achievements or say anything that is not true.
Frame your cover letter to showcase your interest and enthusiasm for the machinist job.
Make sure that you create a customized cover letter for every company you apply to.
Do not commit the mistake of sending a generic cover letter for every company you apply to.
Wondering how to create a machinist cover letter?
No worries!
Simply head to Hiration Cover Letter Builder and get assistance from our experts or simply pick any pre-filled sample and customize according to your needs.
Hiration Resume Review Service
Upload your existing machinist resume on our Online Resume Builder and let the resume-making professionals and experts help you with your resume.
Our experts will review your resume in compliance with the following parameters:
Content Relevance
Recruiter Friendliness
Design Compatibility
Conversion Scope
ATS Compliance
Global Compatibility
Performance Assessment
Resume Formatting
Compliance with industry norms
Make the best use of our Resume Review Service today!
Hiration's Online Resume Builder
The resources listed below comes with Hiration's Online Resume Builder:
Option to save unlimited resumes
Intuitive next text suggestion
Auto bold feature
25+ resume designs
LIVE resume score
JD-resume matcher
Full rich-text editor
Unlimited PDF downloads
100+ pre-filled resume templates
1-click design change
A sharable link
LIVE resume editor
If you want to create a professional Machinist Resume for yourself, Hiration's Resume Builder is here to help. Register yourself, and pick from 25+ highly customizable templates and follow our guidelines to create an impressive Machinist resume for yourself.
Key Takeaways
Always describe your professional experience in one-liner points and place them under relevant headings so that the recruiters can easily read and comprehend your points.
Bold words, phrases, or achievements figures in your one-liners to make it easier for the recruiters to identify your achievements and contributions right away.
State only your accurate profile title to maintain your professional identity.
If your resume has a space after you have included all the vital details, Include a one-line company description for each of your company including some figures around the number of employees, revenue, etc.
Refer to the hiring guidelines before giving out your details in a resume as the requirements for every organization and recruiters vary from one another.
Go to Hiration resume builder and create a professional resume for yourself. Additionally, reach out to us at support@hiration.com and you can get 24/7 professional assistance with all your job & career-related queries.