Are you a social media noob trying to figure out how in the world you can set up your LinkedIn profile and write a killer LinkedIn about section to increase your chances of employment?
Well, you've landed at the right place.
In this internet-driven generation, everything has shifted online. From the recruitment process to the jobs and businesses...just about everything!
Moreover, the pandemic has just intensified the necessity of having an online presence.
You see, it is not a matter of preference anymore. It's a necessity.
This blog will help you create a stellar LinkedIn About Section, which is often overlooked.
Our blog will focus on the following questions:
If you already have a LinkedIn profile and have written your LinkedIn about section, you can get it reviewed by our AI-powered LinkedIn Profile Reviewer.
The Necessity of a LinkedIn Profile
Unlike other social media platforms, LinkedIn is a platform with professional purposes.
With over 600 million professional profiles and a vast network of potential job opportunities, why wouldn't someone consider having a LinkedIn profile?
Especially if you are an individual looking for a job or a career change, your prospects of finding the ideal job and getting hired doubles up when you have a LinkedIn profile with an exquisite LinkedIn about section.
Plus, many employers don't even consider hiring a candidate without having a look at their LinkedIn profile.
It has become a fundamental part of the whole hiring/getting hired process.
And for good reasons actually. LinkedIn is a platform where you can showcase your skills and experiences while potential employers have a chance at scanning through your profile even though you haven't personally sent in an application or your resume.
LinkedIn is a passive endorsement of your experiences and achievements.
What is LinkedIn about Section?
Your LinkedIn profile is all about you, but one thing that you should keep in mind is that - it is not for you, despite being about you.
You create a LinkedIn profile for your connections, possible future employers, your colleagues, and for the world, to present your professional identity.
Just like a resume, your profile in LinkedIn has different sections that present different information about you.
And out of all these other sections, your LinkedIn about section is the most crucial part of your profile.
Your LinkedIn about section is also known as LinkedIn summary or LinkedIn bio and it ideally has to talk about your experiences and achievements with a personal touch.
This is the section that sets your first impression on potential employers when they open your profile.
How to Write A Good LinkedIn Summary?
Now that you have a good idea about why you need a LinkedIn profile and what is a LinkedIn about section, let's understand how you can write your Linkedin summary.
Think of your LinkedIn about section as a bait that draws in the prey.
Yes, in this scenario, your LinkedIn about section must be presented as an irresistible and intriguing glimpse of your best self.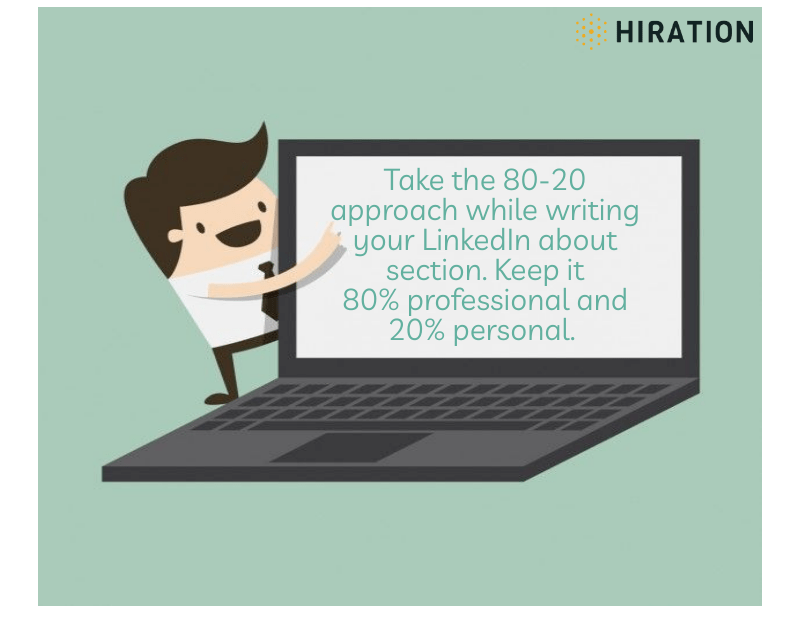 You can follow a set structure while framing your LinkedIn about section and always remember to keep it short and crisp.
You can begin by talking about your interests and your aspirations which serves as a small introduction to your personal self.
Hiration Pro Tip: Adding a few personal details in your LinkedIn about section is good because it helps the employers to remember you and sometimes a shared interest can very well spark a conversation that could potentially lead to a job offer.
However, it is important to link these interests to your skills and professional experience.
That brings us to the second part of your LinkedIn about section.
This is where you begin relating your interests to your skills and narrate how it helped you reach the milestones in your career.
You can list down your skills as bullet points and elaborate on how you navigate through different scenarios using these skills and experiences.
One way to elaborate on your skills and achievements is by using the STAR format to frame your lines.
| | |
| --- | --- |
| S | Situation: The background of your role |
| T | Task: The task that was assigned to you or your team |
| A | Action: How you completed the task |
| R | Result: The outcome of your efforts |
Remember that LinkedIn's algorithm scans through your LinkedIn about section to find keywords that optimizes their search results.
Therefore, it is of utmost importance that you include keywords that are associated with your targeted job profile in your LinkedIn about section.
You can wrap up your LinkedIn summary or LinkedIn about section by expressing your will to learn more and to put all of your expertise and skills to good use.
Good LinkedIn Summary Example
Take a look at the following sample of LinkedIn Summary or LinkedIn about section example of a software developer:
Likewise, being your summary by talking about yourself and a little about your professional experience. The intro to your summary needs to be engaging.
Take a look at the following example of a LinkedIn summary beginning:
"Being an adept traveler myself, who loves meeting new people and helping create memorable experiences for them. As the head of the sales team at Travel & Co., my chief responsibility is to guide my team members to improve the sales of travel packages whilst collaborating with other departments in my company to enhance internal procedures, strategize sale techniques, and market strategy."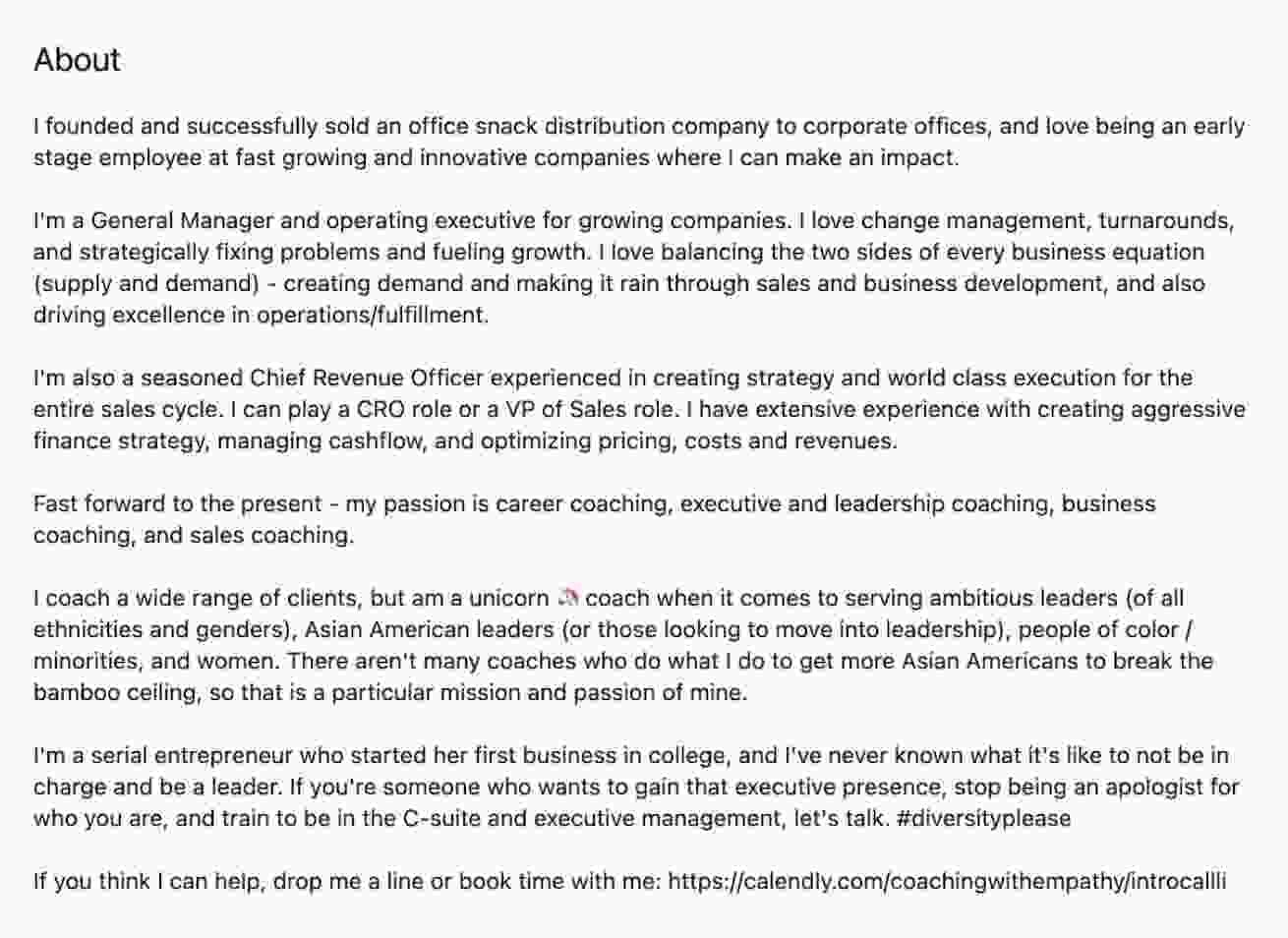 Source: HubSpot
LinkedIn About Section for Students
As a student, your LinkedIn about section or LinkedIn summary must talk about your academic achievements and highlights.
An impressive LinkedIn about section presents your best self in a crisp format because as you may know through personal experience, nobody likes to read lengthy paragraphs.
Just like how a professional would describe his or her work experiences, you must describe your abilities and aptitude as a student.
Talk about your participation in extracurricular activities and voluntary projects that you may have been a part of.
If you are multilingual, list down all the languages that you speak. And if you have sat for competitive exams and excelled in them, mention it here.
In case you are trying to find an employment opportunity through LinkedIn, don't forget to add keywords related to that specific job profile in your LinkedIn about section.
Perfecting Your LinkedIn Profile with Hiration
After reading tons of blogs and creating a LinkedIn profile with a nice LinkedIn about section, how can you still be sure that it is up to the mark and you haven't missed out on anything?
Fret not, with Hiration's LinkedIn profile reviewer, you can get an instant review of your profile with section-wise review and score with free LinkedIn about section templates.
Plus you can even get pro-tips from LinkedIn experts on your profile.
You can also install our chrome extension that will review your LinkedIn profile without having to leave your page.
Central Points From the Blog
Your LinkedIn about section must highlight your achievements and skills
Keep your LinkedIn summary short and crisp
Include keywords related to the job profile you are targeting to appear in associated search results
Write an engaging start to your LinkedIn about section
Follow the 80-20 approach while presenting your professional and personal details in LinkedIn about section
Use bullet points and STAR format to talk about your professional achievements in your LinkedIn summary
If you are a student, highlight your academic achievements and voluntary projects
Go to Hiration career platform which has 24/7 chat support and get professional assistance with all your job & career-related queries. You can also write to us at support@hiration.com and we will make sure to reach out to you as soon as possible.