Click here to directly go to the complete engineering internship resume sample
Why write an engineering internship resume?
A great engineering internship is the first stepping stone to kickstarting a great career in engineering.
Writing an engineering intern resume while applying for internships in relevant organizations can open the gates of opportunity in this field for you.
If you've been wondering how to pick and draft resume templates for internships with perfectly optimized sections, you are in the right place.
Get clear insight into the FAQs below to learn how to curate a shortlist-worthy engineering internship resume:
Are Resumes Important for Engineering Internships?
An engineering internship resume is important because it helps you land your first engineering internship.
And your first engineering internship is important because it can make and break your career. Since it has the potential to convert into a full-time job position, your first internships set the tone for the rest of your engineering career.
Engineering internships resumes can pave the way for you while building your career in this field by introducing you to potential employers.
How Do I Write a Resume for an Engineering Internship?
Knowing how to write an engineering internship resume is not enough to get you an interview call from a top organization.
Choosing the right engineering internship resume format helps you draw attention to the chosen aspects of your professional trajectory.
If you want to emphasize your skills, you can go for the skill-based functional resume format or the combination resume format. We advise you to use the latter as it is recruiter-friendly and ATS-compatible.
If you want to divert attention to your career trajectory, you can choose the chronological resume format. This is ideal for Engineering graduates with multiple internship experiences.
Whether you are writing a chemical engineering internship resume, a civil engineering internship resume, a mechanical engineering internship resume, or a software engineering internship resume; choosing the right resume format helps.
All you have to do is pick one engineering internship resume format outlined above based on the aspects you prioritize.
Also Read: How to start a resume that can help you land a dream job?
What Sections to Add in an Engineering Internship Resume
Learning how to create an engineering resume for an internship is easy when you know what resume sections to include in your resume.
Good presentation automatically leads to good readability which further helps you write an ATS-compatible resume.
And why does readability matter?
Good readability matters because an ATS recruitment software won't parse your resume if it is not even readable in the first place.
So make sure that you organize information under these relevant sections:
Engineering Intern Resume Header
The header is nothing but the thing you write at the top part of your resume.
Most professionals tend to write 'resume' or 'CV' right on top. This is where they go wrong. Why? Because it is implicit that your resume is a resume. You don't have to explicitly state it.
Hiration Pro Tip: Instead of writing 'CV' or 'Resume' at the top part of your resume, write your real full name. This tells the recruiter that the resume belongs to you in one go.
Here are some basic resume tips for the resume header:
Write your real full name that can be verified through official documents like your birth certificate or any government identification such as your tax ID.
Use a 16-20 font size. The idea is to write it in the largest font size. Doing this reduces the scope of resume misplacement.
Give a single space between your first name and last name.
If you have a middle name, write your first name, then initialize the first letter of your middle name, followed by a full stop, followed by your last name.
Example: If your name is Dean John Winchester, simply write it in your resume header in this fashion: 'Dean J. Winchester'.
Here's an engineering internship resume example showing a perfectly written resume header:
Also Read: How to curate the perfect resume header?
Engineering Intern Resume Personal Information
Engineering Intern Resume:
The ideal personal information section should consist of 3 main details namely:
Updated mobile number
Professional email ID
Current Location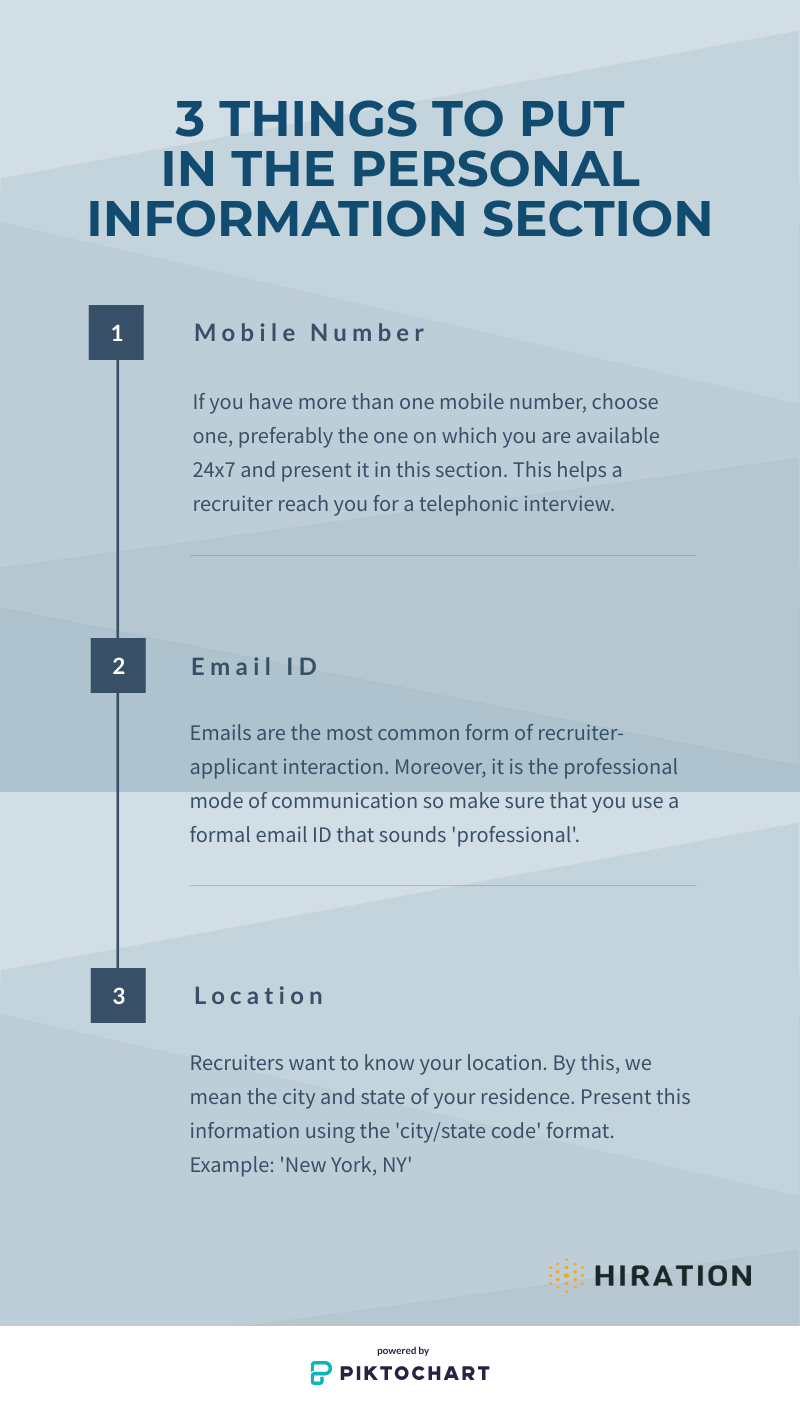 Including contact information (such as your email ID & mobile number) gives a recruiter the means to get in touch with you.
Using this information, a recruiter can reach you via a formal email or a phone call. As such, you need to be extremely careful while filling these details in your engineering internship resume
Moreover, an indication of your location helps a recruiter reach out to you if you are based in the city of the hiring organization.
Hiration Pro Tip: It helps if the recruiter knows that you have a vibrant digital presence and that you engage with professionals in your industry. We encourage you to give a link to your LinkedIn profile or personal website/portfolio.
Here's an engineering internship resume example showing the ideal personal information section:
Also Read: What to add in a resume contact information section?
Engineering Intern Resume Profile Title
Our next point of discussion is the profile title section.
Hiration Pro Tip: Your profile title should be composed in the second-largest font size after your resume header (preferably 14 points). Doing this helps it stand out and get easily identified.
Simply put, you need to accurately present this section at all costs as it is symbolic of the following information:
Your current job title or professional status.
Your functional industry or job niche.
Your seniority level & earning estimate.
Your work specialization according to your job title.
If you are writing an engineering internship resume, your profile title can differ based on your specialization (software, mechanical, civil, chemical, etc.).
Example:
Let's say you are an engineering undergraduate looking for your first internship experience.
In this case, you can write your profile title in the below format:
Software Engineering Undergraduate
Mechanical Engineering Undergraduate
Civil Engineering Undergraduate
Chemical Engineering Undergraduate
Here's an engineering internship resume example showcasing the profile title of a Software Engineering Undergraduate:
Also Read: How to draft an entry level mechanical engineering resume
Internship Section of an Engineering Intern Resume
We are going with the assumption that you are an engineering undergraduate with internship experience.
As the internship section is one of the most important sections in your engineering student resume for internship, it needs to be perfect at all costs.
Perfecting this section will help you land better internships and make you a more attractive candidate for a job when you finally graduate.
Here's what you can do to perfect this section:
Use One-liner Points to Communicate Your Internship Details
Crisp one-line communication of your internship experience helps you present it more easily. Moreover, points are easy to read and easier to comprehend.
They score high on the readability test.
Reader-friendly resumes have a higher chance of getting parsed by the ATS recruitment software. Your engineering internship resume won't get shortlisted if it does not even get parsed by the ATS as it won't reach a human recruiter.
Thus, we advise you to use crisp points instead of bulky paragraphs to communicate your internship details.
Begin Each Point with a Power Verb
Now that you know the importance of one-liner points, let us now discuss how you can give it a professional touch.
We recommend the use of power verbs. Use them to begin each point.
What are power verbs and why are they important?
Simply put, power verbs or resume action words are action-packed words. They help you give a professional tone to your resume.
They are professional words that you can use as a replacement for normal words that fail to make an impact.
Here are some examples of power verbs that you can use in your engineering student resume for internship:
Delivered
Formulated
Strategized
Administered
Managed
Handled
Kickstarted
Also Read: What are the top resume action words and power verbs?
Prove Your Expertise by Using Achievement Figures
No recruiter wants to know that you did an internship. It's a given.
They also don't want to hear a boring account of your daily roles & responsibilities. Why? Because it is likely to be the same for every other tom, dick, and harry with the same internship experience as you.
What we are trying to say here is this:
Instead of giving a bland testimonial of your internship responsibilities, they want to know your expertise. They want to know how the work you have done added value to the organization.
Your job here is to prove your expertise.
We advise you to use achievement figures/numbers to prove the value of your work contribution.
If you have always been wondering how to get an engineering internship resume noticed, this is it. Talking about your achievements and backing them with numbers can help you get on the cover page of a recruiter's filtered list of resumes.
Include Relevant Keywords from the Engineering Internship Job Description
The internship or job that you are targeting will always have a list of criteria that the ideal candidate would be expected to be equipped with.
There are different types of keywords that you will find in the engineering internship job description:
Education-based keywords
Skill-based keywords
You need to identify them and incorporate those keywords into your resume that matches your own skill sets.
Perfect this Section by Using Grouping & Highlighting
Grouping is the practice of clubbing similar points together under unique headings All you have to do is segregate matching points under one bucket and give it a suitable heading.
Doing this tells a recruiter your key expertise area in one go.
They can quickly identify it as all they have to do is read the bucket header to know your key expertise & skillset.
Grouping is the practice of highlighting words or phrases in bold. All you have to do is mark those words or phrases that stand out in importance. From a career highlight to the results of your professional contribution - it can be anything.
When you identify them and mark them in bold, it helps you divert the recruiter's interest in your key achievements at each point.
Here's an engineering internship resume example showcasing the perfect internship experience section for your resume:
Engineering Internship Resume Skills Section
Now that we have discussed the first key section i.e. the internship section, let us now move on to the next i.e. the skills section.
The skills section of your engineering student resume for internship is just as important, if not more.
As an Engineering Undergraduate, you might or might not have any working exposure in a professional setup. But what you will have is your skills.
Formal education and practical implementation of the knowledge imparted to you help you develop skill sets. The projects that were assigned to you as part of your coursework help you build up your skills.
It is these skills that matter the most to an employer.
That's what they look for in your engineering resume.
So make sure that you make a distinct 'key skills' section to present all your engineering skills in one place. Distinguish your technical skills from your core skills by making a 'technical skills' sub-section within this section.
And voila!
This section is perfect!
Here's an engineering internship resume example showcasing the perfect key skills section. It illustrated what your resume skills should look like when composed in this section.
Also Read: what skills to put on a resume?
Engineering Internship Resume Objective
The objective section is the third and final key section of your engineering internship resume.
You should write an engineering internship resume objective if:
You are an engineering undergraduate
You have zero to less than 3 years of work experience
You are hoping to land an engineering internship
You most definitely fall into the above-mentioned groups, so let us now discuss how to perfect the engineering internship resume objective:
Highlight engineering relevant achievements.
Keep it strictly limited to a 3-5 lines paragraph.
Write it at the end after concluding all other sections.
Focus on the value you can bring to their organization.
Do not mention a list of what the organization can do for you.
Example: Don't talk about how the organization can bolster your career.
Here's an engineering internship resume example showcasing the ideal objective for your engineering student resume for internship:
Provide Your Academic Details
When you're on the lookout for engineering internships, you should present your academic details by default.
If you have relevant certifications that can give you an advantage, write them down in your engineering student resume for internship.
The university you went to and the courses you have done can help you bolster your application. Especially if you are from an ivy school.
Hiration Pro Tip: Leave out the details of your GPA if you have not performed exceedingly well.
Here's a list of what to include in the education section:
University name
Name of the course pursued
University location
Enrollment & graduation dates
Here's an engineering internship resume sample illustrating an ideal education section:
Also Read: What details to add to the education section on a resume?
Engineering Internship Resume Sample
A perfect engineering internship resume that follows all the rules of resume writing should look a lot like this:
Software Engineering Intern adept at writing, testing & debugging code and conceptualizing & designing new software programs & modifying the existing ones. Proficient in performing system analysis to improve operations, maintaining systems, and troubleshooting software issues.
Installation & Up-gradation

Testing & Troubleshooting
INTERNSHIPS
Coding & Software Development
Wrote & tested

code

and communicated with the

programming team

of

15

while working on

projects

Designed & drafted new

software programs

and developed existing

programs

by identifying

areas

for

modification
Software Debugging & Performance Improvement
Conducted

market research

and maintained

systems

by monitoring &

debugging 3+ software

Coordinated with various

clients

and in-house

team

concerning the maintenance and

performance

of

software systems

Assisted the

development team

in resolving

software

related

issues

; improved overall performance by

27

%
Systems Development & Analysis
Played a key

role

in developing

information systems

by designing, developing, & installing

software solutions

Improved

operations

by performing

systems analysis

and recommended

changes

in

policies

& procedures
Member of the Red Cross Society | Jun '18 - Apr '20

Captain of the University's Football Team | Jun '17 - Aug '19

Secured 1st position twice in the inter-college competition, that is, in Dec '17 and Dec '18
Languages

: English, Spanish, French and Mandarin
Template used: Global Citizen Green
Key Takeaways
Here are the key takeaways from our Engineering Internship Resume 2022 Blog:
Use resume sections. It enhances readability.
Use the engineering internship resume format that is most ideal for you. As you don't have relevant work experience yet, we advise you to go with the combination resume format.
Keep your objective for an engineering internship resume short, crisp, and effective, Highlight your engineering-specific achievements & expertise.
As a rule of thumb, always write your real full name at the top of your engineering internship resume to avoid resume misplacement.
Write your profile title in this fashion: Write 'Software Engineering Undergraduate' if you have not graduated. Write 'Software Engineering Graduate' if you have graduated.
Make a distinct 'key skills' section to endorse your engineering skills.
Perfect the internship section at all costs.
Use one-liner points to communicate your internship details.
Begin each one-liner point with a power verb.
Use numbers or achievement figures to prove the value of your contributions.
Use keywords that match your actual skillsets/expertise. In other words, use only those keywords that you can justify using to a recruiter.
Always include the education section in your engineering internship resume.
Go to Hiration resume builder which has 24x7 chat support and create a professional resume for yourself.
Additionally, reach out to us at support@hiration.com and you can get professional assistance with all your job & career-related queries.