Are you looking for software tester jobs?
If so, you are at the right place.
A software tester plays a critical role in optimizing businesses by reducing maintenance costs and providing consistent and reliable results.
Digitization of businesses has made it obligatory for organizations to hire a software tester. Companies avoiding this role to decrease expenses can bite off more troubles than they can chew.
We will give you clear insights into software tester job responsibilities, qualifications & skills required, salary offered, and much more.
Let us discuss the most-asked questions mentioned below:
Similar Blogs for Software Testing
Software Tester Jobs Description Template
What exactly does a software tester do?
The description for any job profile will vary across companies, but the primary responsibilities and requirements remain the same.
Software Tester Jobs Responsibilities
Execute system, integration, and regression testing and analyze results
Design and develop automation scripts based on requirements
Provide timely solutions for resolving any defects and inconsistencies in software
Liaise effectively with other departments, customer service associates, management, etc.
Proven experience in applying quality engineering principles throughout the agile product lifecycle
Prepare reports on database software bugs and usability
Interact with clients to understand user requirements and contribute to product design
Job Description for Entry-Level, Mid-Level, and Senior-Level Software Tester
Entry-Level Job Description
Entry-level job positions at any organization require you to have minimal experience. These positions are meant to be filled by the recent graduates.
The job profile would typically include assisting the management with reviewing and analyzing product requirements by applying defined engineering techniques for meeting business objectives.
Mid-Level Job Description
For mid-level positions, one needs to acquire 3-4 years of experience in software testing armed with the skills and expertise required by the job profile.
A mid-level software tester resolves technical issues in software by detecting and fixing bugs while mentoring new juniors & new joinees and reporting to the senior management.
Senior-Level Job Description
To reach a senior level job position, one needs to have a minimum of 8-9 years experience while it can differ from company to company.
A senior software tester job position requires one to make critical decisions and measure departmental and individual performance while creating and meeting organizational objectives.
Software Tester Jobs Requirements
A bachelor's/master's degree in computer science or a related field
Experience in software test design and testing methodologies
Knowledge in software testing techniques and compatibility with various software programs
Working knowledge of developing, documenting, and implementing quality assurance standards
Experience in writing new test cases based on requirements
Knowledge of programming languages, tools, and QA methodologies
Demonstrated analytical and problem-solving skills with a detail-oriented mindset
Software Tester Career Path
To start a career as a software tester, one needs to earn a bachelor's/master's degree in computer science or a related field.
After gaining 2-3 years of experience in this field and gaining the required knowledge and experience, one can move up to the role of senior software tester to the QA team coordinator in 5-6 years.
To become a test manager, one needs to hone their skills & knowledge by joining training programs or pursuing certifications while gaining an experience of 8-11 years. Then with 14+ years of experience, one can manage to become a senior test manager.
In-demand Software Tester Jobs Skills
Regardless of educational background and professional expertise, one should always strive to learn new tools & technologies and keep up with the latest trends.
To stay competitive and relevant in the market, it is inevitable for any software tester to learn the skills mentioned below:
Software Tester Key Skills
Software Testing
Software Development Life Cycle (SDLC)
Automation
Business Mapping
Project Management
Test Planning & Documentation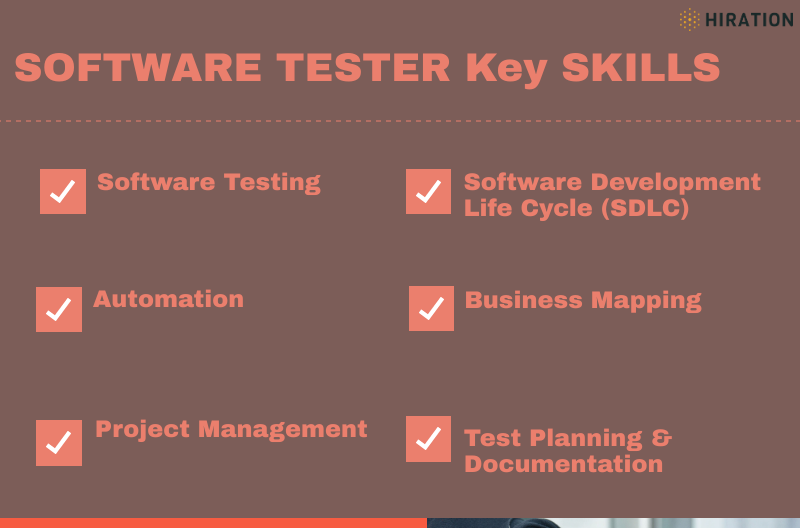 Software Testing Technical Skills
| Technical | Skills |
| --- | --- |
| Languages | SQL, VBScript, Python, Java, HTML, CSS, JavaScript, C, C++ |
| Frameworks | TestNG, SerenityBDD |
| Database | Oracle, MySQL |
| Test Management Tools | QC, Bugzilla, Jira |
Software Tester Salary in the United States
According to Indeed, the average base salary is $87,032/ year.
According to PayScale, the average base salary is $56,448/ year.
According to Glassdoor, the average base pay is $68,653/year.
Image Credit: Software Testing Help
The salary for software testing jobs varies across countries and locations. It also depends on the companies and years of expertise & skills you have in this field.
Difference Between Software Tester and Developer
Both the job profiles are equally important and relevant to a company. But it can likely happen that you can wish to switch your career after a certain period.
We hope that the information provided below can help you get a clearer picture if you want to be a software tester or a developer.
| Software Developer | Software Tester |
| --- | --- |
| Creates software to meet users requirements | Evaluate Software to detect bugs and errors |
| Write codes to develop software | Test codes to find bugs and errors |
| Increases business efficiency to develop systems to sell in markets | Improves the quality of software development and deployment |
The transition from Software Tester to Developer
If you are someone looking for a change in role from software testing jobs to software development, follow the steps mentioned below.
Hone Your Coding Skills
Learn the coding skills required to develop software. Showcase your skills in front of the developers around you and learn from them to improve your existing coding skills.
Work on New Projects
Use your time outside your job to work on new projects to showcase your software development skills.
Make a Kick-ass Resume
Draft a software tester resume highlighting bullets around coding skills and key accomplishments. Focus on the codes you have built for developing software rather than what you have tested.
Find a Suitable Job
If you can't switch the job role in the same company, you will have to look for jobs outside. With that being said, it can be challenging to change both companies and positions simultaneously.
An impressive resume and projects coupled with your skills can make this process faster and easier.
Key Takeaways
Below is a quick roundup of software testing jobs description guide:
A software tester is responsible for assuring software quality by detecting bugs and understanding user pain points.
Earn a bachelor's and master's degree in computer science or related field to start your career in software testing.
To climb up the career ladder fast, one should be well-versed with programming languages, frameworks, databases, tools, etc.
Enroll in the training programs or pursue relevant certifications to keep yourself updated with the latest industry trends.
For queries, contact us at team@hiration.com and we will get back to you asap!