Are you a fitness enthusiast wondering 'how do I write a resume for a gym trainer?'
You've come to the right place. Gym trainers help people meet their fitness goals by guiding them through exercises, customizing workout routines based on the client's fitness level, and conducting group or individual training sessions.
And with an average projected job growth of 18% by 2031, which is much faster than all other occupations, there are plenty of aspiring trainers who want to kick-start their careers.
So, how can you possibly stand out from the crowd and get hired?
One important step to achieve this is by creating a compelling gym trainer resume that showcases your skills, experiences, and expertise effectively.
In this guide, we will walk you through the best practices for creating a perfect gym trainer resume that will significantly increase your chances of getting shortlisted for jobs.
You'll get clarity on the following questions:
What is a Simple Gym Trainer Resume Format?
Before you start writing your gym trainer resume, you need to choose the right format for it.
There are 3 types of resume formats that are commonly used by job seekers. They are - reverse chronological, functional, and combination resume formats.
The reverse chronological resume format showcases your most recent experiences and qualifications at the top, followed by the older ones.
It is the most widely used format as recruiters are familiar with it and it is also easily parsed by Applicant Tracking Systems (ATS) that recruiters use to filter applicants.
The second type of resume format is the functional format which emphasizes the candidate's skills over experiences. Although it is suitable for candidates who lack relevant experience or have multiple career changes, it is not ATS-friendly.
And lastly, the combination resume format is a fusion of the two resume formats. However, it is not suitable for freshers and can be time-consuming to create.
Depending on your situation and preference, choose a suitable resume format for your gym trainer resume. Having said that, we do recommend you choose the reverse chronological resume format as it makes it easy for recruiters to follow and scan your resume.
Also Read: What are the different resume formats and how to use them in 2023?
Must-have Sections of a Gym Trainer Resume
Distinctly titled resume sections not only look professional and sleek but also draw the recruiters' attention to your strengths and relevant information.
The key components of a gym trainer's resume include:
Contact information
Summary/objective
Key skills
Professional experience/Internship
Education
Certifications & training
Now, let's breakdown the nitty gritty details of how and what you must write in these sections:
Gym Trainer Resume: Header and Contact Information
The header of your gym trainer resume must always be your full name in 14 to 16 points font size to maintain the unique identity of your resume.
Right below the header, you must list your contact information including:
Phone number
Email address
Location
Link to your LinkedIn profile
Profile title
It should look something like this:
Gym Trainer Resume: Summary or Objective
If you are a fresher and don't have professional experience in providing gym training people, you must write an objective statement rather than a summary.
Your objective statement must highlight the certifications and training you have completed, along with some key skills, and your enthusiasm to help people achieve their fitness goals.
And if you are a seasoned professional, you must write a summary that summarizes your career trajectory and highlights your most notable skills, experiences, and accomplishments.
Ensure that your summary and objective section is limited to 2 to 3 sentences and is written crisply and intriguingly.
Given below are some examples of gym trainer resume summary:
"3+ years experienced gym trainer seeking a position where I can utilize my knowledge of fitness and nutrition to help clients achieve their goals."
"Motivated and dedicated gym trainer with 5 years of experience in the fitness industry. Skilled in designing personalized training programs that help clients achieve their desired results."
"Certified gym trainer with a proven track record of helping clients achieve their fitness goals. Passionate about promoting health and wellness through exercise and nutrition.
Also Read: How to write a resume with no experience?
Gym Trainer Resume: Key Skills
As an aspiring gym trainer, your skill set is crucial to help you stand out from other competitors. It is one of the most important sections in your gym trainer resume and hence needs some extra care and precision.
You must ensure to use bullet points to list your skills and instead of using buzzwords like goal-oriented, dedicated, hard-working, etc. include technical skills in your resume.
Some of the in-demand gym trainer skills that you can showcase in your resume if you possess them are given below:
Physical and health assessment
Personal training techniques
Progress assessment
Knowledge of exercise science and human anatomy
Ability to design personalized training programs
Strong communication and interpersonal skills
Motivational and inspirational coaching style
Knowledge of nutrition and dietary requirements
Experience with a variety of fitness equipment and techniques
Expertise in using gym equipment
Client relationship management
Also Read: How to show your key skills in a resume?
Gym Trainer Resume: Professional Experience
The professional experience section is the bread and butter of your gym trainer resume. In this section, you must not only list the duties and responsibilities of your past position but also highlight the positive results achieved through your efforts.
Here are some tips that you need to follow while writing this section of your gym trainer resume:
Use bullet points and begin your sentences with an action verb
Quantify your achievements and duties wherever possible to emphasize them
Focus on describing the action and result in your sentences to keep them crisp and to the point
Include persuasive details of achievements such as helping n number of clients to lose a specific amount of weight over a given period or designing a successful group fitness program that produced notable results
Include details like the name of the gym or fitness center you previously worked in, corresponding dates, location, and job title
Given below is a gym trainer resume sample of the professional experience section: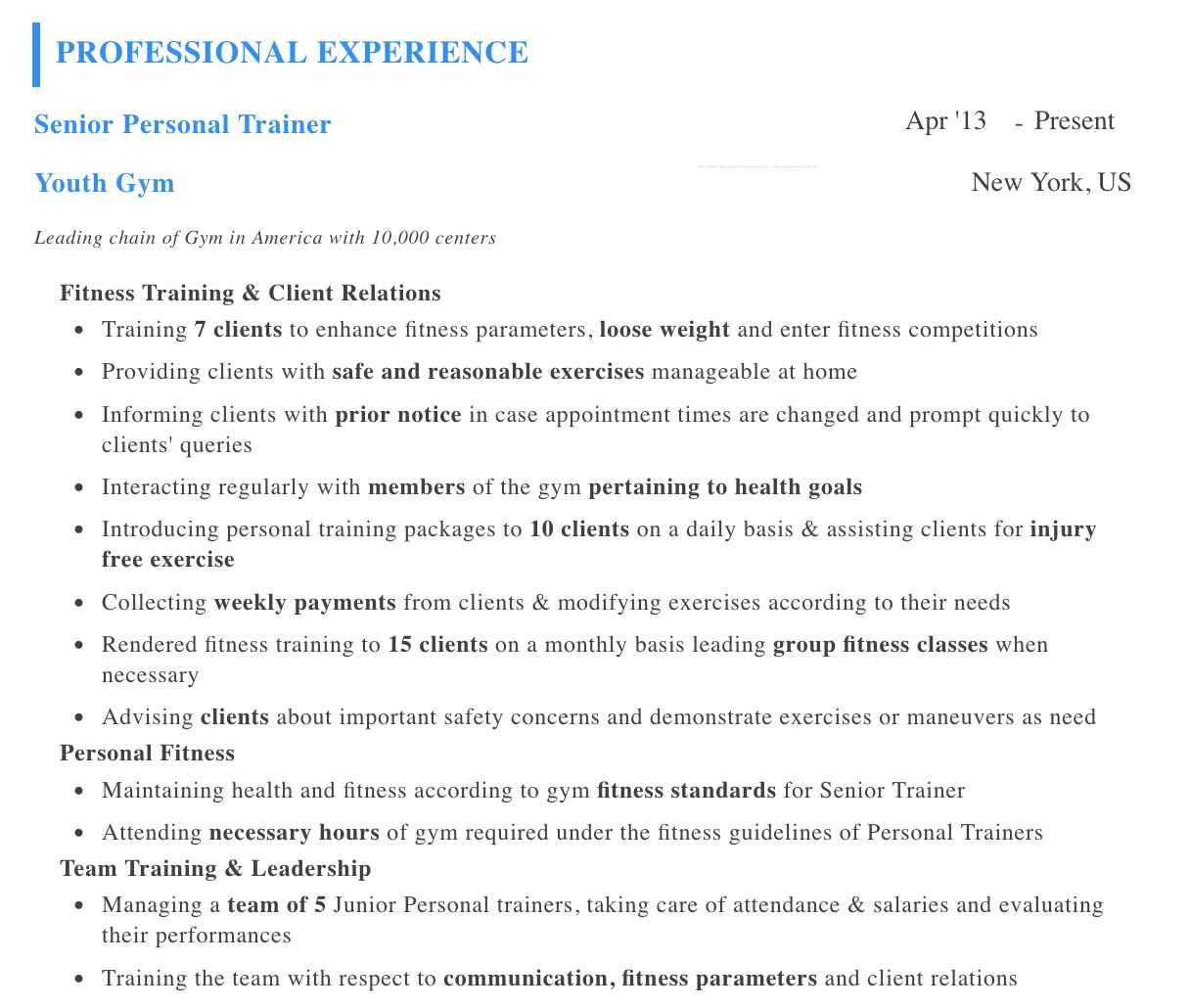 Gym Trainer Resume: Education Section
One of the best ways to stand out from the crowd of applicants as a gym trainer is by showcasing your educational background (if you have a degree in a related field).
This is because although it is not mandatory to have a degree to become a gym trainer if you have one, it increases your credibility and showcases your extent of knowledge and expertise in the field.
When listing your education details, be sure to include the name of the institution or university, the degree earned, and the corresponding dates and locations.
Also Read: How to show education on a resume?
Gym Trainer Resume: Certifications and Training
As stated earlier, having a degree is not a mandate when it comes to the requirements of becoming a gym trainer. However, gym trainers must have certifications and training under their belt to become a professional.
Thus, it is equally crucial to list them in your gym trainer resume.
Similar to the education section, you must include details of the name of the certification or training, the certifying institution, corresponding dates, and location.
Some of the most highly reputed organizations where you can get certified as a gym trainer include:
National Academy of Sports Medicine (NASM),
The American Council on Exercise (ACE),
The National Strength and Conditioning Association (NSCA), or the Cooper Institute (CI)
Institute for Systems Studies & Analyses (ISSA)
Also Read: How to show certifications on a resume?
Conclusion
Crafting the perfect gym trainer resume takes time and effort, but it is well worth it for landing your dream job. Remember to aptly highlight your education and certifications, showcase not just your work experience but also your achievements, and list relevant skills.
Additionally, make sure to use a simple resume format like reverse chronological and showcase your details in properly titled sections.
With these tips in mind, you'll be well on your way to standing out from the crowd of average applicants with your stellar gym trainer resume.
If you want to build a compelling gym trainer resume within minutes, you can use Hiration's ChatGPT-powered resume builder with 24x7 chat support.