"Sales are contingent upon the attitude of the salesman – not the attitude of the prospect." - W. Clement Stone
Your sales resume is the first impression. So, you must choose the best among the rest.
Sales associates performs the following functions:
Sell merchandises - clothing, furniture, automobiles, etc.
Assist customers find the products they want
Process customer payments & forge alliances/partnerships
Most of them receive on-the-job training, which usually lasts a few days to a few months.
To cover the primary areas of expertise, a sales associate resume should ideally include:
Related work experience with performance figures
Relevant computer knowledge - experience of point-of-sale systems, etc.
Undergraduate/Advanced degrees
To compliment your sales resume, include:
Skills - Customer Service and Communications Skills
Additional Information - Bilingualism
For our 2020 Guide to Best Sales Resume Templates, we've picked 10 best sales resumes. Without further ado, let's begin.
What to look for in a Sales Resume
When you are applying for a job in sales, remember that the person receiving and reviewing your applications mostly has more experience than you in sales. This makes it more important for you to have a result-oriented and in-depth resume.
They would carefully scrutinize your:
Skills
Sales record
Previous contributions
To convince your recruiter via your resume is to tell them that you are the best person for the job. This goes to show a consistent track record of your sales achievements, bucketed across skills around your target job profile.
Find our top 10 picks of sales resume to find your ideal match. You may find the templates on Hiration's online resume builder, tailor made to your target job.
It is always a great idea to get your sales resume professionally reviewed in the end. Hiration's industry experts provides you industry-specific solutions:
Proofreading
Spellcheck
Keyword Optimization
Job-specific skill check
ATS compatibility check
Best Sales Resume Templates
Brand Promotion Sales Executive Resume Sample
Medical Sales Resume Sample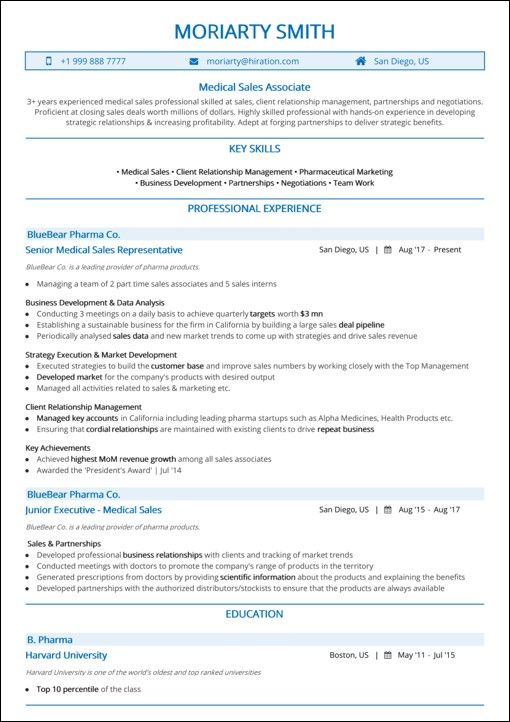 Regional Sales Manager Resume Sample
Sales & Business Development Resume Sample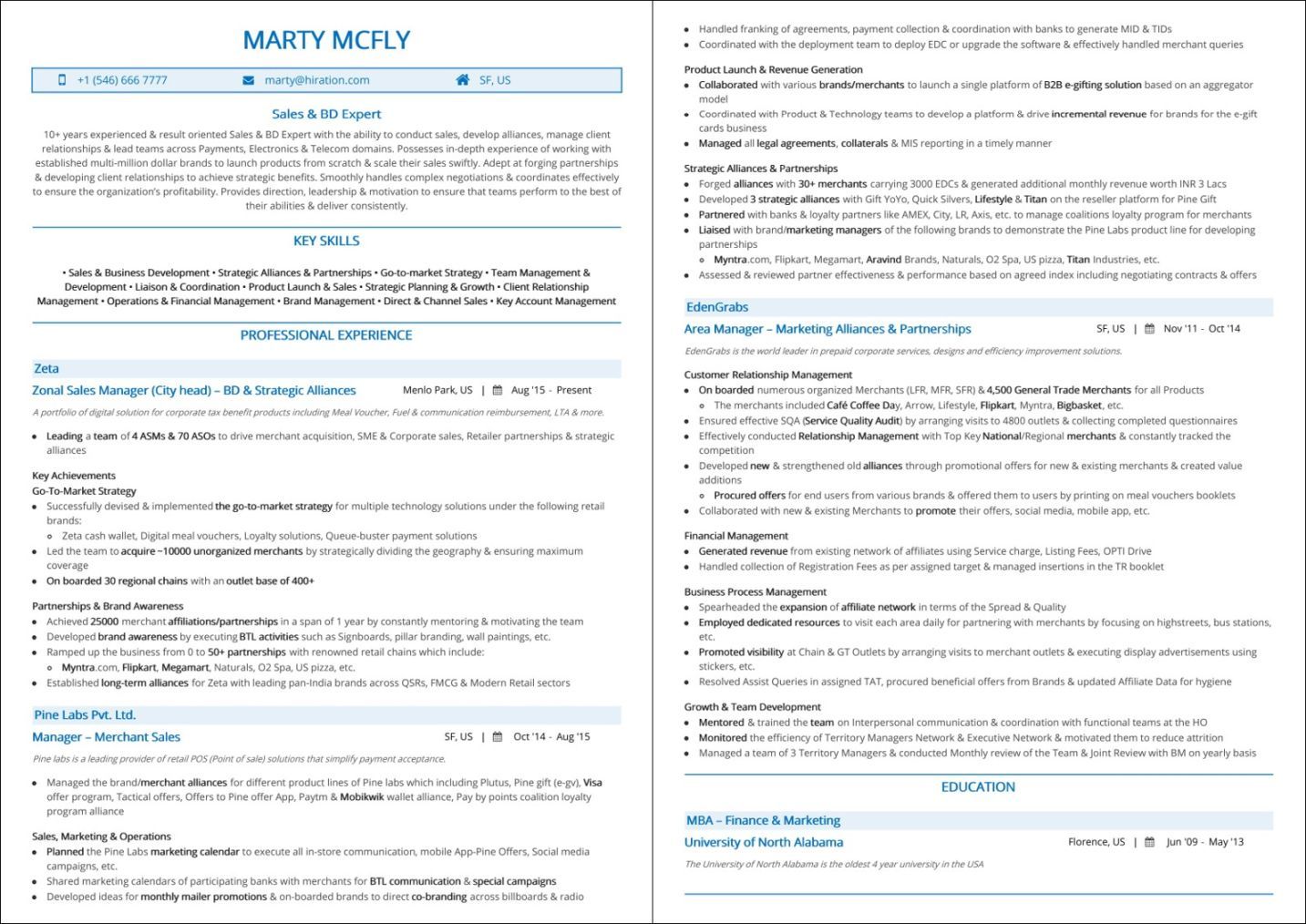 Sales & Distribution Head Resume Sample
Sales & Distribution Resume Sample
Sales & Operations Resume Sample
C-level Sales Resume Sample
Sales Leader Resume Sample
Strategic Sales Resume Sample
Key Takeaways
Resume Writing Tips for Sales Professionals
1. Show off your sales prowess
As a salesperson, your career revolves around selling things, so use your resume to demonstrate your outstanding skills by marketing yourself to the reader.
Focus your efforts first on the professional summary, and use a few short sentences or bullet points to make your case for why you are the best candidate for the job.
Give an overview of your career achievements, your most impressive skills, and ways you'd benefit the company as its new salesperson.
2. Create a standout header
Arrange your education and work experience sections in reverse chronological order with the most recent activities and achievements first.
Create an eye-catching header by using a clear font in a slightly bigger size than the rest of your document. Include your full name and two reliable contact methods, such as a mobile phone number and professional email address.
Listing your city and state is fine, but it's best to leave out your full mailing address. If you have a personal website or LinkedIn profile, include those URLs too.
3. Optimize for ATS
Many employers use automated scanning programs called Applicant Tracking Systems to perform the first round of resume reviews.
These programs rank documents based on specific elements that are usually driven by keywords. Make sure you use standard sales and marketing terminology in your document along with relevant keywords.
You can get a good idea of the terms an employer is looking for by studying the language in the job description and emulating it in your resume.
4. Include academics
While many sales jobs rely on a candidate's relevant experience and proven sales ability, you can use the education section of your resume to set yourself apart from other jobseekers.
List formal degrees along with sales-related certifications and professional development courses. You can also include awards and achievements in this section, as long as they are legitimate and relevant to the sales industry.
For each entry, give the name and location of the conferring institution. Most employers don't care about graduation dates, so you can leave those out unless you are a recent graduate or current student.
Got more concerns or questions around your Sales resume? Drop in a line at team@hiration.com and our famed resume experts will get back to you!