Click here to directly go to the complete sales resume sample.
Sales are at the heart of any thriving business. Without sales, no company can make a profit and grow.
And if you are a salesperson, you know how to communicate with potential clients and convert them into customers.
However, your sales skills won't actually give you a job.
We get thousands of sales resumes every day, and we notice that those people get hired who not only have the sales skills but also know how to create sales professional resumes.
Your sales resume is the first impression. So, you must choose the best design to showcase your personality.
This blog cover the following topics:
Sales Resume Template
Here's what a top-notch sales executive resume template for you:
PROFESSIONAL EXPERIENCE
Start typing, then use the up and down arrows to select an option from the list
Strategic Alliances & Partnerships
Leading

30 Store Managers

&

1 Manager

to direct daily operations & launch new stores as per cost-time constraints

Independently generating regional sales & collaborating with

Marketing, Procurement

&

Customer Service

departments

Examining & evaluating

store performance

and assessing individual performance metrics

Securing

bulk orders

for

functions

or

festivals

& initiating the process of

delivery

for

hotels

and

restaurants
Managing billing and accounting in addition to forecasting

quarterly

and

annual profits

Preparing & reviewing a quarterly budget of

USD 25 million

& monitoring the annual budget for all areas of responsibilities
Training & Team Management
Identifying hiring needs & supervising recruitment and training to effectively

onboard 120+ Sales Executives

Collaborating with family members of agriculturists & farmers to aid in

quality training

& maintenance

Initiating

English language

&

computer classes

for employees for boosting morale and enhancing overall performance
Business Development & Sales
Designing

reports

on

regional sales

metrics to review business development to

set quarterly targets

&

explore new markets

Preparing regional sales plans and

analyzing market trends

for expansion and acquisition

Addressing

potential problems

and recommending prompt solutions

Ideating and brainstorming new services/products & implementing

innovative sales techniques

to register an

NPS of 80+
Accomplished the

highest average revenue

per month of

USD 40,12,000

Launched an average of

14 mobile stores

in

6 months

& achieved an

average revenue

of

USD 1000 per day

per store

Achieved a cost reduction of

~USD 1,20,000 per month

by liaising with ~50 local hawkers for reducing wastage

Introduced

Lease Farming

to decrease the purchasing cost from

USD 3,08,000 to 1,40,000
Start typing, then use the up and down arrows to select an option from the list
Customer Relationship Management
Ensured premium level of client satisfaction by

directing

all

Issue Resolution initiatives

to bolster NPS

Effectively resolved

~25 queries per week

to render requisite information for adhering to quality standards

Streamlined

communication channels

with clients to address concerns and perform

troubleshooting

as per requirements

Rendered assistance with the required knowledge of services & goods along with further recommendations and plans

Supervised unresolved complaints to ensure effective resolution in the given time frame

Processed bills & repairs, tracked potential customers & followed up on outbound calls to

serve 15,000+ customers
Appointed as the Seasonal Trainer for sales and product to

train 250+ people

and actively

process OOPS calls

Administered a floor of

80+ staff

as a

Subject Matter Expert (SME)

Conducted on-the-job training (

OJT

) for new product launches and

mentored 50+ BQ

'

s
Achieved

'Performer of the Year Award'

consecutively for

4 years

out of a headcount of 3500+ by maintaining excellent NPS

Recorded highest number of surveys (112) with an

NPS of 83%

along with a lateral movement of trainees in 1 year

Generated

sales

of

~USD 30,000

products and services & received a

cash award

of

USD 3500

for

Excellent Customer Service

Rewarded as a

Fast Track Batch Trainer

for products & received certification for

Train the Trainer
Start typing, then use the up and down arrows to select an option from the list
Debt Collection & Process Optimization
Negotiated with

1200+ account holders

to devise repayment plans and

minimize collection receivables

Directed agency coordination &

litigation

activities to manage delinquency cycle, overdue collection calls, skip tracing, etc.

Oversaw

day-to-day collection

functions and excelled in collections from Non-Spousal States

Conducted investigation of accounts with balance errors by deploying accounting software

Ensured

compliance

with

fair debt practices

and regulatory guidelines

Identified and

analyzed rejection patterns

, in addition to partial and third party denials to

optimize existing processes
Effectively

recruited 20+ representatives

for building, training and mentoring high-performing teams

Trained

500+ new collection representatives

and incentivized team members to achieve production goals
Achieved

FDCPA Certification

to

decrease

the number of

legal complaints

& accomplished

130% least defect calls

Scrutinized overdue accounts with a delinquency average of 24 months to

recover USD 120,000 per month

Awarded the

'Best Performing Team'

out of

15+ teams

on the parameters of amount of collections and defects count
EDUCATION
Start typing, then use the up and down arrows to select an option from the list
The University of California, Berkeley is the top public university in the United States
Top

10 percentile

of the class
13+ years experienced Sales Leader & BPO Strategist armed with a track record of formulating growth strategies for bolstering sales and business development across geographically-dispersed territory. Proficient in leading teams and forging strategic alliances to effectively close mission-critical deals. Highly skilled in handling complex negotiations to secure organizational interests and deliver customer-centric solutions. Adept at building teams from scratch to execute high-value projects and deliver compelling business value to clients.
• Strategic Alliances & Partnerships • Solutions Delivery & Product Sales • Customer Relationship Management
• Team Management & Leadership • Process Optimization • Transition Management • Hiring & Mentoring
• Training & Development • Operations Management • Performance Management • Innovation & Growth Strategy
Sales Associate Roles and Responsibilities
Here are a few daily responsibilities of a sales associate:
Greet customers in a professional way, address their questions about products and assist them in making informed buying decisions
Operate cash register, manage cash and credit transactions, and redeem vouchers for customers
Maintain order on the sales floor and design sales display
Brainstorm schemes and promotional materials for customers
Cross-sell and upsell products to customers to maximize profitability
Most of them receive on-the-job training, which usually lasts a few days to a few months.
To cover the primary areas of expertise, a sales associate resume template should ideally include:
Related work experience with performance figures
A key skills section that highlights all the skills of the candidate
A proper education section with Undergraduate/Advanced degrees
Also Read: How to write a sales resume?
What to Look For in the Best Sales Resume Templates
When you are applying for a job in sales, remember that the person receiving and reviewing your applications mostly has more experience than you in sales. This makes it more important for you to have a result-oriented and in-depth resume.
They would carefully scrutinize your:
Skills
Sales record
Previous contributions
To convince your recruiter via your resume is to tell them that you are the best person for the job. This goes to show a consistent track record of your sales achievements, bucketed across skills around your target job profile.
Best Sales Resume Templates
Here are some sales resume templates free for you to get inspired from.
Brand Promotion Sales Executive Resume Template
Medical Sales Resume Template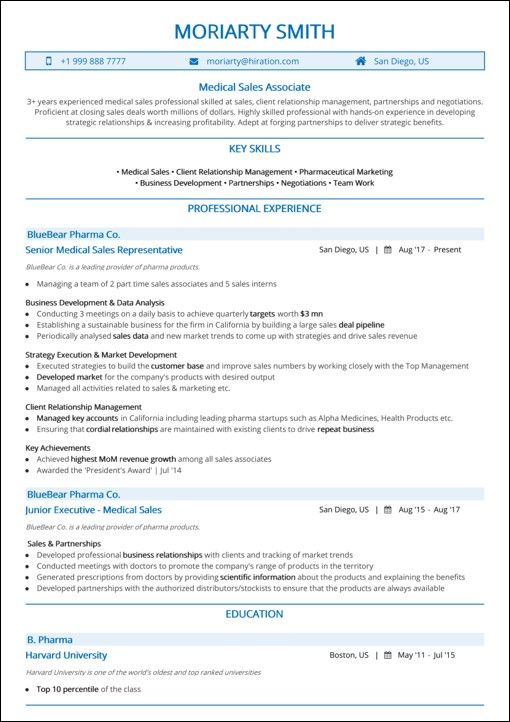 Regional Sales Manager Resume Template
Sales & Business Development Resume Sample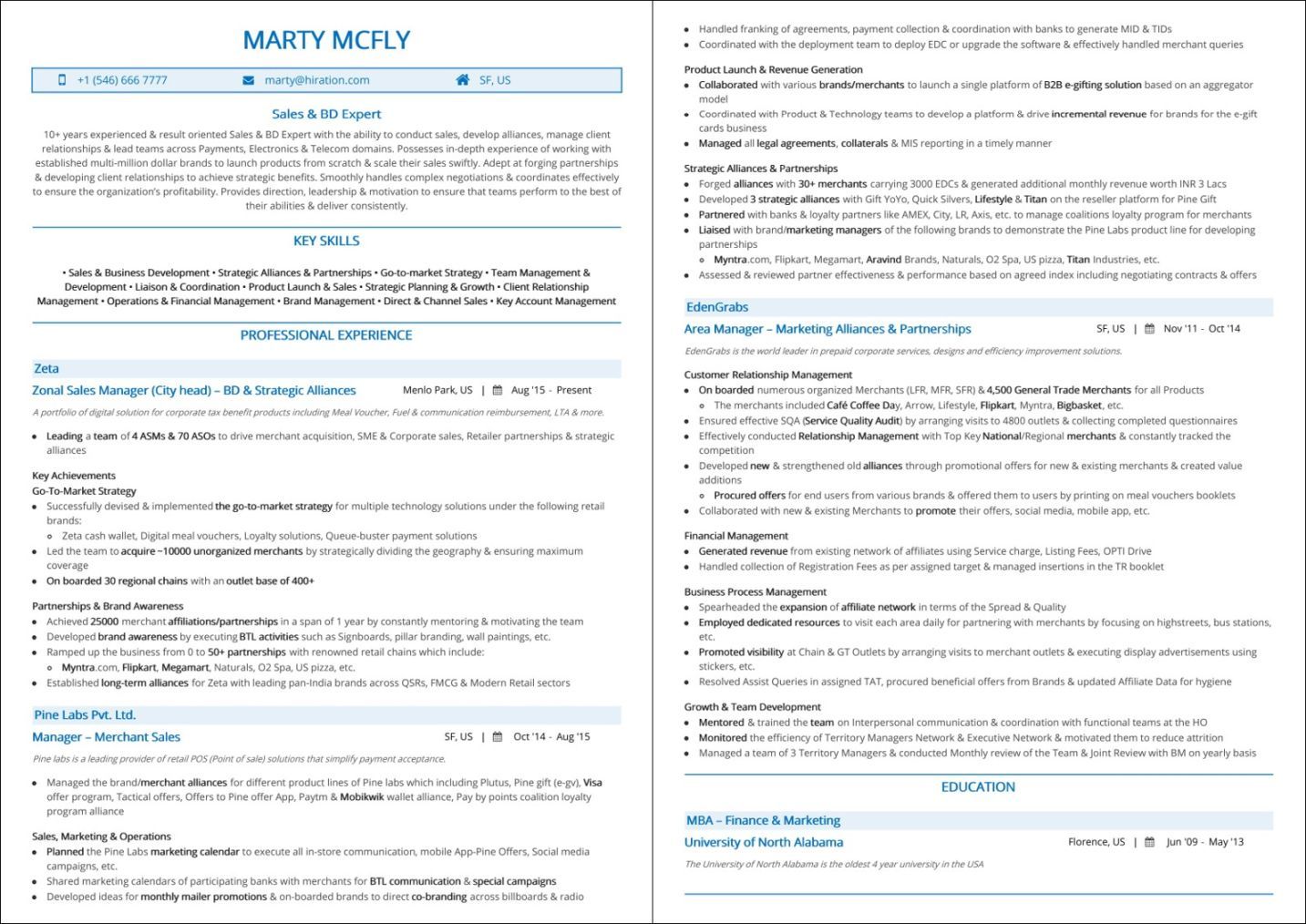 Sales & Distribution Head Resume Sample
Sales & Distribution Resume Sample
Sales & Operations Resume Sample
C-level Sales Resume Sample
Sales Leader Resume Sample
Strategic Sales Resume Sample
Resume Writing Tips for Sales Professionals
Show Off Your Sales Prowess With Stats
As a salesperson, your career revolves around selling things, so use your resume to demonstrate your outstanding skills by providing figures in the resume bullet points.
It not only attracts the recruiter's attention but also improves your chances of getting a job.
Create a Standout Header
Arrange your education and work experience sections in reverse chronological order with the most recent activities and achievements first.
Create an eye-catching resume header by using a clear font in a slightly bigger size than the rest of your document. Include your full name and two reliable contact methods, such as a mobile phone number and professional email address.
Listing your city and state is fine, but it's best to leave out your full mailing address. If you have a personal website or LinkedIn profile, include those URLs too.
Use Sales Resume Bullet Points
Use resume bullet points in the professional experience section for your resume for sales. It does not bore the recruiter and keeps their interest throughout the resume. If you can bold some keywords in the resume bullet points, it is cherry on top.
Optimize the Resume For ATS
Many employers use automated scanning programs called Applicant Tracking Systems to perform the first round of resume reviews.
These programs rank documents based on specific elements that are usually driven by keywords. Make sure you use standard sales and marketing terminology in your document, along with relevant keywords.
You can get a good idea of the terms an employer is looking for by studying the language in the job description and emulating it in your resume.
Include Education Section
While many sales jobs rely on a candidate's relevant experience and proven sales ability, you can use the education section of your resume to set yourself apart from other job seekers.
List formal degrees along with sales-related certifications and professional development courses. You can also include awards and achievements in this section, as long as they are legitimate and relevant to the sales industry.
For each entry, give the name and location of the conferring institution. Most employers don't care about graduation dates, so you can leave those out unless you are a recent graduate or current student.
Key Takeaways
Here are some of the key takeaways from the sales associate resume blog:
Take a simple resume design to create the sales executive resume to improve readability.
Divide the resume into different sections to make it easier to scan
Tailor your resume to the specific sales executive job by adding keywords.
Use statistics in the experience section of your resume and use the power verb on bullet points to make it stand out.
Write a 2-3 sentence long summary. It acts as an elevator pitch for your resume.
Go to Hiration resume builder and create a professional resume for yourself. Additionally, reach out to us at support@hiration.com and you can get 24/7 professional assistance with all your job & career-related queries.