Click here to directly go to the complete Receptionist Cover Letter sample.
What do you write in a cover letter for a receptionist?
In every business, no matter its size, a professional is allotted all frontline duties such as acknowledging calls, handling appointments, arranging couriers, etc., which helps the staff work with ease.
A receptionist cover letter can be incredibly useful to increase your chances of getting shortlisted. This is because a cover letter gives you the space to present the highlights of your career and qualities that help you excel in a job.
Your cover letter will be complementary to your receptionist resume and will serve as a preface to your experiences.
We have narrowed down some FAQs associated with the receptionist cover letter:
With our Cover Letter Builder, you will receive a guided rundown on creating an exemplary receptionist cover letter. Equipped with AI features, it ensures that your receptionist cover letter is on par with industry standards.
Tips for Writing a Receptionist Cover Letter
Your receptionist cover letter is your introduction to a prospective employer. It helps you make a great first impression and showcase qualities that make you a great hire. So, don't squander it.
Take a look at these tips for writing a receptionist cover letter that will convince hiring managers and recruiters to call you for an interview.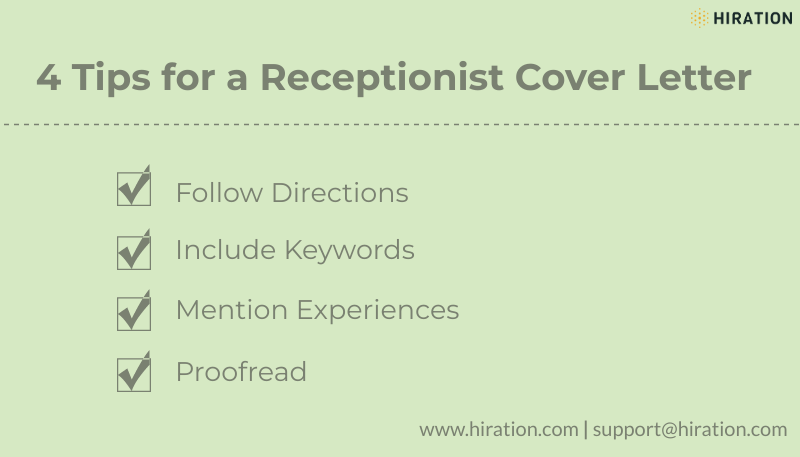 Follow Directions
Pay attention to the requirements and responsibilities stated in your job description. In case it is mentioned that you need to submit a job application along with your resume, make sure to include them in the folder and enclosures at the end of your receptionist cover letter.
As a receptionist, your core responsibility would be to follow instructions attentively. Therefore, showcasing these skills right at the beginning will reward you with brownie points.
Include Keywords
Nowadays, many employers make use of ATS (Applicant Tracking System) to shortlist resumes and cover letters that have relevant keywords in them.
Therefore, it is important to go through the job description and make a list of the skills and qualities mentioned in it. For example, if your role requires time-management and multitasking skills, you must include them in your cover letter for receptionists.
Make use of keywords such as client handling, documentation, calendar management, record keeping, etc., in your receptionist cover letter as these duties align with the requirements for this role.
Look at this sample below to develop an idea about how to include relevant keywords in your receptionist cover letter.
Mention Experiences
To back your skills, it would be better if you provide instances from your past work experience. Suppose you have to showcase your organizational skills, provide a practical example mentioning how you utilized business resources effectively and efficiently.
If you are adept at record maintenance, here is an example as to how you can present it: I maintained official records and compiled data sheets received from various departments, including operations and sales.
Mentioning relevant work experience enhances your credibility in the eyes of the hiring manager and assures them that you have what it takes to handle any given task.
Proofread
It is important to double-check your cover letter before submitting it as it is the first document to come across hiring managers, so it better be unblemished.
Make sure that your receptionist cover letter is free from grammatical and spelling errors, and is addressed to the right person.
Also read: Simple Cover Letter Template
Receptionist Cover Letter Sample
Re: Suitability for Receptionist
I am extremely interested in the profile of Receptionist at Global Solutions LLP, and I am thrilled to submit my application for the same. As a value-driven professional possessing a bachelor's degree in Sociology, combined with a demonstrated history in record keeping and calendar management in compliance with quality standards, I am certain that my qualifications and interests align with the skills you seek. I anticipate being a reliable contributing member of your team through this rewarding job position.
During my stint at About Fitness Ltd., I worked with a diverse team and met the organization's goals by employing innovative administrative techniques thereby meeting stipulated time frames with ease. I maintained official records and compiled data sheets received from various departments, including operations and sales. I fostered business relationships with customers by resolving customer complaints via phone calls and emails to sustain and strengthen customer trust and loyalty. Additionally, I attended clients and scheduled meetings by efficiently coordinating with members.
It is astounding how Global Solutions LLP adapts to the opportunities and changes in the business environment while maintaining a positive corporate culture. I am inspired by its collaborative culture that encourages social awareness, excellent customer service, and a healthy work environment. Therefore, I am eager to join your company and consider your organization to be my most valued employer.
Enclosed for your consideration is my resume. I would appreciate the opportunity to further discuss my suitability and qualifications with you on call or in person. I am available at (415) 227 2891 or jenna.fischer@gmail.com.
This receptionist cover letter sample is built on our Cover Letter Builder.
Power Verbs for Your Receptionist Cover Letter
Power verbs amplify your professional accomplishments. Including power verbs in your resume and cover letter can enhance your output and be far more impactful than using regular verbs.
When you come across receptionist cover letter examples online, you must have noticed how the experiences showcase accountability, reliability, and similar attributes. We have curated a list of suitable power verbs for your receptionist cover letter that will cover the responsibilities of this profile.
Assisted
Arranged
Organized
Communicated
Coordinated
Resolved
Maintained
Acknowledged
Receptionist Cover Letter Examples: With Power Verbs
I maintained all the official records of the branch staff to deliver details as and when required by superiors.
I coordinated with office suppliers to ensure timely delivery of stationeries, couriers, and sanitation products.
I arranged meetings for clients with senior management and revised schedules to avoid overlapping.
I answered phone calls and resolved client concerns by forwarding calls to the appropriate department.
Add similar points in your receptionist cover letter to emphasize relevant skills and intrigue potential recruiters.
Also read: How to End a Cover Letter
Cover Letter for a Receptionist with No Experience
No matter the length of your work experience, having a well-written cover letter can help you land your dream job. If you take the time to research, you will understand the requirements that freshers can fulfill and mention your relevant skills and qualities in your entry-level receptionist cover letter.
For example, if you identify with good communication skills , you do not necessarily need to have past work experience to support that in your cover letter. Just emphasize it and align it with the role you are applying for.
Another thing to mention in an entry-level receptionist cover letter is your interest in the profile. You can showcase your interest by appreciating the company and how you will be grateful to become a part of their stellar team.
Key Takeaways
Your receptionist cover letter will allow the recruiters to develop a better understanding of your candidacy.
Make sure to include relevant keywords and experiences in your receptionist cover letter, and proofread it before final submission.
Include power verbs in your receptionist cover letter to amplify your professional accomplishments.
An entry-level receptionist cover letter should mainly focus on relevant qualities and your interest in the position.
We hope you have a better understanding of how a receptionist cover letter can up your game and help you in getting shortlisted.
You can drop us a mail at support@hiration.com for any queries or concerns.
Hiration provides you a complete career service platform with 24/7 chat support for all your professional needs from cover letter & resume building, CV, interview preparations, LinkedIn review to building a digital portfolio.