Click here to directly go to the complete project manager resume sample.
As a project manager, you'll be at the forefront of a project.
You have to plan the project roadmap, set goals, create budgets and build a team toward completing the projects.
You have to have versatile skills to do all these jobs.
However, only having these skills won't help you get a job.
You need to showcase your skills to the recruiters to get your dream job.
It may seem complicated to showcase all your skills on a piece of paper, but you'll be able to do it with the proper guidelines.
This article will tell you everything you need to know about writing an effective project manager resume.
We have also provided project manager resume examples for your reference, which you can find as you keep reading this blog.
Table of Content
What is the Average Project Manager Salary in USA?
While looking for a project manager job, you should also be aware of the salary range offered.
According to the following websites the salary of a Project Manager is:
Also read: What is the Project Manager Salary in 2023?
What Does A Project Manager Do?
The scope of work for a project manager is wide. They are responsible for ideating, planning, designing, and executing full-fledged projects and ensuring project completion within time.
The Roles and Responsibilities of a Project Manager
Collaborate with stakeholders to understand their visions
Organize project tasks and prepare a roadmap to complete the project
Build a team to bring the project into life
Prepare project budget and negotiate with stakeholders and sponsors to pass a budget
Lead the team, train new members, and develop common goals among people to ensure efficient workflow
Manage the entire handover process after the completion of projects
Also Read: What Does a Project Manager Do?
Project Manager Resume Sections
There are two sections in your resume, the standard sections that need to be framed at all times and the optional sections that can be framed only when explicitly asked or required.
Your project management resume is divided into the following standard sections:
Header
Personal Information
Title
Summary/Objective
Key Skills
Professional Experience
Education
Given below are the optional sections that can be framed whenever required or if you think it is necessary:
Certifications (if any)
Additional Information (if any)
Awards & Recognition (if any)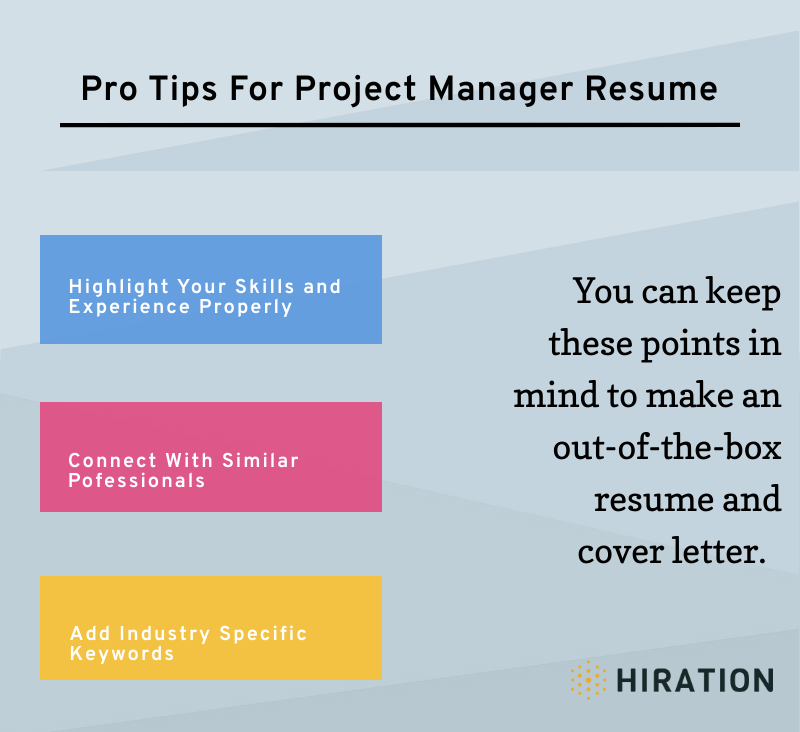 How to format the Project Manager Resume Correctly?
There are three types of resume formats used by the candidates:
Reverse-chronological format
Functional format
Combination format
But, the reverse-chronological format is the best format to choose when writing the project manager's resume. It's the most ATS-friendly resume format, and the recruiters are familiar with this type of resume.
It gives the recruiter a clearer picture of your career path.
Along with using the reverse chronological resume format, you need to keep in mind some basic rules:
Use a professional resume font such as Ariel, Times New Roman, or Calibri
Keep the font size between 11-12 points for the body and 14-16 for the resume header
Write the resume professional experience section in bullet points,
Make sure the resume wraps up within 1 page
Always send your resume in PDF format to the recruiters.
Project Manager Resume: Header
The resume header holds a lot of importance in a resume. It helps differentiate your resume from hundreds of other project manager resumes that have come in for the same designation.
The below-given points can help you frame the ideal header of your best project manager resume:
Your full real name should be written at the topmost part of your program manager resume.
The header of your project management resume should be written in 16-20 font-size.
If you have a middle name, write only the initial of your middle name.
Example: John Mathews Levesque should be written as "John L. Levesque."
Project manager resume Header Example:
Also Read: What does a Project Manager Job Description Include?
Project Manager Resume: Personal Information
The personal information should be below your name on the resume headers section.
The following three things need to be written in the personal information section:
Contact Number
Email Address
Current Location
Contact Number
Always make sure that the contact number you provide is the line through which the recruiters can conveniently get in touch with you, so make sure to provide only the available number on which you are available 24x7.
Remember the following points while framing your contact number on your program manager resume:
Use your country's ISD code as a prefix before your phone number
Put a plus sign (+) before the ISD code
Eg: +1 37648 21511
Email Address
Keep the below-mentioned tips for adding an email id on the project manager resume:
Provide only the email ID which you use for official purposes
Make sure to create an email ID that has your real name.
Example: john@xyz.com or johnlevesque@xyz.com
Strictly avoid giving out any email IDs that have fancy and superficial names
Example: johnthewinner@xyz.com or johnwins@xyz.com
Current Location
Remember and follow the two basic points given below while writing your location on an IT project manager resume:
If you are looking for a job in your country, mention the city and state of your residence. On the contrary, simply write your city and country of residence if you are looking for a job outside the country.
Avoid giving your house number, street number, and your locality name as they are of no use to the recruiters.
Website Links
Adding links to your LinkedIn and GitHub accounts can be an added advantage since it gives you the scope to display the accomplishments that you couldn't see in the resume.
You can also add links to your personal website or Kaggle while ensuring that your accounts are professional.
Refer to the below-given project manager resume sample that is a visual representation of an ideal personal information section:
Project Manager Resume: Profile Title
Your profile title is a statement of your level of professional status, which needs to be framed accordingly in an entry-level project manager resume or a senior project manager resume.
The profile title on a resume ideally communicates the following facts to the recruiter:
Your current designation.
Your functional industry.
Your level of seniority in your line of work.
Never exaggerate your profile title, as it may pass as intentionally trying to cheat the recruiters into buying you as an eligible applicant even though you are not.
You need to mention the exact job profile you currently hold or possess in your previous organization.
When writing your profile title in the resume, make sure that it is the second-largest text in the resume after the header in the range of 12-14 font-size.
Refer to project manager resume template showcasing the ideal profile title in the best project manager resume:
Project Manager Resume: Professional Experience
As a project manager, you must have good work experience. You need to show that to the recruiter effectively.
Below are some tips for writing the professional experience section correctly:
Write your experiences in a reverse-chronological format
Make sure to add the following information in the professional experience section:

Job title
Company name and location
Date of employment
Your achievements in bullet points

Use action verbs to start the bullet points
Quantify your achievements in the professional experience section as much as possible
Only add relevant experience in the resume professional experience section.
Also Read: What are the Most Common Project Manager Interview Questions?
Project Manager Resume: Professional Experience Example:
Project Manager
Company XYZ
08/2017 - 01/2023

Project Optimization

Managing USD ~200 Million worth of project budgets to ensure the best pricing
Accounting all savings & contingencies by analyzing the prime project of USD 1 Billion buyout

Client Management

Effectively meeting the deadlines & Level Agreements of services for customers
Overseeing the project scope between customers & contractors by maintaining communication
Demonstrating a thorough understanding of the organizational structure & checklist of a prime contract

Key Achievements

Achieved 10% annual cost reduction by minimizing the buyout process risks
Recruited ~300 technicians & remotely provided support to field technicians
Refer to the project manager resume example given below to have a visual understanding of what a perfectly framed professional experience section ideally looks like:
Project Manager Resume: Education Section
The education section is another important feature of your project management resume that helps recruiters decide if you have the required educational qualification to deserve the targeted job profile.
The education section for project management resumes should ideally consist of the following:
Name of the school/university you have attended.
Name of the courses you have pursued.
The location of your school/university.
Enrollment and graduation dates in the month & year format.
Here is one of the project management resume examples showcasing the ideal education section for your project management resume:
Project Manager Resume: Key Skills Section
The skills section of your resume helps recruiters scan through your resume easily and take a glance at your skills.
Below are some tips to help you frame the write key skills section in your resume.
Analyze the job description, and tailor the key skills section to the specific job
Research the most in-demand project management skills, and if possible, add that to your resume
Skim through your accomplishments and identify more niche skills you can add to your resume
if you're managing projects for product-based companies, you may have a lot of technical skills. Add those skills in a separate section
20+ Key Skills for Project Manager Resume
Budget Preparation
Marketing
Business Strategy
Math
Business Forecasting
Project Management Methodologies
Microsoft Office
Accounting
Technical Documentation
Jira, Trello
Process Management
Project Scheduling
Strategic Planning
Statistical Analysis
Risk Evaluation & Management
Database Management
Programming Languages: C++, JavaScript, HTML, CSS
Technical Writing
Performance Management
Financial Management
Contract Management
Vendor Management
You can also refer to the project manager resume example given below, showcasing the perfect key skills section:
Project Manager Resume Summary
Write a brief statement of your professional experience to highlight the most significant skills you possess and make the recruiters recognize you as an efficient applicant.
Follow and apply the following points to write a great construction project manager resume summary:
Write your project manager resume summary at the end, making it easy to decide what to put in your summary.
Pick the highlights of your career from your work experience section.
Try to include the keywords the recruiter used in the job listing.
Write the best project manager resume summary that does not exceed 4 lines.
Write your project manager resume summary only if you have worked for 3 years and above.
If you have worked for fewer than 3 years, write a project manager resume objective.
Refer to the provided project manager resume template showcasing the ideal resume summary for your construction project manager resume:
Project Manager Resume Objective
You should write a project manager resume objective if you belong to any of the following categories:
you have no work experience.
you have very limited work experience of fewer than 3 years.
you are a fresh graduate writing an entry-level project manager resume.
Writing a project manager's resume objective is to make the recruiters understand what you can contribute to the targeted organizations.
Try to sell your skills to the recruiter and convince them that you are the most suitable candidate for the targeted job profile professionally.
Also Read: How to Write Resume Objectives?
Add Relevant Additional Sections
If you have extra space left in your project manager resume, you can add some additional sections in it:
Awards and Honors: If you have any related to project management
Hobbies & Interests: If you any hobbies you have that can help you put your best foot forward for the job
Volunteer Experience Section: If you have done any relevant experience
Certification Section: Add if you have project management certification
Project Manager Resume Sample
To show you how an end-to-end completed resume looks like, we've given a complete resume sample below.
~12 years experienced and result-oriented Project Manager with a proven track record of managing multi-million dollar projects for large organizations and optimizing processes by employing effective Project Management & Quality Management Principles as well as managing teams. Adept at leading infrastructure development projects to save the organizations millions of dollars. Proficient in providing direction, leadership & motivation to ensure that teams perform to the best of their abilities & deliver consistently.
•Real Estate Development • Process Optimization • Property Management • Budget Management • Leadership
• Team Building • Risk Mitigation • Cost Optimization • Negotiation
PROFESSIONAL EXPERIENCE
Start typing, then use the up and down arrows to select an option from the list
Directing project budgets valued at

USD ~300 Million

to ensure the company enjoys the best possible rates & pricing

Devising plans to thoroughly explain each aspect of

respective contracts

to the

project team
Meeting

the

deadlines

set by the

customer

and following Service Level Agreements for

100% customer satisfaction

Demonstrating a complete comprehension of the

prime contract checklist

and the organizational structure
Reduced annual costs by

20%

through the identification of risks in the buyout process and devising plans to minimize them

Recruited

200+ technicians

and delivered remote support to field technicians
Start typing, then use the up and down arrows to select an option from the list
Leadership & Team Management
Managed & led the smooth functioning of

20+ gyms

in the city

Conducted & optimized gym operational budget of

USD 60 Million

, staying within budget by ~10%

Provided

strategic

& fiscal leadership to attain the company's long term goals &

maintain organizational vision

Controlled accounts & designed budgets for multiple projects as well as salaries o

f ~500 staff
Hired & recruited

~ 40 gym level associates

and managers through various channels

Oversaw the successful opening of

2 new outlets

in the city bt maintaining the brand standards

Achieved targets of

~15% annual increase

in revenue by optimizing sales process and systems
Start typing, then use the up and down arrows to select an option from the list
Produced &

directed

both audio & audio/visual

commercials

,

documentaries

, and presentations

Identified the needs of the client and proposed the

best products

that would fit their

individual budgets
Led the team to win

'Best Team Award'

for maintaining

99% quality

| Jan '11

Recognized for significant contribution to

Corporate Social Duties

initiatives | Dec '10
EDUCATION
Start typing, then use the up and down arrows to select an option from the list
Top

15 percentile

of the class
Start typing, then use the up and down arrows to select an option from the list
Awarded the '

FullBright Scholarship'

for extraordinary performance
Certified '

Project Management Expert

' from the

Sloan

School of Management, MIT | Jan '10
Speaker

, Association of Professional Operations for

Stuart Convention

| Jan '16

Speaker

, Venture Cap Conference, SF organized by

Copper Crunch

| Apr '14
Key Takeaways
Your header should always be the largest text in the range of 16-20 font size and your profile title should be the second largest in the range of 14-16 font size.
Write your education and working period in the month & year format throughout your project management resume.
Provide only those personal information that has been specifically asked for and avoid adding any unnecessary pieces of information on your IT project manager resume.
Use one-liner points to state your roles & responsibilities while using the STAR format to create the cause-effect relationship in each point.
Create unique buckets and list your similar one-liners then bold your key achievements.
Write every point by starting with a power verb. Use action verbs in the past tense for past profiles and in the present continuous tense for present profiles.
Limit your resume objective/summary to 3-5 lines only to give a specific and over-all statement of your construction project manager resume.
Make sure to use all of the resumes' rules and refer to our project manager resume examples 2023 as it can help you in writing your resumes.
Go to Hiration resume builder and create a professional resume for yourself.
Additionally, reach out to us at support@hiration.com and you can get 24/7 professional assistance with all your job & career-related queries.