You are probably scouring the internet for some details.
Let us make your search worth it.
Project manager jobs require leadership and management qualities. If you identify with these skills, you are very close to bagging your dream project manager job.
Many credible and full-fledged job sites such as Indeed, LinkedIn, and Glassdoor has a massive database, showcasing real-time project manager job openings.
There is hardly any space for dullness in this profession because of its high-functioning nature. A project manager is involved throughout from initiation to completion of a project while guiding every individual associated with it.
Let us help you map out your career plan by discussing these FAQs about project manager jobs:
What Jobs Does a Project Manager Do?
A project manager is responsible for undertaking a project with a defined scope and working on it from start to finish. Project manager jobs require you to be a team leader, co-worker, and supervisor at the same time.
The duties of a project manager will differ from industry to industry. However, some common responsibilities referred to as the "project lifecycle," consists of five phases:
Initiating
Planning
Executing
Monitoring and Controlling
Closing
Project managers continually return to these processes throughout the life of a project.
Therefore, you need to be able to communicate well with your team members and stakeholders about every detail of the project. Clear communication will save you from steering to-and-fro after initiating the project.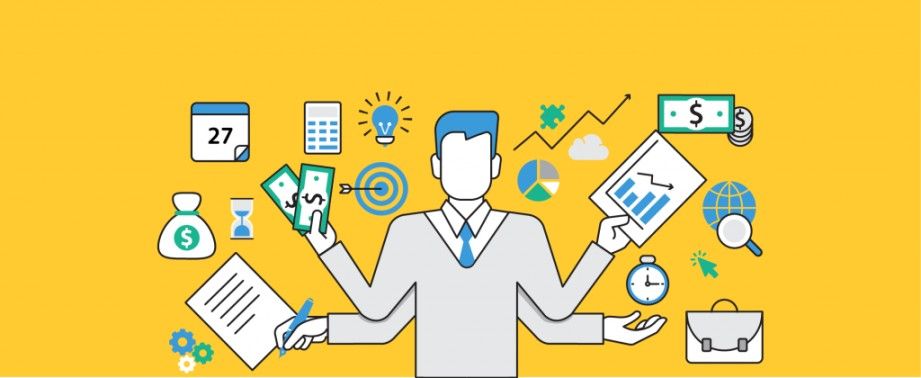 Source: Perfectial
Skills Required to Land Project Manager Jobs
A project management job will not limit its requirements to your understanding of the project, but also evaluate your soft skills to carry the project. Remember, communication and interpersonal skills are always a must, especially in leading roles.
Throughout the life cycle of the project, you will have multiple roles to play. The skills required to fulfill these roles are:
Leadership
Budgeting
Critical Thinking
Decision Making
Negotiation
Risk Management
These are the general set of skills required in project manager jobs. In addition to this, you can polish extra skills based on your project manager job description.
Along with the soft skills, there are certain hard skills that a project manager should have. Tools such as Microsoft Office and Google Workspace are essential in this field. In addition, knowing how to use different email services and team tracking tools such as Trello and Slack is a must.
You need to eventually draw your project and people management methods. This will come with experience, and experience will get you closer to senior project manager jobs.
What Qualifications Do You Need to Be a Project Manager?
With two to three years of experience in a related role, good communication skills, formal training, and appropriate online certification, you can qualify for project manager jobs.
We see that e-learning has become a popular choice in the current world we live in. Also, as per the 2023 report by Studocu, e-learning increases retention up to 82% because of being more flexible and engaging as compared to offline learning, making it the best to equip yourself with some in-demand project manager skills.
Stated below are four e-learning sites that provide courses that will help you land project manager jobs:
If you are a novice, these courses are designed to turn you into a veteran in project management jobs. Also, being virtual, these courses can back you up in bagging remote project manager jobs.
Also read: Commonly asked Project Manager Interview Questions
What are Some Common Tools that Help a Project Manager Succeed?
Certain hard skills required by project managers are some time, goal, and team management tools/applications which helps increase operational efficiency.
Some of the tools you should be familiar with for a project management job include:
Google Workspace: For general documentation and cloud data management, Google Workspace is a comprehensive suite of tools with a variety of applications for creating documents, presentations, tables, along with cross-platform functionality.

Infinity: Infinity provides you with a platform for project planning, delegation, and progress overview making professional collaboration much easier. Similar platforms are Trello and Asana.

Slack: This communication platform enables real-time messaging, audio, and video calls along with data sharing features among teams to enable smoother workflow in a remote space.

Evenhour: A powerful time tracking software and an all-in-one solution for all your time and team management along with accounting needs. It can also integrate seamlessly with all of the popular project management applications.

Lucidchart: Lucidchart lets you create diagrams and flowcharts with 500+ templates, and also provides integrations with popular apps like Google Docs, Microsoft Word and Excel, Salesforce, and many others.

SmartDraw: SmartDraw is a easy-to-use platform that will allow you to quickly create visualized data based on your gathered information facilitating brainstorming and mind mapping.
Building a Portfolio for Project Management Jobs
The idea behind creating a portfolio is to deliver a story that sums up your abilities and experience, and let the recruiter connect with you as a person and a manager.
You need to start with a title page stating your name and certifications. Followed by a table of content that showcases your core competencies.
If your strength lies in resource management, risk analysis, communication, motivation, etc, provide sections on those skills. Each project covered in your portfolio should include the problem you dealt with, how you approached it, and the results of your solution.
Your portfolio should make your recruiter curious about your work, allowing you to level up the conversation or interview into what you do best, and how your skills fit the needs of the project manager job.
Our Digital Portfolio Builder can help you create an impeccable project management portfolio by highlighting your core strength and experiences in a manner that intrigues hiring managers and interviewers about your profile.
Entry Level Project Manager Jobs
Landing entry level project manager jobs are possible, especially if you're able to show your commitment to the industry with the skills that a project management job requires.
Showcase your foundational skills: Hiring managers will prefer those candidates who display communication, organizational, and leadership skills in their project manager resume and during an interview.

Find training opportunities: You can search for several training opportunities to learn more about the role you need to play in project manager jobs, its methodologies, and common tools that professional project managers use.

Explore project coordinator positions: Consider roles that can help you brush up your essential project management skills. Such profiles include project coordinator, marketing assistant, and operations specialist.
Is Project Manager a High Paying Job?
According to BLS, the median annual salary is $95,370 for project management specialists. Here are the latest updates by BLS:
This data gives us a crystal clear picture of how the project management professionals are guaranteed high pay in 2023 and the following years.
Also read: Know you Project Manager Salary in 2022
Key Takeaways
Project management jobs are a great career choice if you identify with leadership and management skills.
The five phases in a project life cycle are Initiating, Planning, Executing, Monitoring, and Closing.
You need to have a great command of your soft skills to excel at project manager jobs.
You can gain in-demand skills with project management certifications from Udemy, Coursera, LinkedIn Learning, and EdX.
Grab training opportunities and similar job roles to develop your management skills and eventually land entry level project manager jobs.
Feel free to drop us a mail at support@hiration.com for any queries or concerns, which provides 24/7 chat support.
Hiration provides you a complete career service platform for all all your professional needs from cover letter & resume building, CV, interview preparations, LinkedIn review to building a digital portfolio.