Click here to directly go to the complete cover letter sample.
How long should my cover letter be?
If you are a job seeker, you must have come across this question in your mind. But, what does length have to do with a cover letter?
Well, majorly everything. A very pressing question in the recruitment circles is: how long should a cover letter be for a job?
Quite literally, it asks, how far you should go in order to impress your employer?
So how long should cover letters be? The immediate answer is 1/2 of an A4 page.
Read on to find how and why this rule is applicable. Always customize it according to your target recruiter.
In this blog, we will answer some of your questions:
How long should a cover letter be?
Let's look at the length of the following example: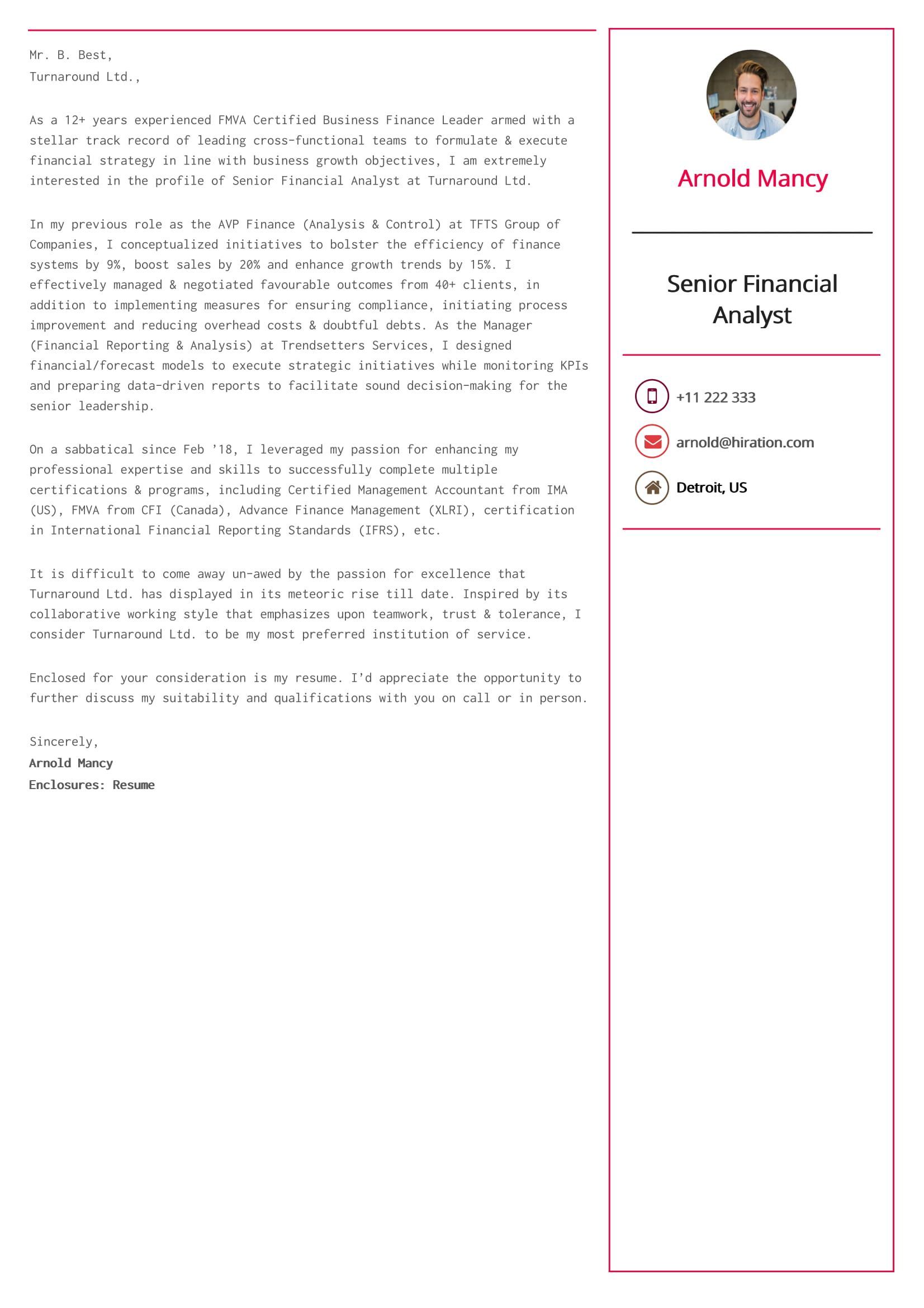 The length of the cover letter varies with what your cover letter needs to do.
Now a quick review of what your cover letter should do:
Introduce yourself
Reassure your knowledge about the company and the position
Demonstrate 2 - 3 examples of how your skills and experience match the recruiters' requirements
Share your enthusiasm for working for the company/institution
Imply an insight into your personality
And you need to do all of it in less than half a page!
Also Read: How to write a cover letter?
On average, out of 300 applicants, 5 are shortlisted for the interview. The right cover letter length increases your chances exponentially.
How long should your cover letter be?
You shall be surprised to find that most cover letters are 2 pages in length. Professionally speaking, this is wrong. Most hiring managers do not read long cover letters.
The longer your cover letter, the lesser are your chances of getting shortlisted.
Let's look at some examples of how should a cover letter look:
| | |
| --- | --- |
| Page Count | ~0.5 |
| Paragraph Count | 3 |
| Word Count | 250-300 (unless specified) |
How long are Cover Letters?
The 2019 edition of cover letter length saw a rapid elaboration and justification of one's skills and interests. This was followed by explanatory interviews and resulted in wasting a longer time before hiring the most relevant candidate.
The 2022 edition of cover letter length has been made concise and to the point. This allows recruiters to find the exact candidate they need for shortlisting more relevant candidates.
Trends suggest that the 2022 edition of cover letter length will not necessarily compromise on space but shall highly prioritize the simplicity of language and directness of impact.
This shall enable recruiters to:
spend lesser time before contacting the right applicant
apply quicker filters to find the necessary candidate
spend lesser time writing fluff and adding information
highlight key points you want the recruiters to see
How long does a cover letter have to be?
Your cover letter should be less than one page.
Only highlight:
your most relevant skills for the job
what you have to offer the employer
Awards/recognition across your career
certifications that prove your merit
In fact, a recent survey found out that, almost 70% of employers want a cover letter of less than 1 page, and about 25% responded that a shorter cover letter is better.
The usual preferences around the question - how long should a cover letters be:
| | |
| --- | --- |
| 1 Page | 13% |
| 1/2 Page | 45% |
| No Preferences | 20% |
| Shorter, the better | 22% |
Ensuring Readability - Cover Letter Length
Here are the few things to consider for the ideal cover letter length:
Cover Letter Formatting
The second most important thing after the length of cover letter is the format.
You must choose a legible font. Resume experts at Hiration suggests Calibri or Open Sans.
Ensure a readable font size of about 12 points.
Your margins should be about 1 inch all around, with the text left aligned or justified.
To ensure maximum readability, add spaces between:
paragraphs
salutation and text
text and signature
As a rule of cover letter making, always have an ample white space in your cover letter. This will give your cover letter a clean look.
Also Read: Key Tips for writing a cover letter
Do not Waste Key Blank Space
This brings us the very next rule: do not waste the space you are supposed to cover with useless information.
over-explaining your contributions
apologizing for skills you don't have
Examples of wasteful sentences are: "Despite my limited experience with marketing…", etc.
Word Count
How long does a cover letter need to be?
There is no specific word count you should aim for when writing a cover letter (unless the employer gives you a specific word count).
Instead of focusing on the number of words, focus on making your cover letter one page or less, with a readable font and font size, and enough white space between paragraphs and in the margins.
In order to get a second opinion on your cover letter before posting it or sending it somewhere, give a print out of it to your family member or friend and ask if it looks too cluttered.
Highlight the Right Experiences
Not sure what skills and experiences you should be featuring? Drop the text of the job description into a word cloud tool like Wordle, and see what stands out. The words with higher frequencies are what the recruiter is looking for.
Email Subject Line
When emailing your cover letter, it is even more important to be concise.
Most readers pay attention to the first paragraph when reading an email.
Most will ignore the rest of the message. 2 paragraphs of which the first one consisting an introduction and second describing why you are eligible for the job is enough with a closing paragraph at the end.
You can also make your email cover letter stand out with a clear, concise email subject line.
Typically, you want to include the title of the position that you are applying for and your name. For example, Editorial Assistant - John Smith.
If possible, try to keep the meat of your subject line (specifically, the job title and your name) under 30 characters. This is about as much as people can see on their mobile devices, which is often how people check their email.
How to make cover letter length right
To understand how long can a cover letter be, imagine you need to buy a car.
Do you ever read the long literature or spend hours listening to a salesman describe the functionalities of a particular car?
No.
You only listen to the necessary specifications matching your needs.
The same goes for a cover letter. Check out the following length of a cover letter example:
This example shows how long a cover letter first paragraph should be, and why.
Here's another:
Structuring your Cover Letter
First, enter your name as the largest text. Then enter your contact information:
Phone number
Email Address
Location
After the header, start your actual cover letter.
Let us break the above example into the following steps to understand exactly how to optimize the paragraphs to make it most effective.
Also Read: How to start a cover letter?
Cover Letter Length: Salutation
The following example portrays how to write the salutation in your cover letter.
Dan Wilkins
HR Manager
Bro Code Limited
Cover Letter Length: 1st paragraph
Let's look at the corresponding example:
CCP & TTL1 Certified Collection Manager & Credit Analyst with a prolific 16-year track record of overseeing collection management and credit control for Fortune 500 companies. Adept at conceptualizing and implementing initiatives to drive continuous process improvement within the control and compliance framework to achieve operational excellence, I am extremely interested in the profile of Collection Manager & Credit Analysis Expert at Bro Code.
How long is a cover letter first paragraph?
It has all the elements of the first paragraph of an ideally long cover letter:
It starts with the certificate name
It displays your profile title(s)
It shows your years of experience
It substantiates your most pressing contributions
It then exemplifies why you are such a great fit for your target position
It's 2 sentences long with 64 words.
There is no generic element in it. It displays your genuine interest and proposes why you think you are the best candidate for the job.
And it is based on your experience. That's how you write a job-winning cover letter.
Cover Letter Length: 2nd paragraph
Let's look at the corresponding example:
In my present tenure as the Assistant Manager at Accenture, I have been independently managing 11 accounts while incubating and managing a team of 15 to supervise collections from Expedia on behalf of Marriott. As the Lead at IBM UK across London, Manchester & Liverpool, I spearheaded the Cash & Collections Application team to steer process development and deliver stellar levels of customer service. In my previous role as the Process Developer at Miss Effective, I effectively executed the Green Belt project (US/London) while steering process migration for USA Business Credit Services.
How long is a cover letter second paragraph?
The second paragraph of the cover letter is slightly longer, about 93 words long.
It does not pound its chest and claims "I'm the best". Instead, it simply showcases the right numbers. Again, not a generic cover letter.
But, how do you do it?
First, read the job description very carefully. Secondly, go down memory lane and brainstorm about the times you delivered what the target job is exactly looking for.
Cover Letter Length: 3rd paragraph
Let's look at the corresponding example:
I was declared a recipient of the Top Collector Award & Maintenance Award while demonstrating the capability to achieve 99% accuracy and productively managing a portfolio of USD 1.5 M per month.
How long is a cover letter third paragraph?
The hiring manager should have not stopped skimming and started reading your cover letter.
Here's why it worked:
It did not just say, "I like the company."
It proved the same, based on numbers
It showed your exact skills
Read their mission statement and "about us" page. Read news articles about them. Find out their philosophy on training and staff development.
In short, state the reasons why that particular organization is the dream company for you.
To get the right cover letter length, use one inch margins and 12 point font. Add white space between paragraphs to give the hiring manager's eyes a pit-stop. Also, make it single-spaced, not double-spaced.
Cover Letter Length: 4th/5th paragraph
Let's look at the following example:
It is difficult to come away un-awed by the passion for excellence that Bro Code has displayed in its meteoric rise to become a stalwart in this domain. Despite a presence in 9 countries, it values its employees & ensures a continuous learning environment. Hence, I consider Bro Code to be my most preferred employer.
Enclosed for your consideration is my resume. I'd appreciate the opportunity to further discuss my suitability and qualifications with you on call or in person.
How long is a cover letter fourth paragraph?
The fourth paragraph always entertains the nature of the organization and your reason for wanting to attend to the same. You should:
Read about the company before writing the concluding paragraph
Show eagerness for the company and the recruiter
Cover Letter Length: Signature
Always end on a sincere note as does the following example.
Sincerely,
Sussane Stephens
Enclosure: Resume
Ensure a sustainable gap between the text and the signature.
Still not clear about how long should a cover letter be? You may read our guide on the same.
The following is a concise guide for the same thing.
Academic Cover Letter Length
An academic cover letter could run up to 2 pages.
The question - how long should a cover letter be for an academic position - enables us to rethink the scope of an academic cover letter length.
Basically, it incorporates evidence, enthusiasm, and rationale.
On a larger scale, the academic cover letter covers highlights the following:
Current Position
Education
Research Interests/Affiliations
Scholarly Publications
Selected Awards & Honors
Conference Presentations/Papers
Invited Talks
Additional Publications
Teaching Experiences
Languages
Further, if asked, it may also encompass a "Statement Of Purpose". The SOP relates to the readers the motivation/inspiration of the candidate behind opting for the particular position he/she is seeking.
This may easily run from 750 - 1000 words.
Also Read: How to write a cover letter enclosure?
Cover Letter FAQs
How long does a cover letter need to be? Here are the common questions.
Should a cover letter be of 2 pages?
No, a cover letter should not be of 2 pages.
A cover letter that is of 2 pages violates both the definition and the parameters - a short summary of why you're the best bet for the job.
In fact, a resume can extend to 2 pages only if you possess 10+ years of experience.
Should a cover letter be of 1 page?
The best cover letter length is less than 1 page.
Smart and short cover letters allow a detailed eye-time with the manager.
In fact, a long cover letter often sends the message that you are unsure about your capabilities.
Is my cover letter too lengthy?
If your cover letter is of 1 full page or longer, then it will be considered lengthy.
A 2 - 3 page length of cover letter is a waste of paper.
A cover letter consists of 3 paragraphs explaining why you're the perfect candidate for the profile you're applying for.
What should be the font size for my cover letter?
The font you use for your cover letter should be of the same font size as that of your resume.
This said, the ideal font size for both is 12 pts.
How many words should a cover letter be of?
Cover letter should be 250 - 300 words long.
This is because that's the number of words that take up a little more space than half a page with 12-pt. size.
How long should a digital cover letter be?
The length of a digital cover letter should be the same as that of a paper cover letter.
Mainly
<1 full page
250-300 words
3 paragraphs
The difference in an electronic cover letter would be in the address section in the starting and the subject line.
Should there be double spacing in a cover letter?
There should not be double space in a cover letter.
The line spacing of your cover letter should effectively be between 1 - 1.5.
Also, after ending each paragraph, give space of one blank line to clearly distinguish between the paragraphs.
How long should a cover letter be for an internship?
Your resume for cover should not be more than 1 page, and ideally withing 400-500 words.
The basic principle of a cover letter for an internship and a cover letter for a job is the same. The only differene is that, in internship cover letter, you need to focus more on your academics and extracarricular activities.
What length should an academic cover letter be?
Usually, an academic cover letter is called an SOP or a "Statement Of Purpose".
This can be 2 pages long - which is enough to demonstrate your:
teaching
research work
accomplishments
relevant accolades
departmental service
In general, an academic cover letter length is usually 1.5 - 2 pages long. This is about 5 - 8 paragraphs.
Does the length of a cover letter matter?
The right length of a cover letter signifies that you are able to justify your profile and highlight the most relevant experiences.
The number of interviews that you'll get very much depends on the length of your cover letter. So the question now is, how to make the cover letter of the right length?
How long does it take to write a Cover Letter?
Well, you should ideally spend 30 minutes writing a cover letter and 10 minutes proofreading it.
The examples on the page shall help you answer how long should a cover letter be.
Follow the ideal cover letter length for the most number of responses from your hiring manager.
You may also get it reviewed by industry-specific professionals at Hiration.
Key Takeaways
Here are the most important points to practice while reducing your cover letter length:
Limit your cover letter to half a page
Structure your cover letter in 3 paragraphs
Research about the company to ensure that the cover letter is tailored to the job listing
Sell Yourself Subtly
Be Concise to ensure that the recruiter is presented with a quick snapshot of your achievements
Customize the cover letter as per the profile you're targeting
Proofread to make sure there are no errors and mistakes
Limit your contact information to Phone number, Email Address & location
Go to Hiration career platform which has 24/7 chat support and get professional assistance with all your job & career-related queries. You can also write to us at support@hiration.com and we will make sure to reach out to you as soon as possible.