Looking to understand the differences between a CV and a Resume?
[Click here to directly go to the complete cv vs resume infographic]
"Knowing is not enough; we must apply. Wishing is not enough; we must do." - Johann Wolfgang Von Goethe
The difference between a CV and a Resume is as subtle and crucial as the difference between Pepsi and Coca-Cola - it's either one or the other!
Don't you just hate it when you ask for Coke and you get Pepsi in return?
And the voice inside you screams 'NO IT'S NOT!' but all you can muster is a 'Um, can you check again? Otherwise it's alright.'
On the face of it, Pepsi and Coke look the same, might even feel the same, but deep inside, you know they are not, right?
The same goes for a Resume and a CV. What is a CV, and what is a resume, you ask? The two are so often used interchangeably that most of us feel that they are the same.
But they are not. They are miles apart, and the lack of understanding between the two can cost you a job, or be the difference between a 150k and a 50k profile. We mean it because we have seen it.
By the end of this guide, you'll know:
... All this to help you make the right document for your much deserved dream job!
In our guide to explaining the difference between CV and Resume, we'll broadly be covering the following:
You can read the whole summary of this guide in the below given inforgraphic.
What is a CV?
[Back to Table of Content]
CV is Latin for 'course of life' and the document showcases just that to the recruiters. It chronicles the details of your entire academic and professional career till date.
Since you wouldn't want the course of your life to be limited by anything, a typical CV is not bounded by the number of pages. A CV can run from a couple of pages to more than 10 and no one will blink an eye.
Broadly, a CV is used in cases where you are applying for internships, grants, scholarships, research-based profiles or academia in general.
The reason for that is that a CV, as opposed to a Resume, will additionally include a detailed list of your publications with bibliography, references, fieldwork during your graduation and post-graduation, teaching experience, presentations delivered, etc. All this is typically missing in a Resume.
If you want to get a detailed review of your Resume to ensure that you haven't made a document that is a mix of a CV and a Resume, then opt for Hiration's Resume Review Service now!
What is a Resume?
[Back to Table of Content]
Resume is French for 'to sum up' and so, a Resume is a concise summary of your professional career. In case you are a professional with less than 10 years of professional experience, then your resume will be of 1-page.
But if you are a professional who posses over 10 years of professional experience, then your resume can be of 2 pages.
While making a resume, what you need to remember is that a Resume can NOT exceed 2 pages, even if you've 30+ years of working experience or are Elon Musk.
This crisp document as opposed to a CV, summarizes your professional skills and achievements till date and is usually tailored to specific job applications pertaining to non-academic industries in general.
The information that goes in a Resume will often be highly limited and generally include additional sections around Professional Summary, Key Skills, etc.
You can check out our guide to Resume Key Skills and Resume Objective for an in-depth understanding of how to go about writing these two sections of your resume.
CV vs Resume - Key Differences
[Back to Table of Content]
Now that we know a basic overview of the two, let's go a bit deeper and analyze the differences on the basis of certain parameters to understand resume vs CV.
| | | |
| --- | --- | --- |
| Basis | CV | Resume |
| Origin | Latin for 'course of life' | French for 'to sum up' |
| Length | 4-10 pages, even 10+ in cases of extensive experience | Not more than 2 |
| Focus | Academic + Professional Background | Skills + Experience |
| Order | Chronological | Reverse Chronological, Functional & Combination |
| Customization | Minimal. Content remains the same irrespective of the position being applied to | Should be tailored to specific job profiles or organizations, especially skills |
While the above table broadly covers the basic difference between Resume and CV, let us go a step further and scrutinize the 3 basic parameters which governs the usage of the two in the next section.
Also, if you need a Resume to apply for your job, then use Hiration's Online Resume Builder that has 200+ ready to use content templates and 20+ ATS optimized design templates for 20+ industries.
So what are you waiting for? Use Hiration's Online Resume Builder Right Now!
CV vs Resume: Length
[Back to Table of Content]
As discussed previously, the length of these documents is a clear indicator of what to use when.
We've seen professionals getting confused between the two and sending in 5-pager resumes for top-level profiles. That, in our opinion, is straight-up blasphemy.
Usually, recruiters will specify whether they are expecting a resume or CV. Based on that, you should know which document you need to make and what is the correct length of the required document.
If a CV is required by the recruiter, then you can use as many pages as is required by you to include all your academic and professional details in the document. As mentioned above, a CV can be of 10 pages and can exceed this limit if required.
On the other hand, if a resume is required by the recruiter, then go for a one pager resume if you are a professional with less than 10 years of work experience. And if you have more then 10 years of professional experience, then you can opt for a two pager resume if required.
But make sure, under no circumstances should your resume exceed the limit of 2 pages. If the requirement of the recruiter is a resume, then it is clear by it that the recruiter doesn't have the time to read a lengthy document that is any more than 2 pages.
Also, in countries where resume is used the most, most professionals, if not all, are aware of the fact that recruiters only read a resume for a maximum of 6 seconds at the first screening. So, if you send a resume that is over 2 pages, you're crushing your chances of getting shortlisted right that moment.
So, read the requirements of the recruiters very carefully and make sure you send the right document of the right length.
CV vs Resume: Objective & Geographic Location
[Back to Table of Content]
The objective of where you are applying is a clear giveaway.
In the US, as a rule of thumb, a CV is expected in cases where you are applying in the field of medicine, science or academia. This additionally includes applications for fellowships, grants and scholarships as well.
Moreover, if you are based in the US and are seeking jobs abroad like in Europe, Africa, Asia and the Middle East, then you'll be expected to send a CV irrespective of the industry or nature of work you are seeking.
Consequently, in the non-profit sector or in industries apart from medicine, science and academia, you'd be better suited to send a resume instead.
Along with this, if you want to make sure that your Resume has all the right sections and that your sections are not a mix of CV & resume, then avail Hiration's Resume Review Service where select industry experts will do an in-depth review of your resume.
CV vs Resume: Layout/Structure
[Back to Table of Content]
As mentioned earlier, a CV is chronological in order which details the entire history of the applicant, starting from Education to Publications, Awards, Academic Trajectory, etc.
This means, the oldest information with respect to date is written first leading to the most recent one. The format of a CV is, in most cases, pretty standard. It remains the same irrespective of the industry or job profile you are applying for.
A Resume, on the other hand, is prepared in a reverse chronological order, which means, the most recent information in terms of dates is written first, leading to the oldest one. Also, a resume should be tailored in accordance with the industry or job you are targeting.
A resume can be written in reverse chronological, functional or combination format depending on the requirements of the job or the candidate.
The layout of a resume is not written in stone and can vary. For a more in-depth understanding of resume layouts, check out our guide on Resume Layouts.
CV vs Resume: A Breakdown
[Back to Table of Content]
Since a CV is more detailed and includes an extensive range of information pertaining to the candidate, let's take a minute and understand the range of information which encompasses a typical CV:
Professional Summary/Biography
Contact Details
Academic Interests
Educational Qualifications
Professional Employment History, with Quantifiable Achievements
Additional Courses & Training
Teaching Experience, if any
Research/Lab Experience, if any
Fieldwork during Graduation and Post-graduation
Key Skills (Technical, Computer, Academic, Language, etc.)
Publications
Theses/Dissertations
Professional Licenses and Certifications
Awards & Honors
Lectures, Presentations & Public Speaking Events
Overseas Experience (Academic & Professional)
Public/Private Membership
Hobbies/Interests & Extra-curricular Activities
References
On the other hand, a Resume usually includes the following:
Header
Contact Details
Profile Title
Professional Summary or Objective
Key Skills
Technical Skills
Professional Experience
Internships
Education
Training & Certifications
CV vs Resume: Examples
[Back to Table of Content]
In order to further clarify the difference between CV and Resume, here's an example of the latter: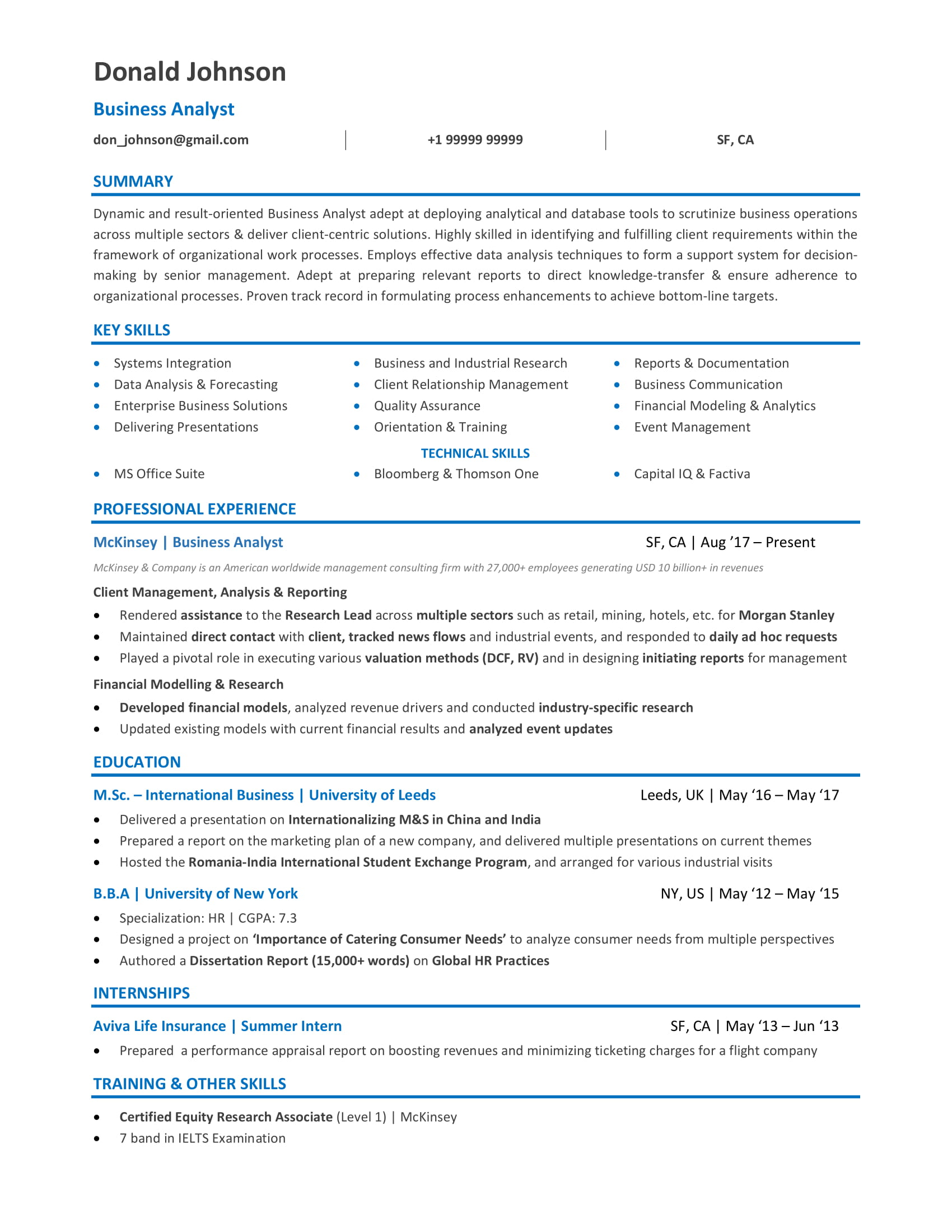 Down below you'll find an extract from a CV containing additional information pertaining to Publications, Memberships, Seminars, Projects, etc.
Go to Hiration career platform which has 24/7 chat support and get professional assistance with all your job & career-related queries. You can also write to us at support@hiration.com and we will make sure to reach out to you as soon as possible.