The difference between a CV and a Resume is as subtle and crucial as the difference between pepsi and cocacola - it's either one or the other!
Don't you just hate it when you ask for Coke and you get pepsi in return?
And the voice inside you screams 'NO IT'S NOT!' but all you can muster is a 'Um, can you check again? Otherwise it's alright.'
On the face of it, Pepsi and Coke look the same, might even feel the same, but deep inside, you know they are not, right?
The same goes for a Resume and a CV. What is a CV,and what is a resume, you ask? The two are so often used interchangeably that most of us feel that they are the same.
But they are not. They are miles apart, and the lack of understanding between the two can cost you a job, or be the difference between a 150k and a 50k profile. We mean it because we have seen it.
In our guide to explaining the difference between CV and Resume, We'll broadly be covering the following:
To skip the details, you can directly view the differences between a resume and CV in the infographic below.
What is a CV?
Latin for 'course of life', it means just that. It chronicles the details of your entire academic & professional career till date.
Since you wouldn't want the course of your life to be limited by anything, a typical CV is not bounded by the number of pages. A CV can run from a couple of pages to more than 10 and no one will blink an eye.
Broadly, a CV is used in cases where you are applying for internships, grants, scholarships, research-based profiles or academia in general.
The reason for that is that a CV (as opposed to a Resume) will additionally include a detailed list of your publications (with bibliography), references, fieldwork during your graduation/postgraduation, teaching experience, presentations delivered, etc. All this is typically missing in a Resume.
What is a Resume?
French for 'to sum up', a Resume is a concise summary of your professional career. In most cases, it will be a 1-pager, and can go up to 2 pages in cases of professional experience exceeding 20 years or so, but that's it.
A Resume can NOT exceed 2 pages, even if you've 30+ years of working experience or are Elon Musk.
This crisp document (as opposed to a CV) summarizes your professional skills and achievements till date and is usually tailored to specific job applications pertaining to non-academic industries in general.
The information that goes in a Resume will often by highly limited and generally include additional sections around Professional Summary, Key Skills, etc. (check out our guide to Resume Key Skills and Resume Objective for further clarity)
CV vs Resume - The Difference
Now that we know a basic overview of the two, let's go a bit deeper and analyze the differences on the basis of certain parameters to understand resume vs cv
| | | |
| --- | --- | --- |
| Basis | CV | Resume |
| Origin | Latin for 'course of life' | French for 'to sum up' |
| Length | 4-10 pages, even 10+ in cases of extensive experience | Not more than 2 (without exception) |
| Focus | Academic + Professional Background | Skills + Experience |
| Order | Chronological | Reverse Chronological (excluding instances of Functional Resumes) |
| Customization | Minimal. Content remains the same irrespective of the position being applied to | Can be tailored to specific job profiles or organizations, especially skills |
While the above table broadly covers the basic difference between Resume and CV, let us go a step further and scrutinize the 3 basic parameters which governs the usage of the two.
CV vs Resume: Length
As discussed previously, the length of the document is a clear indicator of what to use when.
We've seen professionals getting confused between the two and sending in 5-pager resumes for top-level profiles. That, in our opinion, is straight-up blasphemy.
Usually, recruiters will specify whether they are expecting a resume or CV. Based on that, you can tailor the length of the document which you'll send accordingly.
CV vs Resume: Objective & Geographic Location
The objective of where you are applying is a clear giveaway.
In the US, as a rule of thumb, a CV is expected in cases where you are applying in the field of medicine, science or academia. This additionally includes applications for fellowships, grants and scholarships as well.
Moreover, if you are based in the US and are seeking jobs abroad (Europe, Africa, Asia and the Middle East), you'll be expected to send a CV irrespective of the industry or nature of work you are seeking.
Consequently, in the non-profit sector or in industries apart from medicine, science and academia, you'd be better suited to send a resume instead.
CV vs Resume: Layout/Structure
As mentioned earlier, a CV is chronological in order which details the entire history of the applicant, starting from Education to Publications, Awards, Academic Trajectory, etc.
A Resume, on the other hand, is prepared in a reverse chronological order and can be tailored in accordance with the industry or job you are targeting.
The format of a CV is, in most cases, pretty standard. It remains the same irrespective of the industry or job profile you are applying for. A resume can be reverse chronological or functional depending on the requirements of the job or the candidate.
The layout of a resume is not written in stone and can vary. For a more in-depth understanding of resume layouts, check out our guide on Resume Layouts.
CV vs Resume: A Breakdown
Since a CV is more detailed and includes an extensive range of information pertaining to the candidate, let's take a minute and understand the range of information which encompasses a typical CV:
Professional Summary/Biography
Contact Details
Academic Interests
Educational Qualifications
Professional Employment History, with Quantifiable Achievements
Additional Courses & Training
Teaching Experience, if any
Research/Lab Experience, if any
Fieldwork during Graduation/Postgraduation
Key Skills (Technical, Computer, Academic, Language, etc.)
Publications
Theses/Dissertations
Professional Licenses and Certifications
Awards & Honors
Lectures, Presentations & Public Speaking Events
Overseas Experience (Academic & Professional)
Public/Private Membership
Hobbies/Interests & Extra-curricular Activities
References
On the other hand, a Resume usually includes the following:
Job Title
Contact Details
Professional Summary
Key Skills
Professional Experience
Education
Training & Certifications
Interests & Hobbies (Optional)
CV vs Resume: Examples
In order to further clarify the difference between CV and Resume, here's an example of the latter: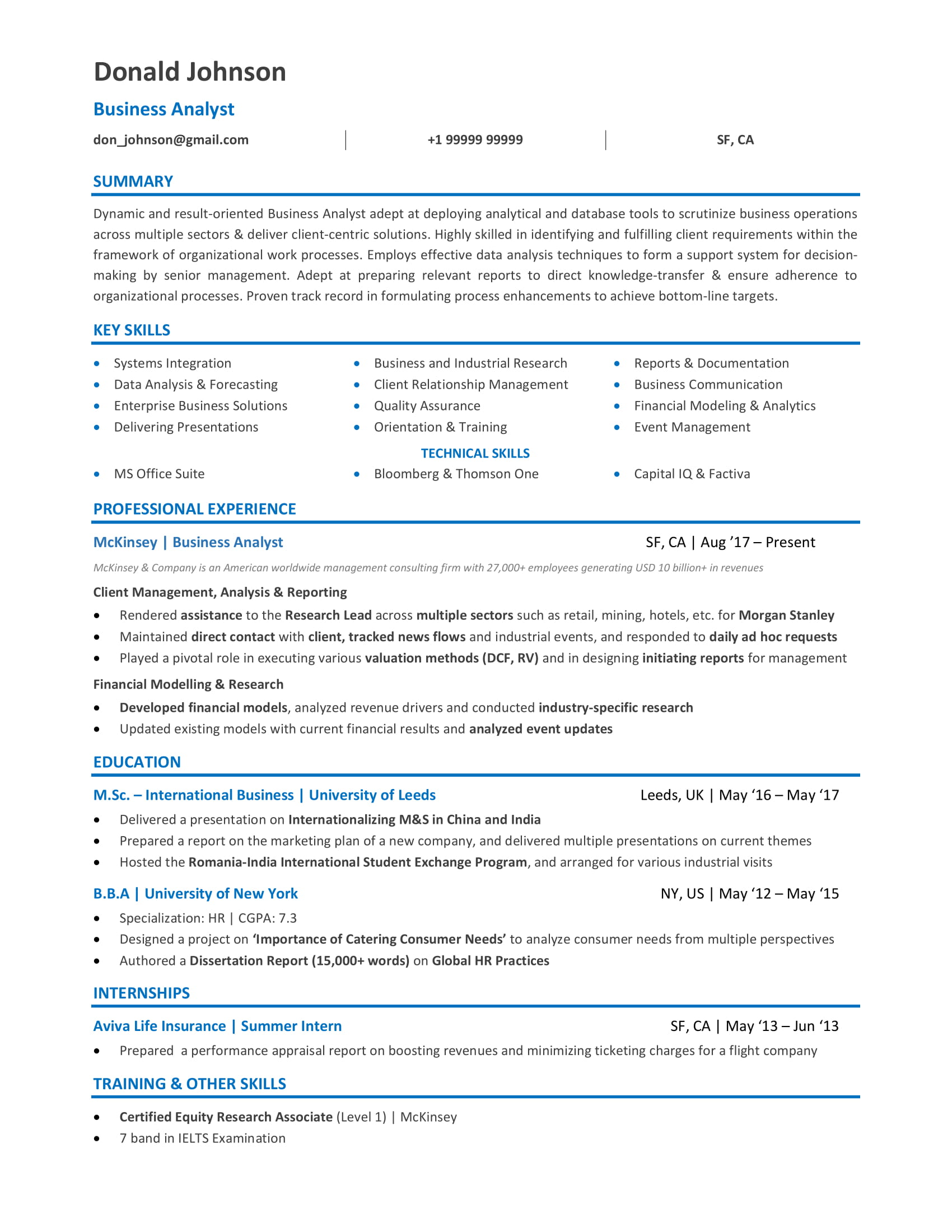 Down below you'll find an extract from a CV containing additional information pertaining to Publications, Memberships, Seminars, Projects, etc.
Got more queries around your Resume or CV? Still can't take a call on which one to send? Give us a shout out in the comments section and we'll get back to you within 24 hours!