Click here to directly go to the complete resume sample with Phi Beta Kappa
First of all, Congratulations on getting into the most exclusive honor societies in the United States of America.
Not everyone can manage to get good grades in college let alone be a part of Phi Beta Kappa honor society.
Since you are one of the few who have made it, it's the result of your hard work and ethics, skills that are hard to come by and recruiters want candidates with these skills.
It does not matter if you are applying for an entry-level job or applying for a scholarship, Phi Beta Kappa should be in your resume.
But, how to list honors on resume?
In this blog, we will tell you everything about it!
This guide will show you:
How to Put Phi Beta Kappa on Resume?
You can add the Phi Beta Kappa in the education section of your resume.
Here is the step by step process:
Create a section heading called Education
Add your Degree including majors and minors and the year of graduation
List your university name under it including university location
Add your GPA
Below that, add the Phi Beta Kappa information followed by relevant coursework
Example
Education
Bachelor of Science in Mathematics May 2021
Stanford University Stanford,CA
GPA

: 3.8/4.0

Honors

: Phi Beta Kappa, magna cum laude
Alternative Approach to Phi Beta Kappa on Resume
You can create a separate section named "Honors & Awards" and include the Phi Beta Kappa if you have a long list of honors.
Example
Honors & Awards
• Dean's List for 6 semesters
• Phi Beta Kappa, summa cum laude
• E.J. McShane Mathematica Award | Dec 2020
• Young Community Service Award | Sep 2020
Tip: Skip the Honors & Awards section if you want only to list Phi Beta Kappa.
How to List Phi Beta Kappa on Resume Summary?
If you do not have much work experience, you can highlight the Phi Beta Kappa on the resume summary to stand out from other candidates.
Here Is an Example of Phi Beta Kappa Information on Resume Summary:
"Detail-oriented marketing undergraduate and Phi Beta Kappa member possessing skills in understanding data to interpret market trends for business growth. Highly skilled in search engine optimization for increasing search ranking and improving user engagement."
Do not forget to add the Phi Beta Kappa in the education section, even if you add it in summary.
Additionally, you can add the Phi Beta Kappa information in your cover letter as well.
Frequently Asked Questions
How to Add Honor Society to LinkedIn?
Step 1: Log in to your Linkedin profile and click "Add Section".
Step 2: Navigate to Accomplishments, then select Honors & Awards.
Step 3: Here you can add your honors and awards easily.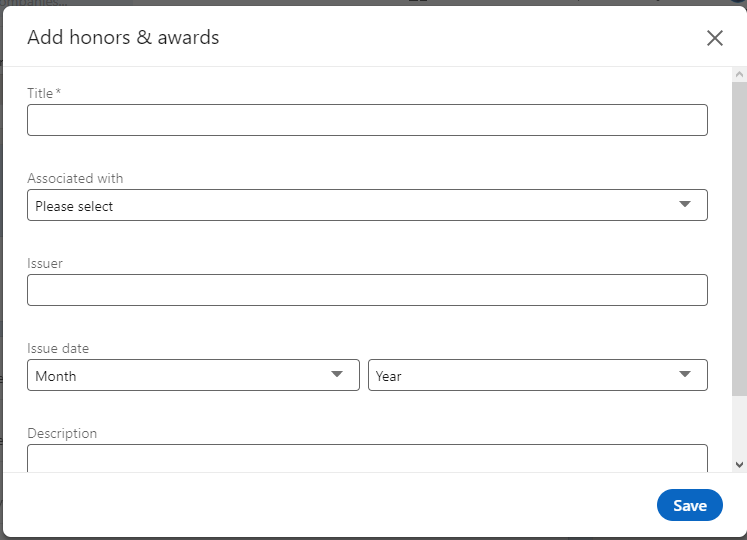 Step 4: Click the "Save" button which will list the Phi Beta Kappa information on your LinkedIn profile.
Should I Put Phi Beta Kappa on Resume With 5+ Years of Experience?
As your experience grows, your professional achievements will matter more than academic accomplishments. However, that does not mean you should leave Phi Beta Kappa.
It is a significant honor and you should add it to the resume if you can.
Should You Italicize Phi Beta Kappa in Your Resume?
No, write the Phi Beta Kappa in regular font. However, Latin honors should be italicized, such as summa cum laude, magna cum laude, etc.
Do You Capitalize Cum Laude, Summa Cum Laude, and Magna Cum Laude?
Since these are Latin phrases, no need to capitalize the words in your resume.
Interesting Facts of Phi Beta Kappa Honor Society
The Meaning of Phi Beta Kappa is "Love for learning is the guide of life."
It is the oldest honor society in the USA, with over 500,000 members
Graduates need to have a minimum 3.8 GPA to have the opportunity to join
17 American Presidents and 136 Nobel laureates have been members of the society
Phi Beta Kappa was meant to be a secret society
Why Should You Add Phi Beta Kappa to Your Resume?
Phi Beta Kappa will give your resume a significant boost among other candidates. It shows the recruiter that you are a hardworking individual and will become a reliable employee.
Phi Beta Kappa Resume Sample
Results-driven 3+ years experienced environmental biologist possessing skills in successfully designing and performing quantitative research and presenting the results to the investors for raising funds. Proficient in conducting research to understand environmental impacts and developing impact remediation plans for the government. Adept at conducting public awareness events for educating the public about the effects of pollution and global warming in our environment.
• Environmental Research • Impact Remediation • Research Paper Publication • Research Project Management
• Relationship Management • Data Collection & Analysis • Field Research • Employee Training
• Fund Raising • Policy Compliance • Delivery Environmental Operations
PROFESSIONAL EXPERIENCE
Start typing, then use the up and down arrows to select an option from the list
Environment Assessment & Impact Remediation
Performed quarterly environmental assessments and developed 12+

Environmental Impact Statements

for the government

Coordinated with 5+ senior biologists to foster

impact remediation plans

for submitting to the government officials

Assessed construction requests by following National Environmental Policy Act and issued permits to the appropriate parties
Awareness Event Planning & Relationship Management
Conducted

10+ awareness events

and educated the public on the effects of pollution and ways to reduce its harmful effects

Participated in ~3 scientific conferences and completed

2 NEPA-based training

programs in a month

Fostered friendly relationships with government agencies and private organizations for ensuring smooth environmental operation
Start typing, then use the up and down arrows to select an option from the list
Published a quantitative study on the "

Effects of Greenhouse Gas on Urban Populations

" in the International Journal of Biology
Environmental Research & Paper Publication
Coordinated with the research team to conduct research for

10+

environmental

projects

with cell & molecular biology

Developed and submitted

~3 research papers

to the seniors and published preliminary results in the Nature peer-review journal
Data Collection & Analysis
Presented research findings of 10+ projects in conferences and funding meetings; Secured

USD 50,000

in research funding

Conducted field research by collaborating with ~5 interns and provided training to them by adhering to research guidelines

Collected and organized qualitative and quantitative field data from

8 counties

and reviewed them for finding meaningful patterns
EDUCATION
Start typing, then use the up and down arrows to select an option from the list
Honors

: Phi Beta Kappa,

magna cum laude
President

of the Biological Research Peer-Review Society | John Hopkins University | May '16 - Apr '17

Treasurer

at Biological & Environmental Sciences Club | John Hopkins University | Jul '16 - Apr '17
"

The Effects of Industrialization on Global Temperature and Wildlife"

| International Journal of Biological Sciences | Jul '17

"

A Comparative Review of Pollution in South Hemisphere vs North Hemisphere

" | Nature Journal | Feb '16
Languages

: English (native) and Mandarin (intermediate)
Online Resume Builder
Wish to create a perfect resume with Phi Beta Kappa information? Go to Hiration Online Resume builder and sign up for a free trial.
Here are the features you will get from this resume:
Option to save unlimited resumes
Intuitive next text suggestion
Auto bold feature
25+ resume designs
LIVE resume score
JD-resume matcher
Full rich-text editor
Unlimited PDF downloads
100+ pre-filled resume templates
1-click design change
A sharable link
LIVE resume editor
Go ahead and try our Online Resume Builder and have a professional resume-writing experience like never before!
Key Takeaways
Now that we are towards the end of this blog, here are some key takeaways:
Add the Phi Beta Kappa information in the education section if you have a single honor
If you have multiple honors and awards, create a separate area named "Honors & Awards" in the resume
Write the Phi Beta Kappa even if you have years of industry experience
Add the Phi Beta Kappa honor information in the resume summary for entry-level professionals
Go to Hiration resume builder and create a professional resume for yourself. Additionally, reach out to us at support@hiration.com and you can get 24/7 professional assistance with all your job & career-related queries.