Is a daycare resume essential for child care jobs?
Daycare is a very responsible job as you need to help working parents take care of children. You need to be reliable and kind to get the job done, as you will be dealing with young minds.
More than 992,400 childcare workers are currently employed in the US, which is expected to grow up to 8% between 2020-30. So, if you enjoy being around young souls, you can apply for a daycare job.
However, you will need a professional daycare resume to get a child care job across the country. Resume building is not an easy task, and we will help you get that done by answering the following questions:
Child Care Job Description
A job description can benefit you a lot while applying for any job. You can know all the job requirements and relevant keywords via the child care worker job description to use in your resume.
We are showcasing a daycare assistant job description example below to give you an idea of fundamental child care providers duties:
We seek a daycare assistant to ensure the proper care of children. As a daycare assistant, you will use different learning methods like games, art, and stories to inspire and teach children intellectually. The perfect fit for this position will follow precise processes to change diapers training, feeding, and maintaining a safe ecosystem.
Childcare Responsibilities
A typical day at our premises as a daycare assistant will include:
Maintaining effective & professional communication with families
Adapting to the kids' developmental requirements and executing childcare's curriculum accordingly
Performing efficiently during emergencies like fire drills and medical emergencies
Maintaining effective communication with fellow daycare workers, management, and teachers
Following organizational competencies and behavior standards
Also Read: How to build a babysitter resume in 2022?
How to Build a Daycare Resume in 2022?
Building a daycare resume can consume a lot of your time, even if you refer to any online child care resume example. You will need practical guidelines to ease the daycare resume-building process.
Considering this, we are showcasing some steps that will help you initiate the process:
Choose a professional resume format to outline your child care provider resume
Add all the required resume sections in your child care worker resume
Use bullet points instead of lengthy paragraphs to write daycare resume details
Highlight profile-centric keywords and essential metrics to grab the recruiter's attention
Proofread your daycare resume twice before applying for any job
Daycare Resume Format Selection
Selecting a perfect resume format is the first step you must take to build a professional child care resume.
We are making the process easy by listing three popular and effective resume formats to bag your desired job in 2022:
If you are a fresher or a continuously working professional, you can use reverse-chronological or combination resume formats. The functional resume format is suitable only for professionals with a career gap.
Daycare Resume Sections
You should add all the important resume sections to your daycare resume for getting desired results in the recruitment process.
Check out the list of sections that you can add to your resume for daycare jobs in 2022:
Resume Title
Resume Header
Resume Objective/Summary
Childcare Skills
Professional Experience
Educational Details
Additional Information
Nanny Resume Sample
Have a look at the nanny resume example given below to know how should you frame your daycare resume in 2022: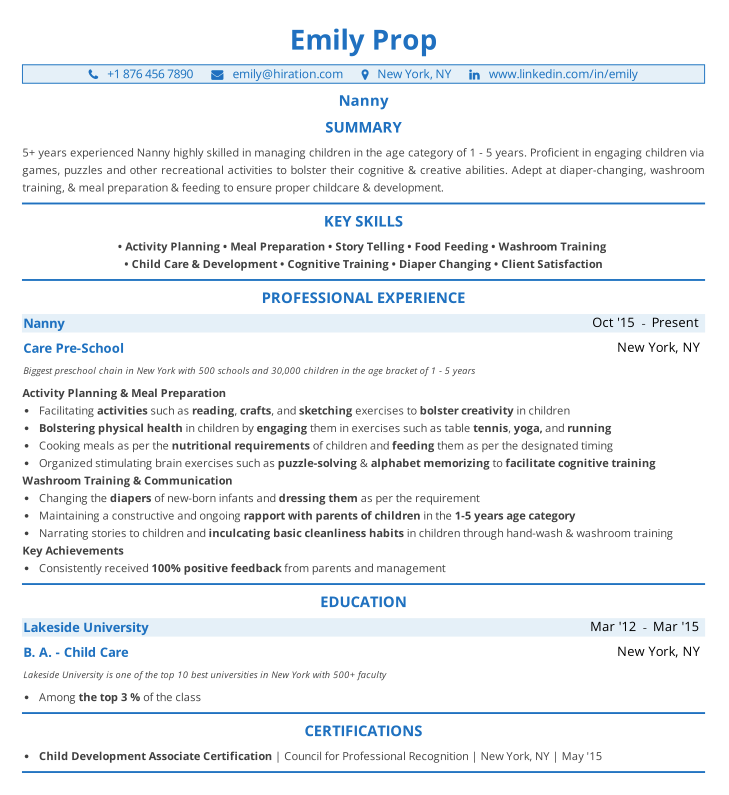 Essential Daycare Resume Skills
The key skills section of your resume will play a vital role in your selection. Recruiters check this section to see the skills and capabilities of the applicant.
Hence, we advise you to add all the childcare skills in the key skills section of your resume. You can add these below-given skills to your daycare worker resume for getting fruitful results:
| Daycare Resume Skills | Child Care Resume Skills |
| --- | --- |
| Communication Skills | Active Listening |
| Self-Control | Patience |
| Time Management | Compassion |
| Decision-Making Skills | Physical Stamina |
| Perseverance | Sense of Humor |
| Ability to Entertain | Confidentiality |
| Infant Care Skills | Child Development Knowledge |
| Empathy | Teaching Skills |
| Problem-Solving Skills | Basic Health & Hygiene Knowledge |
Daycare Resume Summary/Objective
Recruiters pay special attention to this section, as it comprises the highlighting information of the entire resume. Hence, we suggest you use easy-to-read language and mention essential work details and skills in this section.
You can check out the below-given examples to see how can you write the daycare resume summary:
DON'T DO IT:
I am a child care worker who can take care of your child when you are not around. I love kids, and I handle them very well by keeping them entertained.
DO IT:
Dependable and patient child care worker with 3+ years of experience in coordinating child care programs and developing quality care plans. Adept at handling young children and teaching them the basic education concepts with fun and entertainment.
Also Read: How to make a nanny resume in 2022?
Daycare Resume Work Experience
The work experience section of your daycare resume will include your previous work details as a child care worker.
Hence, it is a vital section to showcase your capabilities and achievements in your previous job.
This section should be framed professionally as the recruiter will pay extra attention to this section while screening your resume. We advise you to use one-liner bullet points to mention details here.
You can follow these guidelines to craft highly impactful bullet points for the work experience section of your child care resume:
Initiate every bullet point with a power verb
Quantify your bullet points with numbers wherever possible
Highlight profile-centric keywords and essential metrics
Assign a heading for common bullet points
Address cause-effect relationship in every bullet point
Key Takeaways
You can get a daycare job without a bachelor's degree. However, you will need a daycare resume to apply for a job.
These practical steps will help you build a job-winning daycare resume to get a job in the United States:
Choose a professional resume format to outline your child care resume
Add all the essential resume sections to your daycare resume
Write your resume details in bullet points to improve the readability
Highlight industry-specific keywords and essential metrics to parse through the ATS
Proofread your resume twice after completing it to rectify silly errors
You can use these steps to build a daycare resume manually. Or, you can use Hiration's Online Resume Builder to build your resume with virtual assistance.
It is an AI-powered tool having marvelous features like auto-suggest and 24/7 online chat support that can ease your resume-building process.
In addition, you can also leverage our expert knowledge for any career-building hurdle by contacting us at support@hiration.com.