Click here to directly go to the complete cover letter sample.
What is a cover letter for a resume?
Do you need to write a cover letter for the job application but wonder the best way to go about it? You are in the right place!
As a career portfolio making expert, we can certainly guide you to making a cover letter that knocks the recruiter's socks off.
It doesn't matter which industry or at what level of career you are at - Undoubtedly, you need a spectacular cover letter along with your resume to impress the hiring manager.
How important is a cover letter? Well, if you want to distinguish yourself from the crowd, it definitely is.
Let us understand the basics of a cover letter with professional cover letter examples for better clarity.
Here is the summary of our article:
Attaching your cover letter with a resume helps you stand as a strong candidate. Always send a cover letter until you are specifically asked not to.
Choose a cover letter template that matches the resume formatting and allows you to customize it as per your needs.
Always address the cover letter with the hiring manager's name and end the cover letter with a call-to-action.
Do a good research to understand the organizational values and requirements of the job to customize your cover letter accordingly.
Our cover letter guide provides you with the required sample cover letter and professional cover letter examples to help you design a thoughtful cover letter for improving your job search outcomes.
In this article, we will discuss the following in detail:
What is a Cover Letter for a Resume?
A covering letter is a one-page document you submit to the hiring manager alongside your resume while applying for a prospective job.
A cover letter highlights parts of your career where your resume falls short. It is meant to complement your resume, therefore, make sure you do not reiterate the same information you mentioned in your resume.
A good cover letter is always personalized, and hence a good research about the company is crucial. If you are sending a generic cover letter to all the companies or if you are falling short of time to personalize it, it is better not to send one.
Types of Cover Letter:
Application Cover Letter
Referral Cover Letter
Letter of interest
Value proposition Letter
Also read: What are the 4 different types of cover letters?
Is a Cover Letter Important?
Accompanying your resume with a cover letter gradually boosts your chances of landing the desired job. You should always send a cover letter until you are specifically asked not to.
A well-written cover letter is an opportunity for you to showcase the following:
It is your first chance to be considered as a strong candidate and stand out from the crowd.
It is beneficial in showcasing how your skills and experience meet the requirements of the job.
It helps you introduce yourself personally in a way that your resume cannot.
It is your opportunity to showcase your interest in the company and enthusiasm for the role.
Before drafting a cover letter, make sure that you have taken time to research the company, its values and mission. Understand the job requirements and exhibit how your skills and expertise makes you a perfect candidate for the job position.
How to Choose a Perfect Cover Letter Template?
To write cover letters, you need a definite format and style, just like your resume. A good cover letter template allows personalization and helps you with the layout of your letter.
A well-designed cover letter template with a professional formatting helps you present yourself as a polished candidate.
While choosing a cover letter, take care of the following points:
Choose a cover letter template with the formatting style that matches your resume
The cover letter template must guide you with the elements you need to include in your letter.
The cover letter template must allow you to customize the cover letter to suit your requirements.
Tips for drafting a Cover Letter
Research about the Company
This can be done in three ways:
Get familiar with the company's website
A deeper dive into the company's values is essential to understand what to include in the cover letter. Be thorough with the About Us, The Mission Statement, Our Values, and Our Culture sections available on most company websites.
LinkedIn is another way to understand what the company and its employees care about. They could be posting about the company's business operations, emerging trends in the industry, or adopted technology advancements. LinkedIn helps to research the company's leadership as well. Find out who your hiring manager is going to be, his interests, and his opinion of the industry.
Scan the news to note any significant events, such as corporate mergers, changes in leadership, etc. Such changes can bring changes in the current company structure, chain of command, broad values, etc that should be noted.
Personalize your Cover Letter
A good cover letter is always personalized, and hence good research about the company is crucial. If you are sending a generic cover letter to all the companies or if you are falling short of time to personalize it, it is better not to send one.
A few points to ponder on before sending your cover letter:
A cover letter speaks your story
Address the hiring manager
Name the employee referring you
Tell your story
Use this Checklist to Track Progress
Be direct
Use a belief statement
Exhibit passion for your work
Explain what you can offer
State an accomplishment
Exhibit excitement
Mention referrals and connections
Use the keywords mentioned in JD
Always personalize
What to Include in a Cover Letter?
Before you start to write the cover letter, ensure that the below-mentioned points are clear in your mind:
The purpose of your cover letter, i.e., what is it that you want to convey via your cover letter.
The organization's values and job requirements & how you can meet them.
A cover letter can be broken down into the following sections:
The First Paragraph or the opening statement should state the position you are applying for and the source from where you came to know about it.
Discuss your past experiences and mention your skills and strengths as per the job requirement to showcase yourself as the most suitable candidate.
Show your interest and enthusiasm to work with the company and what is it that motivates you to work with them.
End your cover letter with a call to action. Ask for a call or meet in person to discuss your suitability in detail.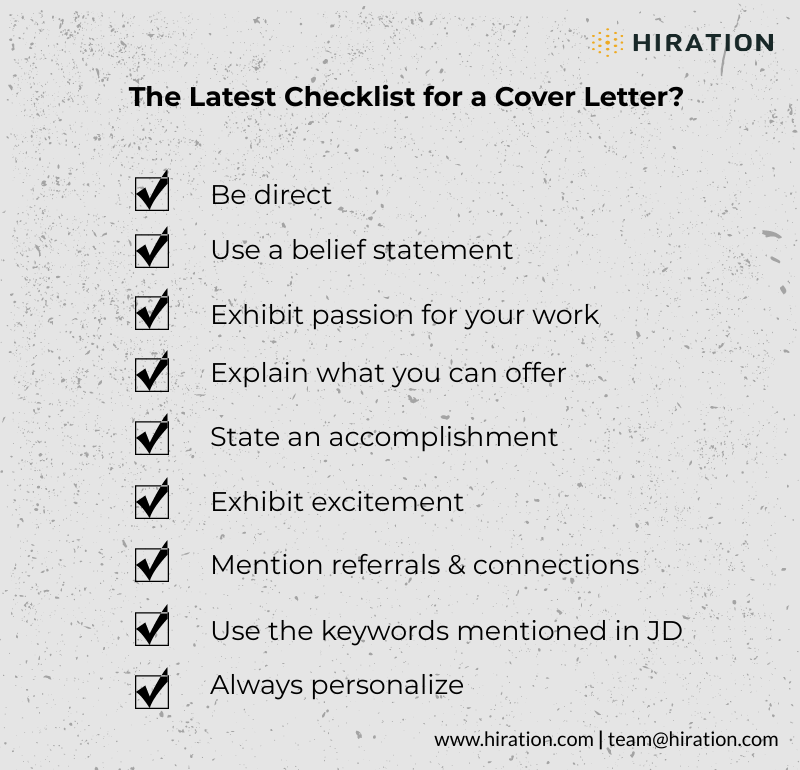 Also read: How to address a cover letter?
What are the Dos and Don'ts of a cover letter?
Always address the cover letter with the hiring manager's name
Choose a cover letter template that is suitable for your job role and industry
Proofread your cover letter to avoid any spelling errors or grammatical mistakes
Conduct research and customize your cover letter for each company you apply to
End your cover letter with a call-to-action
Use a professional tone according to your experience throughout your cover letter
Include figures and facts to give evidence for your contributions
Exceeding the one page limit.
Reiterating the information already mentioned in your resume
Using the same cover letter for all the companies you are applying to
Including irrelevant information
Disclosing confidential information about previous employers/companies
Using excessively large fonts or not leaving required white spaces between paragraphs
Also read: How to design a cover letter?
Cover Letter Template Sample
Senior Machine Learning Engineer
57, Brooks Lane, San Francisco, CA
Re: Suitability for the role of Senior Machine Learning Engineer
Certified Machine Learning Engineer armed with a 9+ year track record of designing predictive models and deploying cutting-edge ML techniques across diverse industries, I am extremely interested in the profile of Senior Machine Learning Engineer at
ABC Inc. I would like to grab this opportunity to serve in a value-based organization and prove to be a valuable asset for the company.
In my previous stint as a Machine Learning Engineer at Huges Resorts Ltd., I was instrumental in designing and deploying ML algorithms for resolving open-ended problems. I employed decision trees to build predictive modes for anticipating customer behaviour and upselling products & services. Additionally, I was honoured with the 'Employee of the Year' and 'Best Engineer of the Year' awards for significantly contributing to the organization's growth and surpassing targets.
It is difficult to come away un-awed by the passion for excellence that
ABC Inc. has displayed in its meteoric rise to fame. Inspired by its collaborative working style that emphasizes teamwork, trust & commitment, I consider ABC Inc. to be my most preferred employer.
Enclosed for your consideration is my resume. I would appreciate the opportunity to further discuss my suitability and qualifications with you on call or in person.