Our collection of basic resume templates for different profiles await!
It's easy to scan for all the information on a basic resume template. They are ATS-friendly and are designed in a way that emphasizes content over anything else.
Choose from our 20+ ready-to-use Resume templates and create your resume in 10 mins!
The only difference between basic resume templates & simple resume templates is that the former uses a few colors to highlight important keywords and headings.
It's more suited to modern industries and can be used by students & entry-level professionals who are trying to figure out a way to highlight their achievements.
Additionally, this basic resume template provides an option to use both single-column and double-column formats.
https://www.hiration.com/basic-resume-templates/
For the Explorer
The following basic resume templates define an elegant yet casual approach to resume making. They explore very little color yet exhibit valuable content space. The basic resume templates feature and facilitate the standard reverse-chronological format. They emphasize on skills, experiences, and education. Although they are mostly preferred by graduates and in academic or non-core professions, even professional applicants can use these resume basic templates for a good design.
Simple Pink
High School Basic Resume Template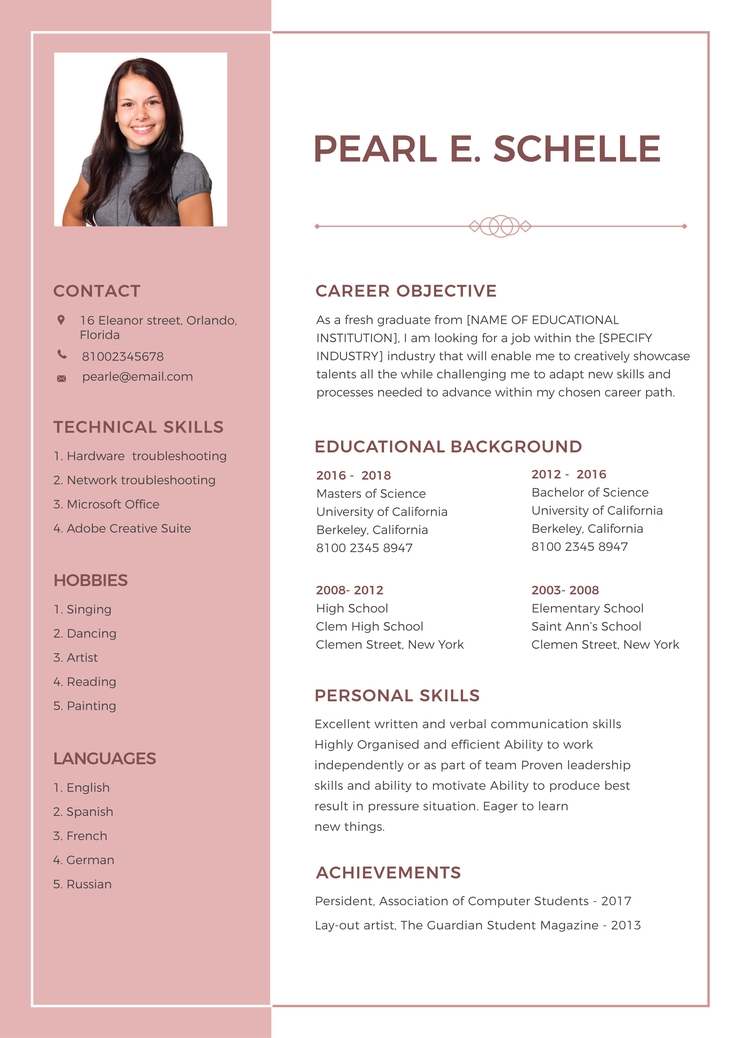 Template.net's high school resume is the perfect basic resume for template resume for teachers or even recent graduates to exercise showcase of their skillset.
Elementary Teacher Basic Resume Template
Template.net's Elementary Resume
Global Citizen Red
Hiration's Global Citizen Red template features a premium template on Hiration's online resume builder. It displays a wide header that can contain the name, address, contact details, and the job title. The left column of this double-column resume occupies one-third of the width. This allows the applicant to numerous key things across multiple domains instead of professional experience.
The primary color and background color for this resume template are red and white respectively. Red is used in the resume body to highlight headings and sub-headings. The compact design intercepts the Open Sans font and high-line spacing to make the text easy to read.
Global Citizen Red Basic Resume Template is available for immediate customization in Hiration's online resume builder.
Global Citizen Green
Global Citizen Green features a premium template that is available on Hiration's online resume builder. The structure is similar to the Global Citizen Red template. However, the primary color is green which highlights the headings & sub-headings on a white background.
The similar Open Sans font style and high line spacing benefits the readability of the text.
You can find this template on our resume builder here.
For the Corporate
The corporate/professional basic resume templates are ideal for people who have a lot of information to share. This displays an overview of your experiences with details of your responsibilities, skills, and achievements. The basic resume templates are consistent with common work profiles for most professionals.
Traditional Blue
Traditional Blue is the most used basic resume template by corporates on Hiratinon's online resume builder.
"Natalie"
Whoever said that a basic resume template cannot be attractive has not done his research well. Etsy's "Natalie" design is a minimalistic approach to exposing your professional side.
For Freshers
A simple basic template for a resume is indispensable, especially if you are a fresher. The "Highlights" basic resume template highlights the headings so the recruiter can check exactly the sections he first wants to before checking out the rest of the resume. The "Extremely Basic" template explores the basic skeleton of the resume so that the applicant has the option to elaborate the points without ceding information.
The Highlights Basic Resume Template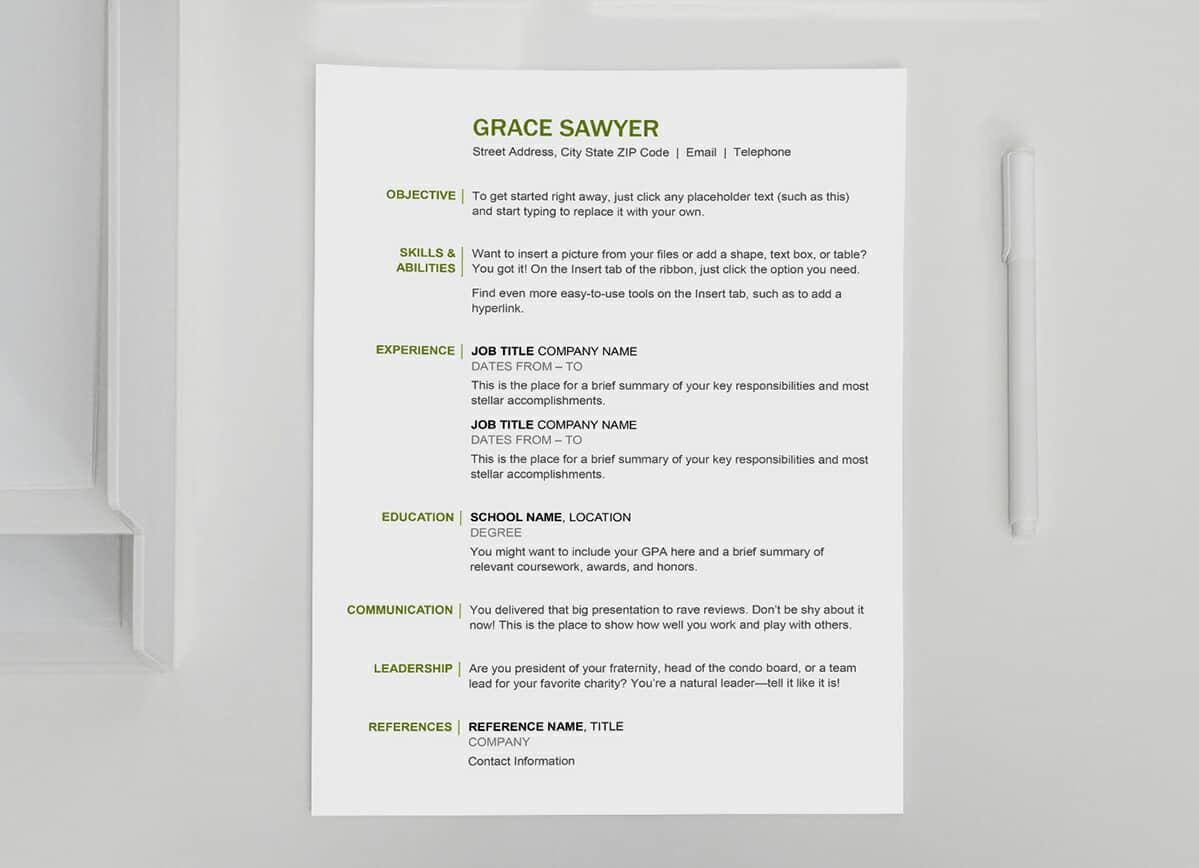 The Highlights Basic Resume Template is available for use by anyone operating Microsoft Office versions 2010 and above.
Extremely Basic Resume Template
You can find the basic resume templates on Etsy's series of resumes.
Blue Lines Simple
Canva's simple blue lines resume template is free and ready for editing and downloading by anyone with lesser work experience or responsibilities.
For the Designer
A graphic designer primarily runs the risk of becoming chaotic - be it in his resume or his daily portfolio.
Design is important for your resume. However, it is more important that employers can read your resume. Designers, often while trying to show off their design skills, end up cluttering the page with impractical or confusing graphics, color schemes, and/or typography. Your portfolio speaks for your style, your basic template for resume speaks for your qualifications and skill set.
The following three very basic resume templates showcase a minimalist approach towards design while they extensively feature content and standard formatting. They could ideally exemplify how the basic graphic designer resume should look like.
Template.net's Green and Black color scheme introduces the applicant as one familiar with the aspect of colors. The later sections broadly describe his/her experiences in the fields of design, and the skills and achievements gathered. The simple text format ensures readability.
Creative Market's Graphicia Shop has designed a minimalist designer basic template for resume that showcases all the skills of the applicant within a minimal framework. The design elaborates all experiences and skills on a white background with a classic hue of blue for the icons.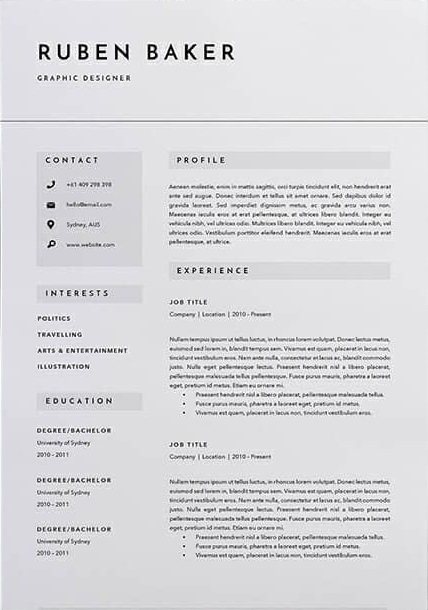 Basic Creation's template contextualizes all the experiences of the person and assists the designer in not coming off as pretentious
The graphics designer's principle is to create a guided experience. The basic resume template examples do not have skills graphic as does most graphic designer resume. This is best excluded for the following reasons.
The ratings are meaningless without any additional context.
Self-rating skills point out weak areas in your expertise.
For the Academic
A resume written for academia should typically highlight research and teaching experiences along with significant publications, grants and fellowships, and other professional liaisons. A minimalist approach is therefore the best way to showcase candidature for a faculty or research position advertised by a college or university.
The academic resume follows the simple rules:
A steady Font throughout the resume
The Resume does not exceed two pages
The alignment of text is justified
For all Candidates
This is the most basic resume template. It is rather a resume outline that shall enable you to fit in information properly.
Template.net's most basic resume template uses the two root colors black and white. It attributes a functional format for a simple graduate to showcase his/her skill set and highlight as many key points as possible.
Keeping in mind that a graduate may have lesser skills than a working professional, the resume leaves more spaces between the words and lines to enable a comfortable perusal. Despite its monochromatic approach, the basic template for the resume highlights its fundamental content.
Key Takeaways
The basic template for resumes does not have to be boring. The essential elements of your professional or fresher resume can be designed with basic color schemes for flair.
You may explore the treasure trove of basic resume templates on Hiration's website or our online resume builder.
Just because you should not go crazy does not mean that you can not get creative.